Supreme is teaming up with artist Nan Goldin on a capsule.
The serially collaborative skater-brand announced the partnership Monday citing Goldin's "intimate and raw documentation" of New York City nightlife in the late Seventies as a source of inspiration. Goldin is an iconic American photographer whose work revolves primarily around the early seeds of New York City subculture. "Her work explored the varieties of human sexuality and gender while documenting the life, love and loss in New York City during the AIDS epidemic," the Supreme announcement reads.
"I'm looking forward to seeing teenagers skating on my images and wearing them," Goldin told British Vogue. "To my mind, people have become so conservative, especially the millennials – its like the 1960s never happened – so I like the idea of them being exposed to my real world." Goldin's works are not all that manipulated in the capsule but rather her beautifully gritty photographs are slapped on primary-colored hoodies and tees. They also cover skateboards.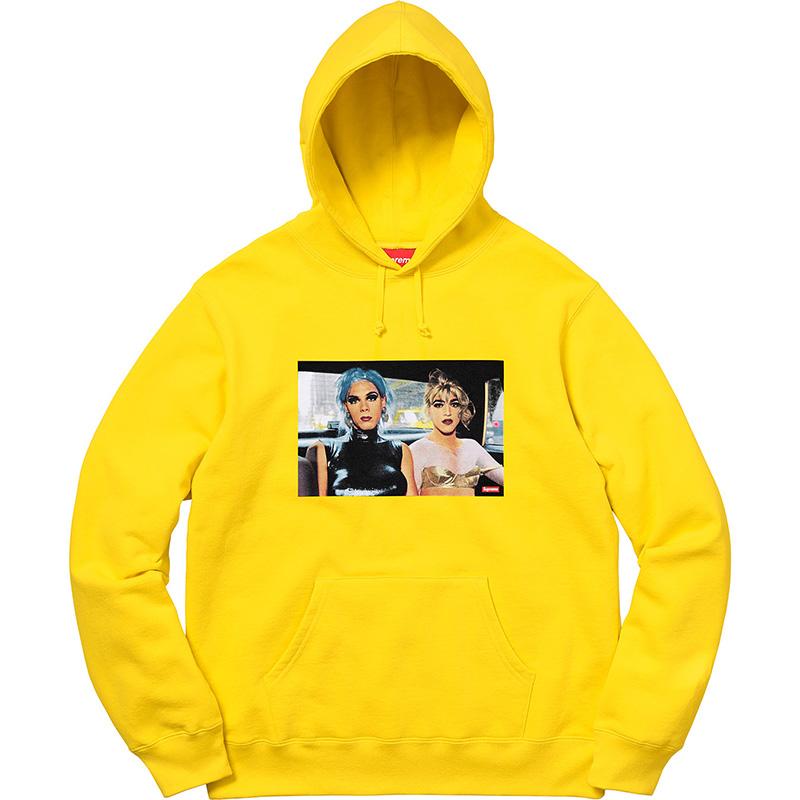 Reception amongst Supreme's 9.8 million Instagram followers (read: cult following) is overwhelmingly positive with heart-eyed smiley face emojis dotting the comments.
The collection is tied to spring 2018 and will drop Thursday at the brand's Soho, Brooklyn, Los Angeles, London and Paris flagships as well as on the Supreme website. Japanese fanboys and fangirls will have to wait until March 31st for their swag. Supreme diehards only have a few days to start lining up outside their respective store — in the past, customers have even had to pre-register on the Supreme website before waiting on line. Below shows the madness surrounding the SoHo store on Black Friday, when the line snaked around the block and stretched on for a handful more.
The thirst is real.
Subscribe to our newsletter and follow us on Facebook to stay up to date on all the latest fashion news and juicy industry gossip.