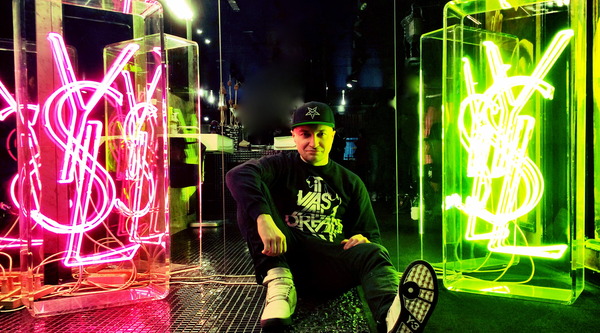 Sergio Says! Musings From Cosmo (and Beyond…)
|
Even when our man Sergio Kletnoy has a slow week, it's still packed to the brim with tasks and scheduling wizardry for Cosmopolitan's EIC, Joanna Coles, plus a lot of new musical acts to learn up on. From the noir-covered abode of your dreams to a humorous eve with Jackie Hoffman, take a peek at how Sergio's doing this month.
"The new year has just begun and I already feel exhausted. This week, every minute of the day felt longer than Jacqueline Bisset's acceptance speech at the Golden Globes. Unfortunately, I didn't have the luxury to switch the channel. Work-wise, we're back with a vengeance. The Boss did her best to cram an unrealistic amount of breakfasts, conference calls, lunches, meetings, dinners and photoshoots into the week. Somehow she managed to get through all of them.
On Tuesday, the Cosmo edit team held an off-site brainstorm at Cindy Gallop's Black Apartment, which is currently on the market for $5.995 million. Yes, the same apartment splashed on the front page of The New York Times real estate section a few weeks back and the very same apartment where P. Diddy filmed the star-studded music video for Notorious B.I.G.'s "Nasty Girl". The apartment oozes sex: black ceilings and walls, black mosaic tile in the bathroom, black cabinetry in the kitchen, with furniture, artwork and décor providing a pop of color throughout the 3,800 square foot loft. Cindy told me she wanted the apartment to feel like the ultimate bachelor's pad, so that when a gentlemen caller walks through the door he'd be turned on within minutes…That's so hot! Naturally, our creative juices were flowing and we were incredibly inspired. Now if only I someone would buy this bachelor's pad for moi!
I also caught one of my fave comedians, Jackie Hoffman, at Joe's Pub. She's hilarious and appeared in Kissing Jessica Stein, Mo' Money, Garden State, Legally Blonde 2, Strangers With Candy, Curb Your Enthusiasm, and 30 Rock, as well as Broadway's Hairspray, Xanadu and The Addams Family. Sex And The City's Cynthia Nixon and her wife were seated at a booth next to mine. As hard as I tried to listen in on their convo, the laughter from Jackie's jokes were too loud and between an occasional 'yes', 'no' and 'what?', I only saw their lips move. Afterwards, I reminded Jackie that we had met years ago and that I now work at Cosmo, she thanked me for coming. And she asked me if Cosmo needed a post-menopausal column…
I also attended a private dinner for Sodastream at the Gramercy Park Hotel in honor of Scarlett Johansson. Scarlett is the brand's first ever spokesperson, and she's obsessed with the carbonated drink making machine. She even travels the world with it in her suitcase. If it's good for Scarlett, it's good for Sergio! As soon as I got home, I popped my brand new machine on the counter and drank the night away. Delish!
Later this week, I went to another dinner, this time for one of my favorite singers Birdy, who is only 17 and has a voice of an angel (think Bon Iver, Sarah McLaughlin, and Ed Sheeran). The dinner was held at Hotel Americano in Chelsea, followed by an intimate showcase at The McKittrick Hotel to preview her sophomore album. At the performance, I also ran into Tom Odell, whose debut album was my favorite of 2013. And finally, I capped my week off with a stellar performance by London Grammar at The Box, who just happens to be my BFF Courtney's fave new band. They are a British trip-hoppy ethereal trio and bound to be massive. Imagine Florence Welch fronting Massive Attack.
After so much action during the week, this weekend I'm shutting off my phone, planting my butt on the couch, and catching up on the 64 hours of DVR that's been calling my name. Catch you all next week, until then follow me on Twitter at @SergioKletnoy and be sure to download my fave new tunes of the week!"
OBSESSED:
"Can't Rely On" by Paloma Faith
"Skinny Love" by Birdy
"Coming Of Age" by Foster The People
"Feels Like Coming Home" by Jetta
"Hold On" by Colbie Caillat
"Money On My Mind" by Sam Smith
"Air Balloon" by Lily Allen
"Can't Remember To Forget You" by Shakira and Rihanna