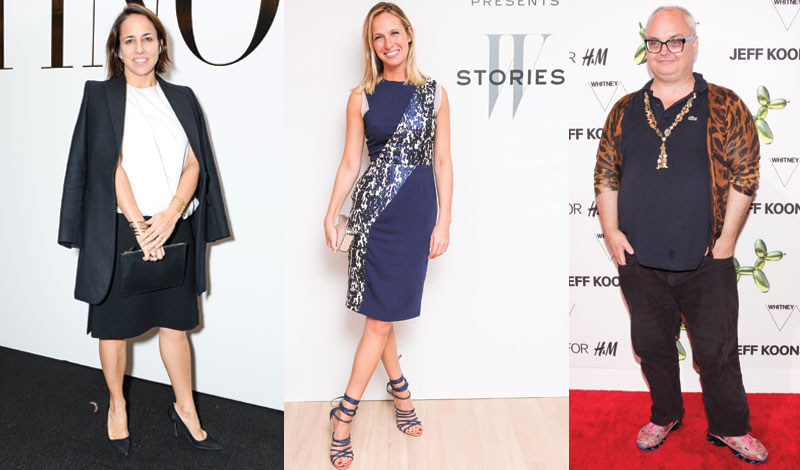 Chicsters Behaving Badly!
|
Fresh from the pages of the first issue of The Daily this season: You're perfectly positioned atop the fashion heap these days, but you didn't get there by following the rules all the time. That's why we love you!

Our inspiration: This letter received by Horacio Silva's parents during the Departures editor's high school years.

"My family immigrated to the U.S. from Russia when I was 12. My mom spoke broken English and after registering me at Christopher Columbus High School in the Bronx I told her that in American customs, parents weren't allowed to visit schools and that parent-teacher conferences did not exist. One day I got into a fight with my classmate and when I got home later that day there was a voice mail from the dean asking my mom to come in the next day—I was being suspended. I instantly deleted the voice mail and dragged my older cousin with me to school the next day. When the dean asked where my mom was, I told her that my mom abandoned me a year ago and that I'd been living with my cousin ever since. For some crazy reason the dean believed us and from that point on only reached out to my cousin. Viva America!" —Sergio Kletnoy, Cosmopolitan

"I went to the loo during story time at school. I must have been around 4 years old. I found some red powder paint under the sink and decided it would be fun to see how the red paint looked over the blue tiles of the sink area in the bathroom. I had been in there so long 'crafting away' that my friend Hayley Summers was sent to look for me. When she saw what I had done, rather than being horrified, she joined me in finishing the job. Needless to say I didn't have much of a life after school for the following weeks, but it did spark an enduring love affair with art and painting."
—Misha Nonoo 
"When I was a senior in high school, living in London, my parents went to Brussels for the weekend and left me in charge of the house and my two younger brothers. Recipe for disaster! Instead of a quiet weekend, we threw a small get-together that soon grew to become a 200-plus person wild party of debauchery. The party lasted six hours. The cleanup took a full two days to hide all signs of a house ripped apart then scrubbed and put back together. Our parents never knew… until probably now if they are reading this! We did an excellent cleanup job."—Nancy Berger Cardone, Marie Claire

"I called my dance club teacher a b*tch during my senior year of high school. That was beyond unacceptable at my very proper all-girls private school. I got sent straight to the headmistresses' office. I mean, I had the flu and missed practice and therefore she didn't want me to perform in the final recital. So unfair!"—Dani Stahl, Nylon
"I had always been basically well-behaved, but in eighth grade, I discovered that being a troublemaker got me lots of attention from the cute, cool boys. Naturally, that made me go overboard. I had planned to pull the fire alarm for awhile as kind of the cherry on the cake of a year of bad behavior. Being a blabbermouth, I mentioned it to a few people and word sort of spread about the plan, so I felt like I had to do it. When it happened, I was called to the principal's office. He was sexy in a silver foxy Napoleon kind of way, but he didn't really put up with any s**t. They had called my dad, which was mortifying because he was going through a phase in which he wore cowboy boots and Western looks, even though we lived in suburban Chicago. I said I had not pulled the fire alarm, and my dad said that even though I was a troublemaker, I was not a liar. That made me feel a little pang of embarrassment and shame for lying, so I admitted I did it. So they said, 'You're done here!' and had me go to my locker and get my textbooks and return them to each teacher and tell them I was suspended for the rest of the year."—Mickey Boardman, Paper
"I got away with everything. I'm not telling you about all the bad stuff I did!"—Kate Young
I was such a dork in elementary school. The worst thing I did was be the lookout for my friend who stole a pack of watermelon gum at the local grocery store." —Peter Som

"At boarding school, my roommates and I would go AWOL occasionally to visit the cool boys' dorm. We would sneak out at night wearing dark clothes and sprint through the golf course to get there, avoiding lights and security guards. It was worth the risk!"—Tinsley Mortimer
"When I was in high school, it was a tradition to paint the year you graduated on the road. I decided to take it a step further: I painted a 50-x-50-foot 'ABSOLUTE 93' in the main intersection in front of my school. I thought it was pretty badass until I was pulled over by the cops and my dad was called at four in the morning. He was most upset I had used his good brushes!"—Michael Carl, Vanity Fair
"At Palm Beach Day School, a pink slip was sent in the mail to my parents if I was naughty, which was quite often. So I would race home after school, check the mail to see if there was anything from school, then hold the envelope up to the light. If there was pink inside, I would immediately bury it in the sand at the beach!"—Marjorie Gubelmann
"When I was a senior in high school, our campus moved locations and our new building was very stale; all the old traditions from the old campus seemed to have been lost. So my friends and I decided on Halloween that we would bring back the tradition of the senior class 'decorating' campus (and by decorating I mean toilet papering every tree available and using shaving cream to write 'cute' notes). Although sanctioned by our parents, the school administration was less than amused by our antics. It was a good old-fashioned interrogation until one of us broke her silence, followed by the next and the next. Clearly, we were not seasoned criminals. So we all got in-school suspension, which actually ended up being kind of nice and more like a private studying room."—Natalie Holst, designer, Holst & Lee

"I used the money my parents gave me for weekend piano lessons in eighth grade to shop at Patricia Field. I'll never forget Connie Girl fitting me for my first wig in 1990."—Sidney Prawatyotin, vice president of fashion, Krupp Group

"I grew up in Washington, D.C., during the 1980s, which meant going to see a ton of great hard-core bands—Fugazi! Scream! Bad Brains! Rites of Spring!—but it also meant being straight edge for the majority of my high school years. So I didn't misbehave nearly enough. I should've drunk far more cheap beer than I did."—Adam Rapoport, Bon Appétit
"I was expelled from kindergarten! Didn't even know that was possible. And then in fifth grade, me and two other friends put soap in the principal's office aquarium. The oxygen pump made so many bubbles that her floor became a big bathtub. Poor fish!"—Melissa Rubini, InStyle
In 10th grade, I was suspended  from boarding school for a week for drinking on campus. I think it was vodka and orange Crush—very sophisticated! I was traumatized at the time, but I went on to become editor of our high school paper, so all was forgiven."—Anne Fulenwider, Marie Claire
"When I was 3, the day before my 4th birthday party, I took to my long waist-length blonde hair with mum's sewing scissors. The punishment was for the next 12 months I sported a boys' bowl cut. The worst photo from that time ended up in our local newspaper, which came to my preschool in 1984 and asked to 'interview the little boy with the blonde bowl cut.' "—Samantha Wills, jewelry designer