What would an East End weekend be without ample quantities of rosé to wash it all down? This vin du moment has never been more hotly discussed or heartily imbibed, so we checked in with Anthony Walkenhorst, the winemaker for Kim Crawford, to explain its appeal, as well as the brand's latest offerings.
How did you get your start in wine?
After I graduated with first-class honors in agricultural science from the University of Adelaide in Southern Australia, I knew I wanted to pursue a career in winemaking. I decided to travel the vintage trail to work harvests from Australia to the Napa Valley and further my education. Eventually I found my way to New Zealand, and as soon as I arrived, I knew I was home.
When did you join Kim Crawford?
In 2005, and I haven't looked back since. The Kim Crawford philosophy on making good wine is simple: focus on flavor, and I like to think of myself as a guardian of flavor—it's what makes every wine unique. The first Kim Crawford wine I ever helped to make at the winery won the sauvignon blanc trophy at the Air New Zealand Wine Awards. That was such an amazing feeling!
What do you love about New Zealand?
There's just something about the natural beauty of New Zealand that makes winemaking come naturally to me. The bright, fruit-driven flavors you experience with every Kim Crawford wine are inspired by the vibrancy of this country and its pristine vineyards. Being a winemaker with Kim Crawford allows me to combine creativity and science, which I love. I really am living my dream here.
How many wines are in the brand's portfolio?
There are five flagship wines—sauvignon blanc, chardonnay, pinot gris, pinot noir, and of course, rosé—which all boast expressive and exuberant flavors from the finest grapes.
What inspired the push into rosé?
The rosé category is on fire at the moment, and we saw a real opportunity for Kim Crawford to bring our own expression of rosé to our loyal and devoted consumers. Translating demand is all about offering an excellent wine from a brand that people trust—the rest happens naturally!
How much rosé have you been tasting lately?
Well, I woke up to our first frost here in New Zealand today, but I have my summer rosé–filled memories to see me through. And truthfully, what a lot of people don't realize is that rosé really is a year-round wine. It's incredibly versatile and food-friendly, which makes it an easy choice, come rain or shine.
What was the biggest challenge you encountered in getting it exactly right?
Achieving the perfect flavor profile is always the most involved part of the winemaking process. Kim Crawford is known around the world for its expressive wines, so this rosé had to live up to that. I spent a lot of time experimenting with the merlot grapes to achieve a level of vibrancy in the flavor that brings something quintessentially Kim Crawford to this category of wine.
Tell us about the flavor profile.
Luscious is the best way to describe the flavor profile for our rosé. It is bright and fruity with hints of watermelon and strawberry. As soon as you open the bottle, you're hit with berry and tropical fruit aromas. Let's just say if you could taste summer, it'd be something just like this.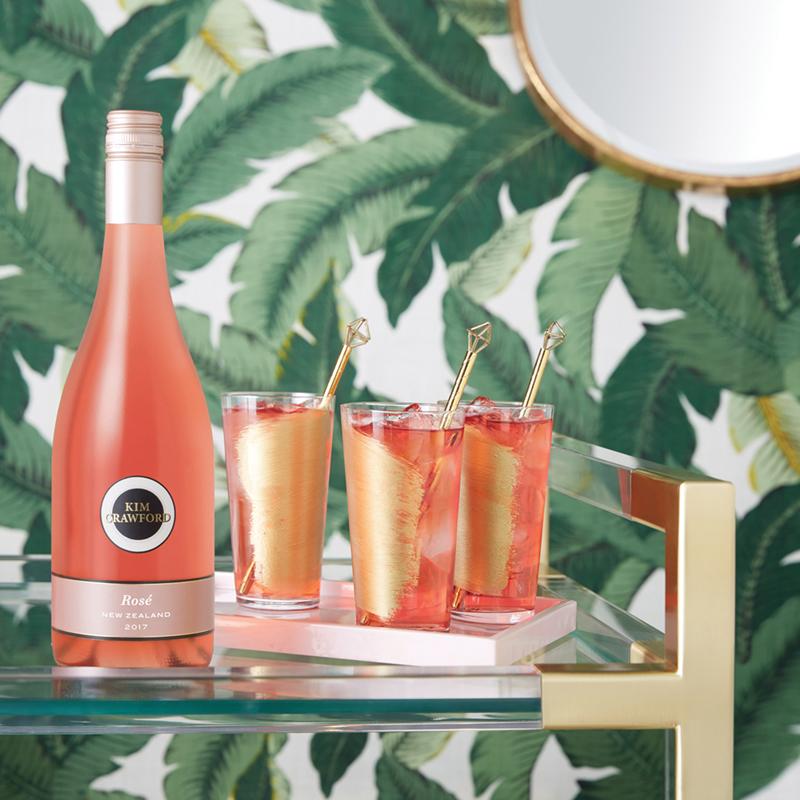 How did you achieve its gorgeous pink color?
The perfect color comes from meticulous timing. The fruit for our rosé comes from selected vineyards in Hawke's Bay, New Zealand. The merlot grapes were harvested and destemmed, and the juice then soaked on skins for a few hours to extract a pretty pink color before being pressed. The longer you soak the juice, the deeper the shade of pink, so we have to be very precise about the timing to achieve the balance of color and flavor.
Best place to drink it?
For me, there's nothing better than enjoying a glass of rosé outdoors. Being surrounded by the natural beauty of the wine's origin and soaking up the surroundings that inspired its character is the most amazing feeling.
And as for the foods to pair with?
Rosé is incredibly food-friendly and crowd-pleasing! It's an ideal apéritif or summer sipper, and is perfect paired with lighter dishes and salads.
And who are your ideal drinking companions?
This rosé was made for sharing, and I think it's always best enjoyed with family and friends. Nothing helps me unwind faster than a good glass of wine, and our rosé is excellent for a summertime staycation, vacation, or a Tuesday night.
Rosé on ice: yay or nay?
There really is no wrong way to enjoy rosé. You should have fun with it and experiment. If you're enjoying a simple glass of rosé in the sunshine, I wouldn't suggest adding ice, but if you're making a rosé cocktail to entertain guests, go for it! This wine can be enjoyed in many different ways.
Why do you think rosé is such a quintessential summer drink?
First and foremost, it's about the aroma and the flavor. There are few things better than a chilly glass of Kim Crawford Rosé, serving up bright berry flavors and crisp acidity. It's the perfect drink for a hot summer day!