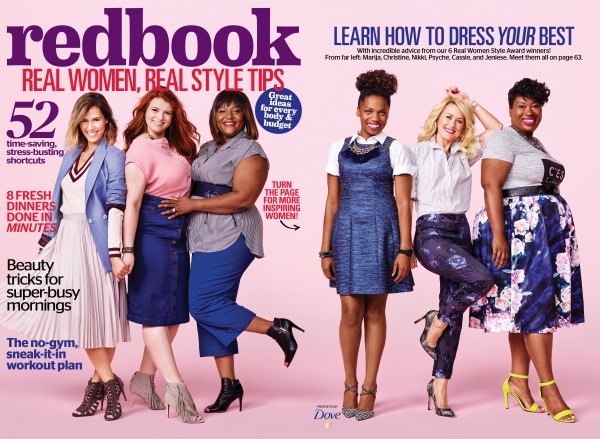 Redbook's September issue marks a first for the glossy: They chose real women over models or celebrities as the faces of its cover. The six winners of Redbook's Real Women Style Awards won a spot on the cover, and were flown to New York City for the shoot. The women also appear in a multipage editorial feature where they share everyday beauty tips and fashion advice.
This is the second year Redbook hosted the Real Women Style Awards, "a nationwide search to celebrate stylish women with real bodies and real budgets," who range in age, body type, and ethnicity. To enter, readers uploaded three or more photos of themselves wearing their favorite looks to redbook.com. Judges and Redbook editors selected five winners, and the sixth was chosen by readers online. The panel included celebrity stylist and Team RED member Brad Goreski; celebrity makeup artist, owner of Mally Beauty, and Team RED member Mally Roncal; TV personality and style expert Jill Martin; style expert and host of TLC's "Style By Jury" Louise Roe; Eloquii Creative Director Jodi Arnold; and Gabi Fresh style blogger Gabi Gregg.
"This year really took it to a completely new place," Redbook Publisher Sue Katzen told The Daily. "The vision of the editor [Meredith Rollins] is to really support the reader. She really understands who she is and it was so part of the magazine DNA—we like to have the readers see themselves all over the pages."
The six winners are: Christine Buzan, 25 (New York City); Psyche Southwell, 36 (St. Louis, Missouri); Jeniese Hosey, 36 (Birmingham); Nikki Frenny-Wiggins, 42 (Atlanta); and Marija Krosnjar, 31 (Chicago).
PLUS!
The Daily chatted with Redbook Editor in Chief Meredith Rollins at the cover unveiling party at Above 6 in NYC to get the scoop on the unique September issue, which hits stands nationwide on August 18th.
How did you get the idea to put the winners of the Real Women Style Awards on a cover?
We did the contest last year, and we just sort of wanted to one up ourselves. We got such a great response last year, so it felt like a natural progression, especially now, when women are so inspired by other women. We're always inspired by the runway and celebrities, or people who have amazing street style who have millions of followers on their blogs, but the idea for me of seeing women who are actually putting together amazing outfits on a budget—I just thought there was something so inspiring about it, and we know that our readers love to see real women in the magazine. We do a lot of stories where we have real people doing makeup looks or haircuts. It's been a point of difference for us.
Was this always a plan that you had for Redbook?
I've been trying to emphasize real women in the magazine and a real diversity in terms of ethnicity and size, constantly, since I took the magazine over. My first issue was last September, but it takes a little while to sort of get things rolling. So in the year that I've had this job it's really been an emphasis for me. The idea then of putting our Real Style winners on the cover felt kind of like a no brainer. And Dove was so excited to sponsor it, too. For us it was a pure editorial project. Dove was great and really supportive, but this is their first time seeing the ladies on the cover. They saw the finalists that everyone was voting on, but they had no editorial input at all and they really trusted us to put something together that was core to Redbook and felt perfectly seamless.
What qualities were you looking for in the winners?
We had some submissions from people that had huge style blogs, so the first thing was to not consider people who are already making money off of being stylish. There were a few people who we adored but they had a little bit of native advertising here and there, or they had sponsorship deals or whatever. So those ladies did not make it into the final six. We wanted them to feel like they all had a slightly different style. We didn't want it to feel cookie cutter. We wanted to be diverse. We did one reader vote of the 25 finalists. But everybody on the cover got a ton of votes. And we had judges, like Brad Goreski, who has a column in the magazine, and Mally [Roncal], and Jodi Arnold. It was funny how unanimous it was. I think that the winners really stood out because they were different, they were risk-takers, but they still felt really approachable and real. Partly what makes them so beautiful is just incredible confidence and an ability to put together an outfit in a way that feels really unique and really flattering.
What made you choose the September cover, of all covers?
For us it felt like we were taking a stand. I love a September issue—I've worked at Lucky and W and Harper's Bazaar. I love those issues, I love getting the thing that feels like the phone book and seeing a million things from the designer runways and the most stylish celebrities on the cover. But it's fantasy, and you don't go through it and think, 'Well I'm going to buy these $2,000 hot pants and wear them to work on Tuesday.' You look at it purely as inspiration and fantasy and belonging to a whole other world. And what we're giving our reader is something in September that they can actually use and act on and is still every bit as inspiring. I think that the style these women have is so great and so spot on and it's so accessible. We didn't shoot anything in the magazine that you couldn't go out and buy from a store and that wouldn't fit most people's budgets. It's a pointed statement. And I also think that especially now women want to see people that look like them. They are responding to it. They feel like a lot of women haven't really been represented on magazines and this is a place where everybody's welcome and everyone's going to see someone who looks like them, and something about that is just very Redbook.