Any style savants who like to get dolled up have likely come across a Rachel Gilbert label on a dress or two in their day. But did you know the Australian designer started her namesake brand way back in 2007? While it was a very different fashion industry then—Instagram only launched in 2010, kids!—her distinctly elegant POV and feminine silhouettes have been consistently delivering and attracting fans, new and returning, for almost two decades, particularly when it comes to glamorous gowns and wow-worthy separates. With her sights set on major expansion in the US in the near future, we took a stroll down memory lane—and got the scoop on what's next! 
What did you think you would be when you grew up?
Growing up, I was always innately inspired by my father. He has an extremely entrepreneurial outlook in business, so from a young age, I knew I wanted to do something of my own. That desire to be in the industry came about in my mid-teen years, when fate guided me to fashion design and I threw myself at it and didn't look back.
How did you start out? 
I studied Design and Fashion at the Whitehouse Institute of Design in Sydney. When I completed my studies, I moved to New York to join Nicky Hilton on her design team. This time in New York solidified my love for the industry. I was so inspired being in the city and being around people who were equally as ambitious and determined. I learnt so much during this time, when I moved back home I started developing and establishing what is now known as Rachel Gilbert.
Do you remember the first piece you ever designed? 
My studies started at the young age of 16 and to me, design was about expression and less about commercially driven vision. My first design was a metallic dress with strong frill focus and exaggeration. I believe from very early on, I knew my strength and passion were connected to event dressing.
You officially launched in 2007. Take us back to this time! What was the industry like then? 
2007 simultaneously feels like a lifetime and just yesterday ago! The industry in Australia was gaining momentum in the international landscape of fashion. Hand embellishment quickly became my trademark with the brand as the Australian market had been quiet with this type of product. Media and tv had a huge influence on the industry trends and online shopping and social media were yet to hit the industry, so the landscape was a lot less competitive and our new embellished accessible luxury pieces stood out predominately.
View this post on Instagram
What came next?
I was quick to venture into the US market soon after launching the brand, as I had a clear intention of creating a global brand sold throughout many regions. Rachel Gilbert was soon worn by celebrities of the time such as Paris and Nicky Hilton, Kim Kardashian right as she was becoming a household name, and Taylor Swift for her red carpet appearances and tours.
Why did you continue to base the brand in Australia?
Ultimately, I was drawn back to Australia because I felt there was opportunity here for the DNA of the brand. I had also built my manufacturing network here and knew the landscape well, so it made sense to secure the brand in my home country before expanding into other regions. Australians support each other and are loyal to brands contributing to the Australian
market, so it made sense to begin the journey with a sense of strong community and comfort as creating a new business  requires a lot of support and can be extremely challenging, especially in the first few years.
How do you summarize Australian fashion? What makes the country's style + spirit unique and special?
It's unique in the sense that Australians, as consumers, are very open to welcoming new brands into the market, whether they are based on home soil or internationally. It creates a lot of diversity in what is deemed 'Australian fashion.' Typically,
people want what they wear to be a reflection of themselves—so you will see a lot of structured silhouettes, color variety, and day-to-night wear. Event-wear in the last few years has grown exponentially in Australia. People truly are dressing for the occasion and leaning into silhouettes and styles that are more of a 'moment.'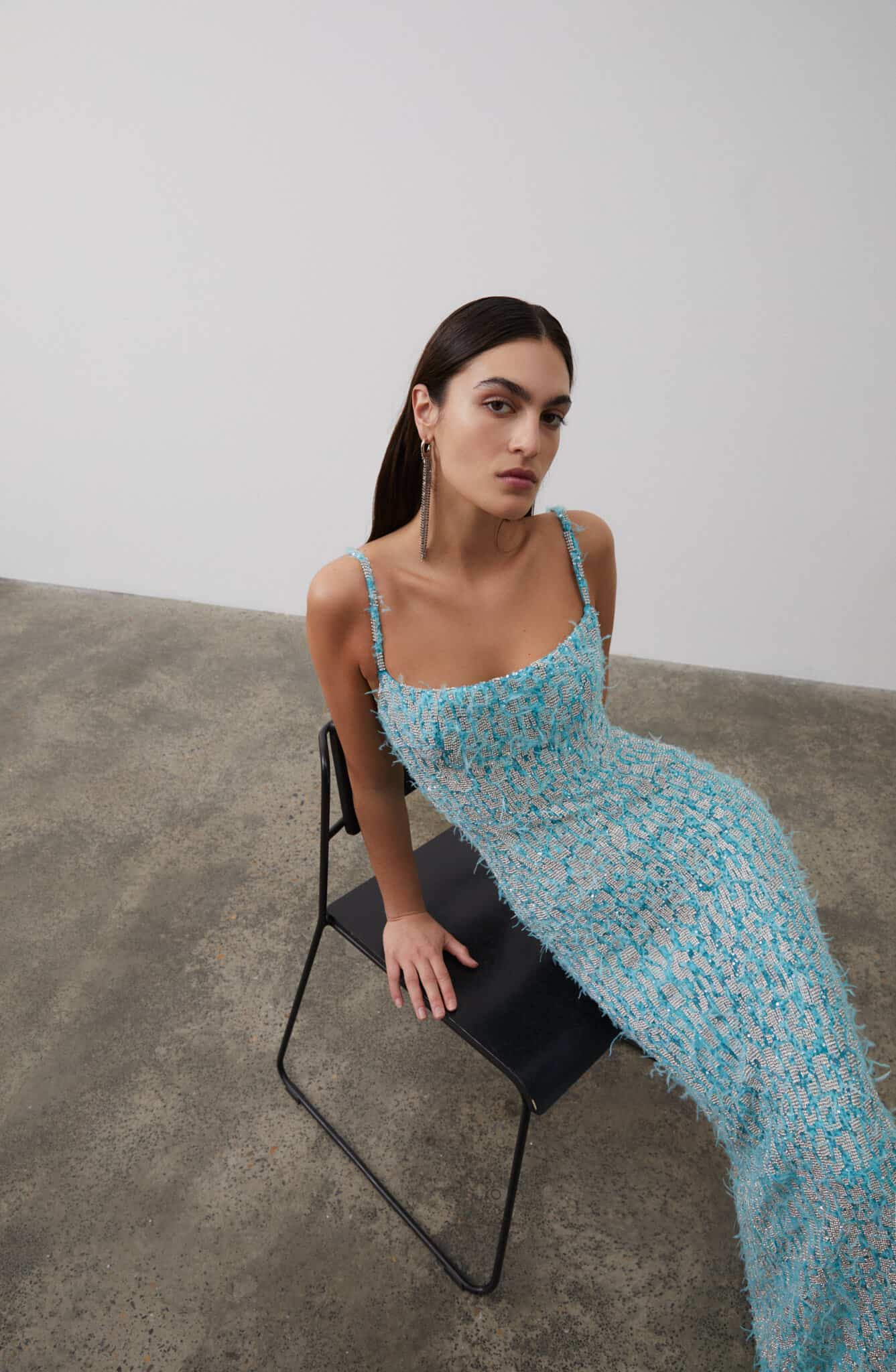 What initially put the Rachel Gilbert brand on the map? 
Rachel Gilbert was established at a time when event-wear was new to the Australian market. I think the brand initially offered something new that caught on quickly in Australia. In the early years of the brand and coincidentally her own career, we dressed Taylor Swift for part of her 2009 tour. I remember she wore a black mini dress with an embellished \ neckline which circulated the media quite aggressively, as well as a mesh embellished long sleeve top. Both quickly became best sellers! We were able to gain the support of some amazing international stockists during this time, like Bergdorf Goodman and Harrods, as well as expanding our local retail footprint with boutiques. The momentum picked up quickly and we have been lucky enough to continue to evolve and grow over the years to put the brand where it is today.
What have been some other personal and professional milestones along the way that you're most proud of?
In the early years of the brand, it was a huge achievement to be in iconic retailers like Bergdorf Goodman. I spent so much time there during my time in New York, so having my brand there was, and still is, something I'm extremely proud of. Every
store we opened in Australia felt like another tangible milestone and opportunity to connect with our clientele face to face. More recently, its been the expansion of our team and brand into different categories; welcoming the contemporary category to Rachel Gilbert has been a huge achievement for myself and one that feels like a true representation of myself and how I dress. The growth and acceptance the brand has had in the US in the last few years has, in a way, felt like I'm returning back to those years when I lived there, and being able to bring something into the industry in a different way.
Does the Rachel Gilbert brand differ post-pandemic from pre-pandemic?
I think a lot of brands felt the effects of the pandemic and we saw an organic shift from this. The pandemic was a time to recalibrate and really ask myself what the Rachel Gilbert brand stood for, and what it would be in the years to come. It brought on the most pivotal shift since the beginning. It was about looking forward 10-20 years and envisioning where Rachel Gilbert would be. I started thinking of the journey of making Rachel Gilbert a permanent fixture in the fashion industry. Our product offering has expanded, welcoming new categories in the seasons to come, and we have created a more holistic approach to the brand. While the product is expanding, it's also more considered; every silhouette and style rings true to the DNA and core values of the brand.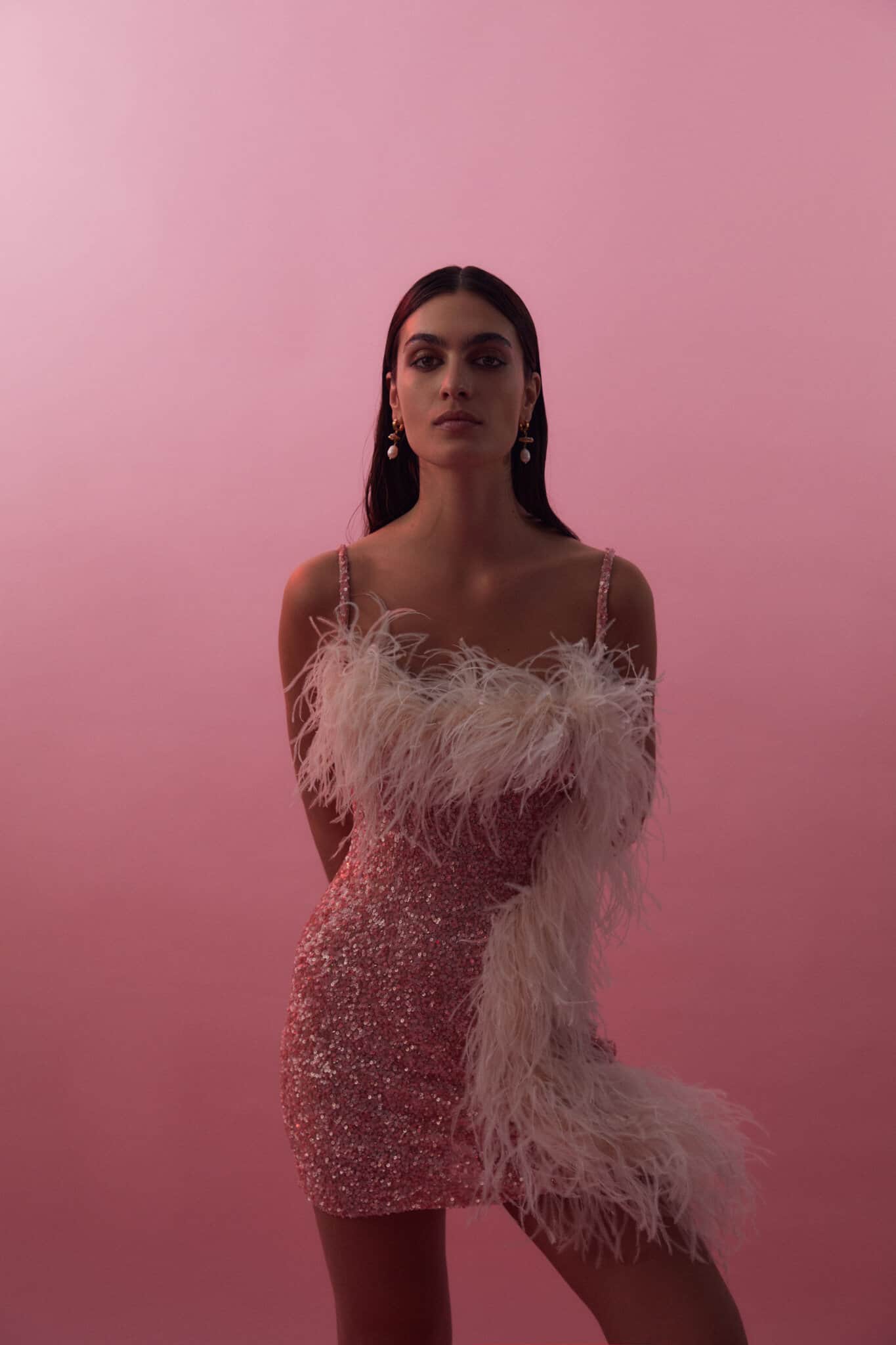 What has been attracting younger customers to the brand? And what has been retaining your loyal fan base over the decades?
I think in terms of welcoming a younger customer to the brand, society and the industry as a whole has seen the younger generations become more informed on fashion decisions. Consumers everywhere, including Gen Zs, are extremely empowered in their decision-making thanks to the rise of technology. They want quality and longevity in brands and I think Rachel Gilbert does that quite well. Being an event-wear brand, we are lucky enough to be there during the special moments in people's lives and I think no matter our age, there is always an occasion we want to invest in ourselves for.
Tell us about your most recent collection!
Our most recent collection, Fluidity which we're currently showing in NYC and Paris, is about movement. The inspiration came from oceanic landscapes and the colors and textures in coral reefs. The collection was to serve as a sartorial palette cleanser for the event season. The product showcases new elements of the brand that have not previously been seen: silhouettes with deconstructed sheer elements, new hand beading work, and the introduction of complementary accessories that act as an extension of the styles in the collection. I love everything about this season, the consistency across contemporary and eveningwear really showcases what is to come for the brand.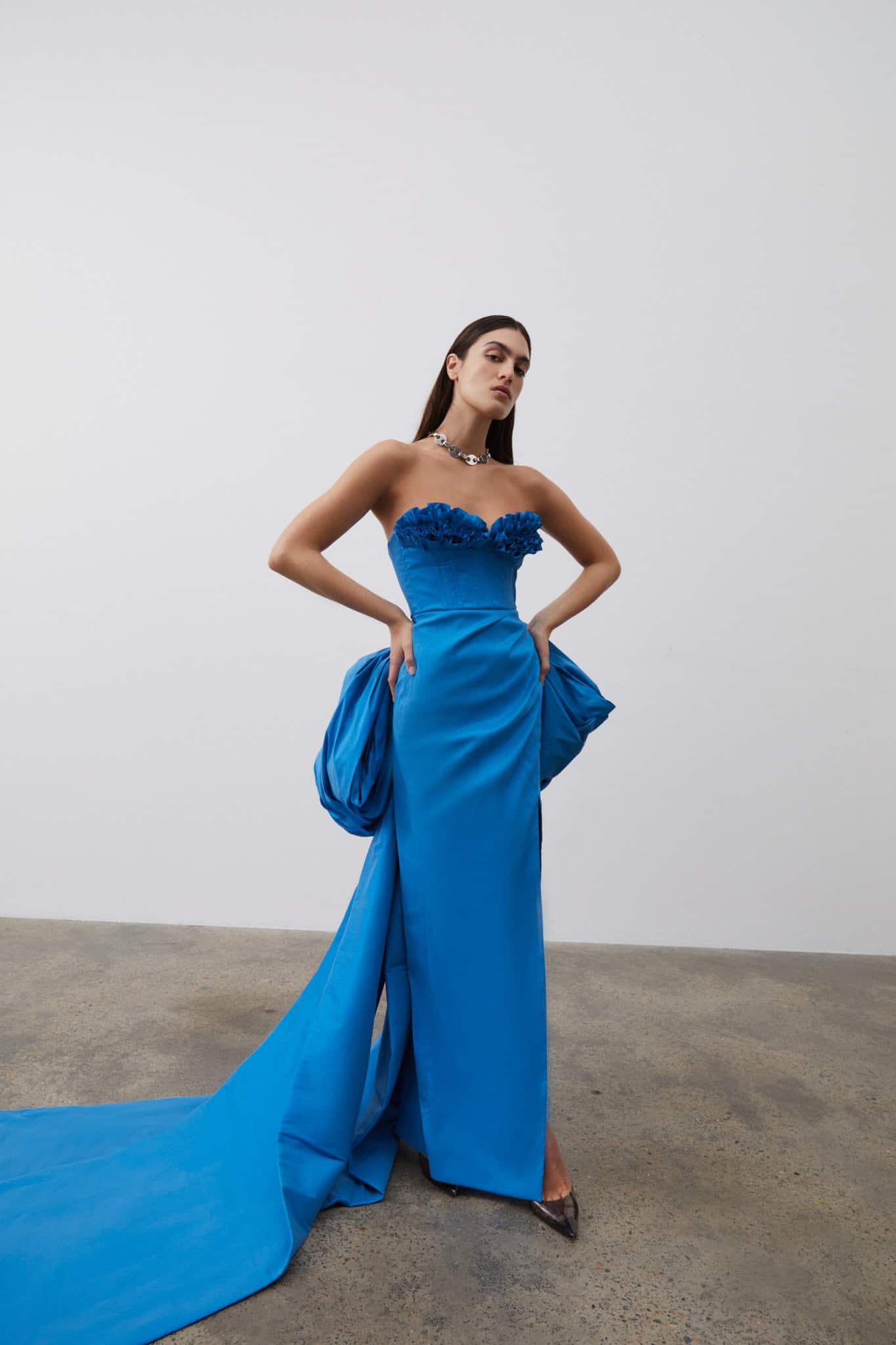 You're coming back to the US in a big way… what's on the horizon this summer and for the remainder of 2023?
It feels exciting to have a big focus on the US market, as I've mentioned it really does feel like a second home and it feels so natural to be expanding Rachel Gilbert there. For me, it's about spending time in the US to introduce the brand and tell our story. We are lucky enough to partner with some of the best in the industry to do this. Over the summer, we will launch our contemporary line in the US. It's an elevated line that is based on wearability and versatility, welcoming a new holistic and accessible approach to our product offering. There are a few more dates on the calendar that have me in NYC for exciting activations and meetings. It really is just the beginning! Outside of summer, we're hoping to expand our physical retail presence in NYC, welcoming Rachel Gilbert pop-ups and eventually standalone boutiques.
What do you think is the most exciting thing about the future of the fashion industry?
The industry is ever-changing, and I think the level of creativity we see across the board is truly remarkable. Aside from the current landscape of the fashion industry, I think it is incredible that bigger conversations are happening around diversity, conscious decision making, and making the industry a more accessible and accepting place. I look forward to seeing how it continues to evolve and being a part of that journey.
What can you not get enough of right now?
Running a business is exhilarating however all-consuming, especially when we are in a strong growth plan with ambitious goals. Family is always my first priority in life and I am devoted to creating that time for us to be together and to being a strong presence in my daughters' lives. I found recently I am immersing myself and obsessing over anything wellness-related to restore balance and take the time to connect spiritually, mentally, and physically to ensure I can sustain the busy lifestyle. So, infrared saunas, reading, holistic spa days…all of it!
What dreams are you still working towards for the next chapter of the Rachel Gilbert brand?
For me, the dream is to continue to grow and cement the brand on a global scale; to be able to offer the Rachel Gilbert experience to a global audience and have it tailored to their needs; for anyone who buys into the brand to feel special, memorable, and confident in themselves. The dream will always be to maintain engaged with the consumer, to tailor the offering for her/their needs and to continue to evolve and refine.
Subscribe to our newsletter and follow us on Facebook and Instagram to stay up to date on all the latest fashion news and juicy industry gossip.