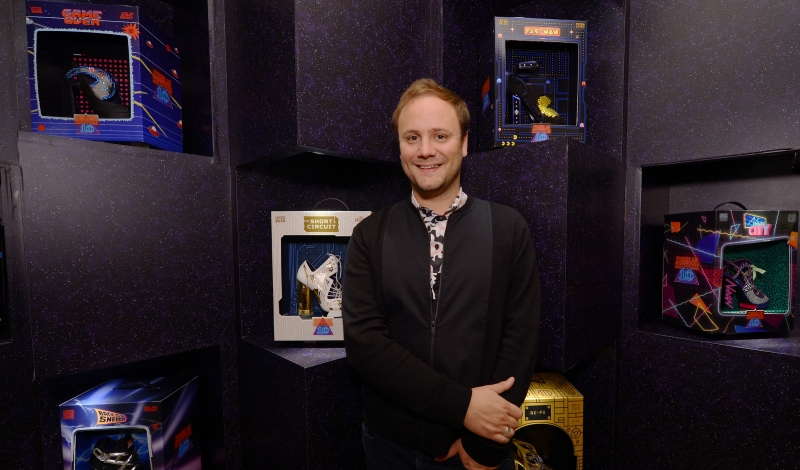 Courtesy
Nicholas Kirkwood On His '80s Arcade Collection
|
Nicholas Kirkwood already celebrated his 10 year anniversary with a big bash in London and yesterday he arrived stateside to toast his limited-edition '80s arcade-inspired collection at Bergdorf's. Kirkwood filled us in on his early years, his favorite kicks, and his extremely busy schedule. (P.S. If you want a pair, act fast! There were women phoning in to buy these $4,900 collector's items in addition to the ones that swung by to purchase them in person.)
What inspired the Arcade collection?
It came about after looking back at the first 10 years of my collection and taking some key styles and reimagining them as if it was the first 10 years of me growing up. It's about all of the things that I loved back then, from computer and arcade games to films and toys. I just took all of these sort of boyish things and applied them to women's shoes.
What were you like as a child?
Very mischievous!
What was your favorite arcade game as a kid?
Pac-Man and Space Invaders, obviously. But of course, I played them all.
The shoes come in cool boxes! Did you have to get special permission from some of these games?
We actually worked with Pac-Man on those shoes, but for the rest of them, no. The other ones aren't as much of a direct representation. We didn't use the logos on those.
How many are available in each style?
They're each limited to 10.
What has it been like looking back on the last 10 years?
Some things feel like they've happened in a flash and some things feel like they happened forever ago. It's really funny.
You have a 'Back to the Sneaker' shoe. What did you think of Nike's 'Back to the Future' shoes?
I actually tried to get them for our party, but we couldn't get them over in time. I was totally going to wear them. I wanted to get them when they first released them a couple of years ago, but now I really want them since they actually lace themselves up now.
We hear you've been traveling constantly. Is New York your last stop?
Not quite. We're headed to Singapore next and then to Dubai. I'm only in New York for less than 24 hours!