We're bidding adieu to NYFW, but there's still lots of stylish action ahead — this weekend, UBM Fashion's Coterie trade show takes over the Jacob K. Javits Center. Here's a sneak peek at some of the exciting designers and brands showing this season.
1. French Connection
Maria Chen, Creative Director
What's new this season?
We studied real-life wardrobe staples of models and influencers, and were inspired by their travel lifestyle. Modern-day fashion is about celebrating diversity and individuality.
Why did you decide to have Morgan Saint perform at your NYFW show?
She's raw, understated, and personal in both her music and her style. French Connection has always supported emerging, young talent, like Kate Moss, Adriana Lima, and Hailey Baldwin. Morgan has loads of personality, and doesn't take herself too seriously. We're big fans!
2. Tolani
Alka Tolani, Designer
What inspired you to become a designer?
I have always loved fashion. I grew up in India where fashion was all about color, beautiful textures, vibrant embellishments. When I moved to California I was frustrated with the lack of movement and vibrancy in the clothes I found in stores. After lots of failed shopping ventures, I decided to create my own line.
How did your collaboration with Nicky Hilton come about?
Nicky had been wearing Tolani long before I got the chance to meet her! When we finally met we got along right away with our shared passion for fashion and love for vibrant prints. It's always been great hearing about her favorite pieces! Our relationship developed into this collaboration. Nicky has lots of great ideas and we bounce ideas off each other. Her inspirations from her travels are the basis for this collection.
3. Girlboy Morgan Hoffman 
Morgan Hoffman, Designer
How would you describe your brand's aesthetic?
I've always been drawn to women whose style combines feminine and masculine. Our clothes are meant to be part of your permanent collection. Each piece is gorgeous, classic, and of exceptional quality, like our feminine power suits.
Who are your muses?
Every piece in our collection is named after the style icon who inspired it, like Marlene Dietrich, Katharine Hepburn, Diane Keaton, and Edie Sedgwick. These women weren't bound by society's conventions. I also adore Cate Blanchett and Tilda Swinton.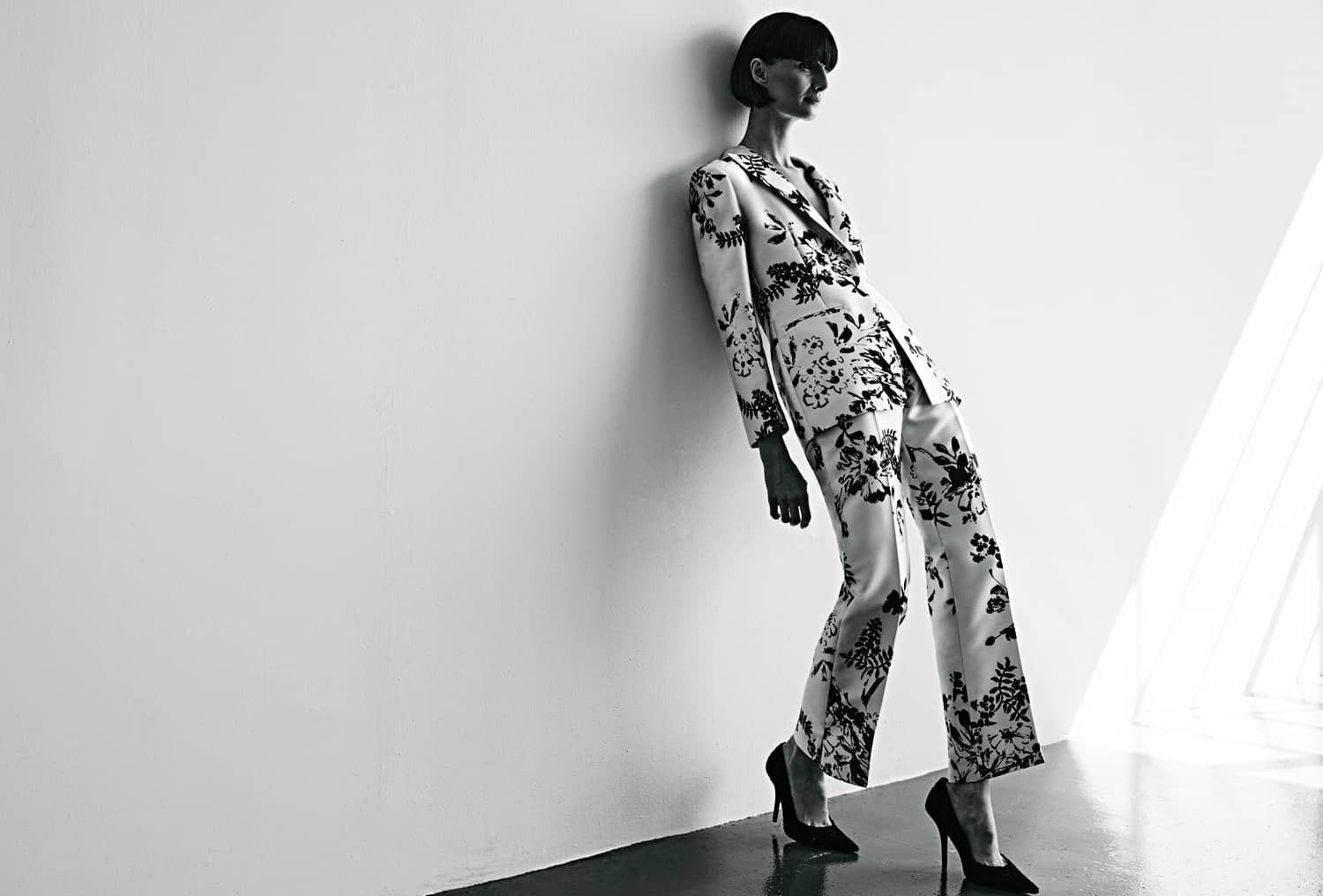 4. Nu Vintage
Jacques Kevorkian, Founder
Dream designer collab, please!
I would collaborate with Off-White, for a combination of vintage and futuristic touches.
What's your strategy for surviving Coterie?
I like to have a few shots of espresso before and after the show each day.
5. Welden
Cori Adams, VP, Sales & Marketing
What are your best-sellers?
We have two: We launched the collection with the Voyager Small Flap Satchel, which is structured and functional, with clean lines, and also, the Explorer Camera Bag, which launched for S/S '18.
6. Legami Jewelry
Lisa Goldstein, CMO
What's your best-selling piece?
Our Promise Bracelet. Not only does its name and purpose make it so popular; it's a visible promise of your unbreakable bond. The "promise" can be interpreted in so many beautiful ways. Customers have bought these bracelets to promise to love, to forgive, to never forget.
7. R.G. Kane
Robert Kane, Lead Designer
How did you break into the fashion industry?
I grew up really enjoying dressing up, and I've always believed clothes are important. While studying fashion design at Parsons, I interned at Edun, Rosetta Getty, and Creatures of the Wind. After graduation, I moved back to L.A. and worked as an assistant designer for Raquel Allegra. After a couple years, I decided to try something on my own.
8. Thacker
Dana OTT, Director of Sales & Marketing
How did you kick off your fashion career?
I grew up with the chicest grandmother ever! I used to spend hours getting lost in her closet. I attended FIT and found my calling in sales and merchandising. I landed my first job at Gucci in 2000, and never looked back. Here I am, 18 years later, working for a brand I truly adore.
9. Delicate Love
Annekatrin Lasper-Fromm & Wiebke Schilbock, CO-CEOS
What inspires your design process?
Life, friends, and being together. Nothing else can be more creative. Watching people and traveling are the most creative things for us.
What's your best-selling piece?
Our statement Rainbow coat, because it's a color and a fabric explosion. The combination of two yarns gives a 3-D effect.
10. Luana Italy
Eve Bender, VP, Sales
What's your best-selling piece?
Our signature Gabriella satchel. It's stylish, well priced, and structured.
Who's at your dream fashion dinner party?
Michelle Obama, Anna Wintour, Coco Chanel, Marilyn Monroe, and Serena Williams.
11. Planet By Lauren G
Lauren Grossman, Owner & Designer
What's new this season?
We're introducing a new "Foil" fabric for Spring '19. It's a metallic silver that is trending in the futuristic look this season. It is eye-catching and fun to do a few whimsical pieces.
Who's your designer muse?
Donna Karan. I love the way that she drapes her jersey pieces.
12. Nicole Miller
Nicole Miller, Designer & Founder
What's the mood of your Spring '19 collection?
Nostalgic and timeless. There's a bit of an '80s influence, but I didn't want to get too caught up in one period or one time zone. The collection has a lot of contemporary dresses.
Any favorite silhouettes you're loving for fall?
I'm sure I'm not the only person doing this, but I do love a long, oversize blazer. I began last fall, and there was a lot on my runway, but for Spring I made it bigger and longer, and tweaked some of the details. The jacket is like the length of a short dress now. The blazer is definitely back! It's just got to be a little more interesting.
13. Velvet Heart
Jordan Tsabag, EVP
What's your label's aesthetic?
We're a California lifestyle brand: casual, on-trend, fun.
Who are your muses?
Alexa Chung. She's got the ultimate cool-girl style, remains an industry favorite, and is a talented designer. Also, Jane Birkin—she's iconic and effortlessly stylish.
14. Wooden Ships
Paola Buendia, Co-Founder & Designer
How has the brand evolved over the years?
We've become a go-to source, not just for cozy winter sweaters, but also for the best beach sweaters. This year we added new distressed silhouettes and graphics to update our best-selling beach collection.
Where do you find design inspiration?
I'm lucky to live in multiple communities: Bali, New York, and Colorado. In each place I have a great tribe of friends—designers, artists, entrepreneurs, yoga teachers—and I think of them all when I design!
15. Time's Arrow
Creative Team
Who's your typical customer?
The Time's Arrow girl is always on the go, and has her own sense of style. She's fun and quirky, and loves to mix designer and fast fashion.
What's your best-selling style?
Our crossbody bags! We've been producing them for the past several seasons. This season has two new shapes: the Sadie and the Sadie Mini.
16. Lancaster Paris
Kasandra Carlson, SVP Sales, Merchandising & Marketing
How did you end up in the fashion biz?
I originally wanted to be a sports broadcaster as both my parents were once professional athletes. I came across a fashion industry job opportunity in college, to help me pay for school. I quickly fell in love with the business!
What's new for this season?
Spring '19 is a great combination between French inspired wearable elegance and the flirty first days of spring. There are textured leathers and color blocking. It's breathtaking!
17. Aratta
Susanna Karapetyan, Designer
What's your signature item?
We're known for our gorgeous, unique blouses; that's what stores come to us for first.
18. Hale Bob
Daniel Bohbot, Owner & Designer
What's the Hale Bob aesthetic?
Feminine, distinctive, one-of-a-kind fashion with a distinctly resort vibe. Our clothes have unique prints and quality fabrics, and they are designed to be transformational.
19. Glamourpuss
Courtney Moss, Founder & CEO
How did you get into the fashion biz?
My mother has wonderful taste, and she instilled that in me. When I was a high school senior, my class voted that I'd be Lady Diana's stylist, so I guess I had something back then! My first job was with Saint Laurent. Then I worked with some of the greatest designers—Armani, Tommy Hilfiger, and John Galliano at Dior. All these influential people taught me a great deal about business, fashion, design, and image.
20. Sinesia Karol
Sinesia Karol, Founder & Creative Director
How did you kick off your fashion career?
My mom used to work in fashion, and as a teenager growing up in Brazil, I developed a love for fabrics, design, and especially for beachwear. I launched my line in 2012 in New York, and Bergdorf Goodman bought it immediately. I've never stopped! Now we have three stores in Brazil and the U.S., and we sell all over the world.
Subscribe to our newsletter and follow us on Facebook  and Instagram to stay up to date on all the latest fashion news and juicy industry gossip.