Our latest mover of the week hails from the sales side of the fashion world: Khoa Nguyen. After living la dolce vita in Rome, he developed an obsession with fashion. Before long, he was rubbing shoulders with Jean Paul Gaultier, Jeremy Scott, Alexander Wang, and Demna Gvsalia. Now he's making a homecoming of sorts, returning to Aeffa as SVP of sales and marketing. Khoa fills us in on his homecoming.
First things first: Tell us a little bit about yourself.
I was born in Saigon, Vietnam and my family left the country when I was eight months old. I grew up in Phoenix, Arizona and moved to New York for my undergraduate and graduate degrees.
When did you know you wanted to go into fashion? And what was your big break?
I knew I wanted to go into fashion after I moved back to NYC from Rome and started graduate school at Columbia. I was bitten by Italian fashion and started to think about ways to move into the field. My first break into fashion was with Jean Paul Gaultier ,who at the time was part of the Aeffe umbrella. I still remember my interview with Michelle Stein, who was and is the president of Aeffe USA. 
What was it like working with Gaultier?
Jean Paul will always have a special place in my heart. I have a picture of us after one of his runway shows—it was my last runway show with the Maison. It was a picture of me, Jean Paul, Beth Ditto, who performed at the show, and a few other people in his inner circle. I recently posted this pic to Instagram. Apart from my own adoration for Jean Paul, as a professional, he was always kind and reserved. He knows how to construct clothing and is a trendsetter.
Then you worked at Moschino with Jeremy Scott. How was working that different from working with JPG?
Jeremy Scott has changed the way the brand communicates. He is in touch with the changes and the movements that are happening with young fashion people. This is a unique talent, among many, that Jeremy has as a creative director and designer. Working with him is incredibly easy and pleasurable. There's a reason why his documentary refers to him as the "People's Designer."
You were previously at Balenciaga as wholesale director. Were you there during the transition from Alexander Wang to Demna Gvsalia?
I started at Balenciaga just a few weeks before Alexander Wang showed his last collection for the Maison, which was Spring 2016.  I think Demna has quickly become a key player in our industry and it was an exciting time to be with Balenciaga.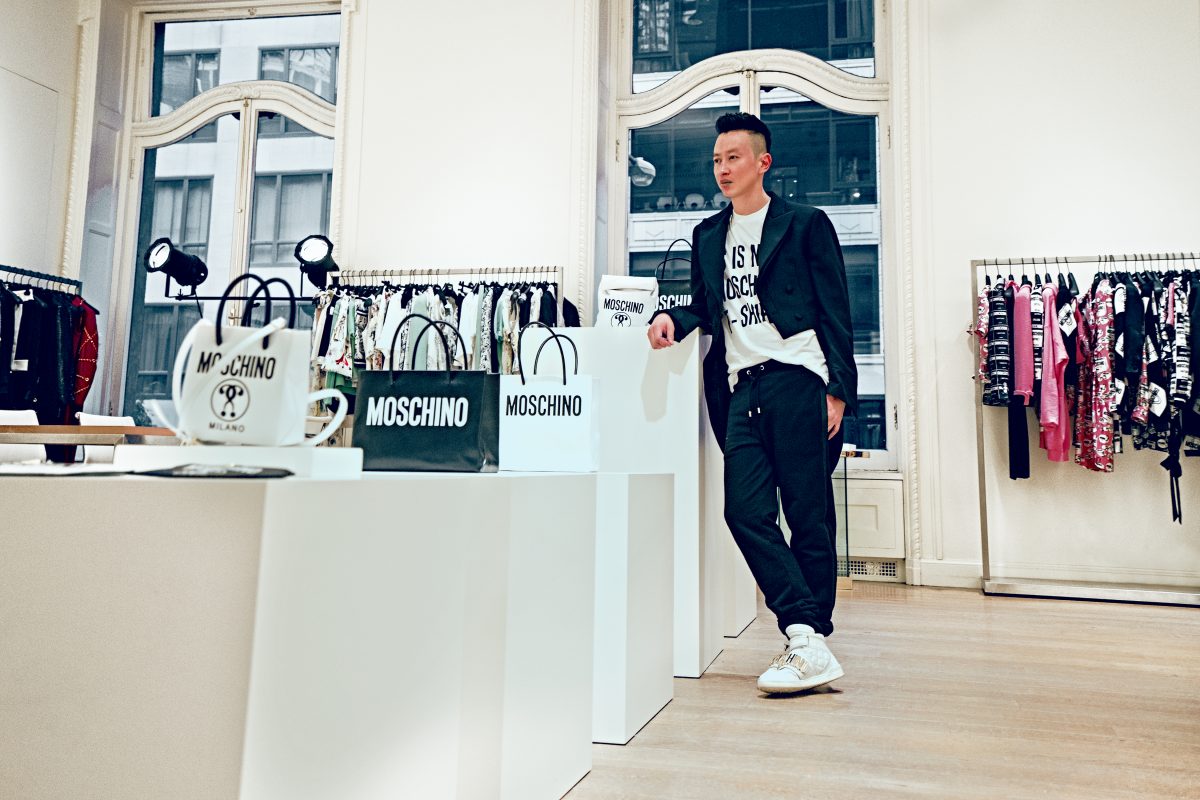 What's the snazziest part of the sales side of fashion?
The fun part of my job is trying to explain to people not in the fashion industry about what we do.  Sales is multifaceted, but telling friends and especially family, who avidly shop, that we work with the retailers to have these curated presentations at stores across the country never gets old. 
What's your least favorite part of fashion sales?
 Seeing a style in the collection you love that ultimately does not perform at retail.
What's the hardest part about your job?
Keeping up with the fast-paced and ever-changing retail climate.
Where did you learn to speak Italian?
I learned to speak and write Italian living in Rome and working at La Sapienza University of Rome. And in my first 11 years at Aeffe, I spoke and wrote in Italian every day with my colleagues in Milan and Cattolica.
How would you describe your sense of style?
I go from dressy casual to formal casual. I like to be comfortable and I get a lot of satisfaction in mixing and matching. I like tuxedo pants with comfortable knits, and tuxedo jackets with dressy sweat pants. I own a lot of sneakers to go back to these looks. I am also a fan of a great tailored suit, but the fabric or style has to have a bit of personality. I am not so traditional when it comes to suits!
So, what lured you back to Aeffe?
The Aeffe team has always been family to me. Many of the people who work for the company have spent their entire careers here. This is the atmosphere that Massimo Ferretti and Michelle Stein have created, and it is a good fit for me.
What are your fashion month plans?
I am looking forward to the Jeremy Scott show in New York, which was not officially underneath our umbrella when I left the company. In my immediate future, I am looking forward to traveling again to Milan for Alberta Ferretti's Limited Edition/Pre Fall 17 runway show, Cedric Charlier's Fall 17 men's launch, and the Fall 17 men's Moschino show.