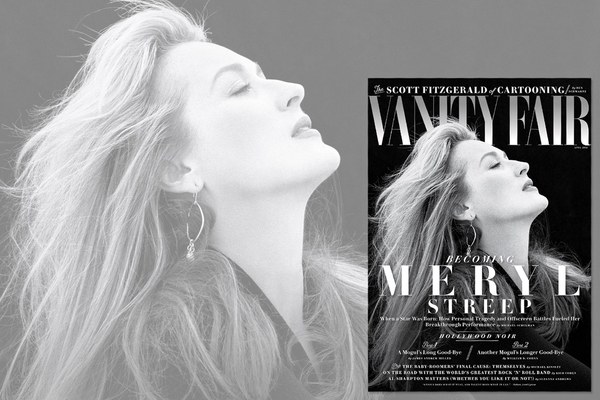 Vanity Fair goes into the archives for its April issue with a Brigitte Lacombe-lensed 1988 shot of Meryl Streep, who is the focus of an upcoming biography by Michael Schulman. VF features a long excerpt from his Harper book Her Again: Becoming Meryl Streep about making the 1979 film Kramer vs. Kramer, which brought her an Oscar one year later. The story reveals that the role of Joanna was initially offered to Charlie's Angels actress Kate Jackson, who was tied down to the Aaron Spelling show and wasn't able to do it. Streep faced further challenges when marketing executives at Columbia Pictures grumbled she wasn't pretty enough. Fortunately co-star Dustin Hoffman and director Robert Benton had her back, and the rest is history. You can read the full excerpt on VF.com.
In related news…Earlier today VF's fashion market director and funny boy Michael Carl paid tribute to Streep on his Instagram account with this shot. Bravo.
We were also just tipped off to this TOTALLY random and trippy Instagram account of Meryl Streep ON food such as tater tots, donuts, a bowl of Fruit Loops. etc. @tasteofstreep has over 71K followers and appears to accept your submissions. It's the WTF? of our day.