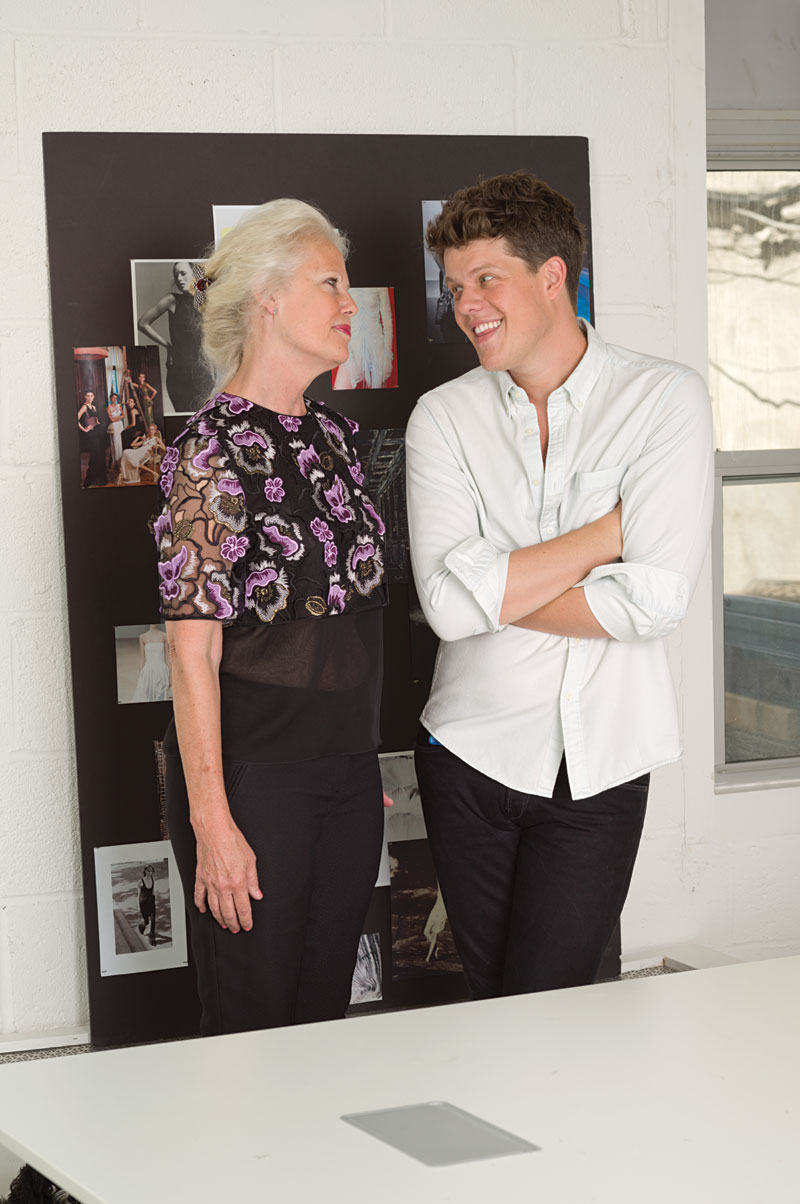 When a designer as talented, articulate, and downright adorable as Wes Gordon comes along, a natural question presents itself: Who raised this man? Introducing Diane Gordon, a striking former advertising executive who surely must be one of the best-dressed women in her native Atlanta.
What was Wes like as a baby?
Diane: He was a serious little guy, and very artistic from the beginning. He was just beautiful—a super-blond little towhead. Never been a good sleeper, maybe now.
Wes: I slept on my parents' floor so much during childhood.
Diane: I wasn't going to say that! I used to work—I worked in advertising—and we'd say, don't say anything, don't wake us up.
Wes: Let's preface that—I must have been 3, because she stopped working when I was 4.
Diane: It was so bad! He just breeaaathed on me.
Wes: I would get scared.
Diane: He has a great imagination, and he could scare himself into anything.
When did you discover that he was artistic?
Diane: When he was 2 years old. He would color everything inside the lines so precisely, and he had a very good eye for color. From age 3, he was in art classes all the time, any kind of art we could find. The school didn't offer much at that point, besides finger painting. He was amazing, always. Most kids his age were drawing stick figures; Wes drew full-bodied people with clothes on. We were like, how did he do that?
When was it clear that he had an eye for fashion?
Wes: I was obsessed with clothes.
Diane: Not only his own! He wouldn't wear jeans or gym shoes when he was like 4 or 5. For his fourth birthday, he wanted a suit, and to see Phantom of the Opera. He would wear plaid pants with little suspenders, button-down shirts, and oxford shoes to preschool. When I was working, he would pick out my outfit every morning—and tell me what shoes to wear with it. He had amazing taste.
Wes: I was just bossy.
Diane: I loved clothes too, and I had a closet full of things that he would go through.
What were you wearing back then?
Diane: Nipon, and Alexander Julian…clothes were gross then, but still. Charles Jourdan shoes every day…
Wes, how stylish was she?
Wes: Very. She is so beautiful—everyone tells me to this day how pretty my mom is. All throughout school, I had that pretty mom. She's always been so elegant, and wears clothes so well. And she'd always take us shopping. She was never a mom who would just buy clothes for my sister and me—she'd take us to try things on. We moved a lot, and in every house, we got to decorate our own bedrooms. She allowed us a lot of opportunity to find our own ways to express ourselves, and I think that leads to a really healthy individualism in kids. And it's also risky—I don't know if I would let a kid pick out paint colors.
Was she strict about anything?
Wes: She was definitely a cool mom, we could only watch one TV show a week—we weren't allowed to watch The Simpsons—and we weren't allowed to say "shut up" or "butt."
Diane: And you couldn't say "hate." You were both very good kids, very easy to raise.
Wes: I was easier than my sister.
Diane: They were so easy that I didn't have to be strict—I just kind of followed their lead, and supported them.
Wes: The four of us had dinner every night, and she cooked.
Diane: I haven't done that since you left the house! I wasn't a good cook at all—it was a chore for me, but I went to the store on Monday and had my recipes from Cooking Light. I'd make the first two, but the last three would be like, mmmm, never mind. But we did manage to sit down every dinner. The kids liked to play quiz games.
Wes: State capitals, presidents…What was really cool was when I was at Saint Martins, and I was making my graduation collection. She came over for two weeks to help me. It was an insane time, even more insane than preparing for real Fashion Week, because you don't have help. She kept my life organized, and then she sat on a couch in my apartment in London for five days, sewing beads on a pair of pants. It was really cute.
What was your reaction when he decided to go to Saint Martins?
Diane: I was thrilled for Wes that he got in. I was scared. He was so upset, because it was so far away! I cried the whole way home after I dropped him off.
What's your husband like?
He's very tall, handsome, with very distinguished gray hair. I met him in college—he played football—and he's absolutely the love of my life. We've been married for 33 years, and I can't imagine a better dad for our kids. He's been so supportive of everything.
Did you have empty nest syndrome?
Diane: Never. Did I?
Wes: Oh, my God!
Diane: Well, I just came to see you! I redecorate, I move, I get a job, I get a job…I'm much better now. I miss them terribly. They're my best friends.
Did Wes have a rebellious streak?
Diane: Never.
What is the naughtiest thing he's ever done? Sneaking out and drinking?
Diane: No. That's Lindsay.
Wes: This will be printed, you know…
Diane: She won't care. She knows it!
Wes: I was an overly good kid. I'd get a bad grade on a math quiz and I'd be so nervous about telling my parents. Not because they'd do anything about it.
Diane: Wes pushed himself so hard that we never had to.
Wes, what were you like as a teenager?
Wes: Because I had this secret interest in going into fashion, I was super aggressive about overcompensating in the other direction. Academically, I was super fixated on getting a really good SAT score, and taking a ton of SAT classes and getting into a really good college. It wasn't until the last final moment that I said, I want to go to Central Saint Martins. I was on the swim team, I was president of speech and debate, I did plays…
Diane: You spent all of high school building your résumé. You got into 12 or 13 schools, none of which saw your face.
What was going through your mind at Wes' first collection?
Diane: I was incredibly proud that this kid of mine could stand up there and talk about his collection without missing a beat.
Wes: It was a day-long presentation in a hotel room during a blizzard. I did 85 presentations, essentially. I stood up all day long and talked. Last season, Anna [Wintour] came to our show for the first time, and she came early and was seated by herself. My mom thought that she was lonely, so she goes over and chats with her.
Diane: She's lovely. That's Southern hospitality!
Do your friends in Atlanta know what a big deal your son is?
Wes: I'm not a big deal, but her friends think I am.
Diane: If they don't know, I tell them.
What's your favorite time you've spent together?
Diane: Between his freshman and sophomore years of high school, we went to Paris. His sister was at camp, his dad was on a project, and the two of us spent six days in Paris. He was studying French, and he was amazing. I tired this boy out—he was falling asleep in cabs. We saw every museum, and he had to speak French the whole time. I would love to travel everywhere with him—Iceland, Patagonia, and Egypt.
Does Wes have a vulgar bone in his body?
Diane: If he does, I haven't seen it. He's perfect!