When Laura Kim and Fernando Garcia decided to strike out on their own after years working side-by-side at Oscar de la Renta, the best friends decamped to Garcia's family's house in the Dominican Republic to develop their plan for fashion domination. A month later, Garcia explains, the label Monse was born.
Fernando, how long have you been summering at this house?
All my life. I was born in the Dominican Republic and the beach town we went to is Casa de Campo, which could be the equivalent of the Hamptons for New Yorkers. It's where the locals go. It's a very Dominican and European mix of people, and very homey. Everybody knows one another. It's small enough that you can travel around in a golf cart.
What's your favorite thing about being there?
Family. And the weather is incredible—you don't have to worry about wearing layers. And the short plane ride is great!
Is it very posh?
It's definitely not inexpensive to own a house there, but it's beautiful, and full of very local people, which makes it unique. The rest of the island has a lot of hotels and resort areas, but this is where the Dominican crowd goes.
How's the traffic?
It's two hours away from the city, so it's not terrible.
What are your favorite things to do in the area?
We go to Catalina, which is a tiny little island off the coast of Casa de Campo. A lot of people rent boats and go to the island. We hang out all day floating in the water, drinking, eating, and having an amazing time. Everybody heads back around dinnertime and then we meet up again at a restaurant, Peperoni.
Known for its pepperoni?
It sounds like it by the name, but the menu is very eclectic! There's Asian food, Dominican food, Spanish food…a little bit of everything. It's successful because it caters to a lot of different people.
What inspired your monthlong stay?
When we left Oscar de la Renta, we were ready to take that long vacation that you dream of when you quit a job. Laura's family came, my family came. It was still a busy time, because I had to go back and forth to help Peter Copping with the Met Gala.
What were your trips like when you visited Oscar?
We'd go there to Punta Cana and work on the bridal collection. We'd bring him fabrics and embroidery swatches. I have a picture of Oscar
that I posted on Instagram of him taking a nap and patting a dog.
Do you ever take any mini-breaks from New York City?
Whenever we need to take time off from the city and we can't fly anywhere, we go to the Greenwich Hotel for a staycation. We love the spa, so we go to the pool, get drunk, and relax!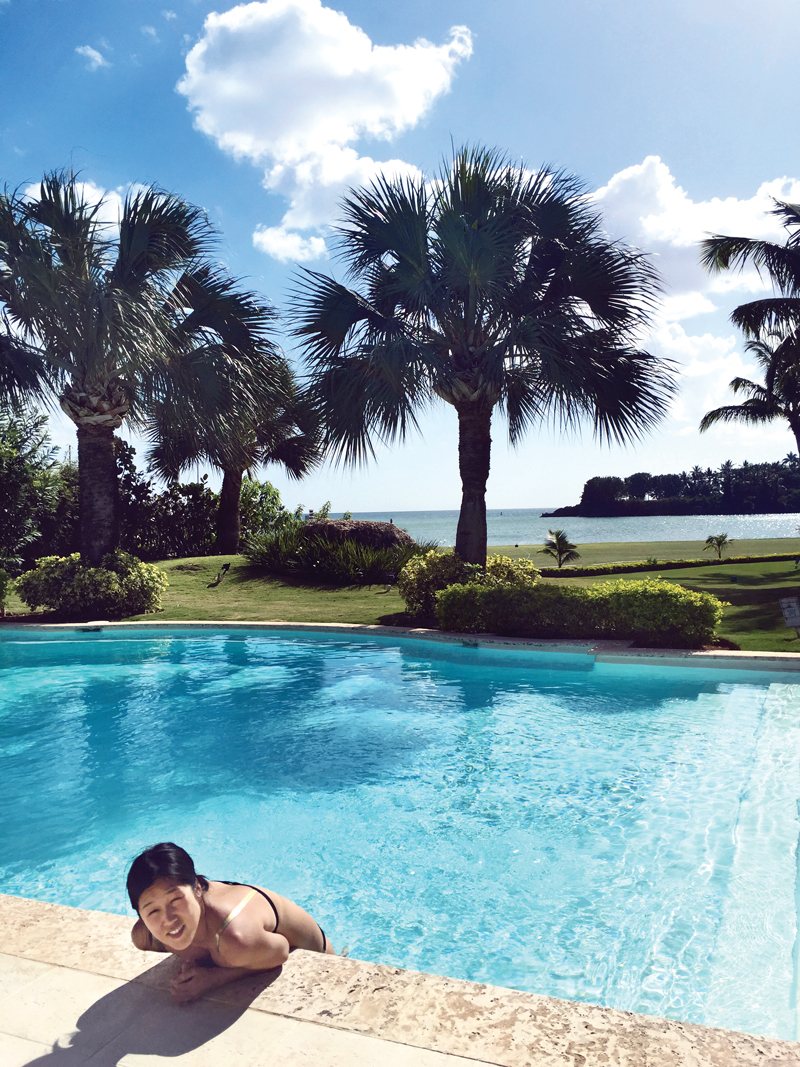 GUEST REPORT with Laura Kim
What's the Garcia house like?
It's on the beach, and super cute and cozy. Fernando's family wasn't there all the time, but we were definitely well taken care of. It was hard to get back to reality. He has a huge family, and they all own houses in the area, so we saw them a lot. I went to see Oscar's wife, Annette [de la Renta], while I was there. She has two donkeys—they're so cute. That house is insane, and the food is amazing. The de la Rentas always have the coolest guests—whenever we used to go, we'd see someone like Hillary Clinton.
Do people ask you questions about Oscar in every single interview you do?
Yeah, but it's part of our life. I spent 12 years there. It's hard to take that away from me.
What's the latest news from Monse?
We're doing our first Resort collection. It's not going to be a show, just a photo shoot to keep the budget low. It's looking really cute. We're learning even more about our clients, and I'm trying to learn more about the financial side. There's something new every day!
What are your plans for the summer?
A lot of work, but I want to take Fernando to Japan!