We've found a new e-commerce site to fuel your shopping addiction: Foray Collective. The brainchild of blogger Kaitlynn Carter and Tiana Haraguchi, the site allows users to shop a curated selection of outfits worn by top influencers from brands that are simply "cool-girl" material. We chatted with Carter about the haute new platform and life dating Brody Jenner…
What sparked the idea to launch Foray Collective?
I met my now business partner Tiana Haraguchi in Italy a while ago. We stayed in touch for years, and when she came to L.A. we had lunch. I had just started a blog, and she was working on another startup called Boutikey. There was a part of Boutikey that was going really well but in other ways she saw a need to change direction, so when we talked about my blog she was curious to know more about how people are following bloggers and how they're becoming so influential in the fashion industry. Over time, we came up with an idea for how to capitalize on the rise of online shopping, social media, and influencers. We launched in the beginning of November.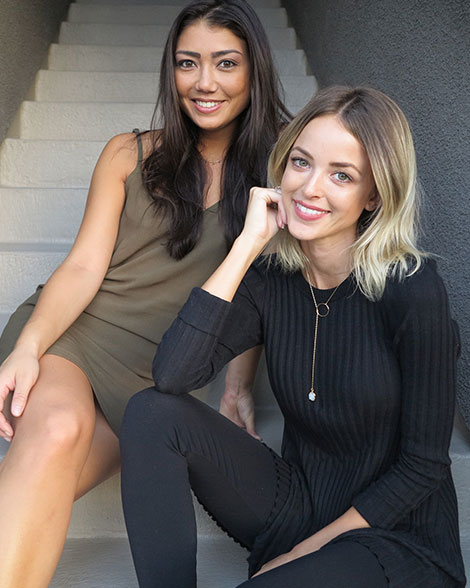 How does the site work?
Essentially it's the first curated fashion marketplace with a shop by influencer approach. When you're on our site, you can shop by your favorite blogger and see what they're wearing. It provides some built-in fashion guidance and inspiration for shoppers. We really hit the ground running—we had over 25,000 visitors in the first week and have had 40 million social impressions already.
Awesome! Who are some of the style influencers? 
Celebrities like Shay Mitchell and Vanessa Hudgens, but we mainly focus on fashion bloggers, like Aimee Song and Danielle Bernstein. At the same time, we want to have girls on there who have unique styles and inspire us but aren't huge yet, so that determines whether we'll add a new style influencer to the site.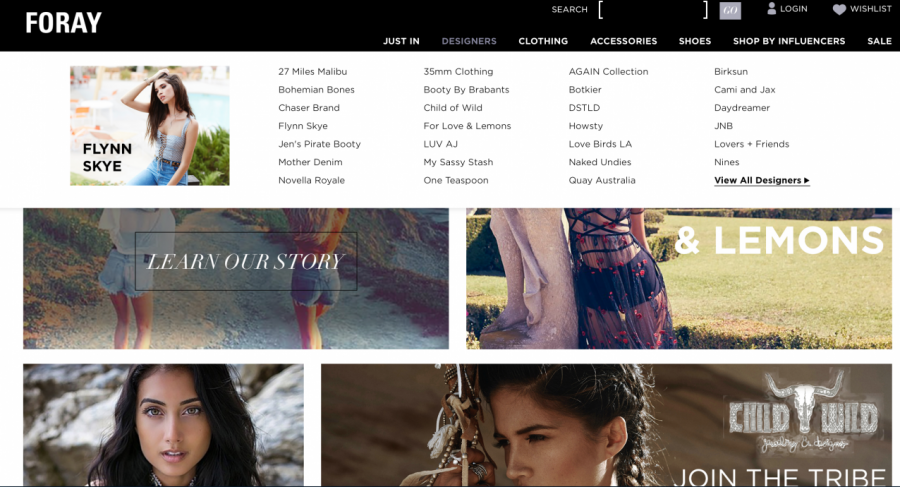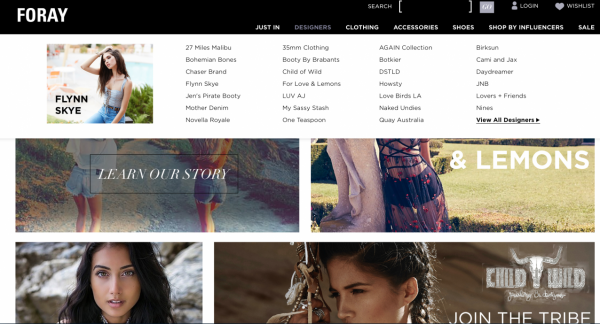 Which bloggers do you follow?
I follow so many! Shea Marie of Peace Love Shea is my absolute favorite. She works with a lot of upscale brands but she has her own unique style and is super California—it never becomes too uniform, simple or common. I have another friend Alana Grisada of The Chic Freak who's up and coming. She spends her weekends at flea market and finds cool vintage pieces. Jill Wallace of Little Black Boots is also great.
Are you still blogging?
Yes! My blog is called Western Wild. A big part of the way we get exposure for Foray Collective is through my connections in the blogging industry, so it's critical that I stay involved in that world. A lot of the brands on our site are brands I've worked with through my blog or friends that I've made at blogger events.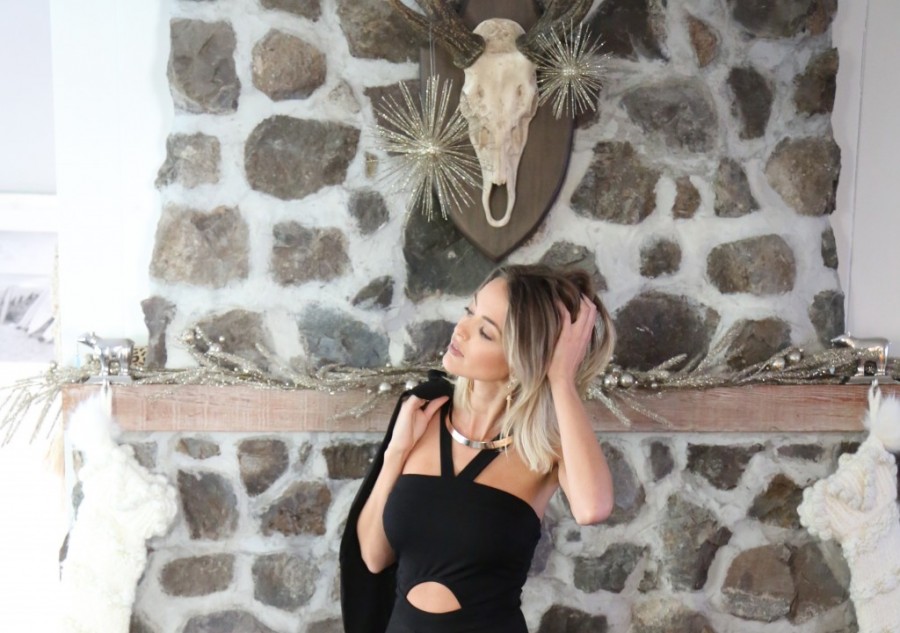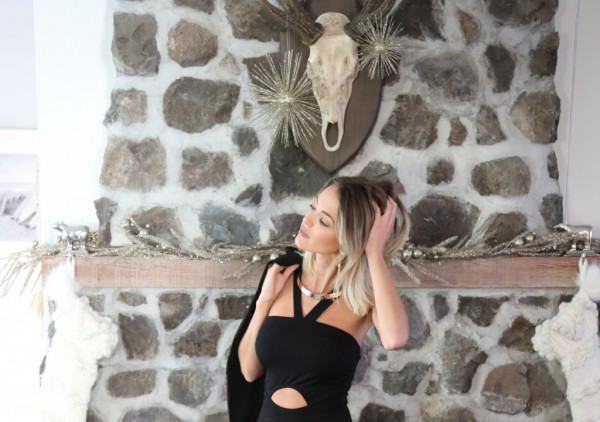 Tell us about the brands you sell.
We sell Flynn Skye, Child of Wild, Cameo Collective…a lot of great ones and Australian fashion labels. We're constantly adding.
Is your blog name a hint you're from out west?
No, I'm from New Hampshire and moved out here two years ago. I thought of so many different names for the blog, but I wanted something fun and different. My sister and I were watching Beasts of the Southern Wild and she was like, Why don't you call it Western Wild? It kind of tells the story of how I moved out west. It just clicked for me, so I went with it.
You're dating Brody Jenner—how long have you been together?
Two years this October. It flew by!
Do you see yourself starring on a reality TV show?
For the longest time I'd always say no. I've had a lot of people approach me about that, related to my blog and being in the L.A. social scene. I've taken a meeting but it's never felt right to me because I don't want to be involved in a show that's based on character drama. But I'd be interested in doing a reality show based on women's careers in the blogging industry, and maybe the development of a startup like Foray that focuses on situational drama.
We saw a picture on your Instagram with Caitlyn Jenner. Does sharing a name get confusing when you're hanging out together?
[Laughs] No, not to me. We laugh about it, though. Every time I see her she'll be like, Oh it's big Caitlyn and little Kaitlynn, or Caitlyn with a 'C' and Kaitlynn with a 'K.' Honestly I've known so many Caitlyn's in my life that I'm used to it.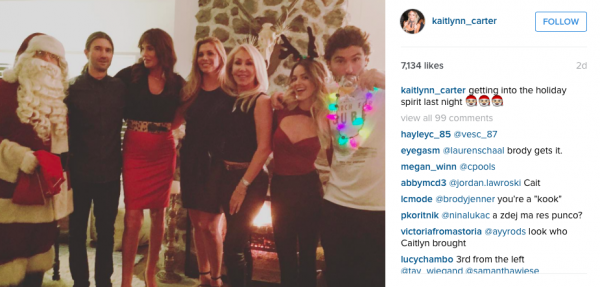 Does she ever ask you for fashion advice?
Not yet—she seems to have that covered! Everything she wears is really cute. We have fun talking, though. When she came to our Christmas party she asked me what I was wearing, but besides that, I don't give her too much advice.
And what are the holiday plans?
Brody and I are flying to New Hampshire to spend time with my family. Then we're flying back for New Years; he's DJing in San Diego.
What's next for the site?
In January, we'll have a constant feed of influencer images that are specifically curated for Foray Collective, which will constantly change. The initial concept of the site was to find smaller brands that needed a venue to gain more exposure; we have a universal shopping cart so our servers connect to the individual server of each brand, which means they're selling directly to the consumer. What we've found is that our shop by influencer category is the most popular, so we're working on angling it in a way that we'll go after the brands the influencers are already wearing instead of finding smaller brands that we can help expose by sending them to influencers.