G/O Media ceases editorial operations at Jezebel 
Jezebel, the pioneering feminist online publication, has been indefinitely suspended as of today, according to The Daily Beast. The move comes as parent company G/O Media failed to find a buyer for the site. CEO Jim Spanfeller reportedly shared the news this morning via a memo—the layoffs will affect 23 people, including G/O Media editorial director Merrill Brown, who has exited the company—while those who were losing their jobs were told at a meeting yesterday. The memo circulated today, obtained by The Daily Beast, reads: "Unfortunately, our business model and the audiences we serve across our network did not align with Jezebel's. And when that became clear, we undertook an expansive search for a new, perhaps better home that might ensure Jezebel a path forward. It became a personal mission of Lea Goldman, who worked tirelessly on the project, talking with over two dozen potential buyers. It is a testament to Jezebel's heritage and bonafides that so many players engaged us. Still, despite every effort, we could not find Jez a new home." G/O Media, which also owns Gizmodo, The Root, and Kotaku, has been the subject of controversy in recent months due to its eagerness to replace editors and writers with AI-generated stories. As per The Daily Beast, the reliance on AI has caused a mass exodus of staff, who've publicly shared their concerns about the integrity of journalism.
View this post on Instagram
WME is now representing Edward Enninful 
WME—William Morris Endeavor—has signed outgoing British Vogue editor in chief, Edward Enninful. The 51-year-old fashion editor and stylist is departing the magazine after six years at the helm, although he will remain involved with Condé Nast as an editorial advisor to the UK title and act as a global content and culture advisor to the Vogue brand too. As well as Hollywood heavyweights, WME counts figures across fashion, the arts, entertainment, and sports on its roster. Award-winning editor Enninful penned a memoir last year, A Visible Man, which was also given a short film treatment by his partner Alec Maxwell. As for what EE will do next? Watch this space.
Balenciaga names Michelle Yeoh as newest brand ambassador
Balenciaga and Michelle Yeoh are making it official. The history-making Oscar-winning actress and martial artist (no biggie!), who had been wearing Demna's designs on the red carpet at Cannes this year, has now been announced as a brand ambassador for the house. To mark the moment, Yeoh was captured for a customary portrait by the documentary photographer Platon, who recently lensed ambassadors Isabelle Huppert and PP Krit Amnuaydechkorn. Today, the Spring '24 campaign imagery also drops, with Yeoh joining the likes of Amnuaydechkorn, Eva Herzigova, Soo Joo Park, Malgosia Bela, Arthur Del Beato, and Khadim Sock. "I am thrilled to join Balenciaga as a brand ambassador," Yeoh said of her new fashion gig. "For me, fashion is a form of art. It's not just about a dress but about self-expression, how you feel in the dress, and the values you embody wearing it; it is a way to communicate my work and who I am to the world. Wearing Balenciaga makes me value the artistry and craftsmanship behind every piece. The brand embodies a sense of originality and relevance while always remaining true to its heritage as a couture atelier. It is an honor to partner with Balenciaga."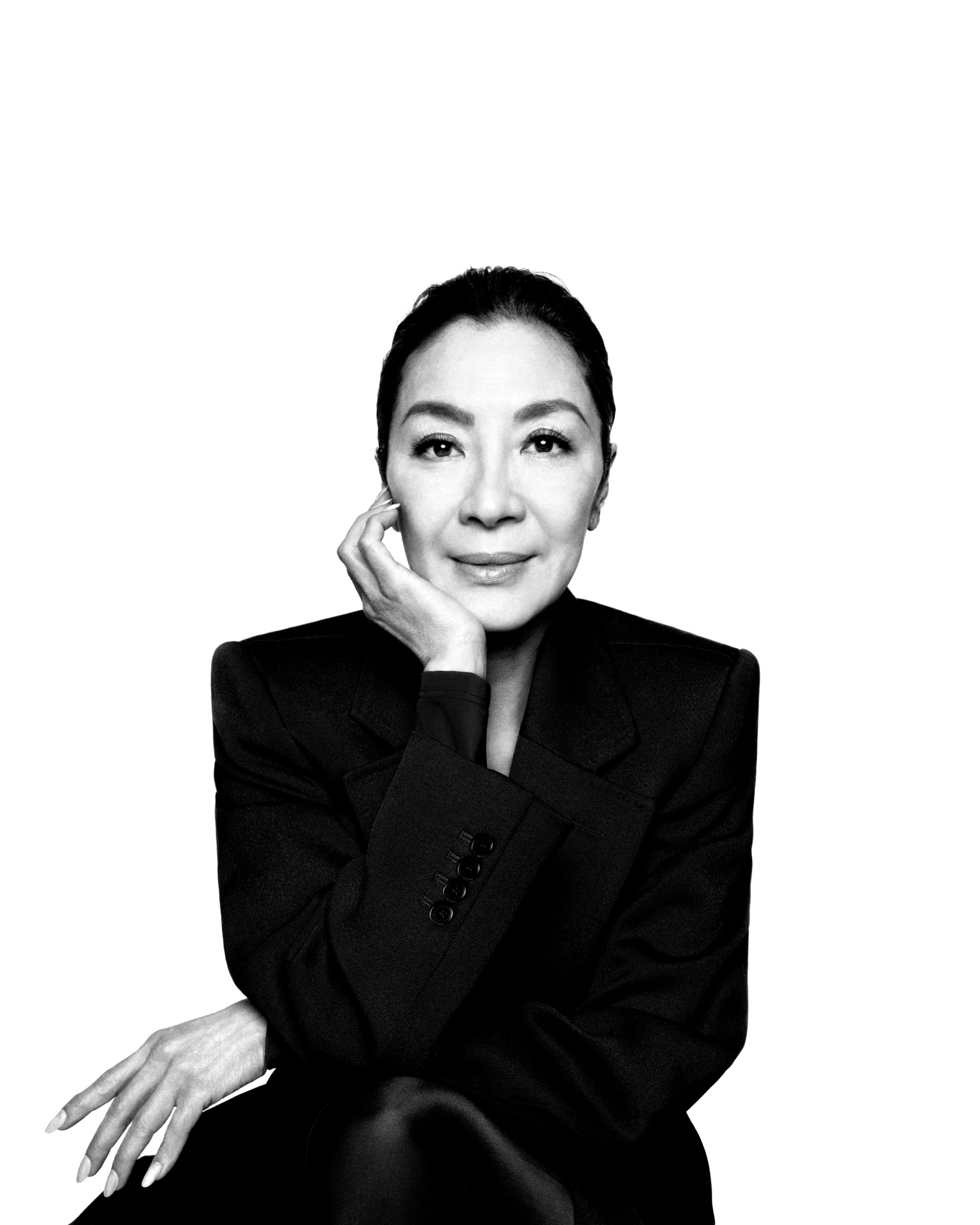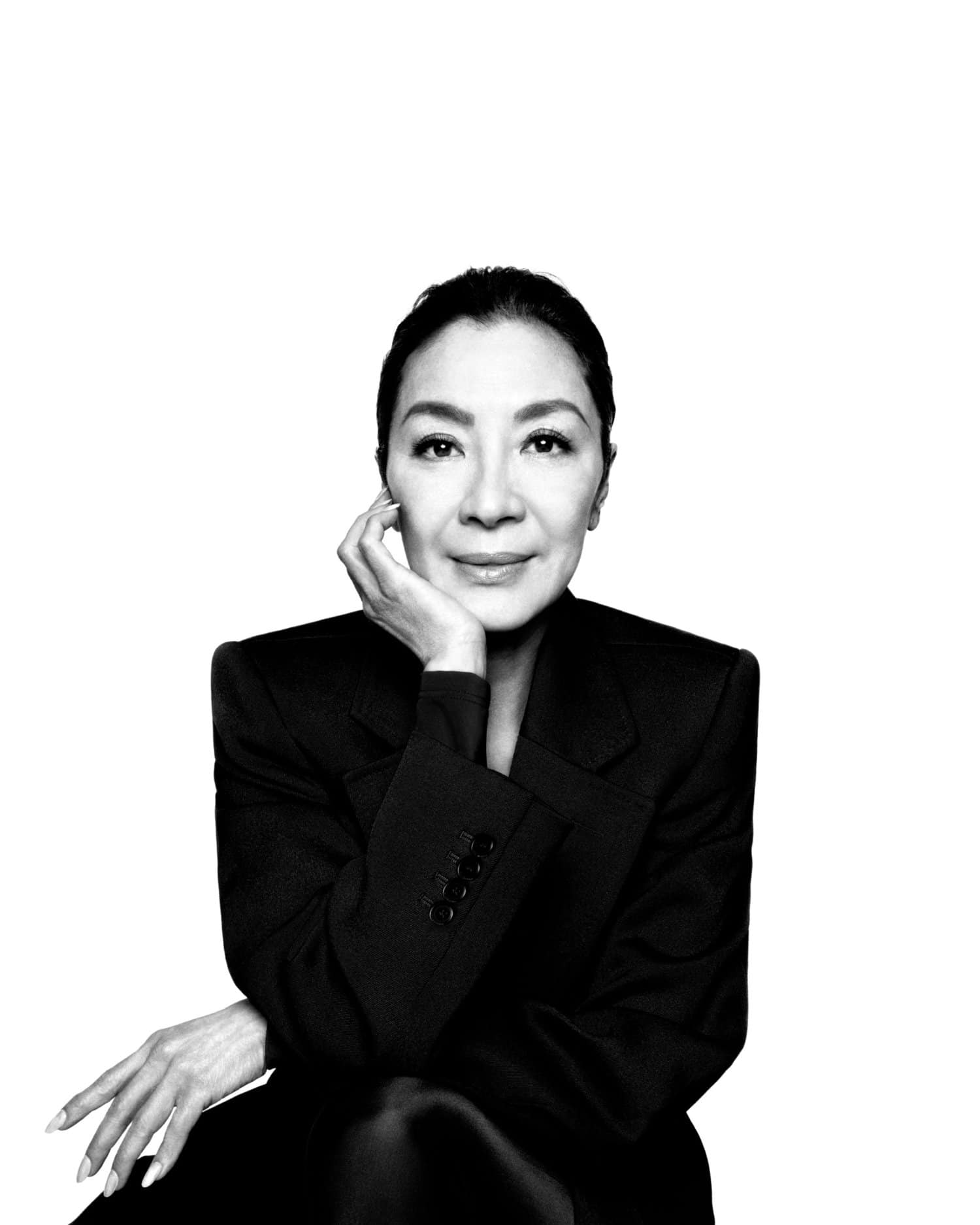 At the bar with Burberry 
Now here's a res worth chasing. Burberry is opening the Knight Bar for a blink-and-you'll-miss-it run in NYC. The temporary takeover of Noho's Temple Bar, which is inspired by Daniel Lee's recent Knight bag and the heritage house's longstanding association with the equestrian knight design, will be in situ from tomorrow, November 10, through November 16. The festive season celebration will see the watering hold re-envisioned in Burberry check, inside and out, and will be serving up a menu of hearty Brit classics inspired by humble North London 'caf' Norman's. See ya there mate.
Valentino shares new campaign, starring Rosie Huntington-Whiteley
Bonjour, Valentino Paris, A Night's Tale. The new festive campaign from the luxury maison drops today, shot against the backdrop of the historic Place Vendôme in Paris. The series, photographed by Theo Wenner features supermodel, entrepreneur, and tastemaker Rosie Huntington-Whiteley front and center, making a convincing case for the most covetable and giftable pieces from the Spring 2024 collection. Think: elegant tweed trophy jackets, sophisticated monochromatic looks, bow-adorned dresses, Valentino Garavani Locò, Rocketed, and new VLogo Moon bags, feather trims, holiday party-approved denim (the Jenna Lyons effect!) and some crystal embellishment here and there for good measure. Peruse below for some holiday dress inspiration…..and wishlist making.
Tom Ford tells all to GQ
Kudos to GQ for securing the exit interview with Tom Ford. In a no-holds-barred chat with Will Welch, as part of the magazine's 28th annual Men of the Year issue, Ford goes deep on every topic, revealing plenty of lesser-known nuggets about his stratospheric career. From where he noticed the impending '70s revival and channeled it into his work after his debut collection at Gucci was initially panned—"It hit a chord in the room. I could feel it. Back then people didn't have phones. You had 13 minutes to introduce something that should jar them. And then convince them of it, and then make it so beautiful that they would cry," he says of his seminal Fall 1996 collection—to how Gucci inadvertently created Kering, those male G-strings, and what he saw in a then-emerging Lee McQueen.
In the tete-a-tete, Ford tells Welch that he was hurt by his successor at his namesake label, Peter Hawkings, and how he told press that he had been given a blank slate to mold Tom Ford menswear back in the day. "It really upset me because starting Tom Ford menswear [in 2007] was one of the things I'm probably the most proud of in my entire career," Ford says. "Peter wasn't able to start for a while. He was still John Ray's assistant at Gucci. So those first few years, that collection was built on me. It was enormously personal. I literally sent my sofas out to be copied for the stores. I loaned art from my house to the stores. It was one of the things I'm the most proud about because it was the foundation of the company. So I got in touch with him [recently]. I said, Pete, I don't want to say these things publicly and contradict you, but it wasn't exactly a blank page. I was very worked up about it. I'm a lot less worked up about it now. You know, when you sell your company you're prepared for anything. And I really am prepared for anything. Whatever direction they go, Peter's blank page starts now."
Ford, who notably did not attend Hawking's debut in Milan in September, added that he's "calmed down" about it. On addressing the issue directly with the designer, he explains: "We didn't talk. We exchanged emails because what I had to say, I wanted to say carefully, and I wanted to take away the emotion. And then I sat on the email for a day, which I think is always the best. I wasn't upset about anything he sent down the runway. I thought it was beautiful. I thought it was very well-made. He was certainly in the spirit of the brand. I think women's fashion is very hard. I think now he's going to need to do something somewhat revolutionary in the way that Alessandro Michele did with Gucci. Anyway, it's easy to sound petty—I'm self-conscious in a way even admitting that I feel this way. Because I've been very lucky. I've had a great career."
Sit back and get into it here.
Come get a piece of Chloe Fineman and Sara Larson's killer wardrobe!
SNL's Chloe Fineman and powerhouse fashion publicist Sara Larson are teaming up for a sale of some of their fabulous wardrobe. "Chloe and I are both fashion enthusiasts and wanted to do something fun this holiday season to celebrate, so we are opening up our closets to shop!" Larson tells The Daily.  "Some of the pre-loved brands at the sale include Balenciaga, Reformation, Givenchy La Ligne, Khaite, Ryan Roche, Rick Owens, JW x Converse, Acne, APC, Rachel Comey, Vintage Levi's, Rouje and lots of vintage pieces!" A percentage of sales will go to Doctors Without Borders.
The sale is Sunday, November 19th from 10am-6pm at 37 Greenpoint Avenue, Brooklyn. RSVP to sara@thelarsonproject.com Libations provided by Dukes Liquor Box.
Subscribe to our newsletter and follow us on Facebook and Instagram to stay up to date on all the latest fashion news and juicy industry gossip.