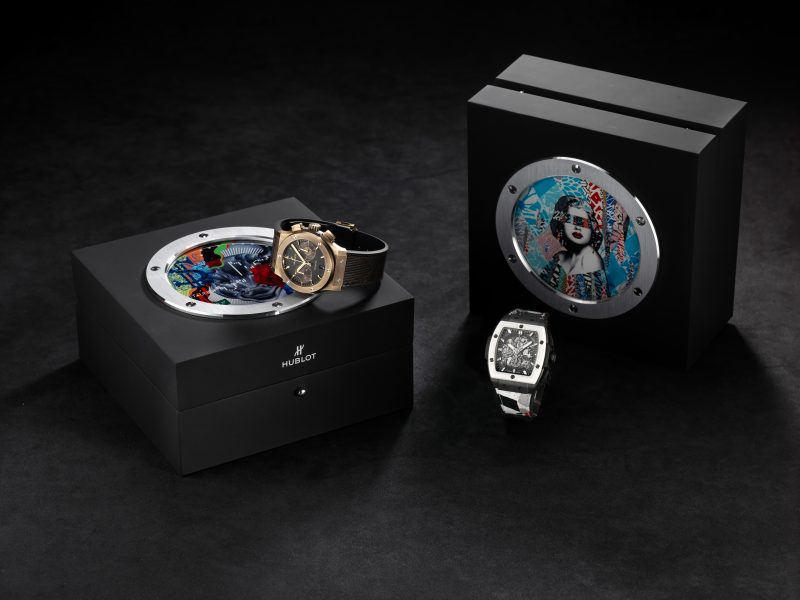 Swiss luxury watchmaker Hublot celebrated the unveiling of two new watches last night at Lightbox Studios. The limited-edition timepieces, dubbed Fame vs. Fortune, were created in collaboration with street artists Hush and Tristan Eaton. This is Eaton's second collaboration with the brand, having created a limited-edition watch made with concrete in a tribute to New York City. Fame vs. Fortune marks the first time Hush has collaborated with the brand. The new watches are part of the brand's ongoing campaign Hublot Loves Art, which creates timepieces with artists released just in time for Miami's Art Basel each year.
"Hublot loves Art! This is why we are thrilled to once again partner with Tristan for our second collaboration and collaborate with Hush for the first time," said Hublot CEO Ricardo Guadalupe in a press statement. "This project brings together two dynamic, and unique artistic styles, each one incorporated collaboratively with Hublot. The result is a unique and original set of 2 timepieces, that I am sure, collectors of both watches and art are sure to love."
Hush's creation represents Fame, which is meant to symbolize the West Coast's calling card (Hollywood) while Eaton's watch represents Fortune, the East Coast's big draw (Wall Street). Both celebrated their creations alongside Jean-François Sberro, Hublot's managing director of America.
"With Tristan we did a limited-edition watch that was a tribute to New York called the Concrete Jungle and actually made out of concrete," Sberro told the crowd. "That watch was limited to only 50 pieces in North America and it was a big hit, so we brought back Tristan by popular demand and this year we wanted to take it to another level so we decided to bring in another artist and we chose Hush."
It was easy to see where Hush earned his street name. As he shyly took the mic and admitted he was a little bit embarrassed by the attention he quietly said, "It's been a real pleasure to work with Jean-François and Hublot. You know, when you work with a brand you expect them to be demanding about how they want to portray themselves, but they really gave a lot of freedom. It's also been a pleasure to work with Tristan who I've known for years."
Hush designed the Spirit of Big Bang West Coast Ceramic watch in black and white with a woman's portrait splashed across the case back in a multi-colored collage of mixed media. The timepiece features a skeletonized dial encased in a white ceramic bezel. Eaton's watch, called the Classic Fusion Bronze, is (ironically) less loud and decidedly more East Coast in design and features brushed bronze and polished gold-plated appliques with a case back featuring the image of a bull, a money sign, and the Wall Street sign.
"This is my second time working with Hublot," said Eaton. "The first time was an honor and the second time around was even better. Getting to work with and know the Hublot team, they know exactly these values we share as artists and craftsmen—the pursuit of quality and trying to innovate and find creativity in the craft. The way Hublot experiments with materials from ceramics and bronze to concrete in my last piece is just crazy innovation. For me as an artist, to be able to take my art and turn it over to these crazy maniacs that have this craftsmanship quality level that's unparallel in the world is such a cool experience because I don't know how it's going to turn out but I know it's going to be the best in the world."
The rest of the evening guests like Jesse Palmer, media, and artist friends of both Hush and Eaton took in the new watches while being entertained by an incredible performance by Too Many Zooz, a trio of conceptual live art-jazz musicians who bring a new and exciting edge to the music genre.
Both Hush and Eaton will appear together again in Miami next week for Art Basel, where they will take over the Hublot boutique in Bal Harbour to kick off the annual Hublot Loves Art in Miami event series.