Tired of Hamptons flash? Drive on out to the North Fork, where a tastemaker can relax in peace! Jewelry designer Paige Novick and her husband David Hoffman show us how it's done.
BY PAIGE REDDINGER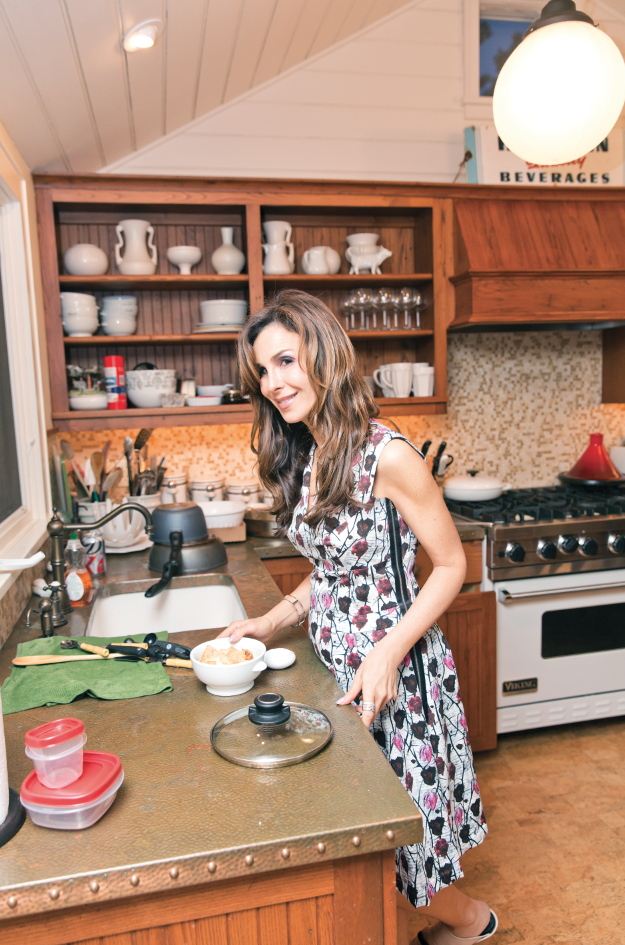 So Paige, what's your secret to a great party?
Good friends, good food, and good wine.
How often does this group throw dinner parties?
There's one every weekend. Every now and then we pepper it with a night out at a restaurant, but we always kick off the summer with a dinner. All our houses have different themes and settings.
How would you describe the style of your home?
Ours is a little less structured, and a little more boho. We love to play with color. The house is just another creative expression.
What were your first impressions of the North Fork?
I had grown up going out to Amagansett, so I didn't really know the North Fork. I loved how it was so beautiful and quiet and simple and not sceney, and I loved that I didn't have to wear makeup. But I learned that the hard way.
What were you wearing?
Well, 10 years ago, I came here and met my now-husband David's friends for the first time, which include several of the people at this party. I came down the stairs in a lavender silk Catherine Malandrino slip dress and platform sandals. It was not inappropriate for East Hampton, but here, I felt like
all eyes were on me. They still make fun of me for it.
So they finally let you into the club?
I was already a little bit nervous, because they were a very tight-knit posse. Coincidentally, one of the guests spilled wine all over me. Maybe it was done intentionally—I'm not asking questions! But whether they liked me or not, everybody was so spirited, creative, passionate, and down-to-earth. I thought, "This is my group." But yes, they finally let me into the club.
Does the North Fork inspire your jewelry designs?
I used to draw my inspiration from the North Fork, but now I've become a little less organic, and a little more geometric and sculptural. When I first started designing jewelry, the women in this group were the first to wear it. Linda is wearing the first necklace I ever designed.
Care to share your memories of the wildest North Fork parties?
One summer, probably eight or nine years ago, Linda and Nancy rented a house with a pool, and late one night we blasted the music and went swimming. I don't remember if clothes were involved or not, but we had a blast! And the theme parties we throw every summer are always wild.
Theme parties? Tell us more.
Last year's was all about Bollywood. We usually have two months to figure out what we're going to wear, but Linda always outdoes everybody with her costume. For the Bollywood party, Linda said she already had everything in her closet, which was the best part.
What did you wear?
Printed Kenzo pants, a bright silk top, and lots of jewelry. This year, it's going to be Liz and Dick. I'm going to channel Butterfield 8.
Who is the life of the party?
She's not here, but it's EJ Camp. But you know what? We all have our moments.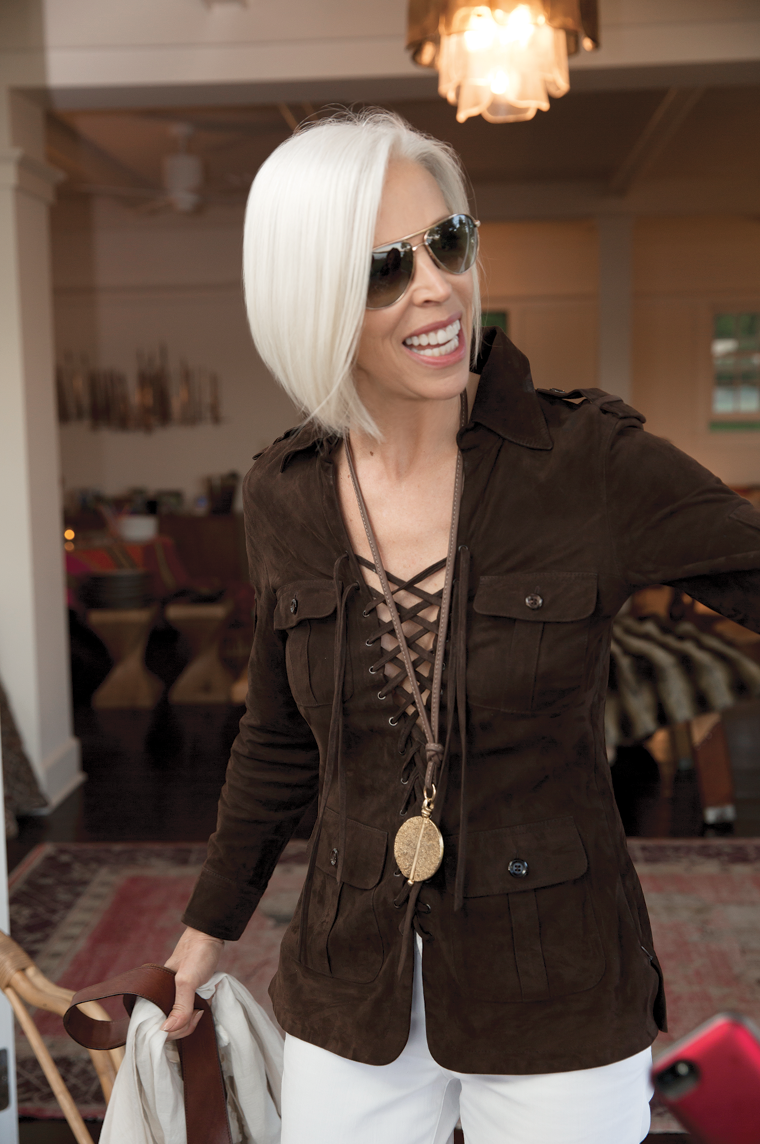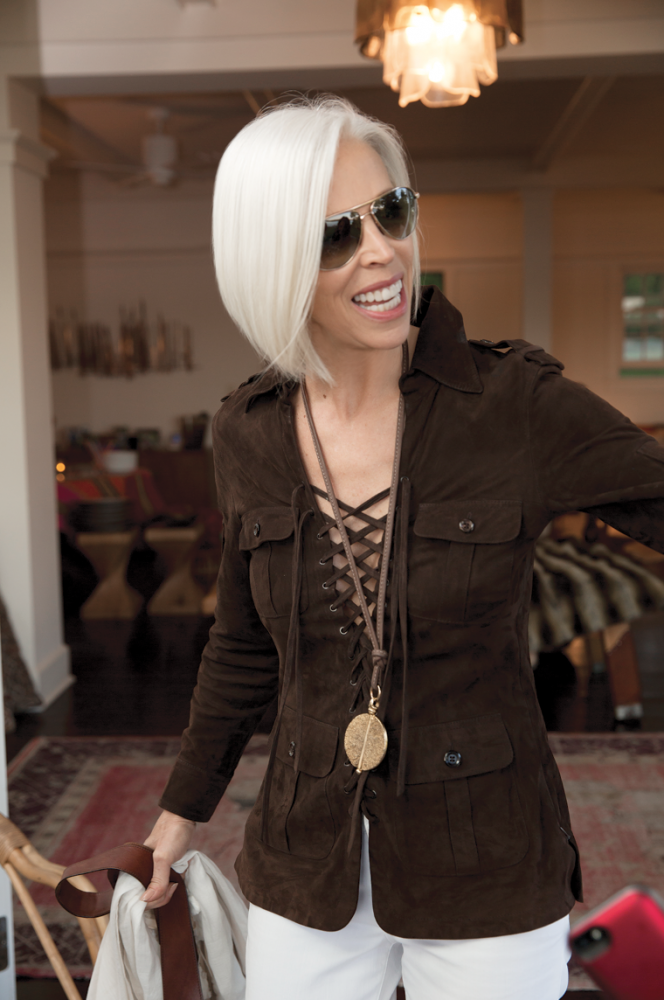 Linda Fargo, SVP, Bergdorf Goodman
What's new in the North Fork?
Artists are starting to settle here—it's kind of like Soho, in a way. Every year we all call each other alarmed, because The New York Times will do a piece on the North Fork. But historically, this area is more working-class, so it doesn't have the kind of grand properties that the South Fork has. It's very humble and much more simple.
How did this group come together?
Some of our crew is kind of incestuous, if you can imagine! Some of us have kind of dated each other over the years at one time or another—let's just put it that way.
Who is the best cook?
Greg. He has a certain style to his cooking—it's got to be spontaneous, a little homemade. He's actually allergic to buying an electric or gas grill. He'd rather take an old oil drum or something, chop off the bottom, and rest it up on rocks and build a real caveman fire.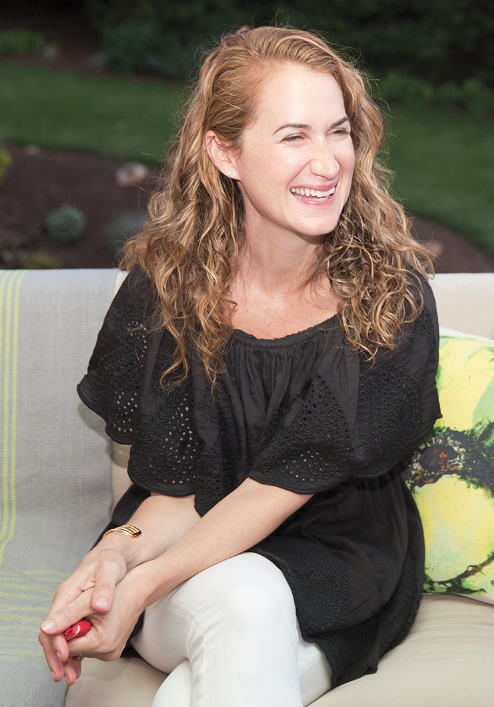 Libby Wadle, president of J.Crew
How did you end up here?
My husband and I met everyone through our mutual friends EJ Camp and Laura Weil. We're the latest to this group. There's not a huge social scene out here, but there are small groups. We wanted a place to escape to every weekend, and we couldn't picture raising our kids in the Hamptons. We wanted more of a small-town feeling. There are a lot of people here who work in fashion and art.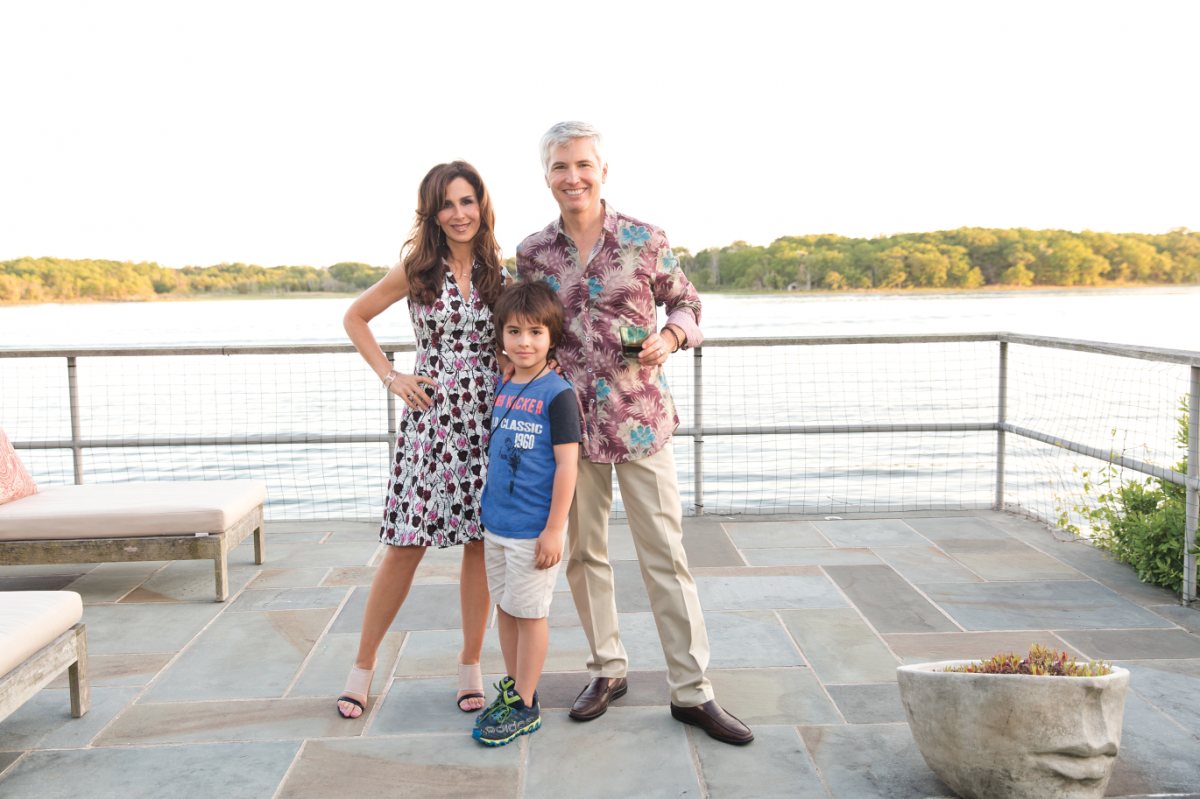 David Hoffman, managing partner, Cathay Capital Private Equity
Tell us about your home's history!
We live in a 100-year-old barn; I bought the house the same day that I called Paige for our first date. We spent the first year converting it. We redesigned everything to make it feel like we had stumbled upon the house in the '50s or the '60s, fully furnished.
Why the North Fork?
I started coming out here 25 years ago. It was very bucolic, and the vineyards were just starting to pop up. The local farm movement was also starting with places like Satur Farms and KK's and other places that are sources for city restaurants. It was low-key—no traffic, no fancy restaurants. It's much, much smaller than the Hamptons. Most of my friends out here are photographers, writers, artists, and people in the fashion industry. Also, in the '30s, Einstein spent summers here!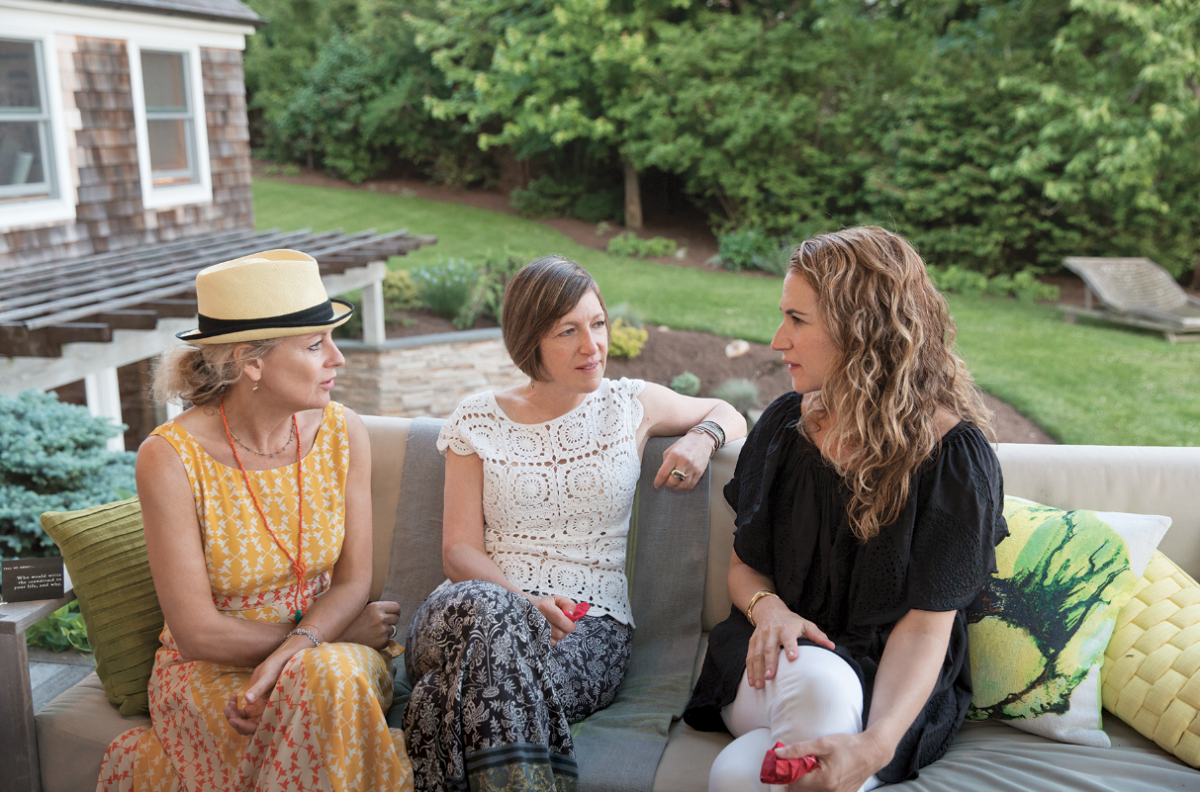 Nancy Feldman (center), executive VP and general merchandise manager of Kohl's
How long have you been coming out here?
Not as long as Greg, but close to 20 years. Greg kind of invented the North Fork. Actually, the first year I came out I shared a house with David [Hoffman]!
Do work ideas ever evolve out of these parties?
No, because we're all so competitive. But none of us live without being connected, in some way, to what we do.
Beatrice de Quervain Blanchard (right), former North American president of Hublot and a partner in distribution and branding company WinHouse Corp.
What's your North Fork history?
My husband Frederic and I built our house nine years ago. We come out every weekend. We're able to relax, shed off the stress of the city, and meet wonderful people like Paige and David. It's a very low-key setting. I'm from Switzerland and Frederic is from France, but we've been in New York for the past 17 years. First we had a house up in the Catskills, and all of a sudden we discovered the North Fork and fell in love.
How does it compare to European spots?
It reminds me a little bit of Bordeaux, where Frederic comes from. There are 35 vineyards on the North Fork. But it doesn't compare to Switzerland, because there, we don't have the sea.