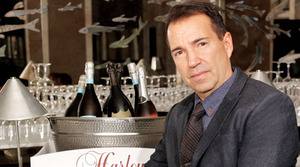 Harlow's Haute Moment, With Richie Notar
|
(NEW YORK) Resto dynamo Richie Notar has been in the hospitality biz since high school, when he mingled with the greats at Studio 54 while his friends were doing homework. After two decades at Nobu, he unveiled his first solo act last year, the über-elegant Harlow, on Park Avenue. We stopped by for a bite.
BY ALEXANDRA ILYASHOV
How did you pick this location, Richie?
It was pretty spontaneous. I'd been looking for a space further downtown when a friend told me about a great lease on 56th Street, a beautiful building right next to the Lombardy Hotel that had been empty for 10 years. Now, I grew up in New York, and I've never heard of the Lombardy. I really came as a favor to my friend, to be honest. Then I saw the space and heard the backstory: It was built by William Randolph Hearst for [his mistress] Marion Davies. He supposedly even picked out the chandeliers! I fell in love with the architectural integrity of the place—the glamour, the moldings, and the old clock from 1938—amid all the dust and clutter.
Talk us through the concept.
Well, I was sick of going to all these hipster places and sitting on reclaimed barn doors with moose heads hanging over me, being served by a guy from Mumford and Sons. All of that 'first come, first served' stuff isn't a quality dining experience. It felt like the right time to do something more uptown, fashionable, grown-up, and elegant, without being stuffy.
How's the fashion crowd taken to it?
Tommy Hilfiger loves the place. He says we should do more Harlows! John Varvatos is a friend of mine, and he dines at Harlow. John Demsey, Heidi Klum, Naomi Campbell, Nicole Miller, and Vivienne Tam have all been in, too. We did Ian Schrager's daughter's birthday party. Designers say they feel almost like they're in Paris—it has that air. Of course, we did The Daily's first Fashion Media Awards shortly after we opened, too. When Lady Gaga walks through your kitchen with 4-foot-wide hair, it sets a good tone.
Chanel had a bash at Harlow, too, yes?
They sure did. It was remarkable, and done with military precision. I lined up my staff and said, 'Do you see this professionalism?!' They enhanced Harlow with their Chanel-ism.
You named Harlow after your daughter. Risky move?
I was reluctant, sure. I have thin skin. If somebody said something bad [about the name] in a review, I'd shoot myself in the head. But she was really proud to have her birthday party here. Needless to say, it turned out better than I could have ever dreamed. And she loved having her birthday here. I got a kick out of it, too.
Cute! Let's talk about the menu. Which dishes are the biggest hit with fashion folk?
Probably the grilled branzino with wasabi gremolata, which is our biggest seller overall. They'll order that or the salmon, with a baby spinach and artichoke salad. The oysters also do really, really well. They're light, and—let's be honest—everyone's concerned about their weight and how they look.
Sounds Nobu-ian!
Listen, I'm coming off the Asian thing after 20 years at Nobu; there's no going back!
What did you do pre-Nobu?
I started off as a cook, then got into catering because I got sick of seeing the same people in the kitchen. Ina Garten would call me when she had a big party and needed more people.
What did you get out of your catering stint?
I learned from the disasters, mostly—the ovens shutting down, inexplicably, or somebody dropping the 50 cupcakes you just spent three days making. But that's what really separates the men from the boys. You learn how to get over it! It taught me how to fend for myself and keep going when the sh*t hits the fan.
Why did you decide to leave the Nobu fold?
I felt unchallenged. I wasn't growing, and if you're not growing, you're not living, and if you're not living, you're dying. I could've stayed and had a fantastic time, but now I'm able to do things outside of soy sauce and chopsticks. Robert De Niro was my partner for 20 years, and we had a great run together. We revolutionized Japanese food around the world!
How was De Niro as a business partner?
He's such a worldly guy. He's been everywhere and seen everything. His stories are remarkable. He doesn't talk a lot, but he's one of the most creative, big-hearted, and in-tune people I've ever met. That's what makes him such a wonderful actor: He listens.
You worked at Studio 54 in high school. Take us back!
Well, I was 16 years old, way too young to be there, and I'd be watching Steve Rubell and listening to his conversations. I was like a sponge. Studio was my school. We were like Playboy Bunnies. Everyone wanted a piece of us. I had a nickname, Pecker 54. I looked like I hadn't eaten in years and had this little pageboy haircut.
Sounds fun! How'd you get your homework done?
I realized early that geometry really wasn't going to happen for me. Coming off a night hanging out with Andy Warhol, Halston, and Bianca Jagger, it's tough to focus. My grades suffered a bit, to say the least.
Any fun Halston memories?
The guy was just so suave. He and Pat Cleveland would go to his townhouse on 64th Street to get ready to come to 54: champagne, a little something to eat, whatever stimulated you at the time.
What were Halston's dance moves like?
He'd participate in a more regal way. You know how the queen waves her hand? That's how he danced. I remember he threw a cross-dressing party one year and invited me. I wore my mom's wig and took my friend along. We drank a quart of beer sitting in the car outside his apartment trying to get up the nerve to go in. Catherine Guinness went dressed as me! She wore shorts and a little vest.
How are your dance moves?
I was probably a bit better back then. It doesn't hurt to have a couple of Quaaludes in you. [Laughs]
We'll take your word for it! Any plans to open other Harlows?
I've been asked to, but nothing's signed yet. Let's just say it's likely you'll see a Harlow outside the city at some point in the future.
How's your Lenox Lounge project in Harlem coming along?
I'd love to open in the spring, but the end of summer is more likely. I'm also opening a bakery next door with Dwight Henry, from New Orleans. It's perfect for Harlem. I think I can do 50 of them around the world.
Do you ever get sick of New York?
I'm on the fence sometimes. When you start being bitter and yelling at cabs as you cross the street, you know you need a break.
Which city could lure you away?
I could see moving to London for a year, but I'm not sure I could deal with the weather and all the drinking. My ultimate goal is to buy a farmhouse in Tuscany where I can cook all day and grow old and fat drinking wonderful wine.