He's reinvented Italian Vogue, Harper's Bazaar, and Interview. He's created some of the most iconic fashion campaigns of all time for Calvin Klein. His product designs have been in the hands of consumers around the globe. Fabien Baron is almost four decades into his career and his singular vision is still one of the industry's most influential. The prolific creative director gives his unbridled take on his noteworthy career.
What brought you to New York?
I had always been intrigued by New York. The first time I came to New York, I was 19 years old and I realized, Oh, my God, everything is coming from America! The music, the movies, the TV series…so I said, "Why should I wait?" Things were much slower in Europe—six months later, we would get what had already come out in the States. I wanted to be part of the pop culture of the moment. So I moved here in 1982. I had only $300 in my pocket, and I knew two people: Véronique Vienne, who I stayed with the first time I visited New York at 19 years old, and Carl Lehmann-Haupt, who had worked with Véronique and was a graphic designer. I called Carl and he connected me to Alex Liberman. I showed him my work and he instantly liked me. We spoke French and he said, "I see you're good at magazines. Do you want to work at Condé Nast?" I said, "Sure! I will work anywhere!" I moved to New York when I was 21.
What a lucky break.
He actually wanted me to work at Vanity Fair, which was just launching. When I arrived, I had many redesigns of French magazines in my portfolio, which I had done with dummy type. So I went to meet with Lloyd Ziff, the art director at Vanity Fair, and he wanted me to start working. But then I got a call from Alex and he said "I'm sorry, but Vanity Fair is not going to work out. We fired the art director. But I don't want to let you go. You're going to have to be patient, because I have ideas for you. I'm going to give you a job at Self magazine for the moment." Then I ended up at GQ with Mary Shanahan, which was fun. But after a while, I felt like I was getting what I was getting out of Condé Nast and I didn't want to stay. So I left. Liberman wasn't so happy, because he wanted me to end up at American Vogue.
Why didn't that appeal?
I felt like I was just starting to have a voice here in New York. I was doing Barneys advertising, where I hired Steven Meisel to be the photographer, and I was doing my own thing at a start-up, New York Woman, which people were noticing. I brought on photographers like Peter Lindbergh; it was his first U.S. editorial. American Vogue was about a strict way of working, and I felt like I would be a prisoner there, and I wouldn't have my own voice. Liberman said, "Condé Nast is always a place where we need people like you." But I did feel like, "Oh, s**t. I'm saying no to American Vogue. It's no small thing." Then weeks later, I get a phone call from French Vogue. That freaked me out. And I turned that down, too. I said, "I really can't. I've only been here five years." I didn't like the idea of going back to Paris with my tail between my legs. I wanted to stick it out in New York. I also felt like French Vogue was not in the right place at that time. My partner at the time said, "Maybe you made a really big mistake. You just said no to two big Vogue magazines. How many Vogues are out there?" And then I get a phone call from Franca Sozzani.
Unbelievable!
She said to me, "I'm taking over Italian Vogue." And I said, "I can do it." I took the job on a phone call. I had been following Franca Sozzani for a long time, since she was at Lei and Per Lui. I highly admired her, and I felt like she was changing fashion.
How did you manage the commute to Milan?
Going back and forth then was not the same as going back and forth today. They had no money, so I was flying tourist class and putting myself up. I was losing money, but it was something I really wanted to do. I did it for two years, but then I quit because I couldn't take it any longer. I felt I had that experience, and I didn't need to do it for 10 years. I was exhausted.
What was it like working with her?
We were so aligned with what we were doing. I wanted to use new graphics and layouts and work with new photographers; she had the same vision with fashion. I was totally digging it. That's where I really felt I started to understand myself. She was an important figure in my life. Those two years meant a lot, and working with her was fabulous. She really had balls.
How did you land at Interview?
I got a phone call from Glenn O'Brien, who told me, "We are redoing Interview magazine and Ingrid Sischy is going to be the editor. Would you like to work with us?" I said, "Yes! Interview is Andy Warhol. It's legendary." Plus, it was a start-up. But that didn't last so long, because I didn't get along with Ingrid. We didn't connect in the same way. She was not enjoying what I was doing for the magazine. Basically, she fired me. We knew it was going to be weird for a little bit, but I saw her everywhere; it was fine, and we were laughing about it afterward. After Interview, I decided to stop for a little while. That's when I decided to do my own company and work for different clients. I was doing the advertising for Valentino at the time, I was continuing to do Barneys, and I was beginning to get other clients, like Issey Miyake. I started my office with one computer and one assistant.
What was your first big project after you founded your own company?
Six months down the line I was working on Madonna's Sex book, and six months after that, I got a call from Liz Tilberis for Harper's Bazaar.
What was it like working with Madonna?
It was fantastic. We had Steven Meisel taking the pictures, and Glenn O'Brien was writing the copy with her. She has a strong opinion and voices it, but we all do.
What was your first meeting with Liz Tilberis like?
We went to lunch and we talked about everything but the magazine—England, photographers, food, kids, Vogue, food, life.… We talked so much, you have no idea!
How did you go about redesigning Bazaar?
By building a team, and bringing in editors like Tonne Goodman. Patrick [Demarchelier] was already working there; he connected me with Liz. So when I got there, I called Peter Lindbergh, Paul Cavaco, David Sims, and all the young photographers from England, like Craig McDean, and said, "You have to do the magazine." It was an amazing moment, which lasted until Liz died of cancer, unfortunately. That was the saddest thing. The first year I was on the job, she was diagnosed and eight years later, she died. I gave my best to that magazine for the time that Liz was around. When she died, we made a special issue called "The White Issue," because we called her "Le Blanche." I called all the photographers and each dedicated one picture to that issue. After that, I quit. I was done with magazines.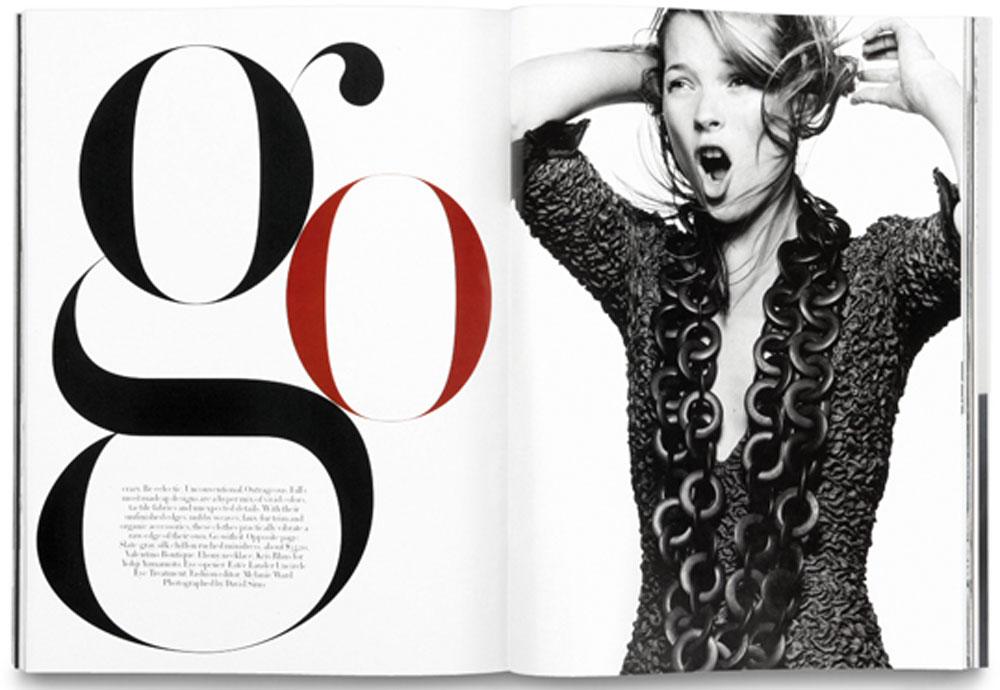 For the second time.
Yes. [Laughs] I went back to my office and I was doing all the work with Calvin Klein, which had been happening at the same time. At one point, I had a full-time job at Calvin Klein, a full-time job at my agency, and a full-time job at Harper's Bazaar. It was too much! But I did that for eight years.
What was it like to collaborate with Calvin?
Calvin called me really early on, the first year I was at Bazaar. We started talking, and then there was CK One and this and that and Kate Moss and…you know. When Calvin is into you, you have to be there hours at a time. I said, "Calvin, you have to understand, I have a company." Calvin introduced me to making film and lots of things. I directed a lot of commercials for Calvin, and I started directing commercials for other people, too. During that time, I produced a lot of packaging design. I've done a lot of fragrance bottles, as well as furniture and eyewear, and a lot of beauty advertising. A few years later, Carine Roitfeld called me to do French Vogue.
Did you say no?
I said, "I can't. I don't want to work with magazines. I don't feel like going back and forth." I told her to work with M/M (Paris), so she did that for two years. At the time, I was doing Arena Homme +, but it was only twice a year. I can do that in my sleep almost. But French Vogue with all the shoots? Oh, please, no! And also, I wanted to start my own biennial magazine. So I went to see Jonathan Newhouse.
Did he like the idea?
He said, "We don't need another magazine. In fact, there is a magazine that needs your help. So why don't you do that for a while, and then we will talk about your magazine?" He meant French Vogue. Carine was doing a great job, and I was quite taken by her as well. So I went on a boat and said, "Take me for a ride." I did it for about four years.
In the meantime, were you still trying to get Jonathan to do your own magazine?
Jonathan pooh-poohed me on all the ideas about my magazine and ended up making a magazine with Katie Grand. But I was enjoying French Vogue. I also met my partner, Ludivine [Poiblanc], there. But after a while, Glenn O'Brien asked me if I was interested in coming back to Interview.
Why were you tempted?
It's like a first love, and 80 percent of my life was still in New York. Glenn was my old friend, and we worked together for so many years. We did that for a while, but after three or four issues, we didn't get along. Peter Brant called me in and said, "We have decided to go with Glenn O'Brien to do the magazine, and we are asking you to leave." It was fine—I was busy in my office. Four or five months later, Glenn hired M/M (Paris), which hurt my feelings a little bit. He organized this all behind my back, so I was like, "S**t, I thought he was my friend." I felt personally hurt by the situation, but I didn't talk to anyone about it. The worst part of this whole thing was that probably six months passed by and I get a phone call from [Peter] Brant. He said, "Things are not working the way we want them to work with Glenn. We would like you to come back." I said, "Are you kidding me? Absolutely not!" I basically hung up the phone. So then his son came to my office and talked to me, and I still turned it down. Someone else came in, and I turned it down. They laid down all the cards in front of me and said, "Listen, we need you to come back to the magazine. We made a mistake." Karl [Templer] and I made a list of 12 conditions that we would need in order to come back. We put down conditions that we knew they would not be able to fulfill! But they said, "We will do everything, no problem." It was like a dream job. Now, it's been nine years!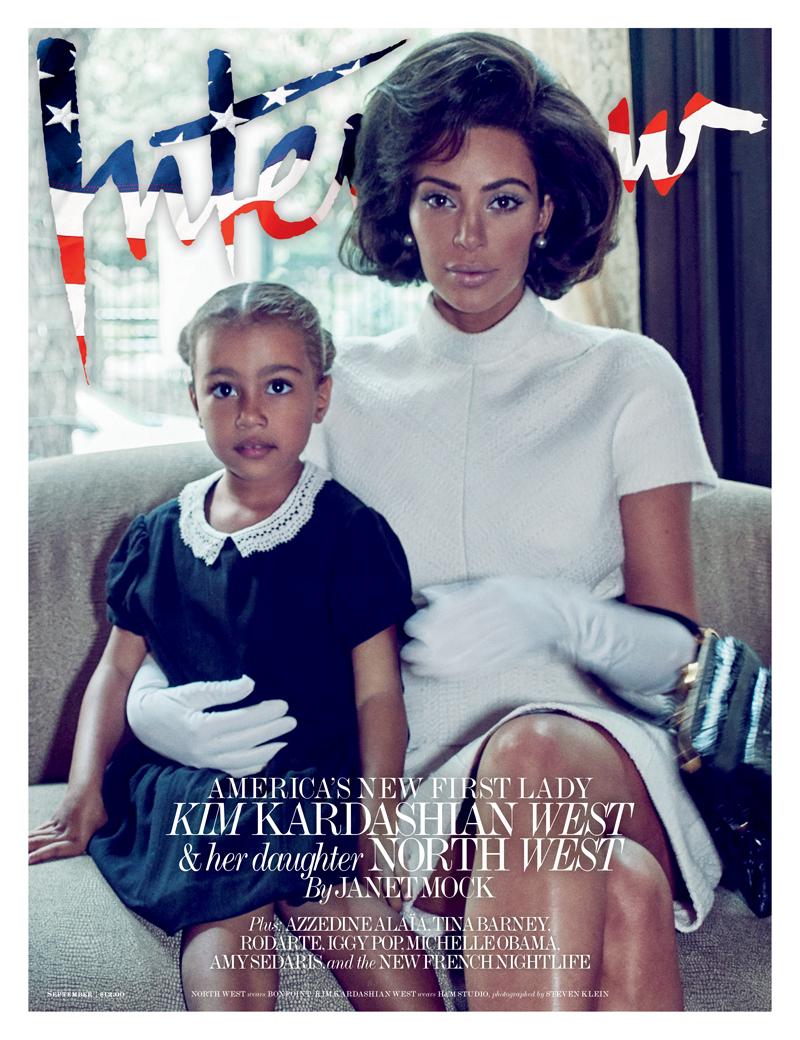 How do you maintain your crazy schedule?
It's terrible, because on top of it, I do personal work! First of all, I don't know what I am doing tomorrow. I promise you, I have no clue. That's protection—if I knew, I would panic! When I do something, I have tunnel vision. It's the only way I can function. [My staff] has to take me off one project and move me on to something else.
Are you as excited by digital as you were by print?
They are different. Digital is not in its prime yet. It feels like when we first got television—it's still in black and white. Everyone is experimenting; a lot of things are good and some are very bad. Here's the quick recipe: This, that, and the Instagram. That's going to work for a moment, but you are going to have to come up with something else.
How has the photographer's role changed?
The role of the photographer has been lessened because of digital and social media. Now, anybody can take a picture. People have stopped looking to photographers to build an image because they feel they can do it digitally. I don't think the fees photographers were asking for are still possible today. Now, the designer, the team, and the art director are all a part of conceptualizing the imagery. The photographer has become only the mechanical enabler to make the image.
When have you felt the most free in your career?
When I was at Italian Vogue with Franca Sozzani, and at certain moments at Harper's Bazaar. But where I felt the most, most freedom for my soul was when I did a special project with Moncler. Remo [Ruffini] asked me to do whatever I wanted for an exhibit. So I went to Greenland on my own and shot icebergs at night with lighting. It was monumental to take pictures exactly the way I want to. I'm glad I did it for Remo, because he totally got it. He backed me up and never asked for anything.