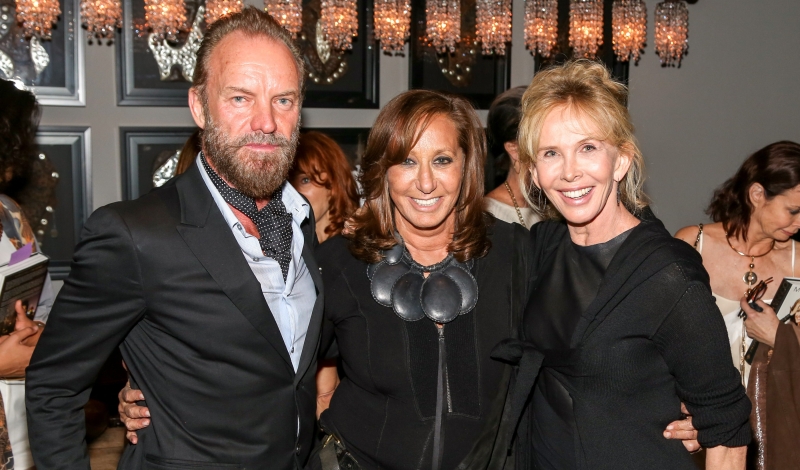 Patrick McMullan
Donna Karan Opens Up About Her New Memoir
|
To celebrate the launch of her memoir, My Journey, this month, Donna Karan joined ELLE editor-in-chief Robbie Myers for a Master Class Q&A on Tuesday, sharing the book's major moments and expanding on some of the personal details. The following evening, Karan continued the celebration at her store Urban Zen on Greenwich Street, where The Daily had a few burning questions to add…
On Seven Easy Pieces: I realized while I was designing at Anne Klein that I really wanted to hone myself into a wardrobe that I felt most comfortable in, and I had an idea for Seven Easy Pieces—simple, for a working woman who can go to work and go out. I asked my boss if I could do the Seven Easy Pieces while doing DK and Anne Klein and then they fired me. I thought, 'This is the most ridiculous thing I've ever heard, how could you fire me?' They said after 10 years, they knew I couldn't do anything small even if I tried. They said there is no small Seven Easy Pieces for you—maybe seven easy companies, but not Seven Easy Pieces. Sure enough, they were right.
On the birth of DKNY: My daughter started to wear all of my clothes, and all of her friends were wearing my clothes. And I said, 'Hey wait a second guys, you're all in my closet, and this is not fun. This is for me and my friends, you're a little too young for this.' Á la DKNY. And I needed a pair of jeans. I couldn't find a pair of jeans out there.
On Barbra Streisand's forward, which said "chaos is her middle name": When I'm on, I'm on and when I'm off, I'm off. For most of us women, we're multitasking…I've gotta get there, and I've gotta do this, and I have to do that, because everybody needs you—you get a little chaotic. But when I'm in my zone, I'm doing my work.
On the power of the shoulder: You're never going to gain weight on your shoulders. You can expose your shoulder and be fine. It's guaranteed; I have never seen a fat shoulder.
On taking over Anne Klein: I certainly did not feel that I would be acknowledged at the Anne Klein show, the first show that I did. I had just given birth to my daughter, my boss dies, I am thrown into having taken over this company at the age of 25. It was a big pill to swallow. But I did. And it was enormously successful.
On leaving Donna Karan Collection: During Fashion Week this year, I was calm and there was so much chaos around. So that was kind of a shock to my system. We had talked about [me leaving] for many years, and it was just time. I kept feeling that I couldn't do Donna Karan, DKNY, and Urban Zen and get everything done that I wanted to get done.
On Urban Zen: My passion for Urban Zen is joining philanthropy and commerce. Conscious consumerism is what I call it. I was very inspired by Clinton Global Initiative. My dream is to have a space and place where we could create conferences, talks to make differences in health care, education, and culture.
On President Bill Clinton: I asked President Clinton what size he was [ed note: for his suit for his inaugural address], and he said he was a 54 Long. And I said, 'I'm sorry. I don't want to dispute you but you're a 54 Extra Long.' So he said to me, 'No, I'm 54 Long.' I called Martin Greenfield and said, 'You've got to do me a favor. You've got to make me an Extra Long and a Long. Because he says he's a Long and I say he's an Extra Long because my husband wears a Long and I know how much taller he is.' It came to the inauguration and I see him that night at the Arkansas Ball. The first thing I say to the President, 'What size suit are you wearing?' 54 Long. Forget it. The President is always right.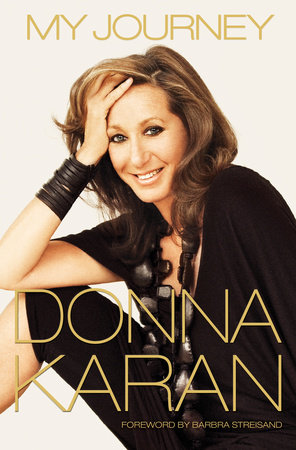 We caught up with Karan at her book release party at Urban Zen to find out more, including her thoughts on a movie deal and the most difficult chapter to write…
How did you find the courage to write your memoir and share intimate and personal details? Are you naturally fearless?
I think I am—in the book it says how secretive my mother was and I think from that point on I became open, and I said that I have nothing to hide. We all live a life of ups and downs, so to speak.
What was the manuscript process like? Did you write notes or did you dictate?
I worked very closely with Kathleen Boyes, who wrote the book with me. She really knows me and knows everybody in my life. It was a much easier way of doing it. I would speak to her at least once or twice a week, maybe every day, and then she would be off talking to people and getting their anecdotes and stuff like that.
Did a lot of people contribute?
Oh, a lot of people had gotten involved in the book—there's a large thank you in the back!
How did you find the time to write your story?
It took over a year. Kathleen and I do yoga together so we would do it after class. I usually keep the mornings for myself before I go to work, so I filled it with book time.
Do you have a favorite memoir?
I don't really read memoirs! It became something that I wanted to read, but then again I didn't want to read a memoir because I didn't want to get it mixed up with mine.
If you were asked to turn the book into a movie, would you sign on?
Yes, if I could control it! If I could direct it, produce it, or at least have one of my friends direct and produce it.
Who would you want to play you?
I have actually thought of two people: Rachel Weisz was one and Demi [Moore].
Any place for Barbra [Streisand]?
I don't think Barbra would play me, but I wouldn't mind her directing it!
What was one of the most difficult chapters to write?
The last chapter was the hardest one to write because everything was in the past, and I had to deal with what the present would be when the book came out, which was three months in the future. How would I feel three months later, when I was talking about the present?
That's got to be confusing.
It was. That was the hardest chapter to write and I was stepping down from the company, and making that announcement was pretty difficult, figuring out how to say it and how to position it.
Speaking of, what did you think of the collection in September?
I thought it was very good.
Any plans to travel?
I would like to be traveling a lot more! I just came back from Europe. I was doing the collection for Urban Zen. It was for Spring/Summer, and we showed in Paris—well, we didn't show but we presented in Paris to buyers. I was in Italy, London, Paris, and now I am off to L.A. for more book!