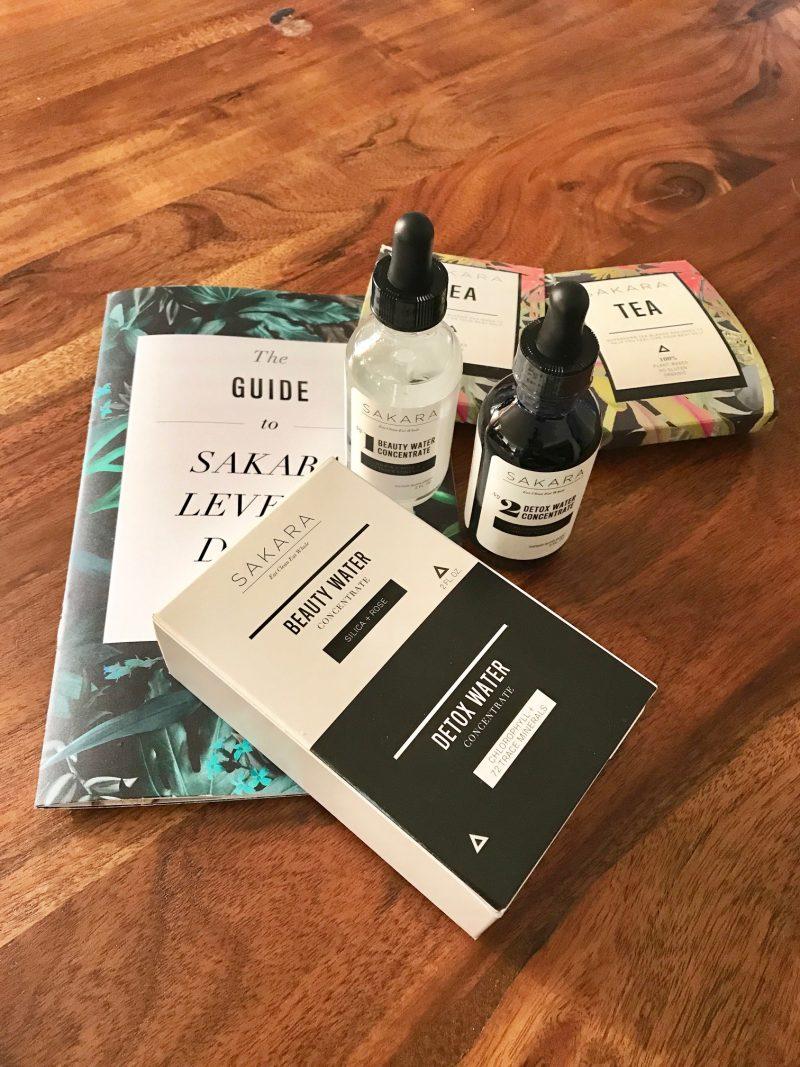 I've never met a diet or fitness trend I didn't love. I've also never met one that stuck with me, with the exception of Sakara and Tracy Anderson. To read that, one might think I have the physique of Lady Paltrow or J.Lo, but make no mistake—my love for diet and fitness trends is only paralleled by my love of dairy, carbs, and alcohol.  So I'm no glowing goddess—I'm medium svelte on a good day, with a high chance of booze bloat on a regular day.
Quick backstory—I did the regular Sakara program for two months in early 2016 to fight off some massive holiday weight gain. It was genius—the food was delicious, I wasn't hungry (who knew leafy greens were so filling?), and by the end I looked good and felt even better. That all came to a crashing halt when warmer temperatures rolled around and it was perfectly "acceptable" to drink gallons of rosé and chug French fries with my friends.
I've flirted with Sakara off and on since then, and every time, it is a homerun of health. So when I learned that Sakara was offering an "expert level" cleanse, the Level II, I was all in. I offered my body and mind to science and kept a diary of my experience. Without further ado! BY ALEX DICKERSON
DAY ONE
The Level II Cleanse gets an A+ in packaging. I feel chic just opening the box and seeing all the goodies.  Then I feel dread…this is ALL I have to eat?!
Breakfast: I am distressed to learn that the breakfasts consist of a robust serving of savory vegetables. Unless I'm inhaling leftover pad thai, I don't tend to consume veggies before Noon. (Are there vegetables in pad thai?) But this is legit delish.
Lunch: Nori rolls are on the menu, and while I find the rolls themselves to be on the bland side, the dressing and sauces are heavenly.  I could guzzle them like a crisp Sancerre. Is this cleanse symptom number-one rearing its ugly head?
Kefir: There's a delicious treat of a coconut kefir drink every afternoon on the cleanse—the label proclaims it will reduce brain fog, and man, they are spot-on. Renaming this Clarity Juice!
Dinner: The terror I feel while heating up the medicinal broth is palpable. I loathe mushrooms, and there's a fungus-among-us in the ingredients. That said, once this is shaken and heated, I take the plunge and have a sip…and it is tasty! In the moments that my mind got the best of me and I thought of mushrooms, I stopped it by visualizing all the healing qualities of what I was ingesting, and powered through.
Key Takeaways: Despite having a grumbly tummy between kefir and dinner, I felt satiated and really great. I had random surges of energy, like jolts of caffeine, throughout the day. 
DAY TWO
Breakfast: I thought I would wake up feeling terrible, but instead feel nothing short of serene. My besties Whitney and Danielle said to take the time during the cleanse to focus on self-care and introspection, so I meditate. 
Lunch: Ode to delicious vegetarian noodles over some dark earthy greens. Yet after I eat, lunch, I am so exhausted I can't keep my head up…to the point that I have to take a George Costanza nap under my desk. 
Clarity Juice: Kefir for the win! But OMG, major physical cleanse symptom made itself known…unexpected eruptions (catch my drift)? I'm forced to wait for the empty elevator, because it isn't worth the risk of trapping someone inside with me.
Dinner: Medicinal broth round two goes even better than the first. 
Key Takeaways: Overall, I'm wondering why I don't feel terrible? Aside from the bad smells I'm emitting, I feel fantastic! 
DAY THREE
Breakfast: I am exhausted. I wake up with heavy eyeslids, pressure on my forehead, and I am STARVING. All that smooth sailing?  Yeah, the breeze has died. It doesn't help that this morning's serving of veggies is called "Magic Mushroom Detox." Renamed "The Stuff of Nightmares." I give it my best college try, pick off the offending items, and find I actually LOVE IT. It tastes like…leftover Chinese! 
Lunch: The hardcore detox continues. I'm lightheaded, dizzy, nauseated, and simultaneously starving. Everyone in my office clearly hates me, as they sit next to me guzzling Smart Pop as if out of a feedbag affixed to their face. I find myself having a hard time with my cabbage dumplings and broth, despite having a black hole in my stomach.
Clarity Juice: Tides me over and gives me a burst of clarity: "Why did I want to do this cleanse?" I sit and contemplate what it means to change, and if that's something I really want to do. Medium svelte is a totally OK place to be!
Dinner: By the time dinner rolls around, I'm feeling better. I've never peed more in my life, but I've turned an emotional corner and am proud of what I am doing and how I am focusing on myself and my goals. Self-care may not always be fun, but it is always important. 
Key Takeaways: Day three is tough, but far more from an emotional standpoint than a physical one. I feel vulnerable and introspective, and I would totally cry if someone gave me a side-eye on the subway. Feeling terrified that tomorrow is liquids-only.
DAY FOUR
Breakfast: I wake from a fitful night of emotionally charged dreams about my family. That said, as I sip my very thick green smoothie, I am feeling extraordinary. No bloat, the gas has gone, and I have energy and supreme confidence. In fact, I think someone mistook me for Lady Paltrow on the subway platform.
Lunch: I watch the Facebook Live video with Whitney and Danielle and Dr. Aviva Romm during my tasty soup lunch. I highly recommend that everyone watches this when he/she is feeling bad on the cleanse. Her medical understanding of the benefits of Level II inspire me to enjoy this break I'm giving my digestive system!
Dinner: I'm done Paltrowing around…now I need one of those hats from The Handmaid's Tale to block any and all food from my site.  I nearly jumped a man for his half-eaten burrito. More than anything, I miss chewing, not the actual food itself. 
Key Takeaways: I do feel better than yesterday, and I am mildly enjoying the "work" I feel my body and mind doing. 
DAY FIVE
Breakfast/Lunch/Dinner: I wake up on this last day with a clear insight into what I was actually detoxing: laziness and feeling overwhelmed. I think back on how I've felt prior to this cleanse, and I was burdened by everything—going to the grocery store, dinner with friends, cramming in a workout. Everything felt insurmountable. Not now! I rise early (at 6 a.m.) and go for a walk to run errands before work, which five days ago, was unheard of. I take the time to enjoy the weather, make friendly eye contact with my fellow early risers, and think about what I want out of that day, and out of my life overall. Poetic moments! Oh, and the return to chewing was excellent—mastication, I missed you so.
Key Takeaways: The energy I feel now has a purity to it, unlike the strange meth-like bursts from Days One and Two. I couldn't have identified the difference though, without having gone through Days Three and Four of Hell. I have slight anxiety at the thought of being in control of my own diet and destiny going forward, but I choose to put that energy into getting creative with my cookbooks. It is far easier for me to channel negativity into a place of change and adaptation now, whereas prior to Level II, it would only feel like one more burden. A burden that could previously only be cured by eating a slice of pizza.