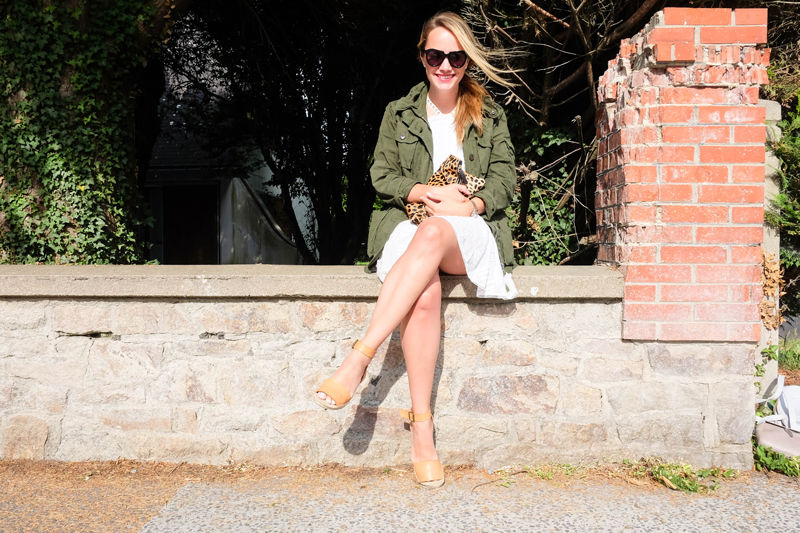 Grace Atwood, founder of the blog The Stripe, recently went jaunting through France with Saint James, the "Hermès of T-shirts." She ate, she saw, she conquered Mont Saint-Michel! And she wrote us with the details.
Dear Daily,
I've just returned back from the most delightful adventure! When Saint James invites you to spend four days with them in Normandy, France, there is simply one answer: "OUI, OUI, MES AMIS!" And oh, was it an adventure! Eight villages in four days, a day at the Saint James factory in the village of Saint-James, and the chance to vacation as the French do…sleepy little hotels, incredible local food (and all of the oysters), and the most beautiful sightseeing. Northwest France is to Paris as Hudson Valley is to New York: the perfect country escape.
DAY ONE
The adventure began after flying the red-eye from JFK to Paris' Charles de Gaulle Airport. Eight of us (a mix of journalists, bloggers, and the Saint James team) piled into a van, preparing for the ultimate road trip through Northwest France (driven by our fearless leader, Benjamin Auzimour, Saint James' US managing director).
Our first stop was Honfleur, a quaint little town by the sea where the Parisians head to get their seafood (and rosé) fix. From there, it was off to Bayeux where we checked into the Hotel Churchill, a charming little spot with colorful rooms just steps away from Notre Dame Cathedral. We dined at La Maison Blanche—no affiliation to the Shelter Island B&B—that evening, feasting on the local fare. Sole is a must-have while in the region, as is anything with apples—tarts, cider—and we can't forget Calvados, an apple brandy native to the Normandy region). I opted for striped bass drenched with vanilla butter and was quite pleased with myself.
DAY TWO
We met up at 8 (holy jet lag!) and began our day of sightseeing. Our first stop was the Notre Dame Cathedral, originally built in 1075. The cathedral itself was lovely and grand (and incredibly moving) but it was visiting the crypts down below that was most exciting…a Da Vinci Code moment of sorts, if you will. From there, it was off to La Tapisserie de Bayeux, a famous French tapestry that depicted the Norman Invasion. The tapestry is 70 meters long and miraculously is perfectly intact after nine centuries.
From there it was back in the car and off to lunch on a boat at Pays du Bessin, an unassuming little boat with some of the best seafood you'll eat. We then proceeded to eat the entire ocean—lobster, shrimp, spider crab, clams, oysters, escargot, we ate it all—and then drove to the American Cemetery and Omaha Beach in Normandy to see the memorial for the American citizens who lost their lives in World War II.
Back in the car we went, and on to Mont Saint-Michel, where we checked into our hotel for the next two nights and headed to dinner at Le Pre Sale. When in Mont Saint-Michel, the local salt marsh lamb, raised in MSM's coastal pastures, is a must. It's a bit saltier than your traditional lamb, and absolutely delicious. Pair it with a goblet of cider for the true Mont Saint-Michel experience.
DAY THREE
What if I told you that Saint James is the Hermès of T-shirts? That was my number-one takeaway from our visit to their factory—function over fashion, attention to detail, and quality craftsmanship. Hermès' heritage is in equestrian leather. In 1850, Saint James initially began, in its namesake village of Saint-James, to create purely functional workwear for the local fishermen, who traveled as far as Newfoundland! We toured the factory and learned about the brand's Raccoutrage process, which earned them EPV status from the French government, a tremendous honor in France—only 43 ready-to-wear and haute-couture brands have earned it.
DAY FOUR
Let's just say that on our fourth day, we got our steps in. We climbed up to the top of Mont Saint-Michel (avoiding the surrounding quicksand), toured the cathedral, and wandered through the tiny village, which felt like Diagon Alley from Harry Potter. The village has only 17 inhabitants total, 11 of which are nuns and monks. After touring Mont Saint-Michel, it was off to Cancale.
Cancale is another sleepy little town on the coast and was one of my personal highlights. We arrived to a cute little street lined with fisherman selling oysters in carts. Lindsey, the brain behind the beautiful Instagram account Lost in Cheeseland, suggested Breizh Café, where I had the Normande—one of the most delicious things I've ever eaten. Ham, camembert, and wild greens, folded into what can only be described as a cashmere blanket of a crepe.
From there, it was off to the walled city of Saint-Malo, where we toured a privateer's house (lesson learned: a privateer is different from a pirate, as they are commissioned by the government), and headed to dinner at Châteaubriand (more oysters, more fresh fish!) before driving to Rennes. The next morning, we were up at 6 a.m. and on the train back to Paris.
Merci, Saint James, for an unforgettable trip! Follow the rest of my adventures on my blog and Instagram!

Au Revoir,
Grace