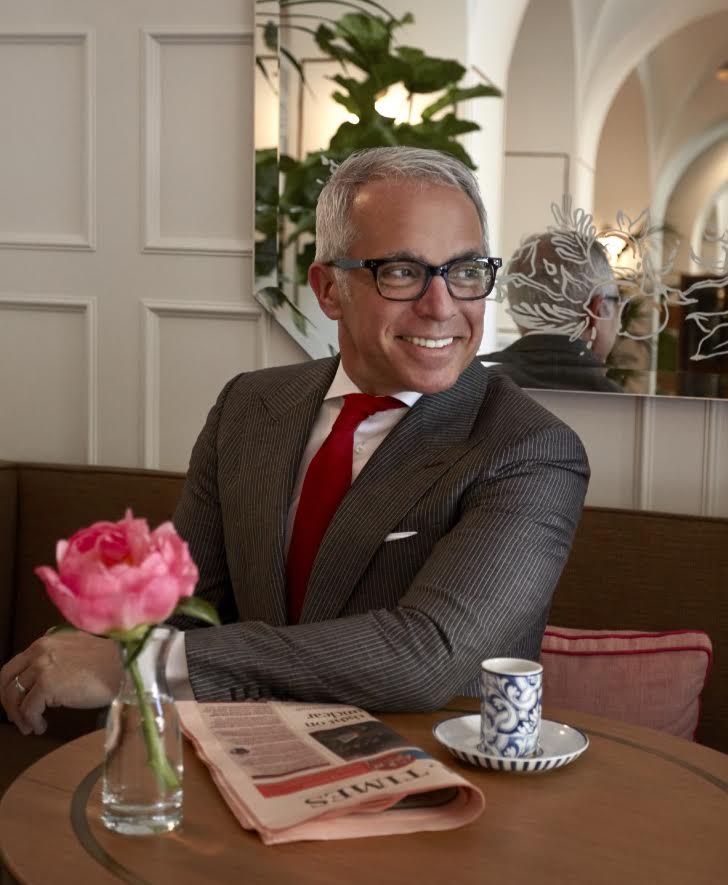 Geoffrey Zakarian needs little introduction to East Coasters and now the West Coast gets a taste of his magic with the opening of his latest outpost in Beverly Hills. How's LA life treating the legendary foodie? He writes in with an update! 
Dear Daily,
Writing to let you know I'm now officially bicoastal. Opening my new concepts, Georgie and The Garden Bar, at Montage Beverly Hills, last week was incredible. I just love LA. The weather certainly did not disappoint, and living at the hotel has taken my threshold for "room" service to a new level. Laundry completed within hours, monogrammed pillows, and unrivaled housekeeping kept my stay very comfortable. The people and car watching at the hotel is always exciting. An impressive array of Teslas peppered the porte-cochère at all times and a candy jar of "toy" vehicles would appear and disappear as fast as I could think "I never learned to drive stick shift."
When I landed in LA, I went straight to Charlize Theron's CTAOP star-studded charity event at Seth McFarlane's house. Drinks were flowing and the poker tables were open for business. The views over Los Angeles were stunning and the soundtrack was a 30-piece big band orchestra. I guess that this is the West Coast's version of a house party?  On the morning of our opening I woke up early and headed to the LA Flower Market. I purchased a fantastic selection of peonies that were ready to greet guests when the doors opened. My wife Margaret and I were able to fit in a little shopping. I went to Fred Siegel's to shop the summer sale and Margaret visited Jennie Baek at Barneys. With our new finds, we were ready for our visit to Universal Studios to tape Extra! with Mario Lopez where I demo'd the cocktail "Engaged but Cant-eloupe" from Georgie. Pun intended.
The California produce has not disappointed. The flavor and abundance of tomatoes in June are superb and remind me of the ones I have to line up for at Union Square Green Market. And I must admit, it is quite cool to cook using a different lens. I've been used to an East Coast mentality all these years, and at Georgie, it's exciting breaking from my traditions. It is light, bright, carefree…and most of all, that three letter word: fun!  The Garden Bar, too, but that leans more toward the liquid kind of meal. Summer svelte tip: Use beet sugar water like we do at Georgie instead of simple syrup to sweeten cocktails. We kept it clean, though, when sipping Casamigos tequila in the restaurant with Rande Gerber last week—no sweetener needed. Straight-up, all the way.
So Daily readers, my advice to you is head west and take a break from your personal rules. Never ever leave New York for good, but definitely, when given the opportunity, take the road leading to 90210. Charging stations available upon arrival.
Cheers!
GZ