Danielle Licata, Informa's president of East Coast Womenswear, knows a thing or two about trade shows. From organizing panel talks to traveling around the world, Licata gives The Daily the scoop on what to expect from Coterie this season.
What's the story behind The Daily x Coterie's Fashion Influencer Panel on February 25th? What are you hoping that brands and retailers will learn?
Everyone knows that social media is a mandatory part of telling your story, and brands have identified that influencers are a key means of getting eyes on new products. That being said, so many questions surround this topic: What are best practices? Who are the right partners? What is the optimal budget for a meaningful campaign? I hope we can answer these questions and more. This panel also benefits both stores and brands, which allows us to cover our entire marketplace. Plus, there will be a large concentration of influencers in the audience for brands to mix with for future collaborations.
What influencers do you follow, and what do you like about them?
The influencers I enjoy the most are the ones who share funny and irreverent things about their lives, in addition to posting about fashion. I follow a diverse group of large and small global fashion influencers, some of whom we have had the pleasure to work with—Chiara Ferragni [@chiaraferragni] and her blog, The Blonde Salad [@theblondesalad], as well as F*hits [@fhits], Ania Boniecka [@aniab], Tina Craig [@bagsnob], and Mimi Elashiry [@mimielashiry]. I also follow @weworewhat and am excited to have [founder] Danielle Bernstein joining the panel.
What else are you looking forward to this season?
We have some great educational panels covering subjects from sustainability to women's empowerment. Also, our shoppable vintage and beauty sections are back again and even better than ever.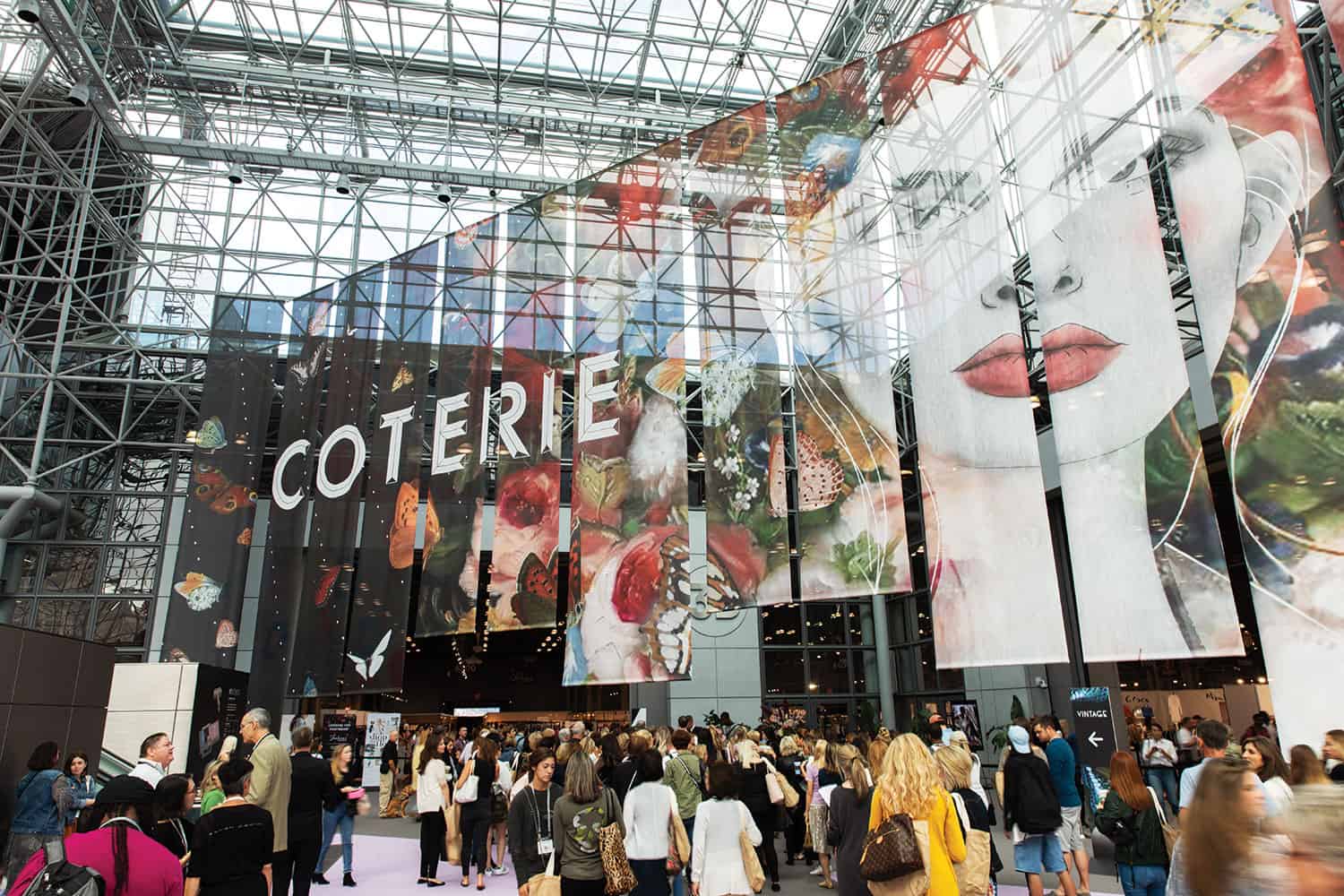 How does Coterie's February event differ from the September show?
From a product perspective, the February edition is always a bit richer, from a fabrication and design point of view. And you can always depend on Coterie for a wide array of knit resources, which have robust February collections on display.
Do you get to mingle with the brands and retailers who come to the show? What kinds of things do you learn from them?
Meeting brands and retailers from all over the country—and the world!—is one of my favorite things about this business. I'm a bit of a foodie, and I travel a lot. I always appreciate tips on where to find a great local restaurant, spa/salon, or must-see attraction for cities that I either frequent or plan to visit.
Have you done any traveling since we chatted last season?
The holidays feel like a distant memory at this point, because we have had some sizable shows already this year. But before the holidays came, we had quite a few big trips—we hit Brazil, Colombia, and Australia in October and November. They are key focus countries for us throughout our 2019 events.
How do you keep your energy up during Coterie?
A great deal of coffee! The teams work so incredibly hard for months to put an event the size of Coterie together, so once it comes, we are all running on adrenaline and caffeine. Our Beauty@COTERIE neighborhood has been helpful, as well. We all look forward to discovering new products that we can buy on the spot to take home and pamper ourselves with during this challenging week!
What are you hoping to see from the booths this time? Do you ever make a mental shopping list?
I'm hoping to see fresh, bold, creative, and colorful product. The energy of the buyers when they see a strong and sellable collection is palpable. As a product junkie, the hardest part for me is seeing a great style and having to wait months for it to hit the stores.
What trends are you anticipating this season? What should buyers keep an eye out for?
Graphic, bold patterns and new takes on abstract animal prints will continue. We will see more tailoring than usual as well, and I anticipate some great fur and vegan-approved outerwear options. Buyers should save some Coterie open-to-buy [budget] for major newness. We have 180-plus new brands in the show, covering every category from outerwear to denim and dresses. There is something for everyone.
What are your summer plans? How will you be relaxing in 2019?
I hope to make it to the beach more than I did last year—that's always a goal! And at the top of my list is convincing my hubby to go to Morocco. Let's see!
Subscribe to our newsletter and follow us on Facebook and Instagram to stay up to date on all the latest fashion news and juicy industry gossip.