As the artistic director, ambassador, and spokesperson for Moroccanoil, Kevin Hughes knows a thing or two about making magic happen during New York Fashion Week. Meet the maverick behind some of the runway's freshest hairstyles.
We hear you're one of 12 children!
Yes! I was born and raised on Long Island, New York, and I think I won the lottery with my family. I actually love all my siblings. I am No. 11 of 12 children from the same mom and dad… no twins!
When did you decide you wanted to be a stylist?
I went to college to study fashion-buying and merchandising, but I have always done hair since I was 11 years old. I started braiding my sisters' hair, then cutting my little brothers' hair and did a pretty good job… I wound up cutting everyone's hair, but I thought I needed to go to college, so I did. Then I followed my true passion… hairstyling!
How did you end up working for Moroccanoil?
I was doing editorial work and working as a hair colorist part-time at a salon in L.A., and one of my clients was the global director of hospitality for Moroccanoil. She insisted I meet the owners of Moroccanoil, so I met them and did some hair at one of their shows in L.A. They offered me a job that same day. I've been with the brand for eight years now, and I'm very grateful.
When did you meet the Veronica Beard designers, Veronica Miele Beard and Veronica Swanson Beard?
About a year and a half ago, at their showroom before a hair test for their NYFW show. They are wonderful to work with. They have a clear vision and inspiration, and that makes my job so much easier. They have such a wonderful, young vibe. And of course, the clothing is spectacular.
How do you all collaborate to come up with a concept?
The Veronicas show me their vision for the collection, and we build from there. The hair test is very important, because it allows them to see whatever they have in mind for hair come to life, along with the clothing and makeup all together. Sometimes, we have to make adjustments and sometimes, it just works so effortlessly.
What was the inspiration for Fall '19?
A beautiful girl from the city, dropped into the wilderness, so there is this nature element mixed with this chic collection.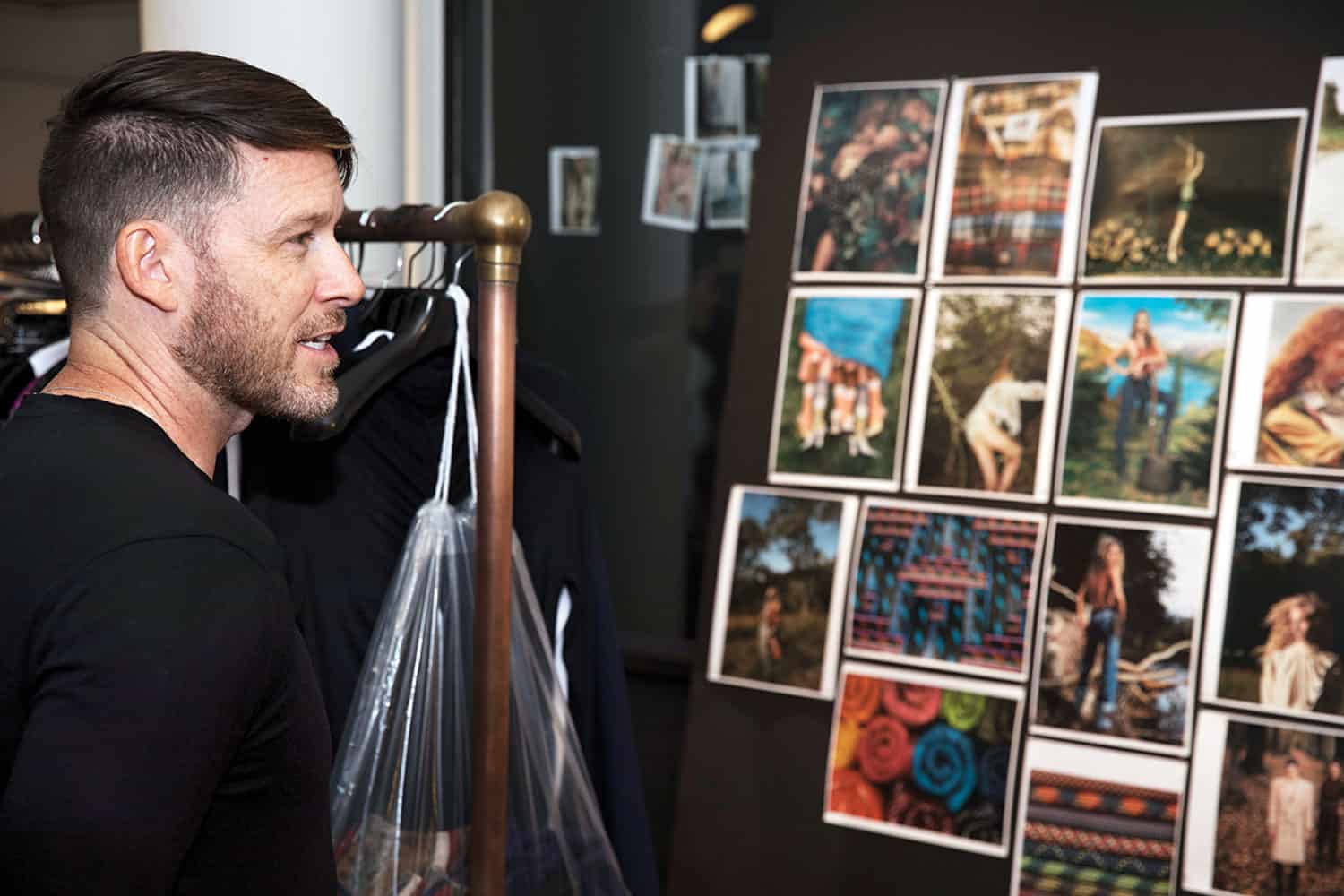 Which products did you use and can you do a quick walk-through on how you put it together?
We began by working with each girl's natural texture — if the girl has curly, natural texture, we are leaving it down. We prep the hair with Moroccanoil Treatment throughout and apply Moroccanoil Curl Defining Cream globally, then diffuse to keep the curls defined. For the girls with a slight wave, we are using Moroccanoil Treatment Light from mid-lengths to ends, followed by Moroccanoil Hydrating Styling Cream and Moroccanoil Perfect Defense, which is our heat protectant, throughout the hair. Then we blow-dry or diffuse with a center part and use the Moroccanoil one-inch curling iron to add a broken wave to the hair if needed. Gather the hair at the nape of the neck and secure with elastic thread. Then complete the look with Moroccanoil Luminous Hairspray Strong, and we finished by using a piece of fabric from the collection to tie an asymmetrical bow around the ponytail.
Where do you find inspiration for shows and shoots?
Films from every decade, European magazines, people-watching… I gather lots of inspiration in the streets. And travel! Lots of travel. It's important to see what's going on all over the world.
Are you working on any other shows?
I am also excited to be leading the NYFW show for The Blonds.
Are you seeing any new trends for the Fall 2019 season?
I love that designers are embracing people from all backgrounds, ethnicities, sizes, and genders, and celebrating their uniqueness, and using their natural hair texture or style. That way, we can see the beauty in everyone.
What are a few of your favorite runway hair moments?
I was so honored to be able to lead a few shows for Oscar de la Renta and working with the designers for their NYFW shows. Their aesthetic is so classically elegant yet youthful.
What's the hardest part of doing hair for a runway show?
Managing a team of hairstylists, especially if you are a control freak like myself. You have to trust your team. I want to do everything, which is impossible, because we wind up having only about two hours to do 20–25 models.
What products should every chicette at Fashion Week have in their bag?
I am obsessed with Moroccanoil Luminous Hairspray Strong; it holds, will never flake, and you can always restyle your hair without any problem. They make it in travel size too, so it can fit in anyone's bag.
Which Moroccanoil products do you use the most?
Moroccanoil Treatment, Moroccanoil Luminous Hairspray Strong, and Moroccanoil Dry Texture Spray.
Any advice for a quick but stylish hairstyle for the front row when running from show to show?
Especially in NY, the weather can be very unpredictable, so I think a chic ponytail always works, looks great, and is out of your face. Try adding a fierce accessory.
Any hair faux pas you think people commonly make and recommendations to break the cycle?
I think over-curling the hair. If you're adding curl to your naturally straight hair, don't curl the ends. Leave them straight, and it will give you a more modern wave, rather than looking like prom curls.
What's up next for you after NY Fashion Week?
I will go home to Cali for three days then back to New York for a campaign shoot.
Subscribe to our newsletter and follow us on Facebook and Instagram to stay up to date on all the latest fashion news and juicy industry gossip.