Couture was in full swing this week and the designers were serving some full-on looks with headpieces to match!  Fashion editor-at-large and stylist Sofia Achaval de Montaigu was perched front row for The Daily this season. She writes in on some of the most talked about shows of the season.
Day 1:
Schiaparelli
Paris Fashion Week kicked off with a lot of rain, and it's basically the only thing anyone was talking about. Despite the weather, I stepped out wearing my yellow MiuMiu faux fur coat. Thanks to the weather it was exceptionally hard to get to the Schiaparelli show at 21 Place Vendôme but luckily, when I arrived I saw that there were people waiting for the guests with umbrellas.
Farida Khelfa, who has been Schiaparelli's brand ambassador since 2012, looked lovely as she greeted guests in a pair of Schiaparelli pants and a pretty embroidered jacket. Derek Blasberg arrived with Lauren Santo Domingo followed by Kylie Minogue and Sabine Getty. I also saw Inès de la Fressange who sported a trench coat and a chic little hat. She chatted with Miroslava Duma, who carried a bag designed by Gabriela Hearst, her close friend.
The collection was inspired by nature, legends and myths. It was a perfect blend of African and European cultures that resulted in a collection that represents cosmopolitan femininity in the shape of contemporary deities and modern apparitions. Silk chiffon mixed with incandescent colors and the signature Schiaparelli shocking pink mixed with subdued or bold hues were the protagonists of this season.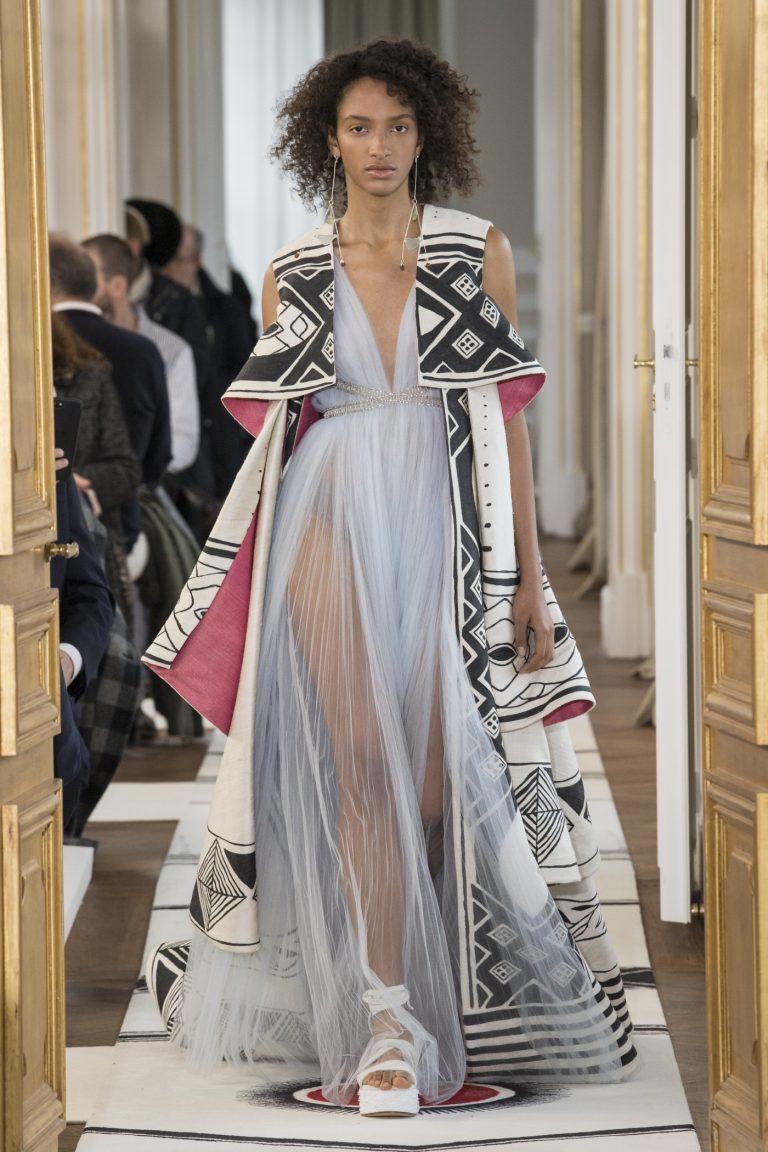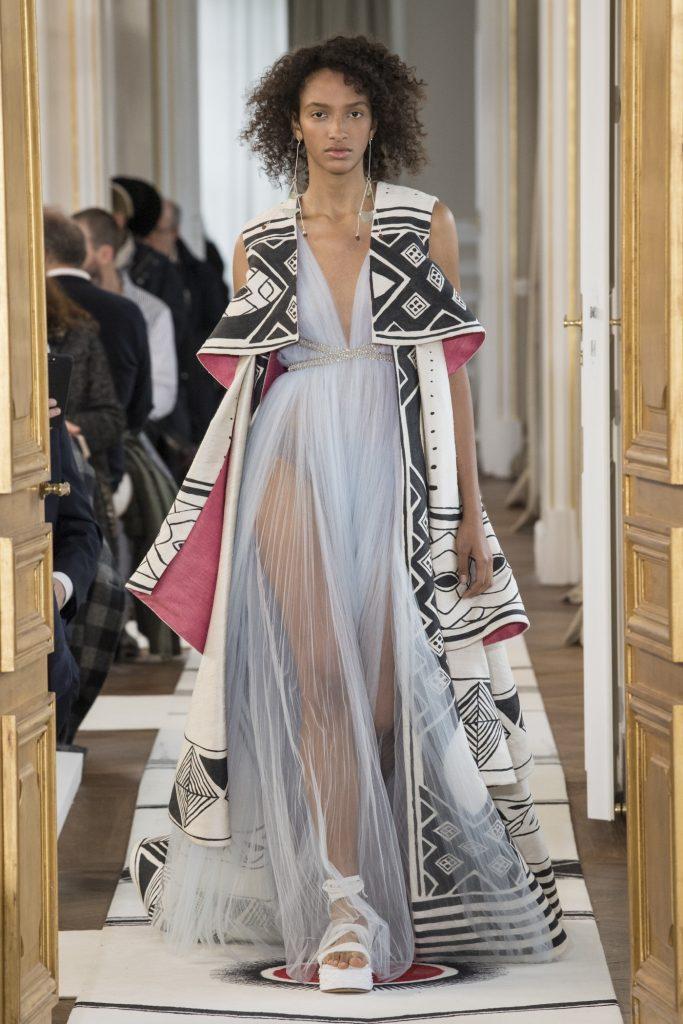 My favorite outfits included a black coat and a white dress with a shock of pink that were made of the same material— embroidered and with fringes as if they were tribal suits but with a contemporary design. I also loved a muslin dress in the brand's signature pink with a sweetheart neckline. But maybe one of the finest pieces was a satin hooded white dress with a pearled embroidery. It would be a dream to get married in this dress!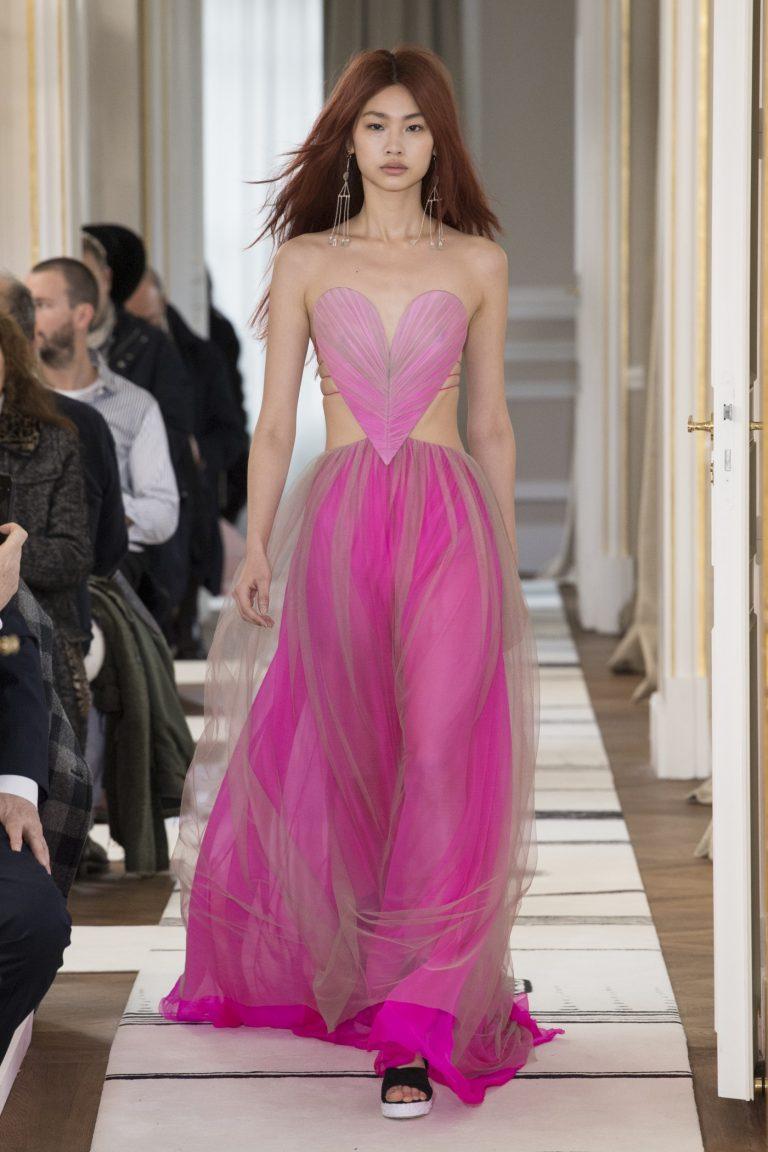 As for the accessories, there was a special collaboration between Schiaparelli's design director Bertrand Guyon and Lucie de la Falaise on the Selene, Soteria and Selkie bags, named after two Greek goddesses and a Scottish mythological creature. The bags have braided raffias and strips of plastic bags with wooden bags, wicker, drift wood and mother of pearl.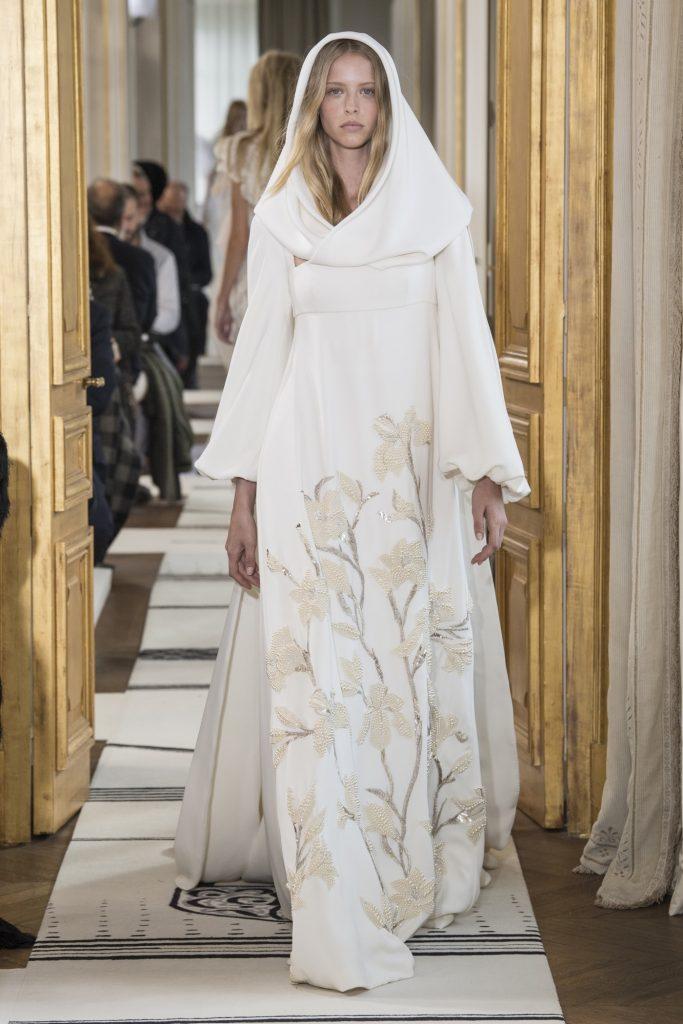 Iris Van Herpen
After the Schiaparelli show, I walked to the Ritz for a coffee. I said hello to my friend Alexia Niedzielski from System magazine and she said I looked like a bird from paradise! I sat down to take a look at my notes and kill some time before the following show started, and sitting right beside me was Kylie Minogue and others that were in the Schiaparelli show.
Afterwards, I headed towards the Galerie de Minéralogieet de Géologie near the Jardin des Plantes, one of the most beautiful places in Paris. I was there the previous weekend with my kids and I plan on bringing them back—it's very impressive.
The Iris van Herpen show was perfectly set in this venue. You could see the different stones and fossils that are being exhibited in the gallery behind little cabinets in both sides of the catwalk and that, in addition to the hanging paper sculptures that looked like her dresses, made for a perfect atmosphere.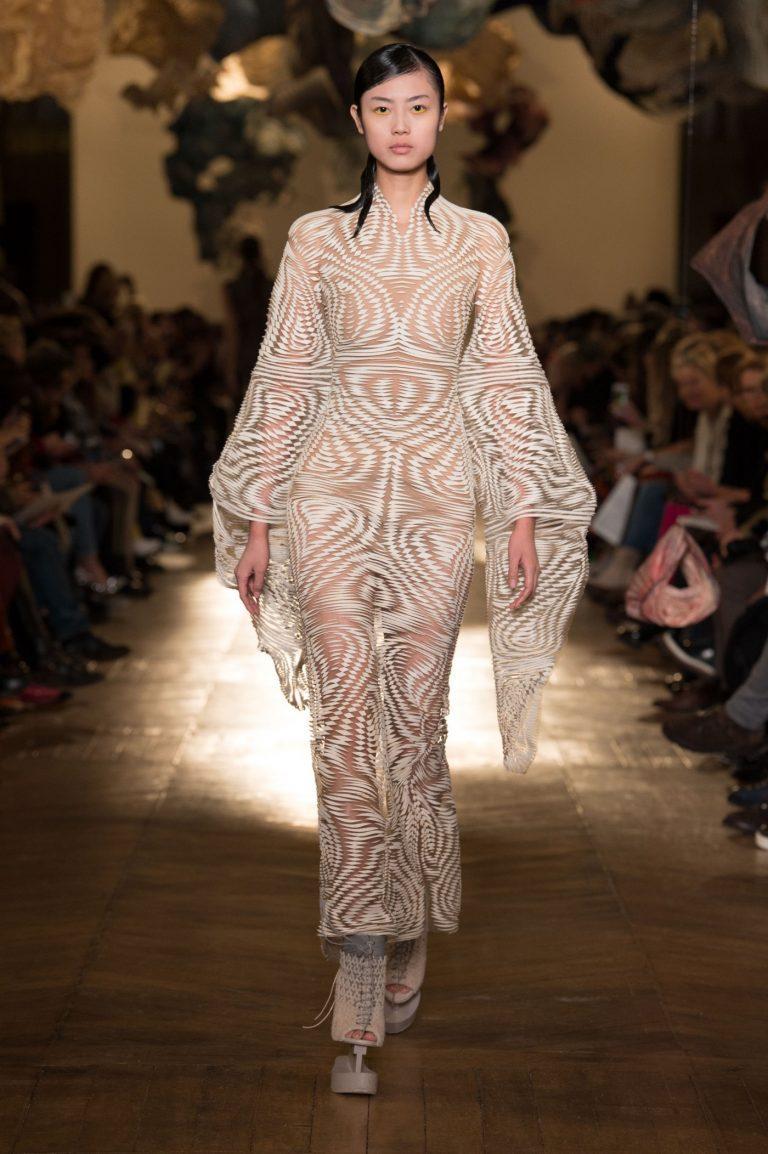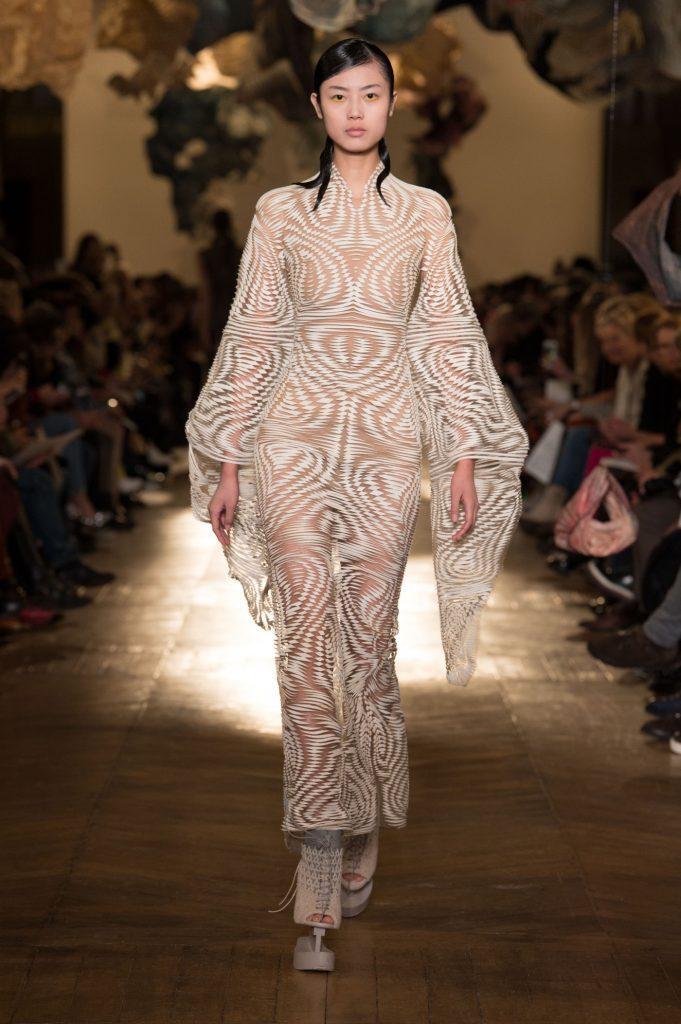 Right in front of me was Amanda Harlech, who always looks so beautiful and cool. Olivia Palermo and Marina Abramovic, who was very photographed, and Caroline de Maigret attended the show. My friend Julia von Boehm was also there wearing a pair of sparkling silver stilettos and jeans, which are very a la mode this season.
Iris' collection was inspired by a microscopic view of the world. But the most impressive thing about Iris van Herpen's designs is the texture of her dresses, which are 3D printed. The dresses would easily pass as sculptures.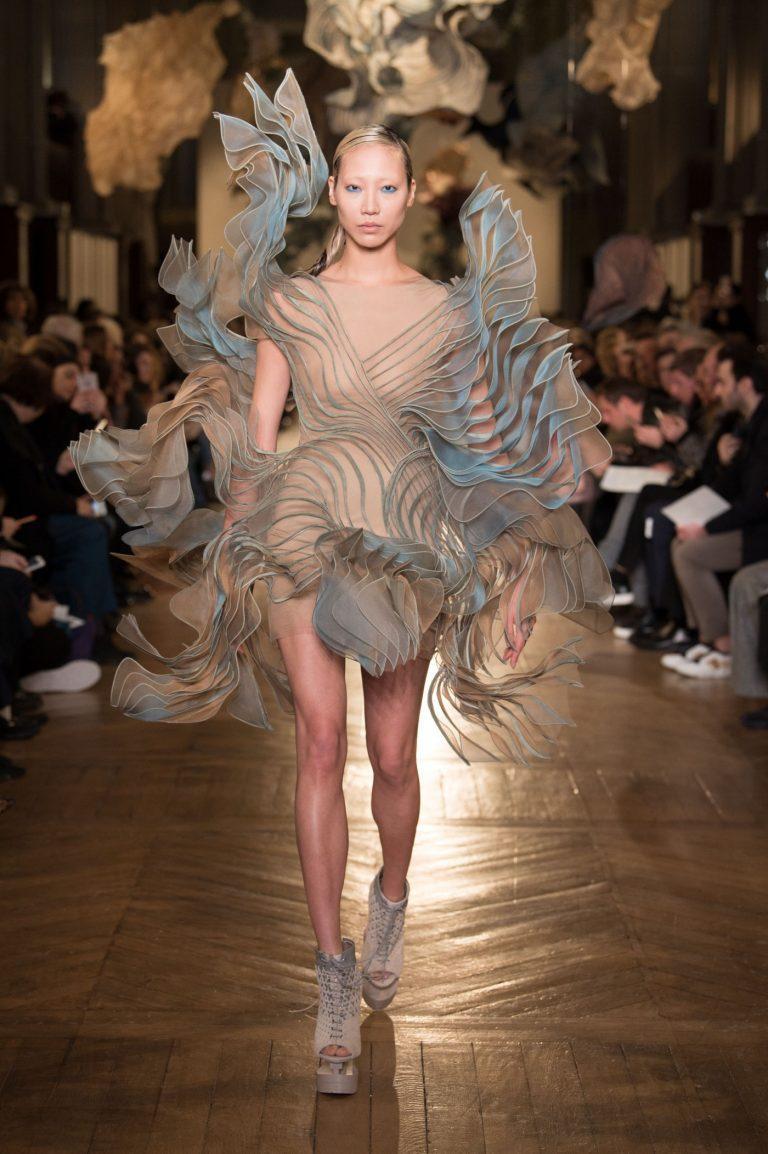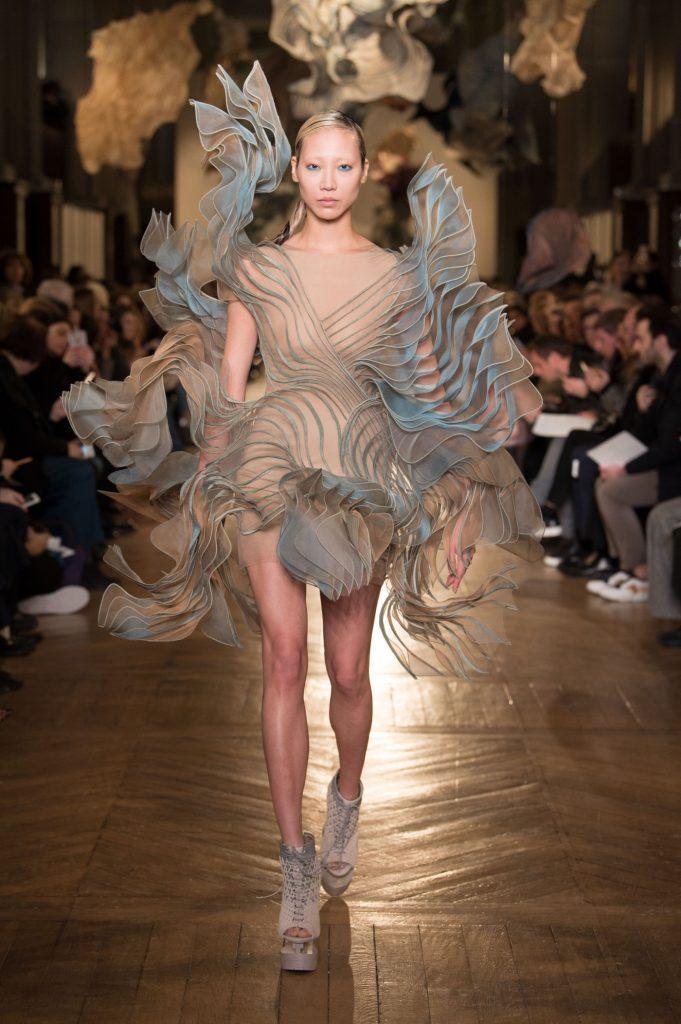 Another thing that caught my eye were the shoes. They were incredibly high but looked quite comfortable because the soles were made of rubber. The shape was sculptural, very artsy.
One of my favorite looks was a catsuit with geometrical prints and a covered face that I'd love to use for a shoot. The material was so tight it seemed to serve as a second skin. Another dress that I loved resembled a bird with wings. It was an incredible thing to be able to see the texture of the fabric and what could be done with it.
Proenza Schouler
Later in the day I went to Proenza Schouler's show. The venue was at 253 Boulevard Pereire, a site still under construction and the show's production was handled by Alexandre de Betak. The seating accommodation consisted of wooden boxes in different types and sizes.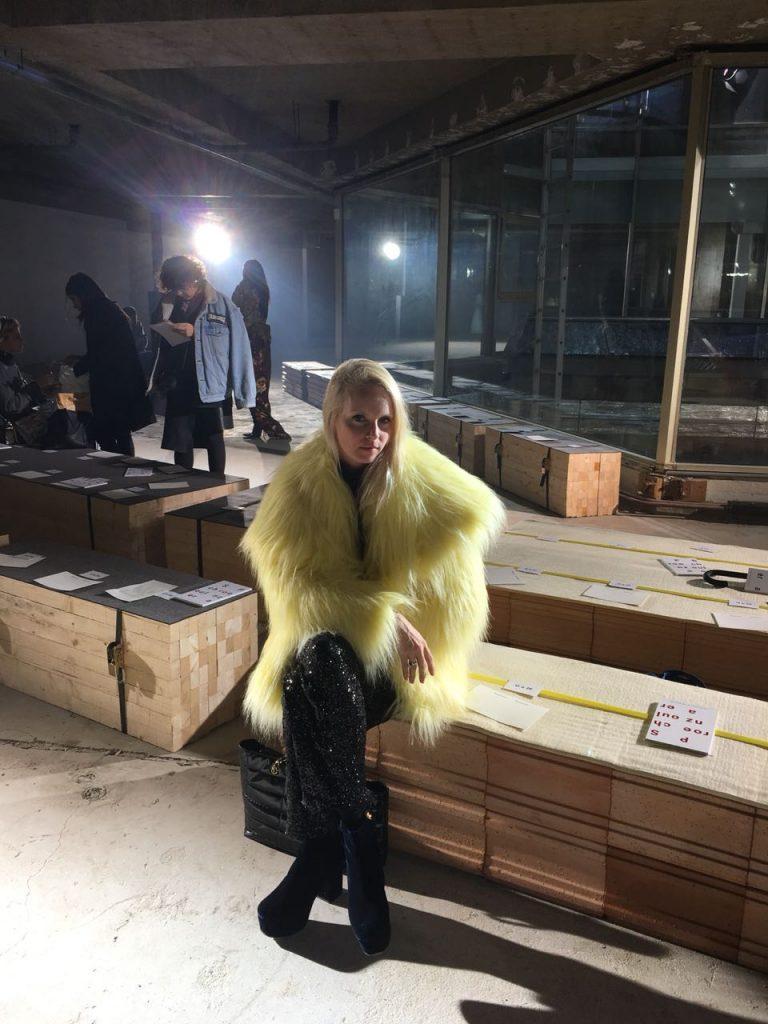 As I was arriving to the address for the show, I got to catch a glimpse of Caroline de Maigret and Jeanne Damas chatting with some friends, and as I entered the site I saw my friend and artist Olympia Scarry and my great friend Elizabeth von Thurn und Taxis.
Before the show began, the soundtrack in the room seemed as if it were an orchestra trying their instruments before beginning a piece, and with the lighting it was just the same, there was a progressive illumination as the time approached. Then some strong white spotlights illuminated the room and the music changed into techno percussion.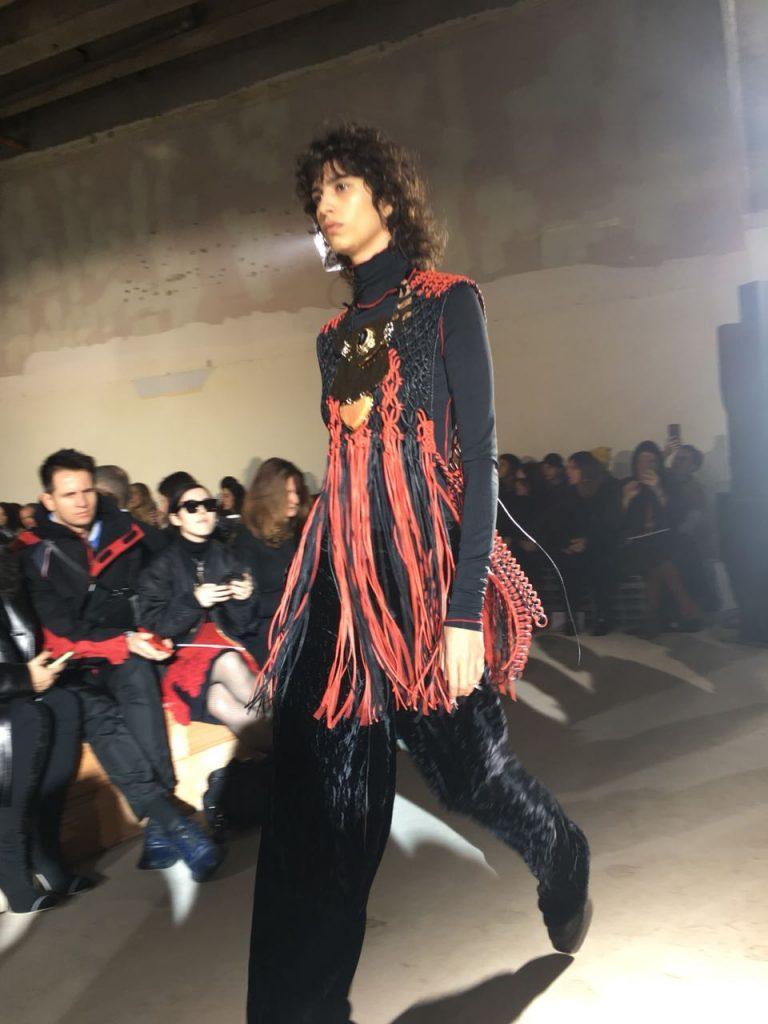 The collection was flawless; every look felt smart and modern. I loved not only the fabrics and the big necklaces but also the bags with their woven leather straps. One of my favorite looks was worn by Mica Argañaraz, who had a black turtleneck and a woven top with a big metallic necklace. There was a brown fur coat that had the perfect color and shape. I would love to wear it in Paris!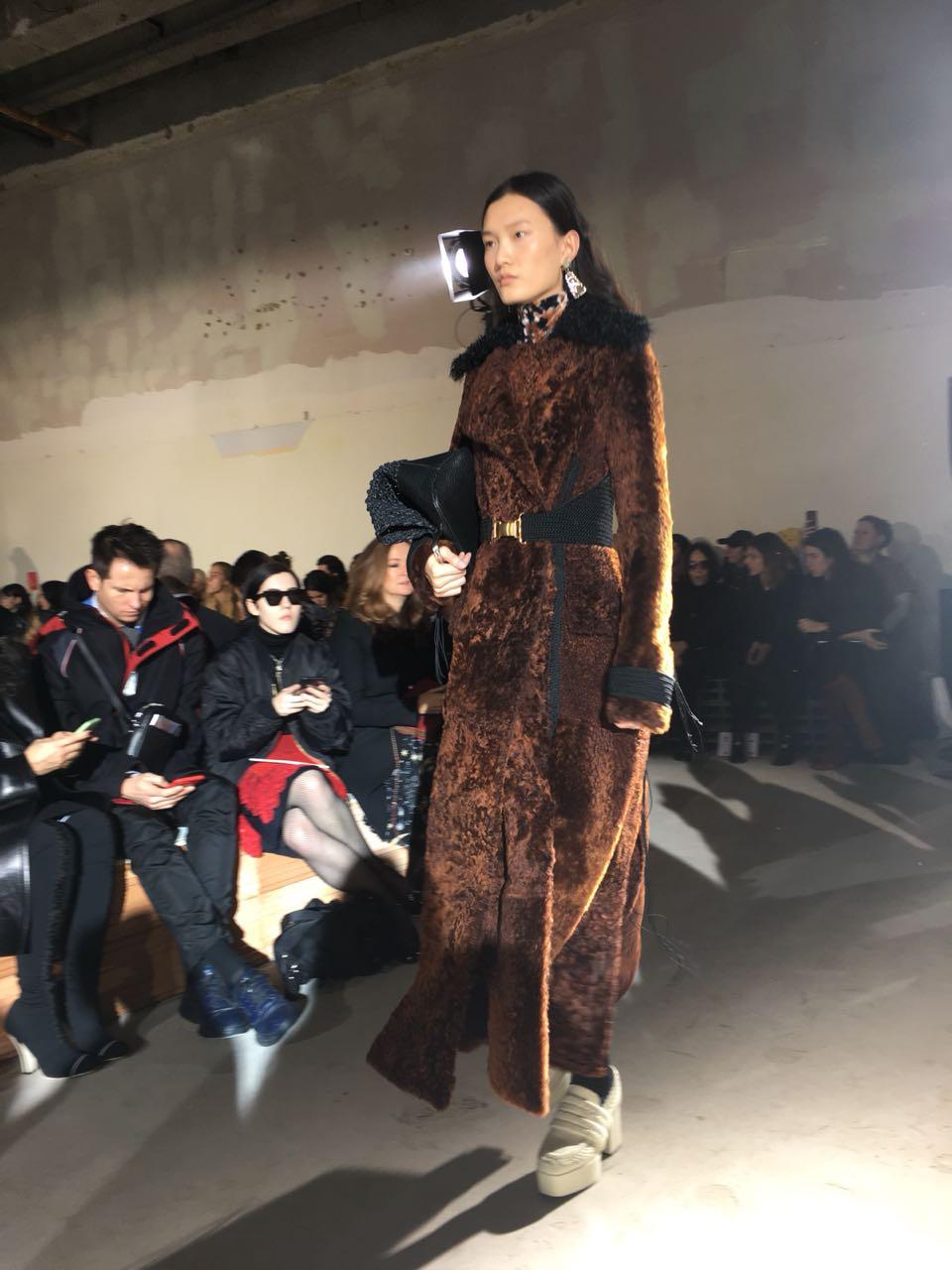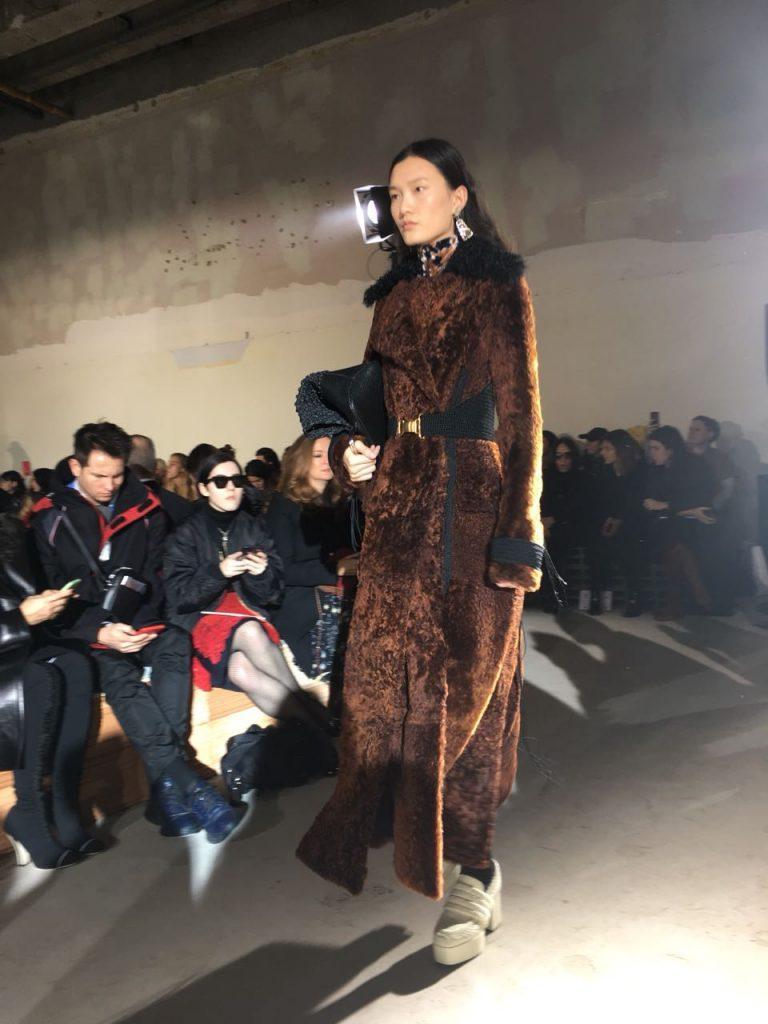 The styling by Camilla Nickerson with the black stockings and next to no makeup made all the looks feel young and cool. Every girl will want to wear this collection.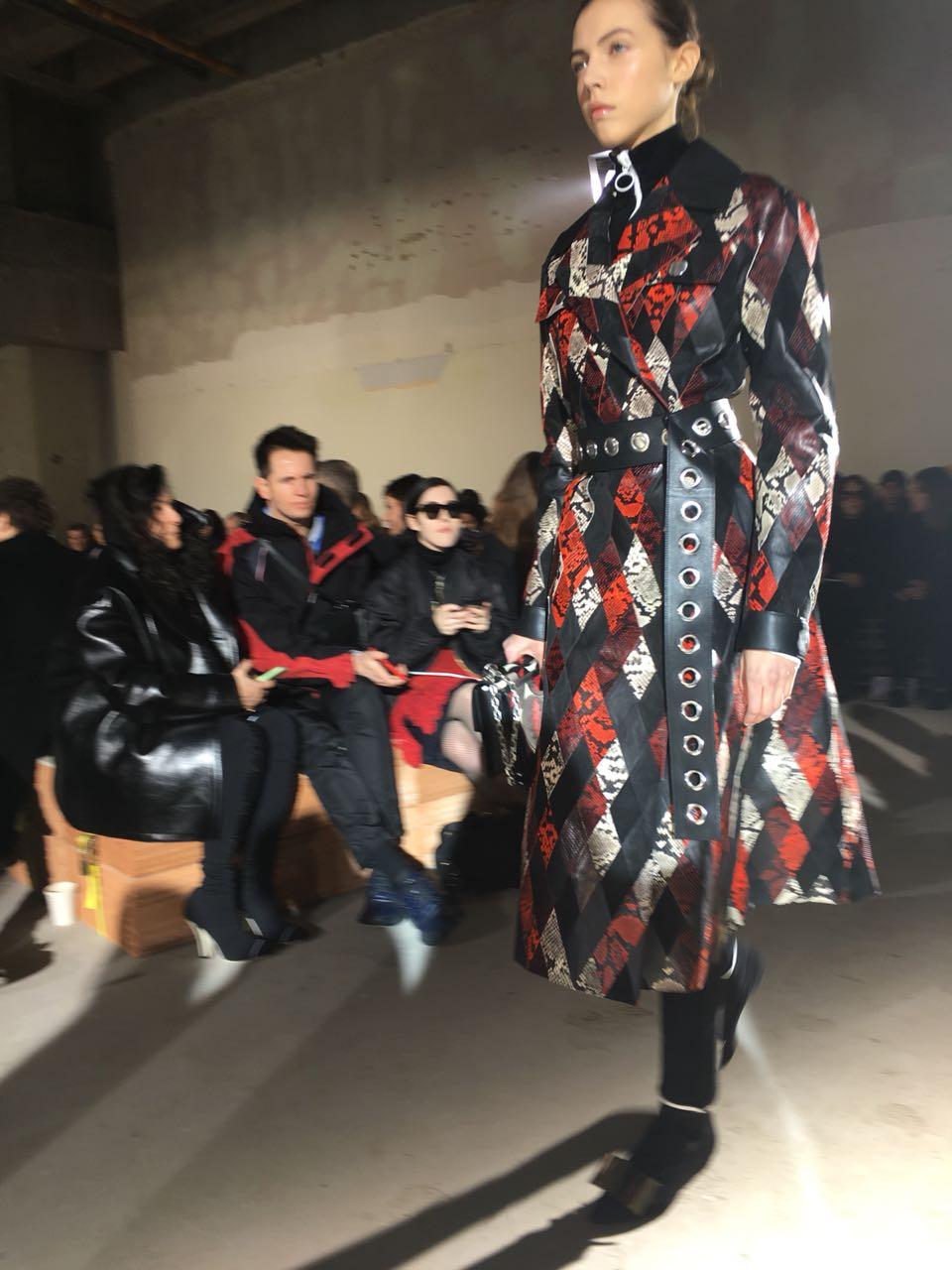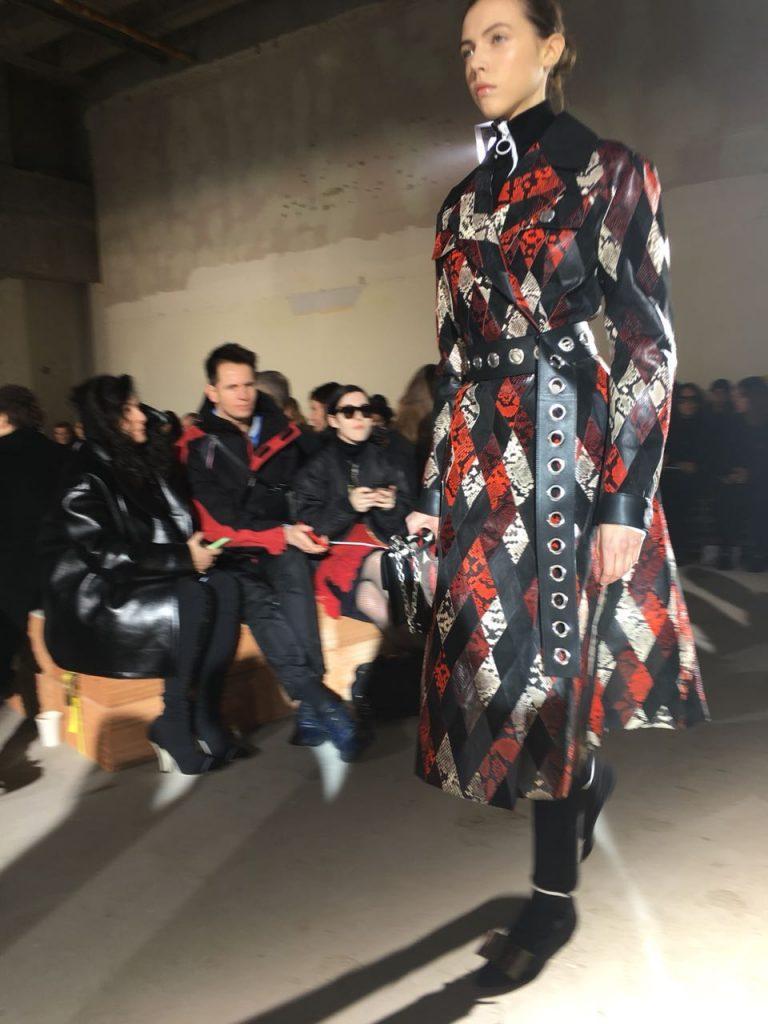 Dior
At night,  I attended Dior's party at Museé Rodin. I wore a long dress, my Miu Miu faux fur, and a mandatory checkered mask.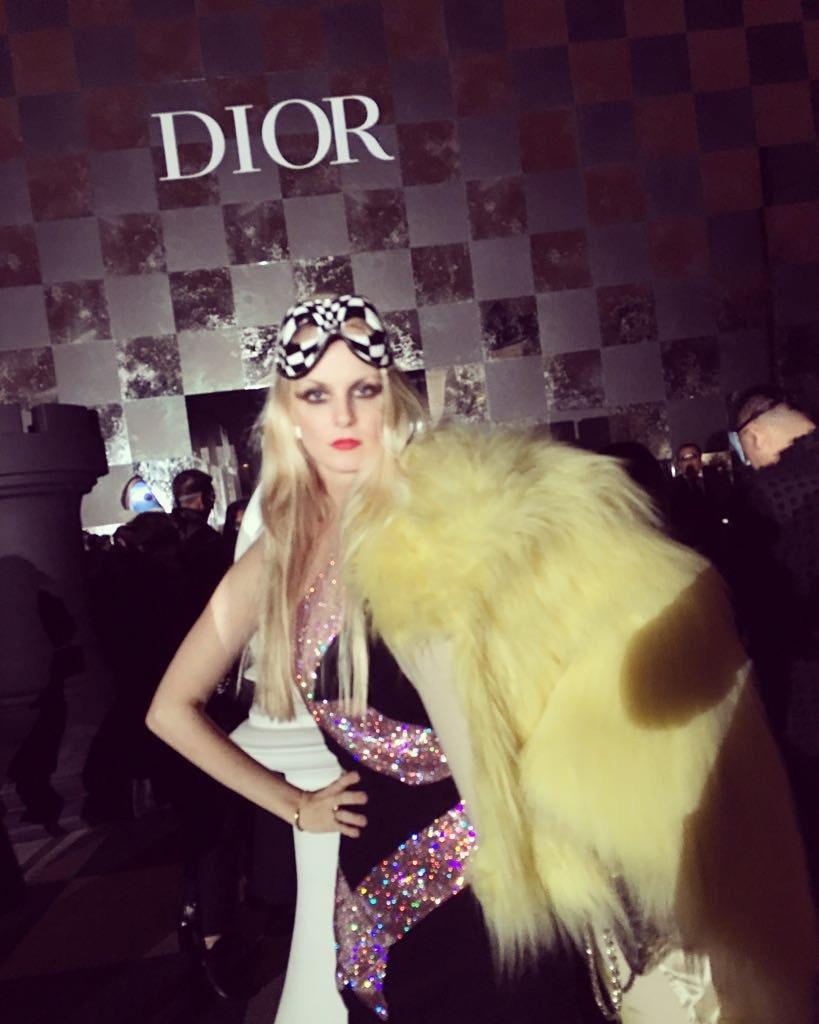 Inside the museum, it was as if we had entered a surrealist masked ball where the waiters, dressed up as Magritte's clouds, served us drinks. There were dancing girls in poker card costumes and people in character inside cages, and panels with moving hands. Everything was fantastic and everyone was wearing astonishing masks. It was an out of this world experience. Ellen von Unwerth took a picture of me because she said she loved my yellow Miu Miu faux fur coat.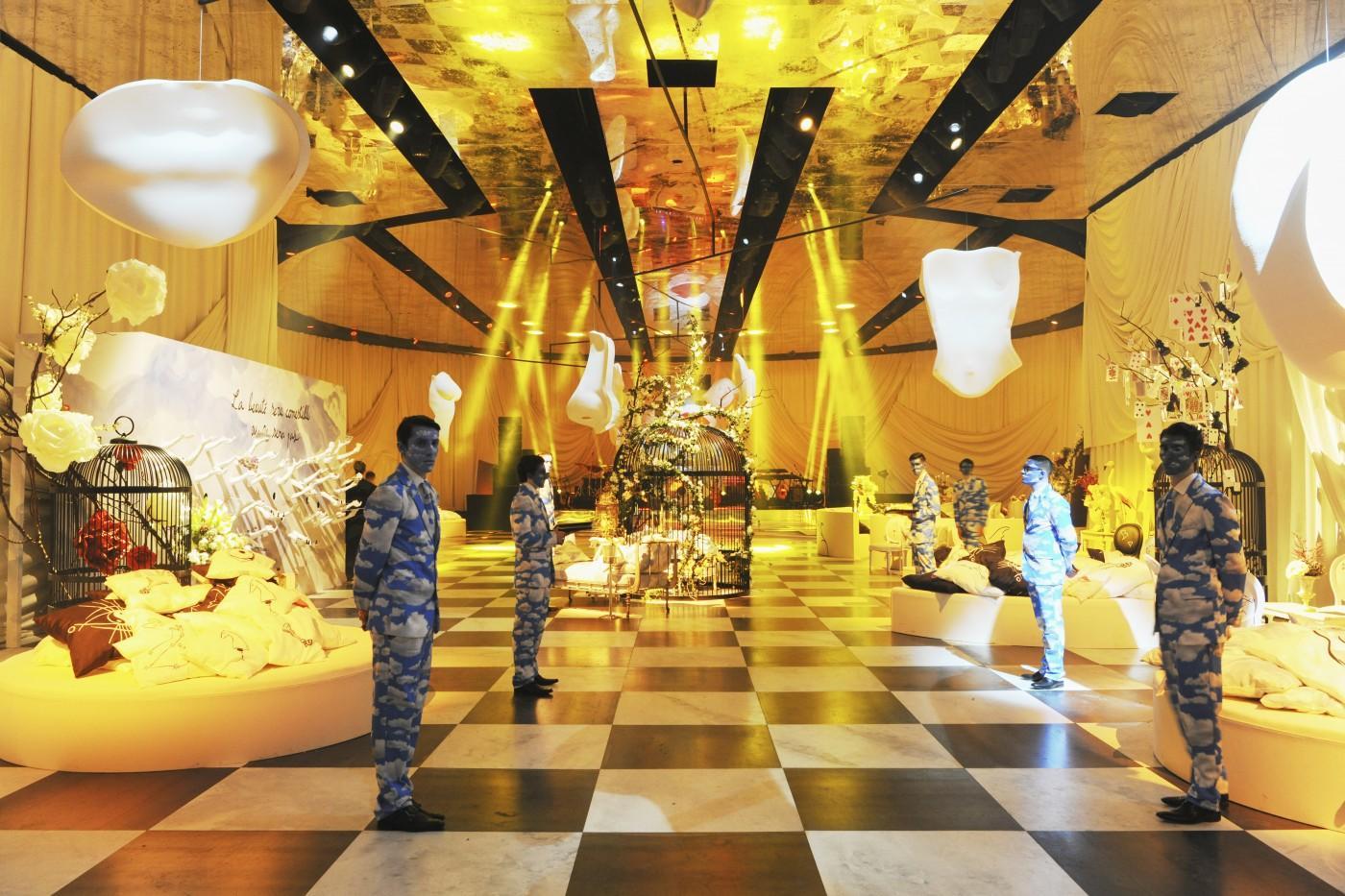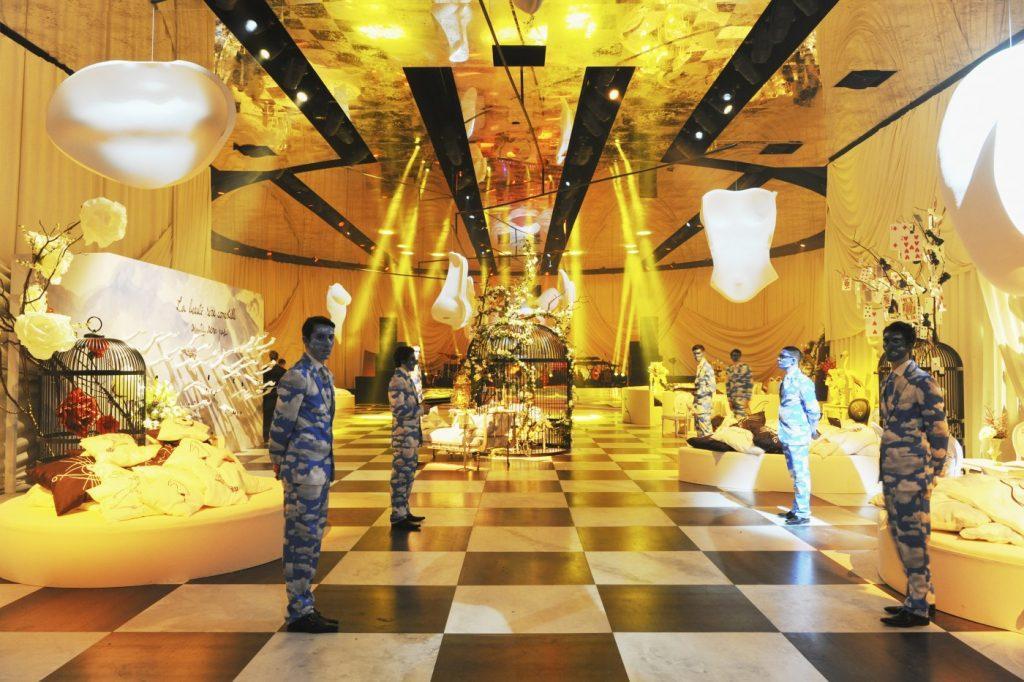 Inside the party, designer Maria Grazia Chiuri was sitting with her model Sasha Pivovarova and Jean-Charles de Castelbajac was also there with a surrealist hand as a costume. I also ran into my Vanessa Seward, my good friend and talented designer who was wearing a magnificent velvet Dior dress. In attendance were also Sabine Getty with a vintage Alexander McQueen suit and my great friend Yazbukey. It was an unforgettable party.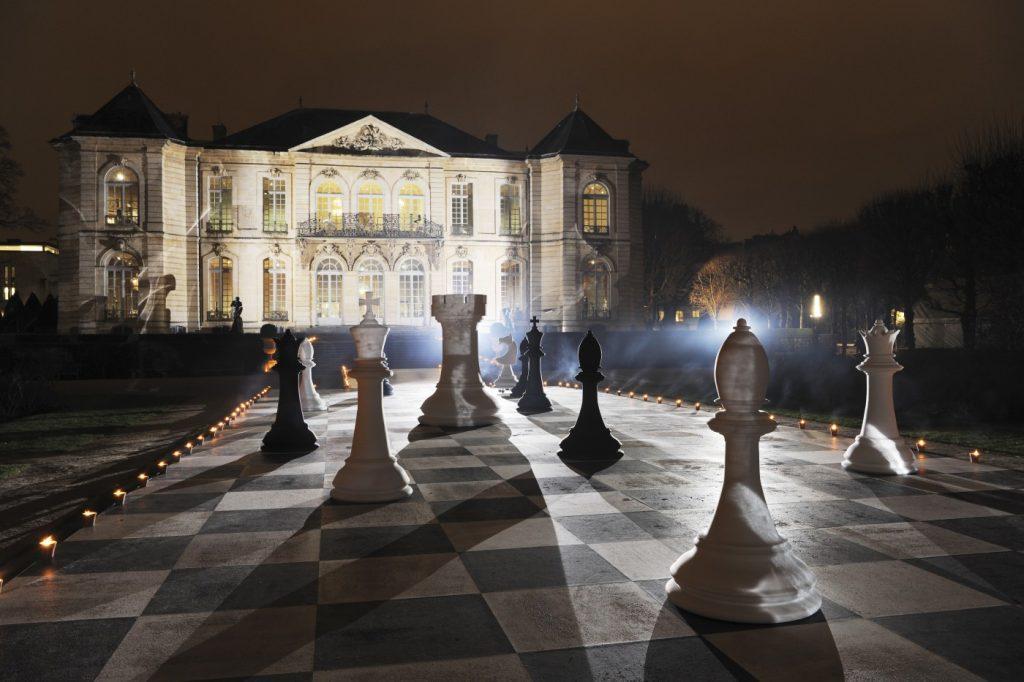 Day 2:
Alexandre Vauthier
Today I also attended Alexandre Vauthier´s fashion show at the Grand Palais at 19:30pm. It was dark outside and when you entered the venue, it was as if the atmosphere instantly changed.
Everything was illuminated in shades of blue and it was accompanied by techno music that opened the show and ushered the models, who sported wet hair buns and eyeshadow inspired in the 80s. The models walked down the runway wearing high heeled boots.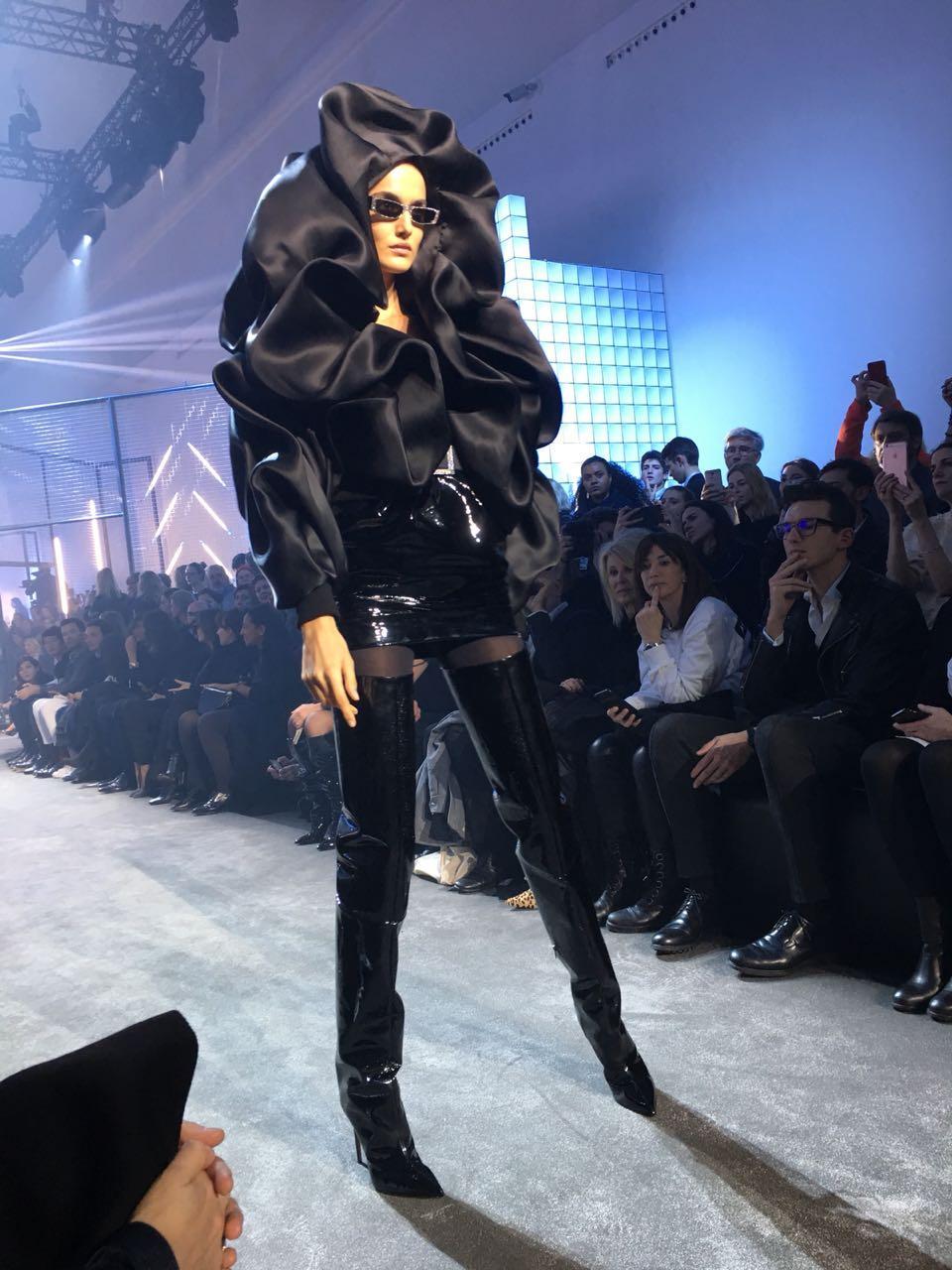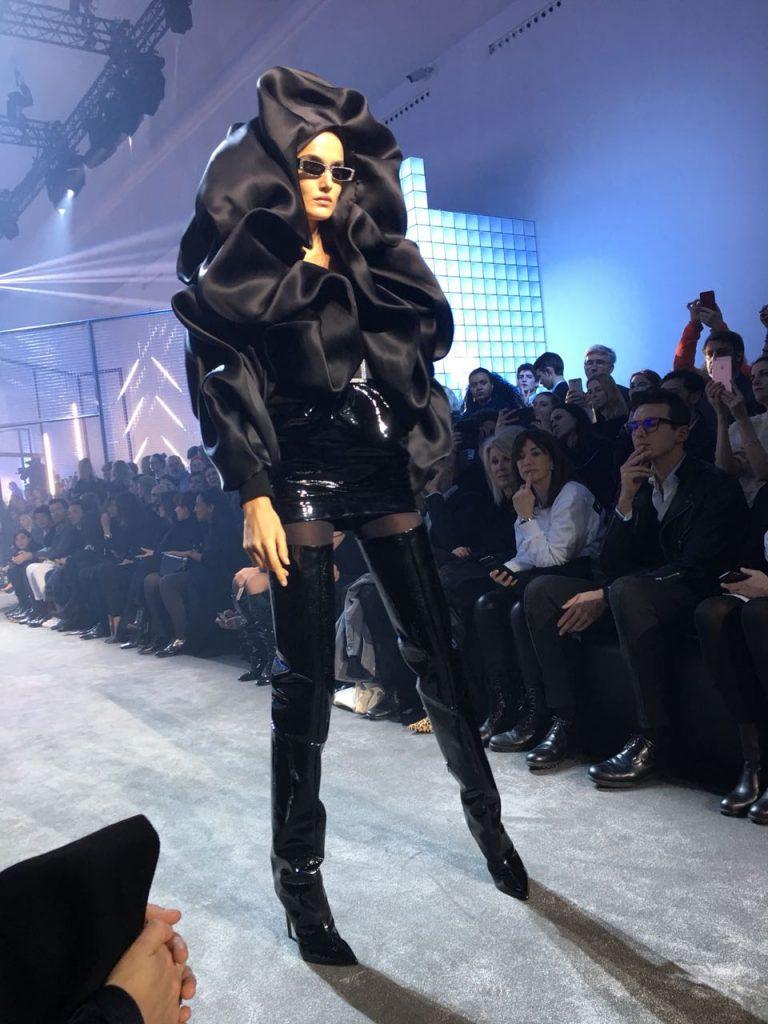 We were all waiting for Bella Hadid, who is always the star of the show, and when she showed, she was wearing white jeans with a golden jacket and a shirt that had a big white bow and a pair of mini red glasses as accessory. It was a style that was a perfect fit for Bella and true to her; we felt as if we were back to the supermodel era.
One of my favourite looks was a frilled shirt that covered the head and vinyl boots high to the knee. The final look was worn by Bella Hadid and it consisted of a great green taffeta dress, full of frills with shorts underneath and black stilettos.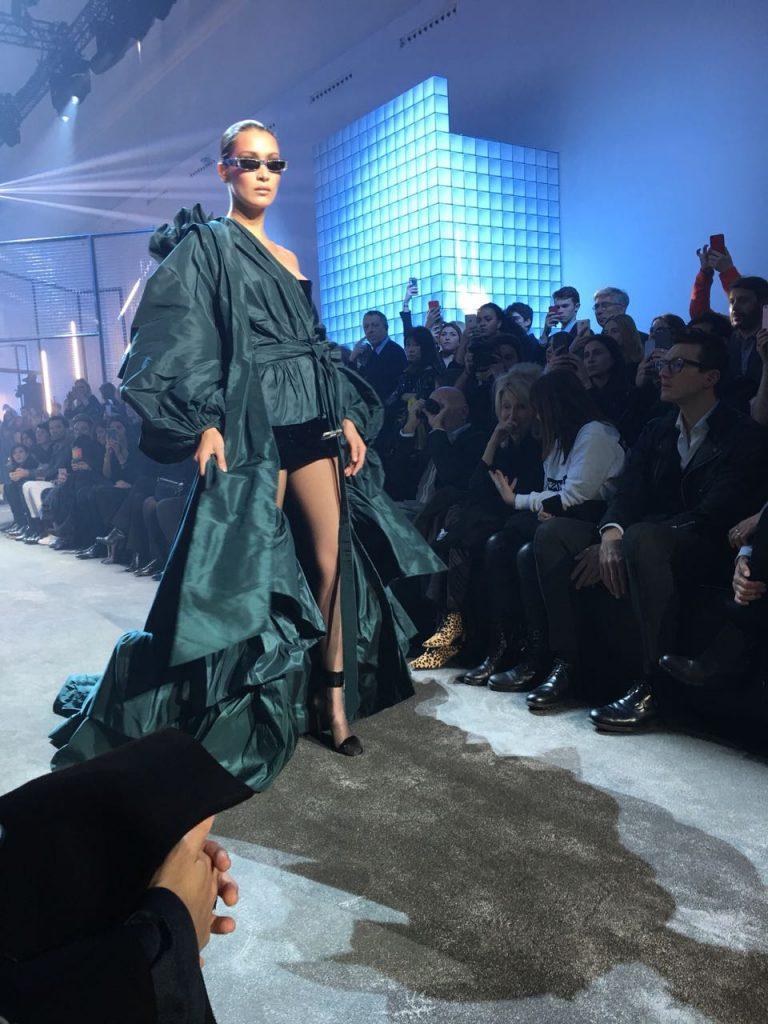 From where I was seating I could see Emanuelle Alt loving Vauthier´s collection; and then I saw my good friend Carine Roitfeld and all the important fashion editors as well. After that, when I was waiting for my Uber, all the photographers were expecting Bella, who went out the Grand Palais through a side exit, and everyone ran looking for her: it was like the scene from a movie, we could only see the flashes and her dressed in white with her bodyguards, like a true star.
Magnetic Midnight
I went to Magnetic Midnight's presentation by Lucía Echaverría, an accessories designer that is very successful among the "it girls". The event was produced by my friend Victoria Botana and exhibited the brand's new handbag line made of iraca palm leaf. Its used in a weaving technique that is comprised of different organic patterns like a web of flowers, spirals, grids and stripes that captured the spirit of the skilled weaver of Greek mythology, Arachne.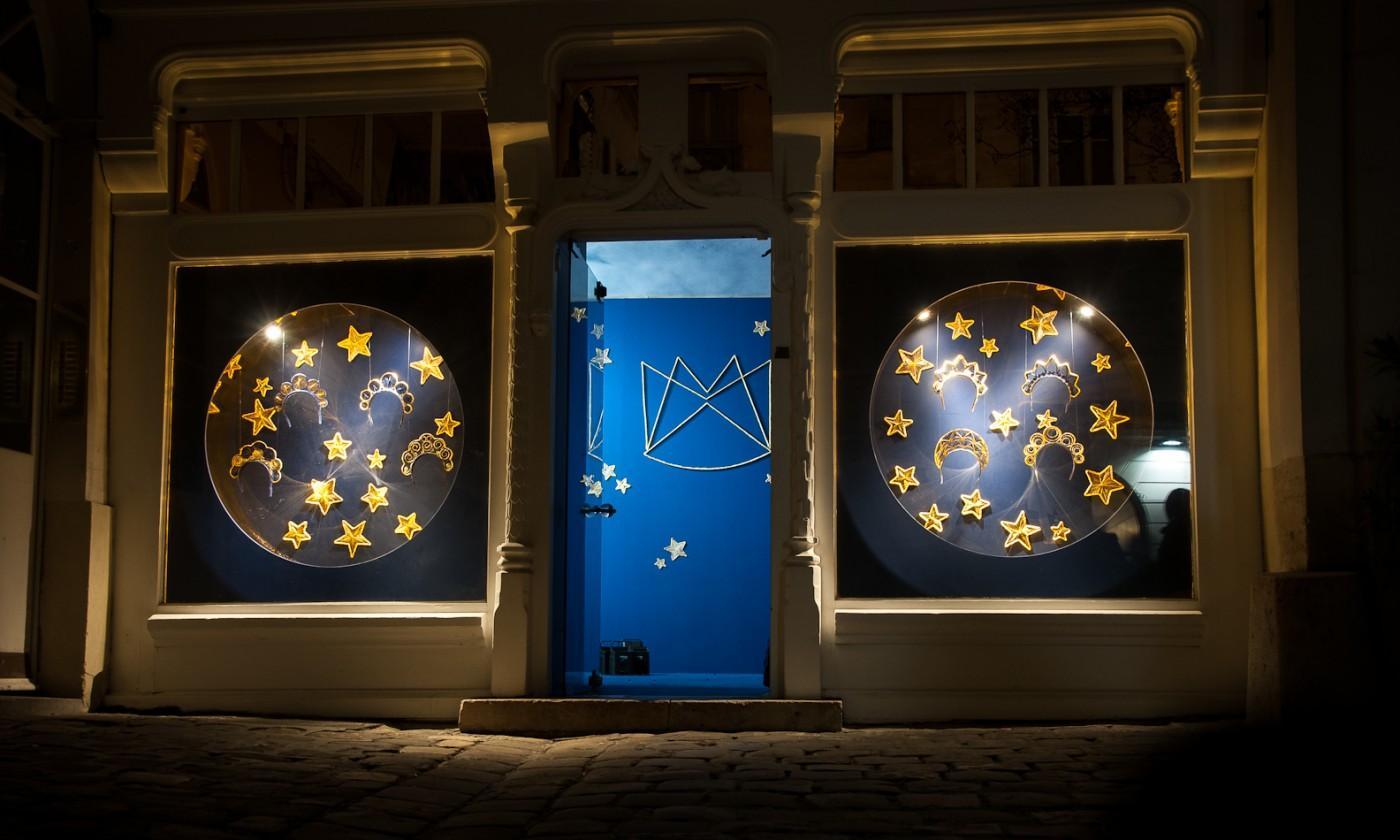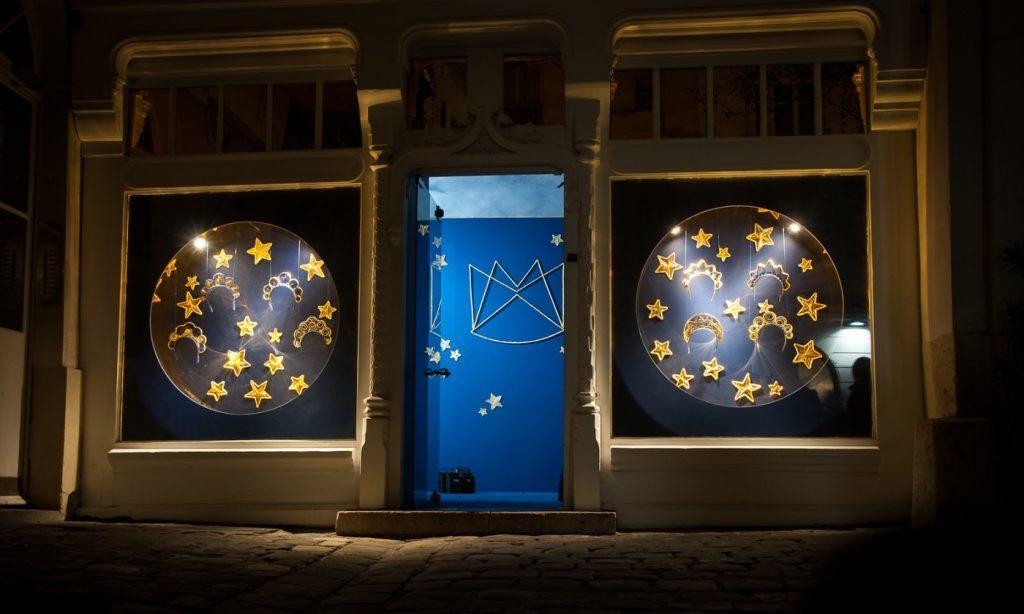 The showroom was located in St. Germain and it decorated in shades of blue while the bags were illuminated from behind. All my friends were there, such as Clotilde Durso and I also saw Bianca Brandollini while I was leaving, and the Ambassador of Colombia was also there.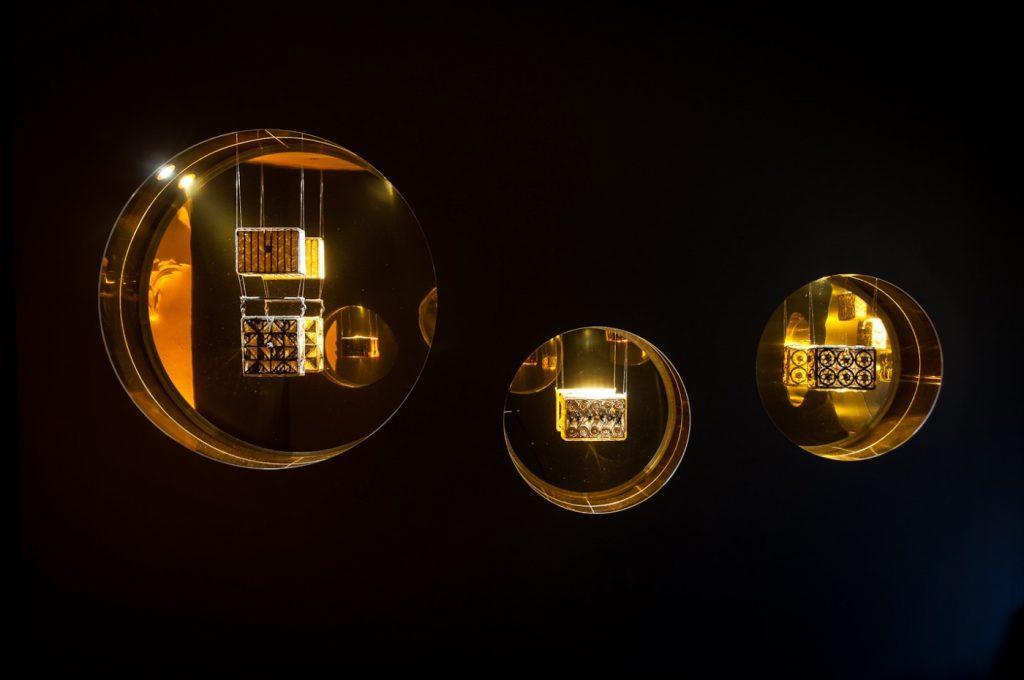 Fabrizio Viti
Later that night I rushed to the Fabrizio Viti and MatchesFashion dinner. Alexia Niedzielski, who is a partner of the brand, invited me. The dinner took place at the Travellers Club along the Champs-Elysées.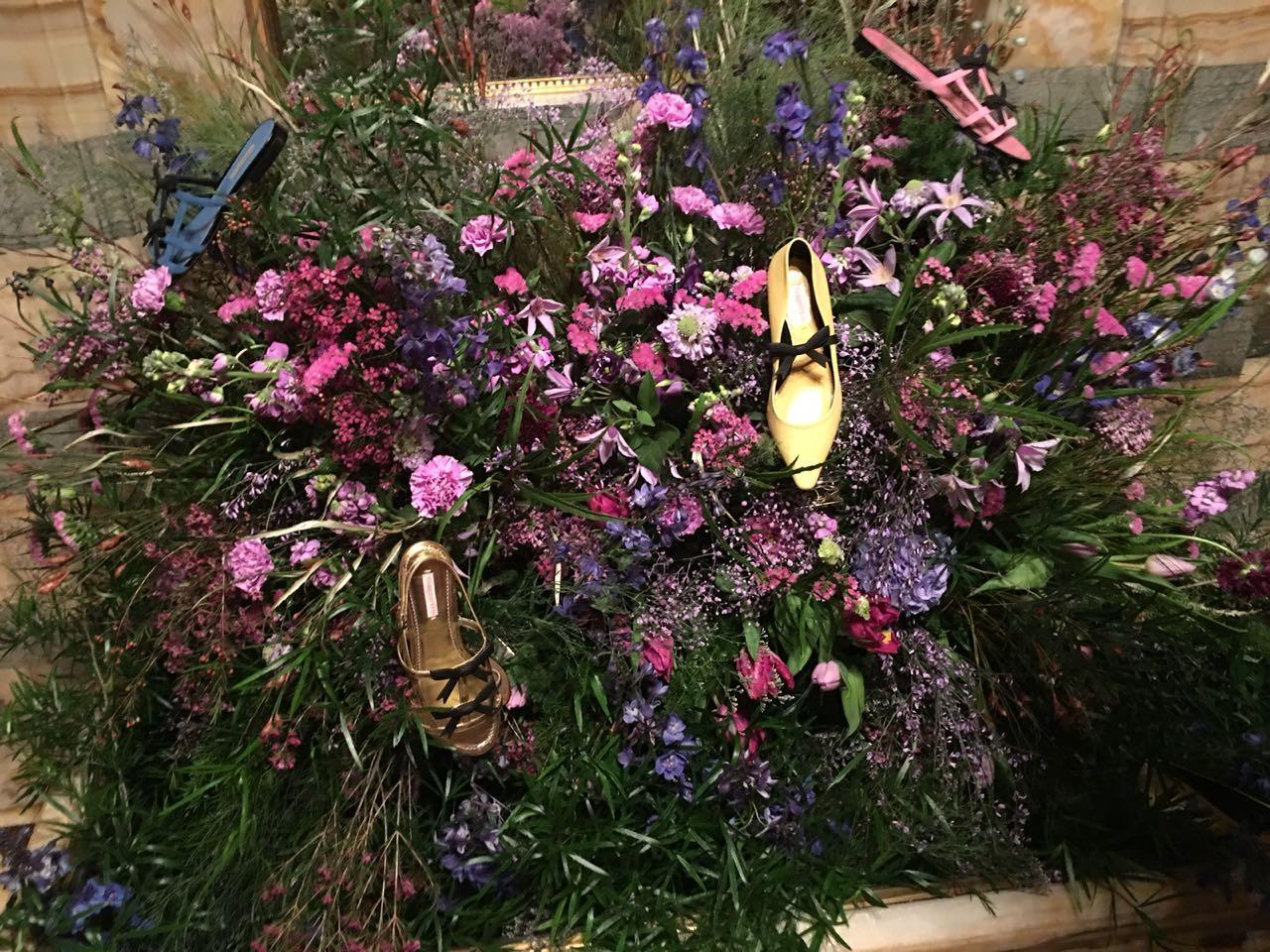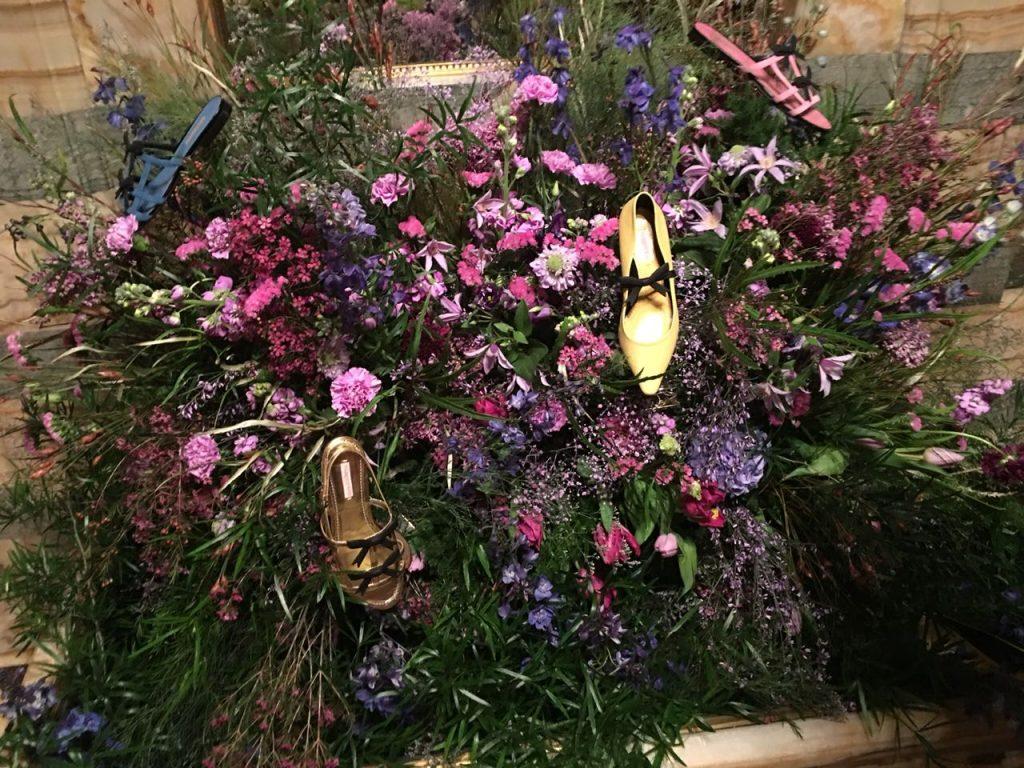 I always enjoy Fabrizio's dinners and presentations and I´m a big fan of his shoes. They were exhibited with some floral arrangements before entering the 1st floor salon were we would have dinner. There, we took pictures with a vintage Polaroid camera.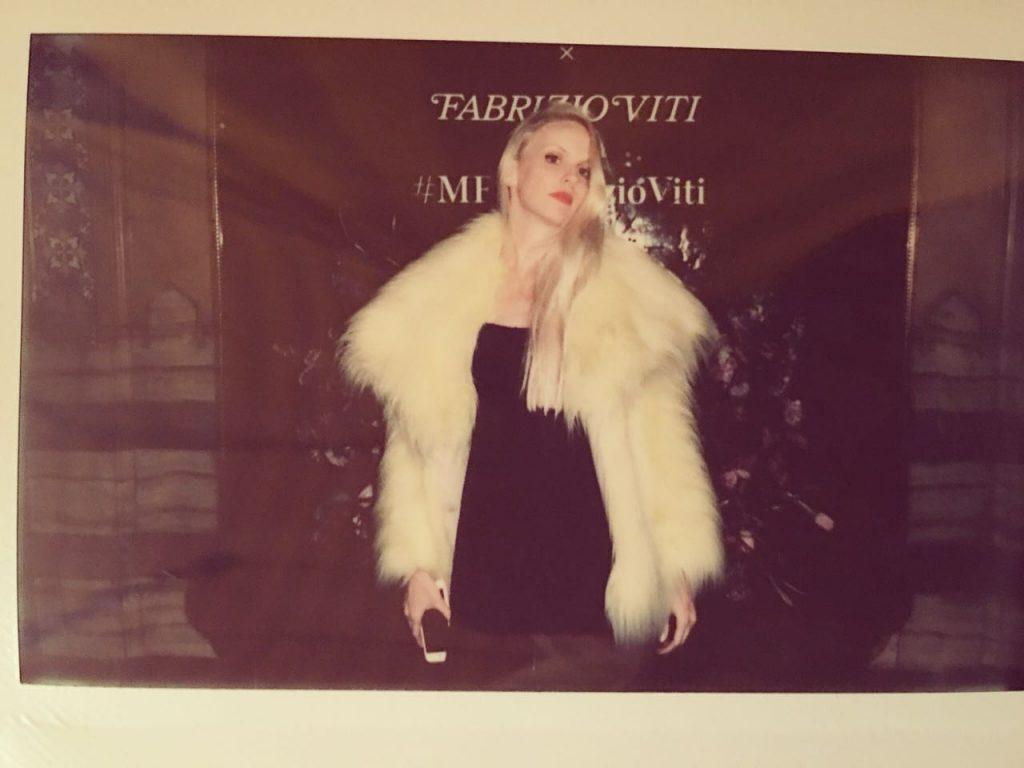 I saw a bunch of my friends including Azza Yousif, Bianca Brandollini, Olympia Scarry and Julia von Boehm. I sat beside Cornelia de Castellane and she told me about her exclusive children's haute couture line for Dior. I was also very happy to see my friend Elizabeth von Thurn und Taxis, who I was able to catch up with while posing for Polaroid pictures with Alexia and Fabrizio Viti´s shoes. There were loads of other people in attendance as well, including Camille Michelli and André Balazs, who was a late arrival.
Victor & Rolf
Before the show, I went to say happy birthday to my friend Alexa Niedzielski who was hosting a celebratory lunch at the Armani Café, and after that I went headed over to La Gaite Lyrique for the fashion show. The venue look like a theatre with black velvet curtains and a pink rug. The chairs were golden, and the spot in itself was very poetic.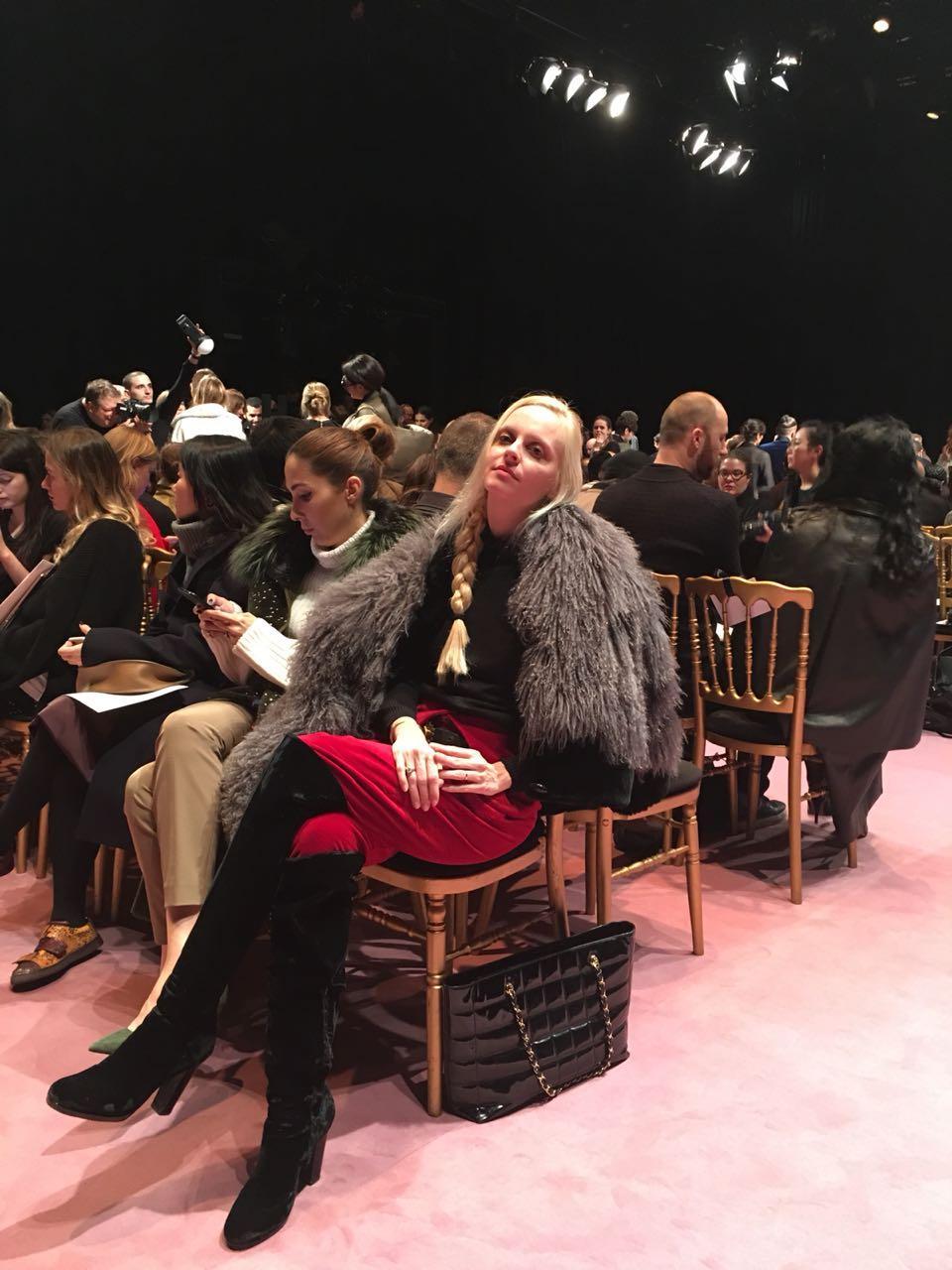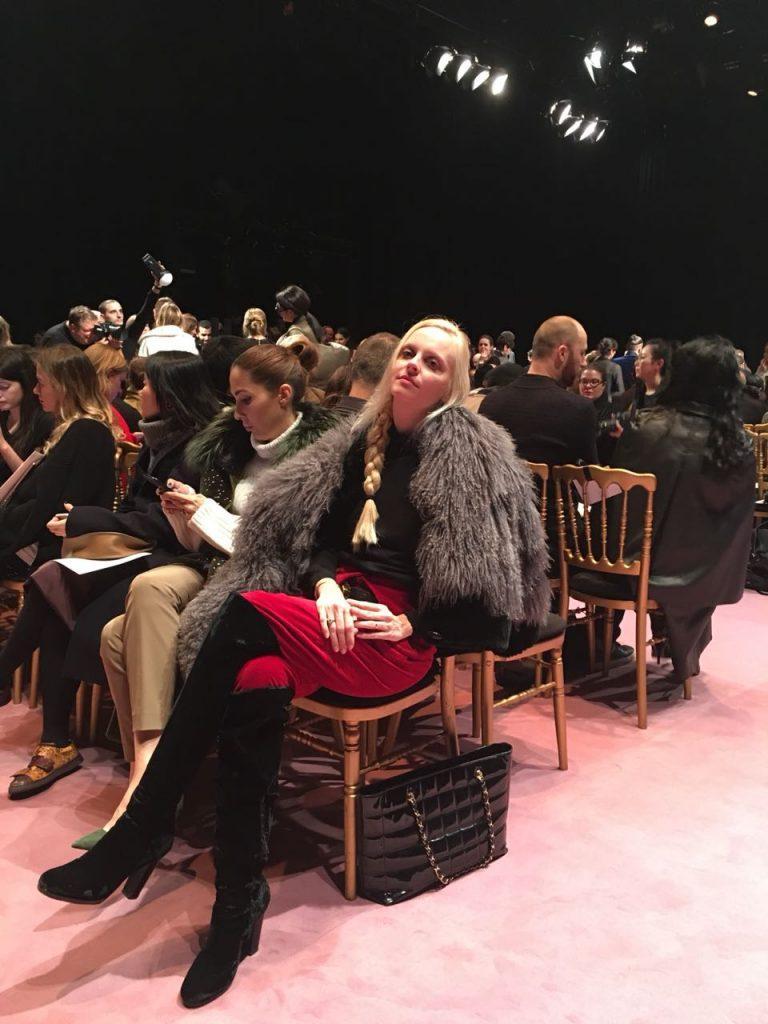 The collection was inspired in a surrealist masquerade ball using just one fabric typical of couture: Japanese satin duchesse. Following the motto "making more of less", Victor&Rolf made the most out of their creativity to design a series of eveningwear with artwork such as stripes and checks and moving onto patchwork and weaving with organic elements like flowers. Accessories included headwear and others with big colourful plants and masks.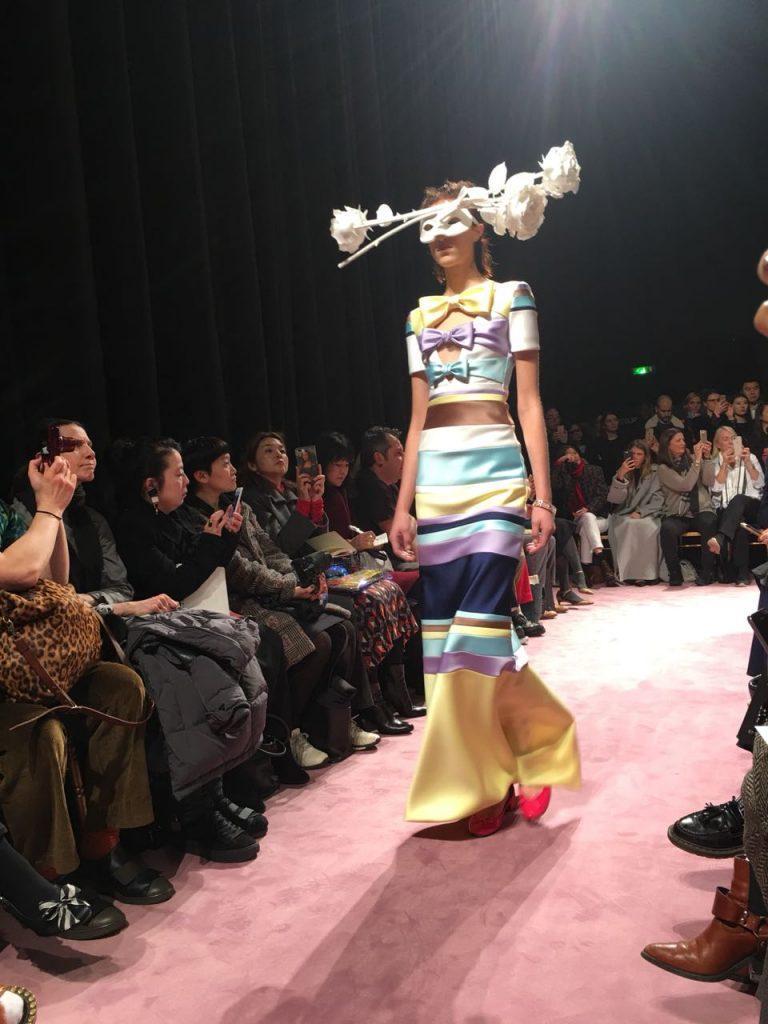 My favourite looks were two dresses: one with a ruffled neckline and stripes in turquoise, pink, brown and beige and a mask that had a head accessory with turquoise leaves and big red and white flowers, an absolute dream dress and another one in black with blue bows in different sizes and a purple mask with two roses in white and red.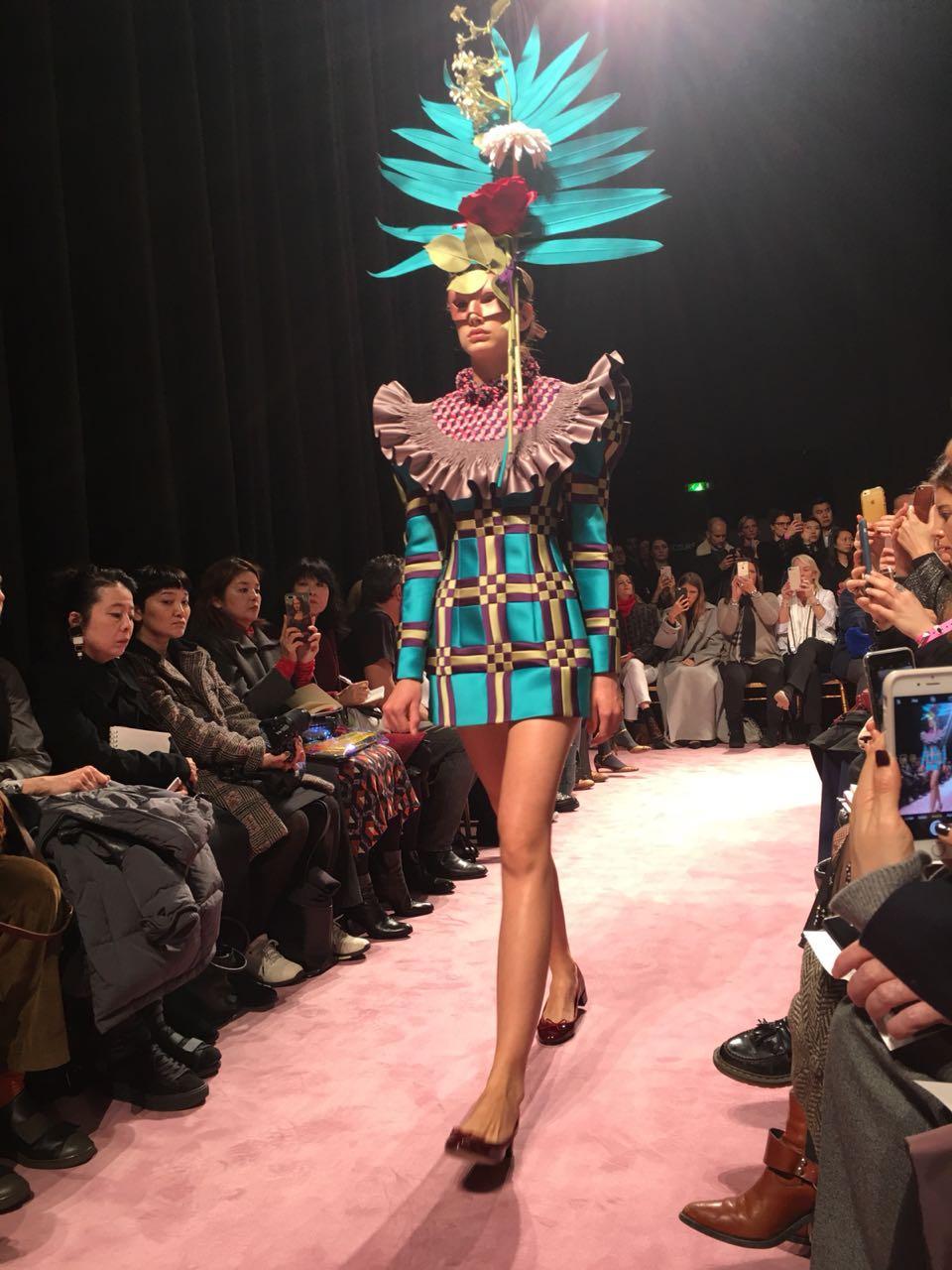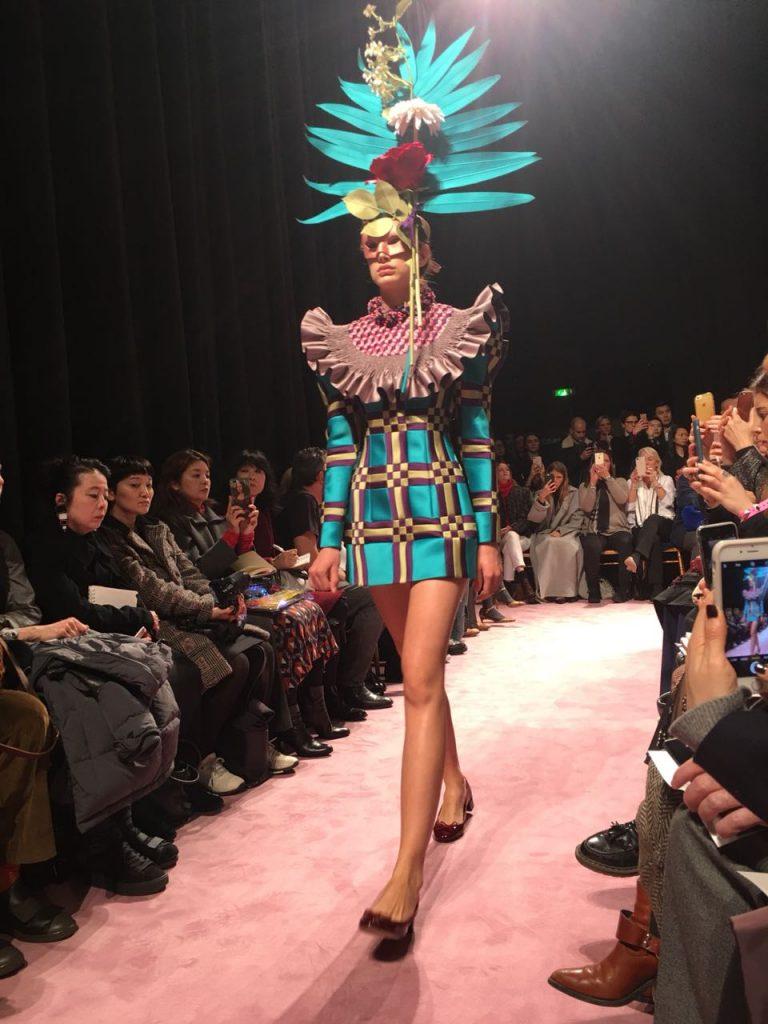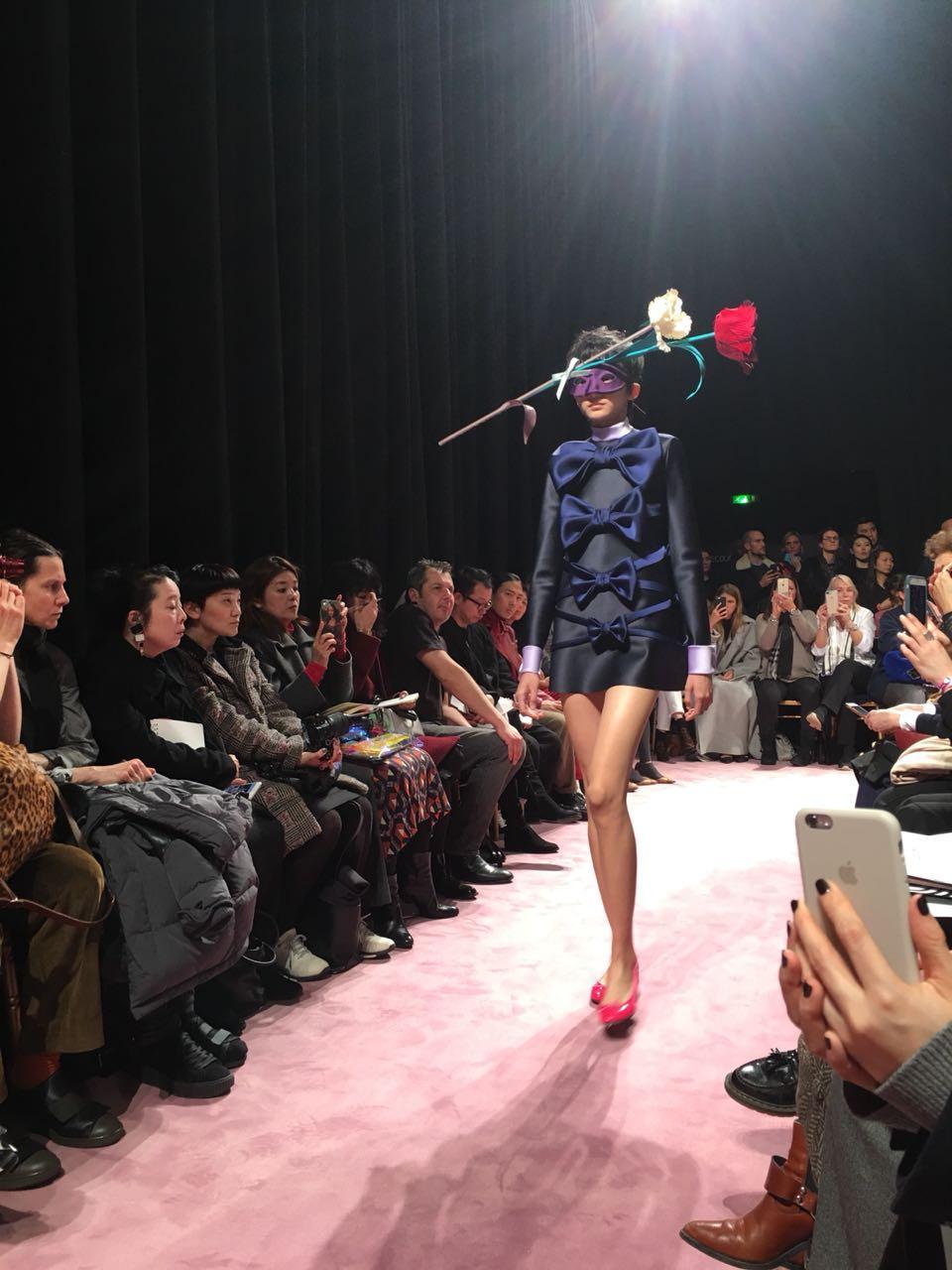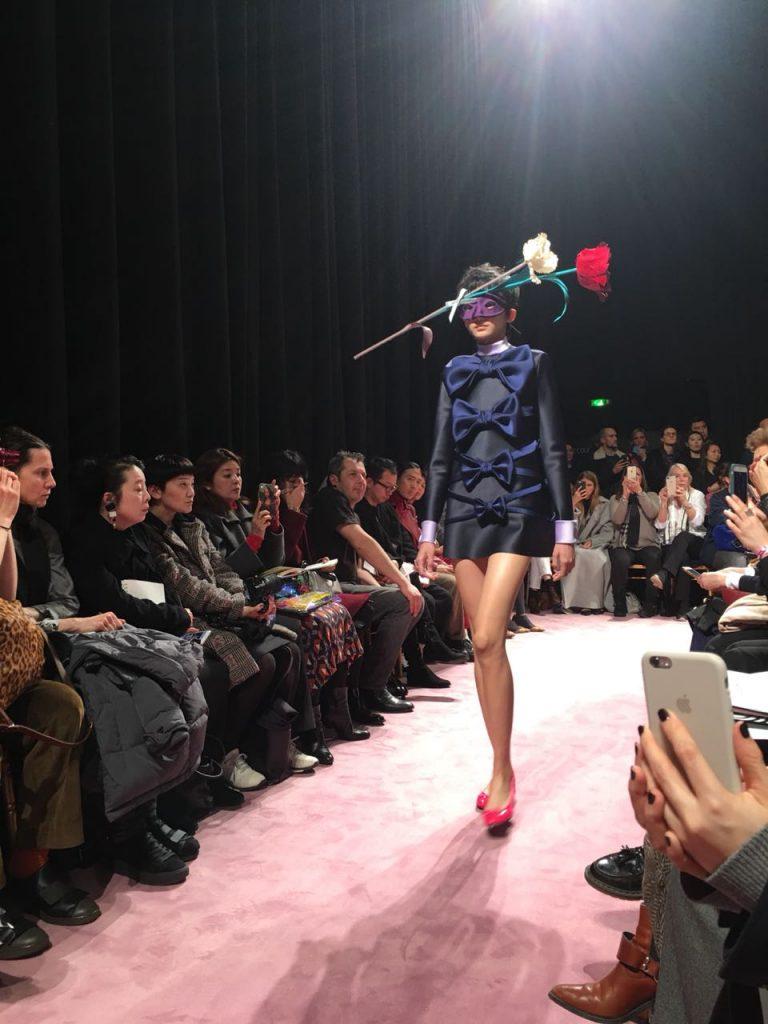 Victor&Rolf always put on the most theatrical and artistic shows, they go beyond fashion: the shows are in their own a work of art.
Acne Studios
The Acne Studios fashion show took place in a huge space at rue Léon-Jouhaux in Paris in a rustic spot that was like place under construction with no distractions that served as a big venue to put the spotlight on the clothes.
I saw Isabelle Huppert and Juliette Lewis arrive and knew that this was one of the coolest shows in Fashion Week.
Acne Studios' collection was based in a range of colors that went from brown, orange or beige to soft hues like lilac. The inspiration behind the line was described by creative director Jonny Johansson as, "inspired by those who make the active choice to live away from the city (…). This is about their wardrobe, which evolves to be its own language."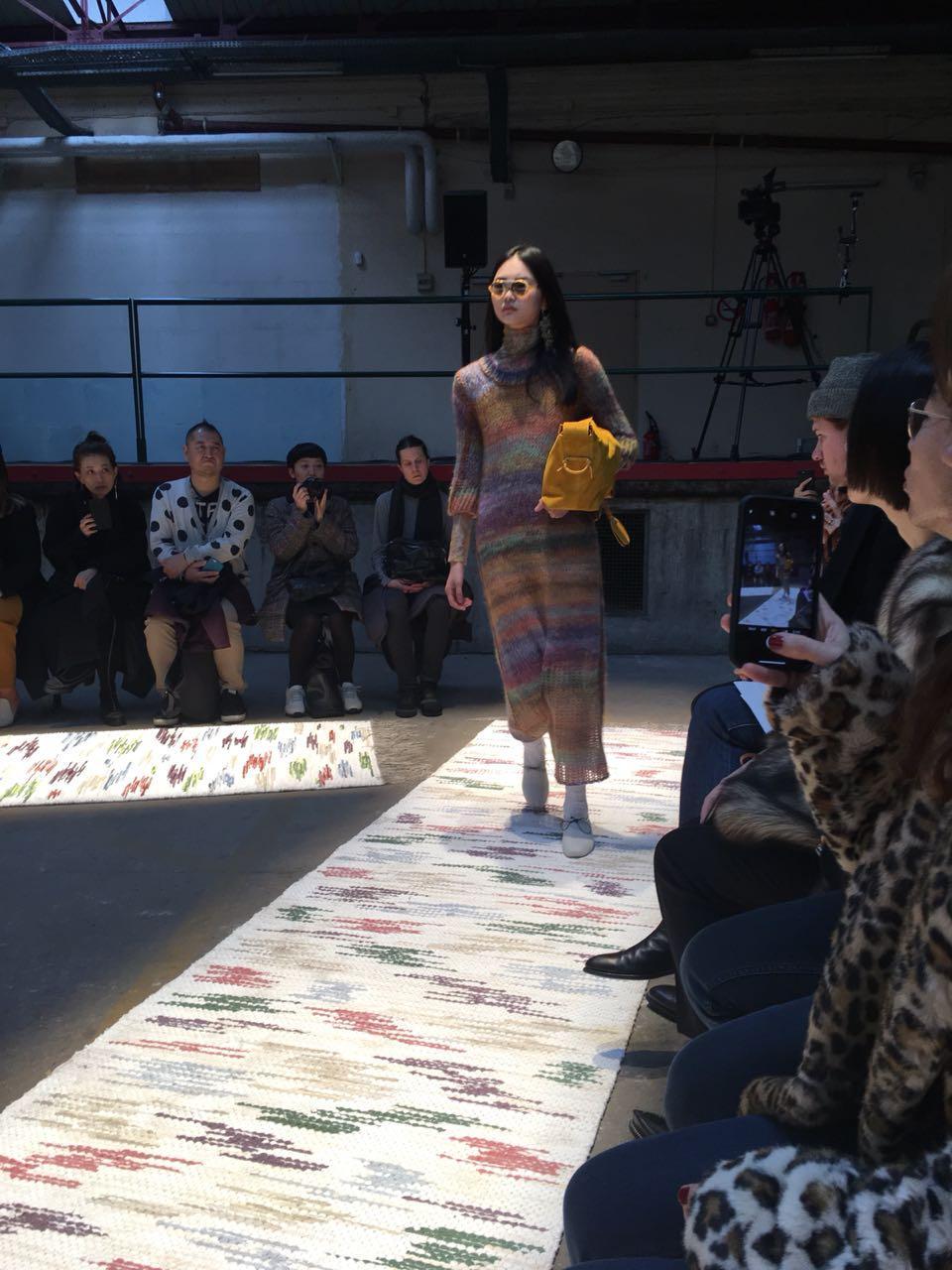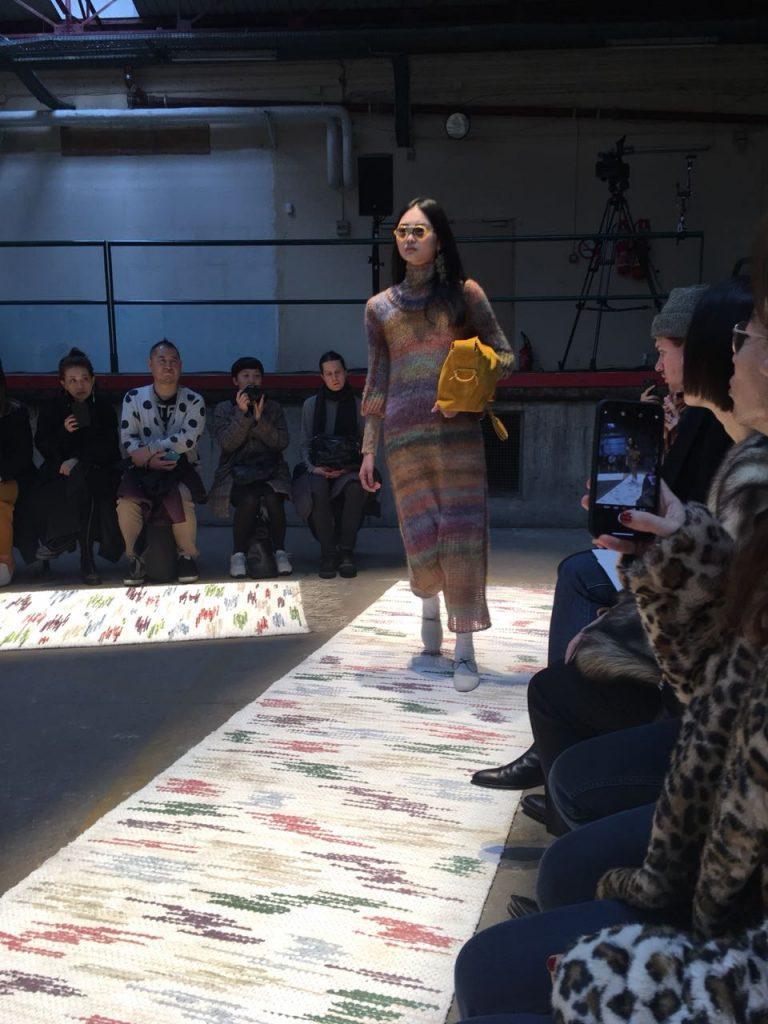 The collection had a grunge appeal with different fabrics such as wool, layered on top of each other that made for a romantic and practical look in the form of long silk floral dresses, shirts, and many coats and blazers. Every look was paired with thick wool socks and sneakers. Full of imperfect cuts and materials, Acne Studios' collection seems to be rebelling against rules and creating clothes that are comfortable and designed for the outdoors.
My favorite look was a fur coat with a little white lace that served as a belt, because it gave the style a deconstructed, cool and edgy look that was finished with trousers, sneakers and a printed scarf, very stylish. However, I also liked the accessories: the little hats, sunglasses, the handbags that were carried as if they were big bags and the looks with flat white boots.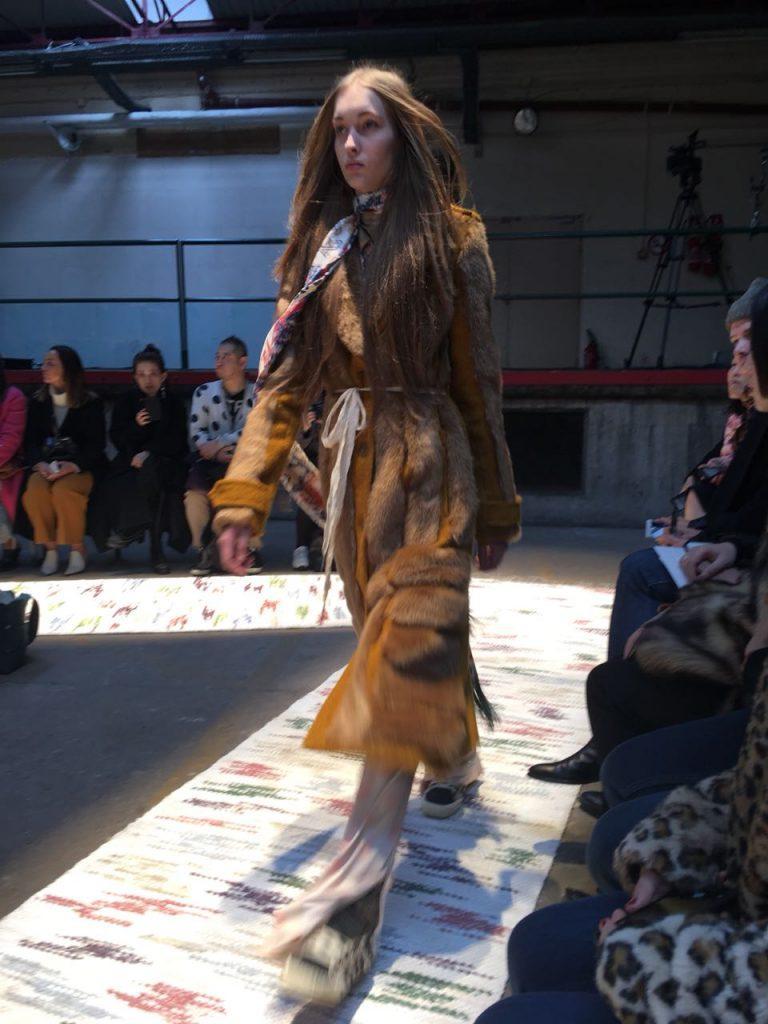 Elie Saab
Later in the day I attended Elie Saab's fashion show at the Pavillon Cambon Capucines at the rue Cambon. Elie Saab has an entire section just for clients and it was fun to see how the women that buy his clothes were dressed. They wore a lot of jewelry and very high-heeled boots and stilettos.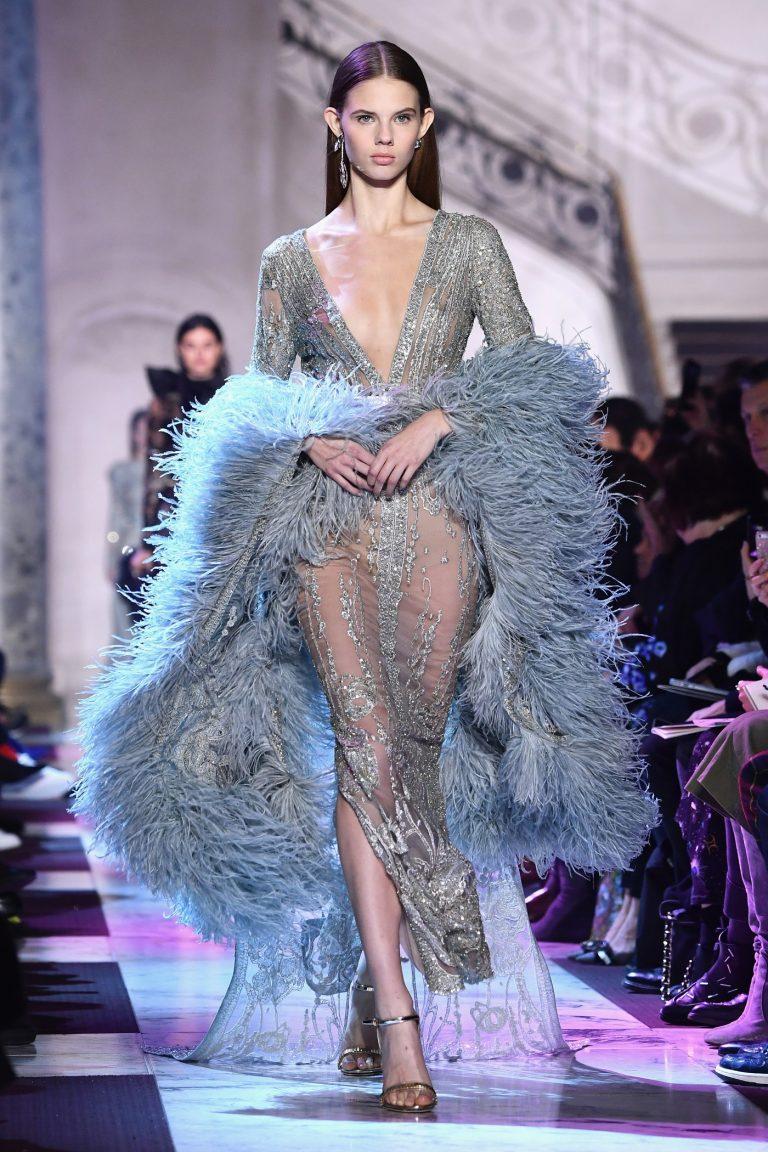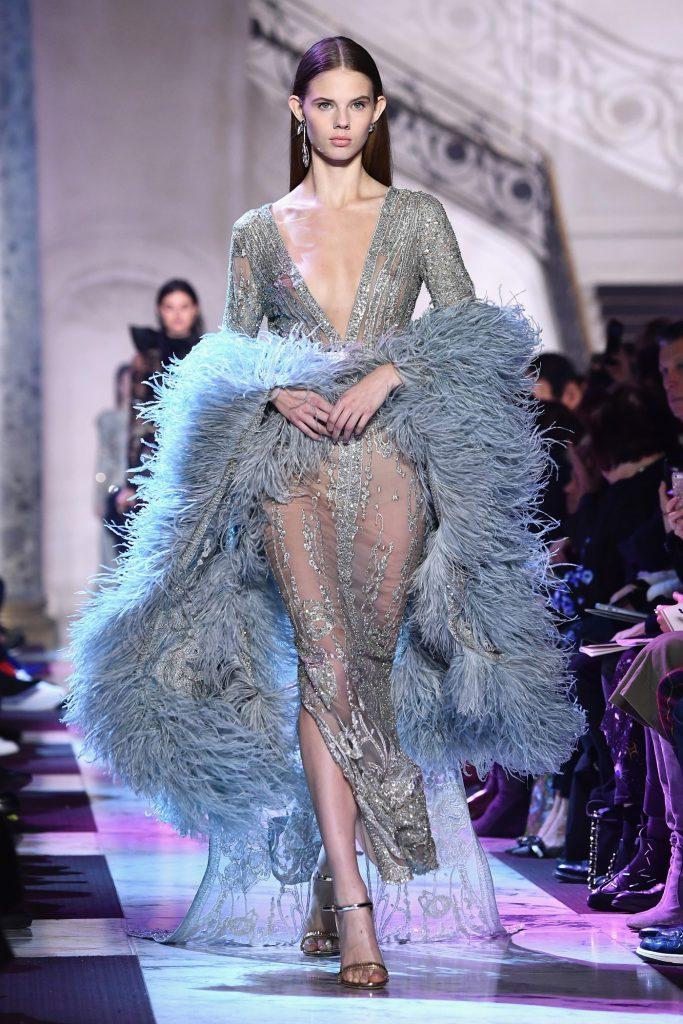 Everything about this collection was inspired by the '20s, from the shapes and designs to the accessories. According to the show notes, Saab wanted to convey a "youthful spirit, chic stride and joie-de-vivre". That was set to the tune of '20s style jazz.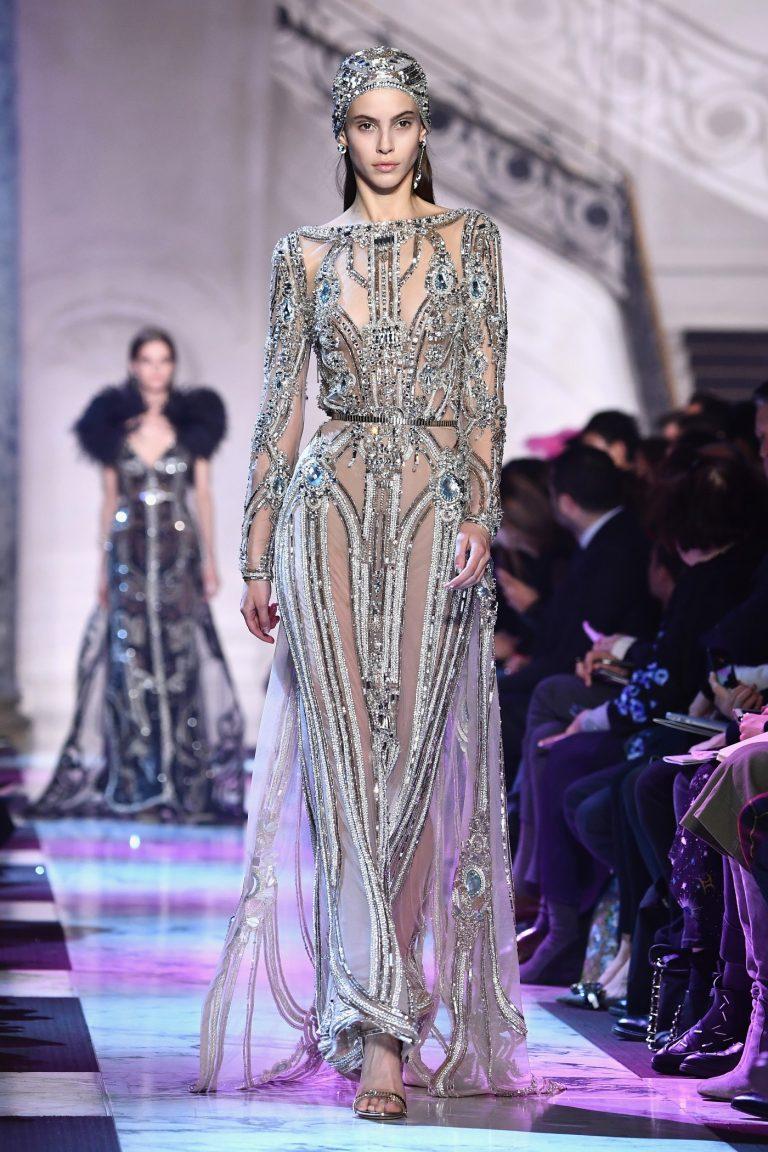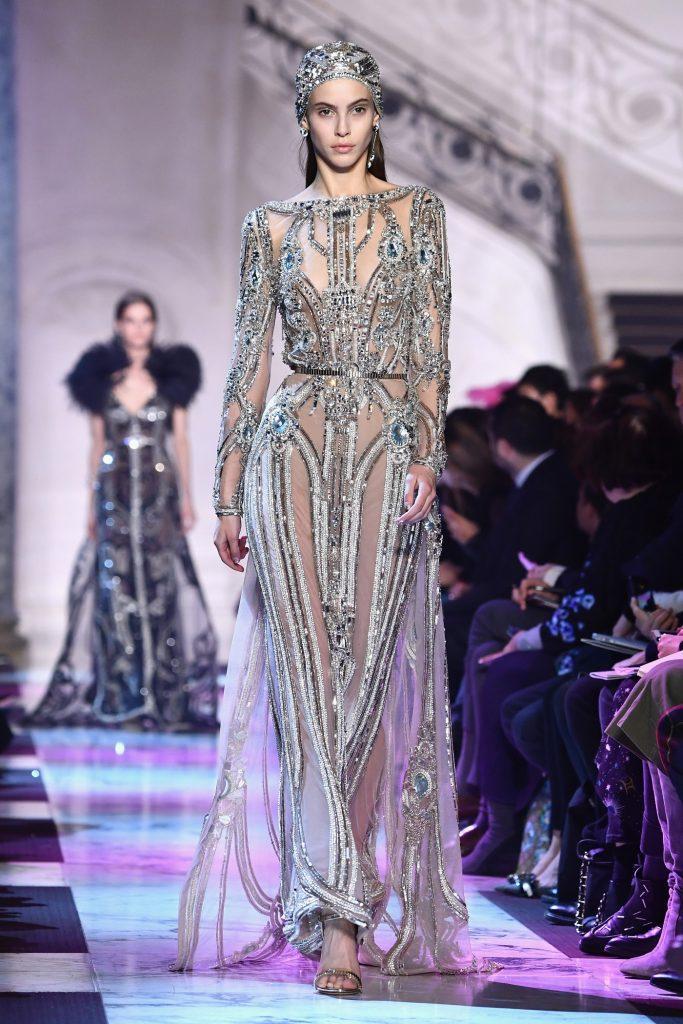 The clothes had refined and graceful lines that could be seen in their long dresses, which embraced the feminine silhouette in the hips and waist. The collection included different fabrics such as silk, satin, tulle and lace in different colors, but with a lot of pastel. However, the pastels are strengthened by metallic shades in Saab's signature embroidery work, appliqués and ornamentations such as precious stones, pearls and diamonds.
My favorite look was without a doubt the most embellished, the ultimate Saab wedding dress.  It was so beautiful that it made me want to get married all over again.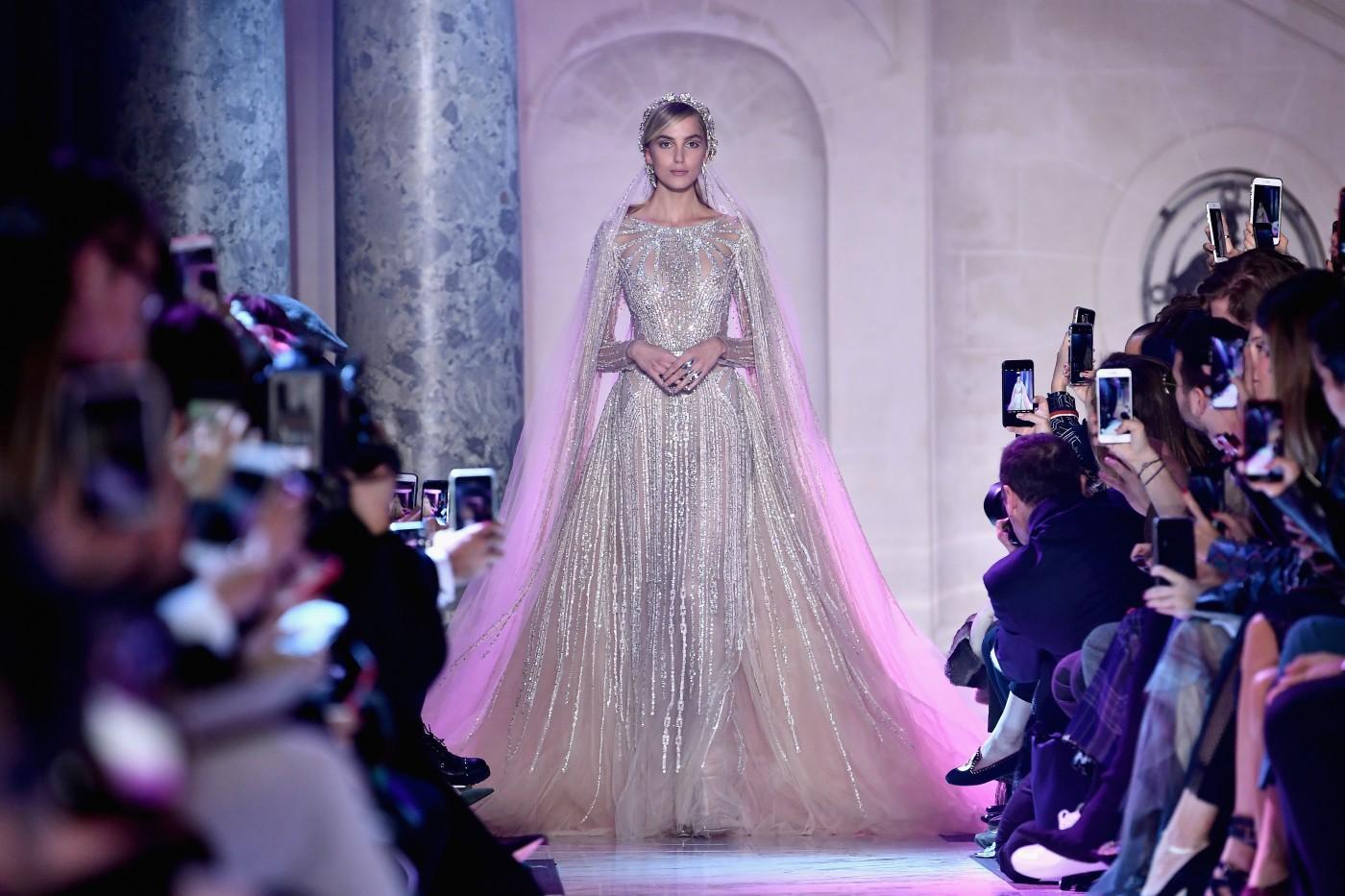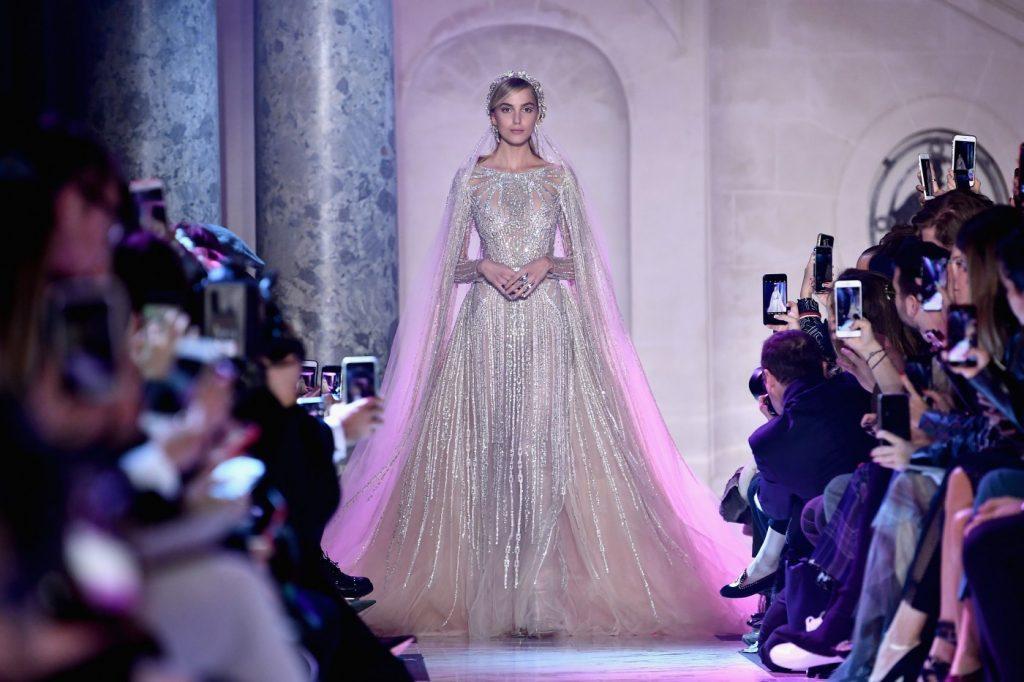 Valentino
Today I attended Valentino's fashion show at the Hotel Salomon de Rothschild. Shows like this are one of the many reasons why I love fashion.
As we took our seats an opera, chosen by Michel Gaubert, changed the atmosphere into something divine.
The models walked through the rooms in this beautiful color palette of fuchsia with pastel pink, beige and purple with green and turquoise with yellow. There were extra large coats, ruffled dresses, draped and braided tops and lots of bows and ruffles. Sequin dresses were a highlight and other fabrics included taffetas and moiré, lace.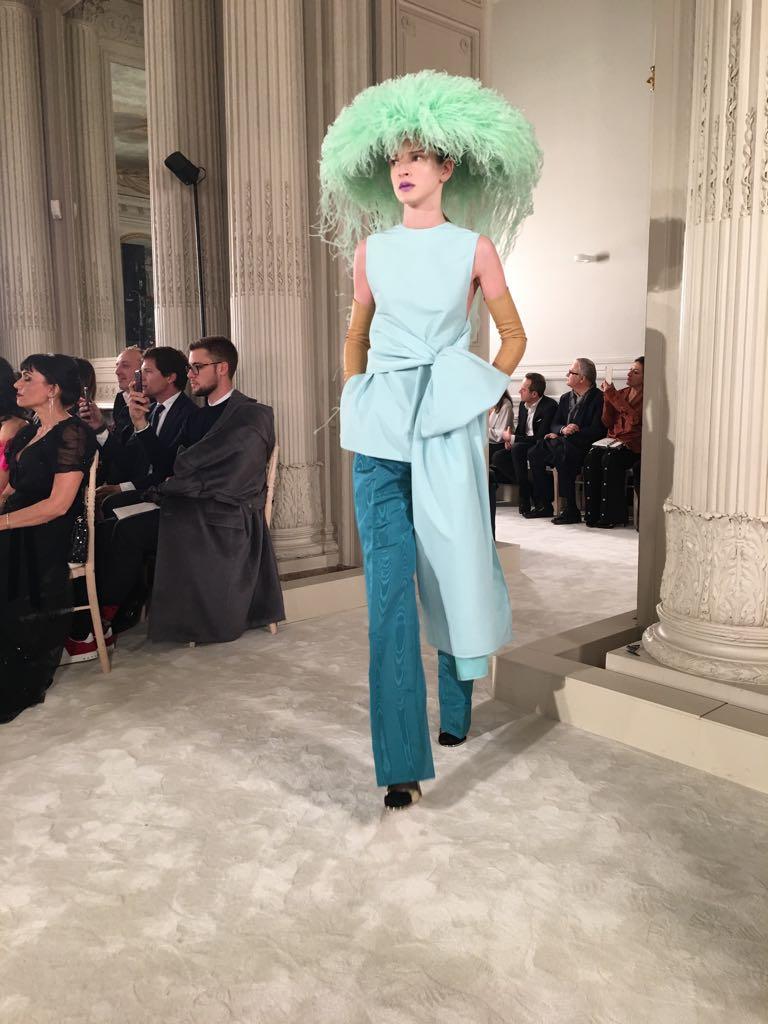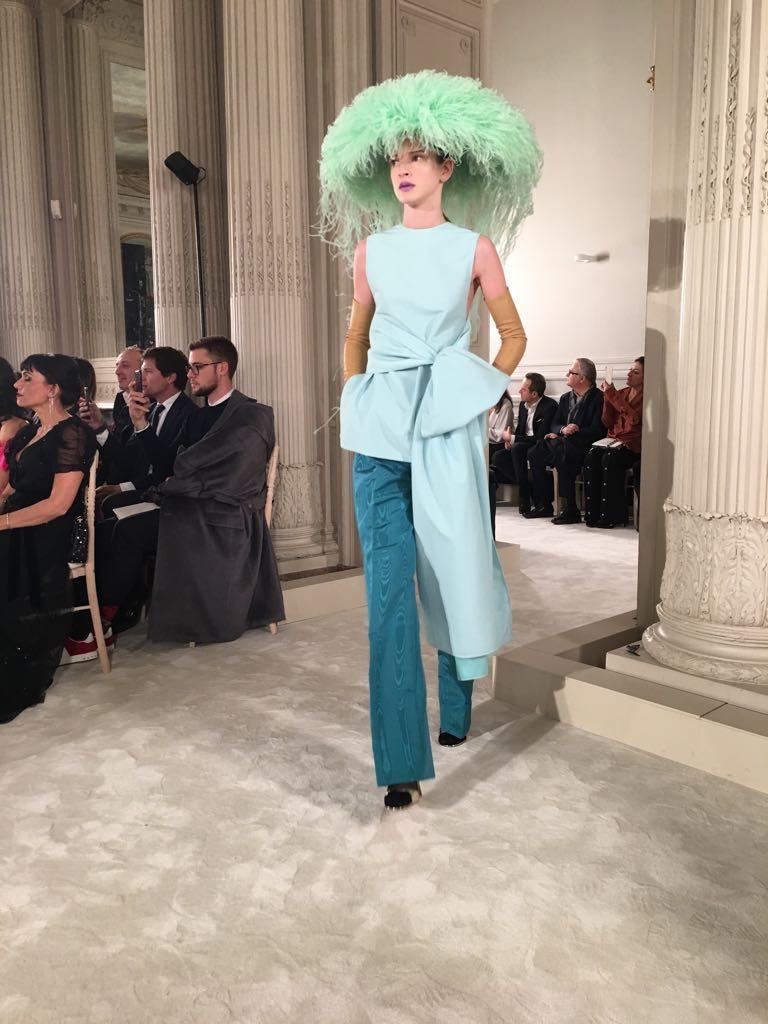 The makeup, by Pat McGrath, featured shades of orange, green or pink for the eyes to purple and blue for the lips. The hair, by Guido Palau, was done in a low ponytail with wet hair. That look was topped off with hats by Philip Treacy.
It's hard to pick a favorite in a collection like this, but if I must, I´d say the two looks in pink: one with a shirt and layered pants in different shades of pink and a fuchsia hat with feathers and the other, worn by Kaia Gerber, was a magenta dress with a ruffled neckline and a pink feathered hat.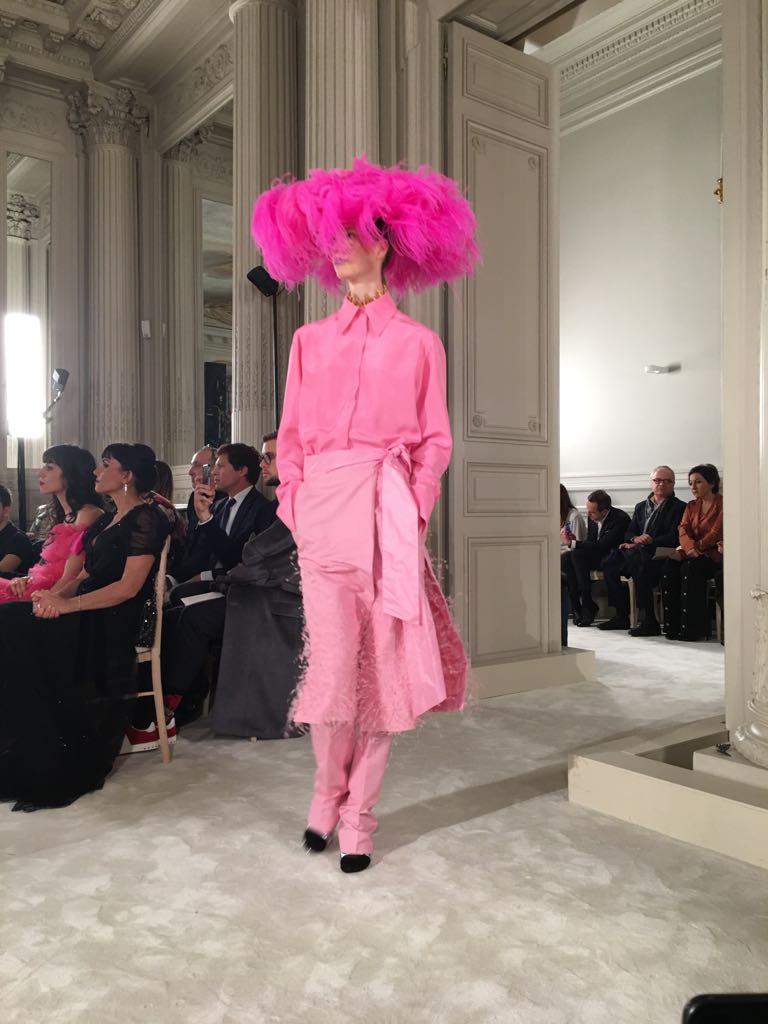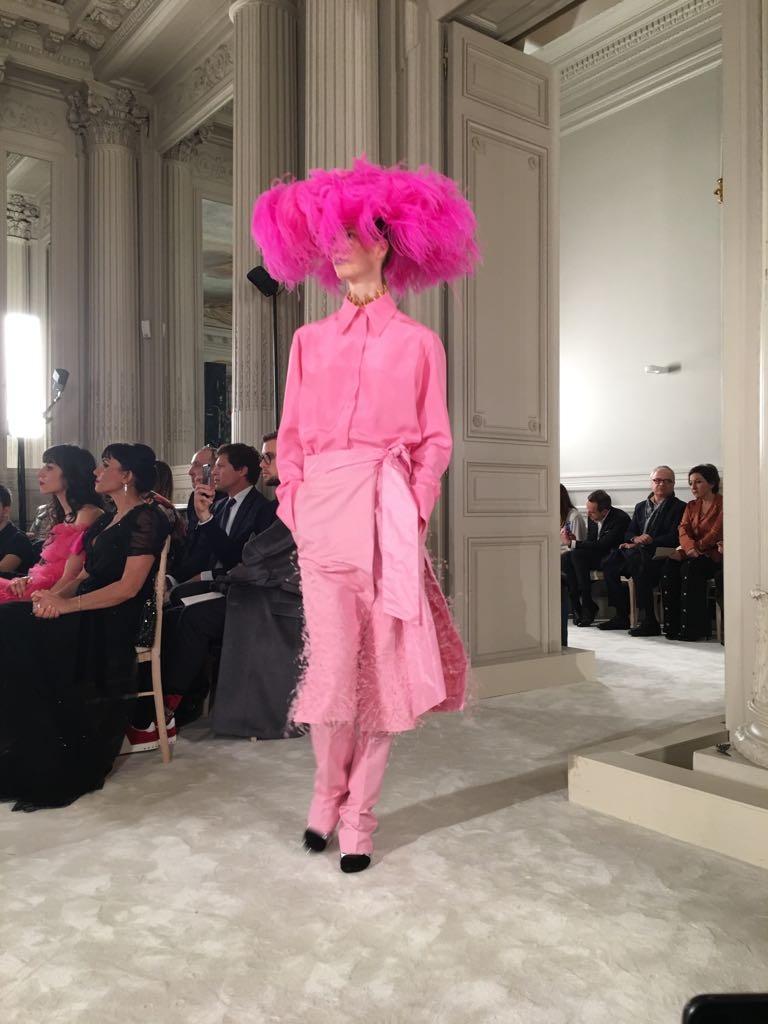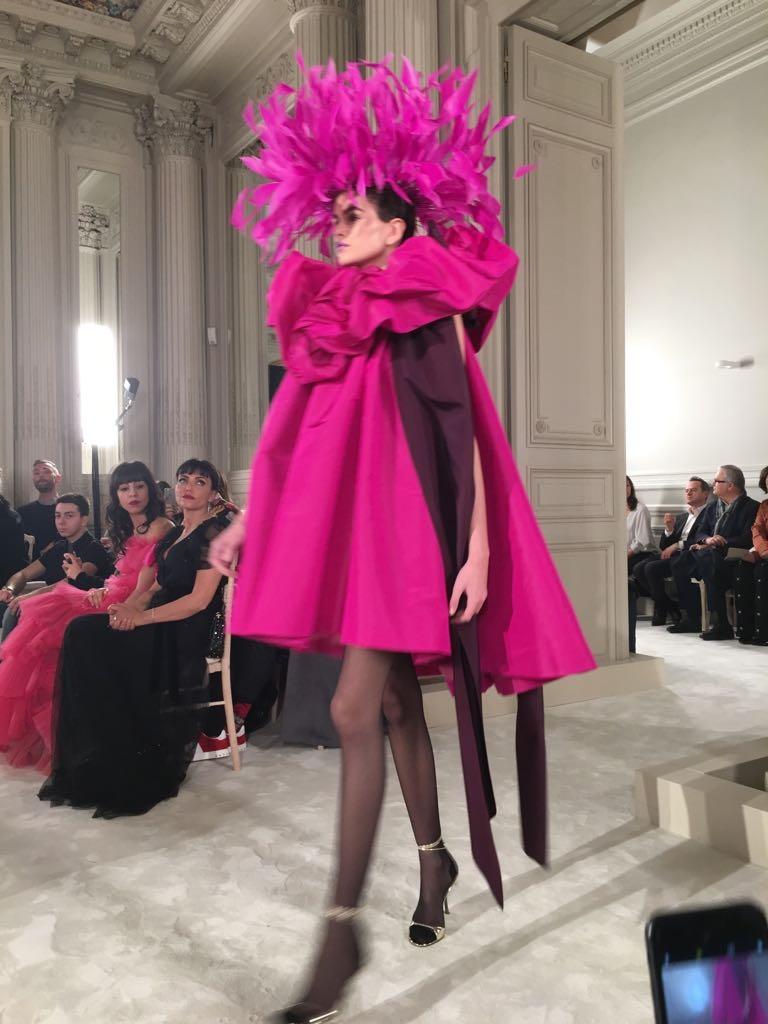 Front row included everyone from Derek Blasberg to Kate Hudson and Shailene Woodley as well as Olivia Palermo, Izabel Goudart, Bianca Brandolini and Emmanuelle Alt.