Retail's version of the Super Bowl — UBM Fashion's Coterie trade show — will be held next weekend at the Jacob K. Javits Convention Center. Here, we check in with some of the buzziest brands attending this go-around.
1. OATS CASHMERE 
Debra McKelvey-Hayburn, designer
What's new this season for Oats Cashmere?
Novelty handknit cables, stitch details, ruffles, maxi cardigans, and color!
What are you currently obsessed with?
Our oversize cable Bailey wrap with front pockets. I never leave home without it.
What's the best part of the Coterie experience?
To sell cashmere and meet customers face to face!
2. LILLA P
Pauline Sokol Nakios, creative director & owner
What's new for Fall for Lilla P?
A new capsule of cashmere sweaters; its been very well received! We also have some beautiful satin and chenille pieces in a rich color palette. I love the combination of our copper satin pants and chenille sweater. The mix of textures is stunning.
What did you make of Coterie your first year?
I remember feeling completely overwhelmed by the sheer number of exhibitors. And it's only grown larger over the years!
Who are you designing for?
The modern woman; she's busy and on-the-go. She wants to look put together, but effortlessly. Our pieces are easy to wear and easy to care for.
3. MINNIE ROSE
Lisa Shaller-Goldberg, creative director & founder
What's new for Minnie Rose?
We've rebranded with a more elevated, modern look. We have new labels, new hangtags, and a big, gorgeous new booth design!
4. POLOGEORGIS
The Pologeorgis team
What are your standout Fall pieces?
We've mixed fur with fabric to produce luxurious hoodies, streamlined bomber jackets, and reinvented puffers. And shearlings are front and center this season—from a super woolly teddy bear coat to an ultra lightweight belted trench.
How do people react to your booth?
We love seeing our clients. They instantly start trying on garments and taking selfies.
5. PRETTY ONE 
Agnieszka KuLakowska, creative director
What's new for you this season?
Our campaign is really special for us; we cast women who are our actual customers. We wanted to use real women, not models because we wanted to show women can look fabulous at any age and at any size.
What do you get out of Coterie?
Inspiration! It's a never-ending road of new ideas.
6. REPEAT CASHMERE
Melissa Passarella, chief sales officer USA
What's special about this season's lineup?
Our prints—specialty plaids, herringbone, and houndstooth!
Have you noticed Coterie change over the years?
We've seen a big transition, a refocus on the "experience."
What makes for a successful Coterie booth?
You have to make a statement. In the past, we've had a 20-foot-tall wall that features our muse Doutzen Kroes. It's been a huge draw and a conversation starter!
7. THACKER

Toni Hacker, fesigner & founder
What's new this season for your brand?
We're introducing a lot of fantastic new handbags, all with a focus on utility, color, and texture. Lots of studs, leopard, and a colorful embossed python.
Favorite thing to do at the Javits Center?
We love trying new foods from different vendors—a cheese plate and glass of wine in one of the lounge areas is a lovely break during the show.
8. BELLA DAHL
Steven Millman, VP of sales
What's most exciting about this collection?
We're introducing the biggest print assortment to date! We are super excited about the new Fall plaid. We will be doing patterns with soft-touch fabrics with a hint of metallic.
What's your Coterie tradition?
Flying in on the red-eye with the new collection and steaming it first thing the next morning!
Favorite thing to do at the Javits Center?
Writing orders!
9. LEO & SAGE
Pauline Sokol Nakios, owner
What's new for your brand this season?
A bit more color than we have had in the past. Anyone who knows me knows it pushes me out of my comfort zone! But it's inspired me in unexpected ways!
What's in your Coterie survival kit?
A great lipstick, protein bars, and an external battery pack!
10. GREY STATE
Saima Chowdhury, founder & CEO
What's new this season for your brand?
We are introducing season-less clothing. We're using our yummiest and softest fabric called Ohm Terry. You feel it against your skin. When you've got insanely soft essentials year-round, why wear anything else?
11. NICOLE MILLER
Nicole Miller, designer & founder
What pieces are you most excited about from your Fall collection?
All the pieces I did with patches. Especially the velour hoodie and the crushed-velvet tuxedo jacket.
What makes a great Coterie booth?
I always get really good candy for ours!
12. WOODEN SHIPS  ​
​Paola Buendía, creative director
Who's the Wooden Ships woman?
We're serving fierce babes, the chicest bohos, the cool mamas, the laid-back, the casual, the rad, and the free.
What's new this season for your brand?
We just became 85 percent solar-powered in our production. Our knits are powered by the Bali sun!
13. GLAMOURPUSS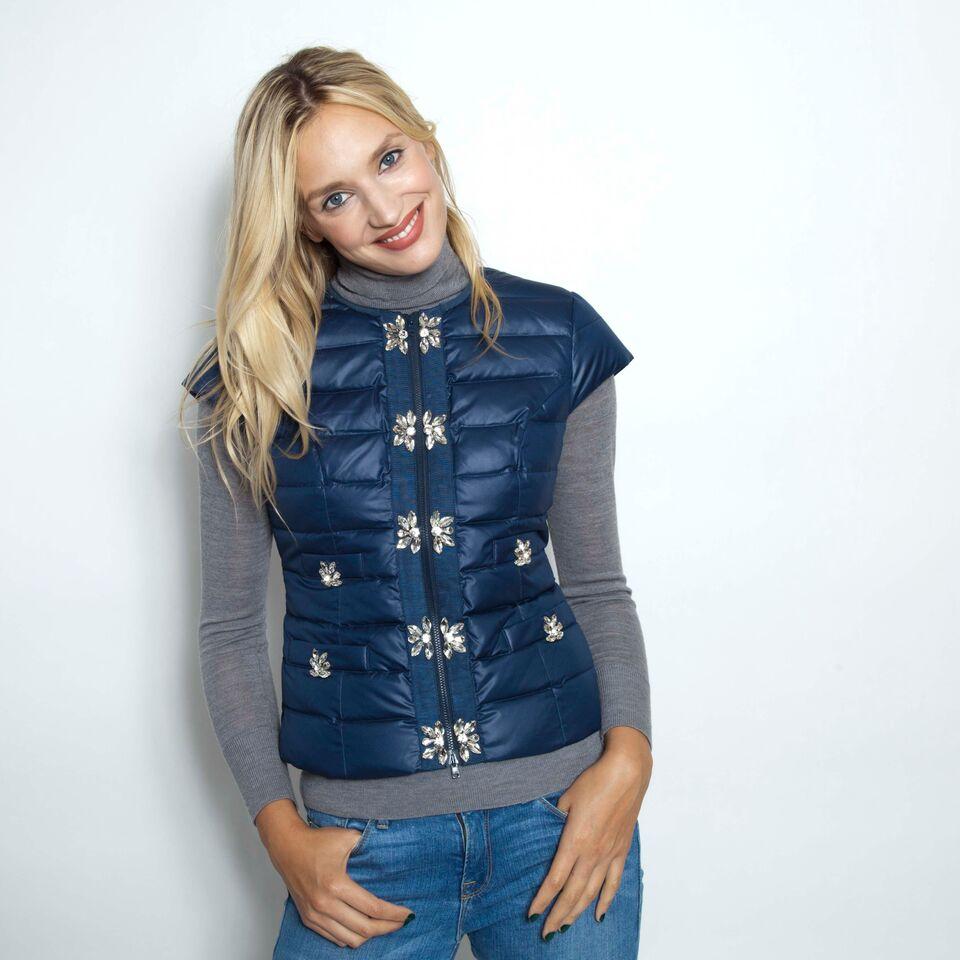 Courtney Moss, founder
Who are you designing for?
For today's active woman who goes from a workout in the morning to a black-tie event at night with the multi-tasking of her family, friends, and career in between.
Our pieces can take her anywhere!
14. PLANET 
Lauren Grossman, president
What's new for your brand this season?
A minimal all-black look in washable ponte fabric.
Who are you designing for?
I design for real women with real figures. Our customers are in their forties, fifties, sixties, and up.
15. LNA
Lauren Alexander, creative director
What excites you most about the Fall lineup?
Animal prints are by no means new, but we're doing our first cheetah print. Something that simple takes more time to perfect. Animal prints can go south quick!
What's your best booth strategy?
Two things we always need: a comfortable seating area and water. Placement of your booth, your real estate, matters, just as much as who your neighbors are!
16. GOTTEX STUDIO 
Nicole Atias, director of sales
Do you have any Coterie traditions?
We like to come together as a team the night before for a nice dinner. It really sets the tone for the event!
What are your Coterie must-haves?
Life Savers, Reese's, Starbucks, and Adidas NMD sneakers.
17. THREADS OF PRIVILEGE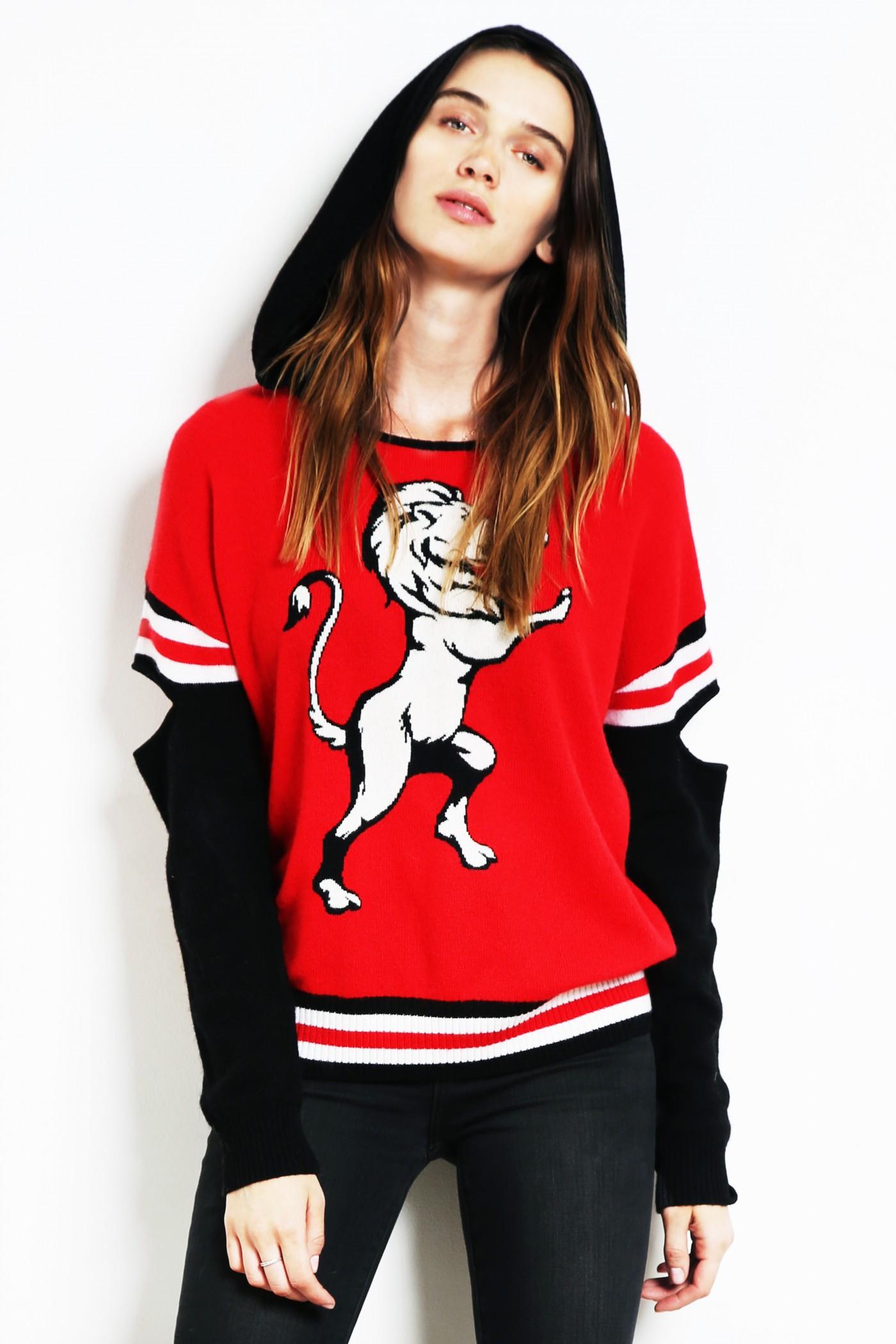 Marcus Lemonis, co-founder
Congratulations! This is a brand-new line…
Yes! Threads of Privilege is a new line of streetwear-inspired, elevated cashmere: hoodies, pullovers, track suits, and accessories. The first pieces include everything from monochromatic oversize streetwear staples to contemporary graphic knits.
What pieces are you most excited about?
Our "Privilege" sweater, which pays homage to the brand by spelling out the word around the entire neckline.
18. WILT
Roxanne Heptner, designer & founder
What makes for a successful Coterie booth?
Placement. It's important to be placed where the energy is positive!
What's your Coterie tradition?
Lisa Wurtzel, my New York representative, always brings us PB&J sandwiches.