Have you seen those sexy workout leggings with the mesh cutouts by Splits59? Celebrities and the fashion flock have been loving the line. Their Kym leggings are so haute, they can barely keep them in stock. We caught up with founders Keith Peterson and Jonathan Schwartz to find out more about their booming brand and to find out what what new products will be chicifying our workouts this Spring.

Your leggings have been seen on plenty of celebs. Who was first?
Keith Peterson: Emily Blunt and Miranda Kerr were early adopters, which we couldn't be more happy about.
The "Kym Noir" tights have been a huge hit. Are they your best sellers?
Jonathan Schwartz: Yes! They would be at the very top of the list if we could keep them in stock.
What's new for Spring?
Keith: It's in the Splits59 DNA to combine bold and delicate, fast and steady, high-performance and high fashion.​  We constantly hold our designs up under this lens.  For Spring, we're thrilled to be bringing back our hyper modern"Noir" collection.  The all-black pieces combine sheer textural mesh strategically placed to cool and perform while revealing just the right amount of skin. While Noir is on the serious side, we also like to laugh so we introduced fun energetic prints and vibrant reds and yellows.  A more feminine, romantic floral print is toughened up by pairing it with a new performance denim resulting in a bold street chic look.
What did you both learn from your previous careers and backgrounds that helped you launch this brand?
Jonathan: Don't be afraid to take risks and to fail.
Keith: Surround yourself with people and things that inspire you.
Why did you decide to go into athletic wear? What was lacking in that market?
Jonathan: When we launched Splits59 in 2008, our objective was to create a refined, sophisticated performance collection for women. The needs of the women in our lives were not being met.  We sought to fill this void.
Where was it sold first?
Keith: Our website, Splits59.com along with Atlanta's premium active store, Deka.
Where can it be found now?
Keith: The same two outlets that we launched with in addition to premium studios and retailers nationwide including Intermix, Revolve and Nordstrom.com, to name a few.
What are your own workouts of choice?
Keith: I'm always a fan of the classics.  It's a combination of strength training and cardio for me.   I prefer to work out alone.  It's my form of self-nourishment.
Jonathan: Trail running in the Santa Monica Mountains.
What's your favorite lazy activity? 
Keith: Travel and eat!  I love the Arts District downtown Los Angeles.  Not only does it have such a cool, inspiring vibe, it's filled with spectacular restaurants.  A favorite recent trip took me down the amazon river.  A truly invigorating wonder of the world.
How do you envision the line expanding?
Jonathan: Our priority is to continue to innovate and push the envelope between fashion and performance.  Stay tuned for exactly how that evolves.  ​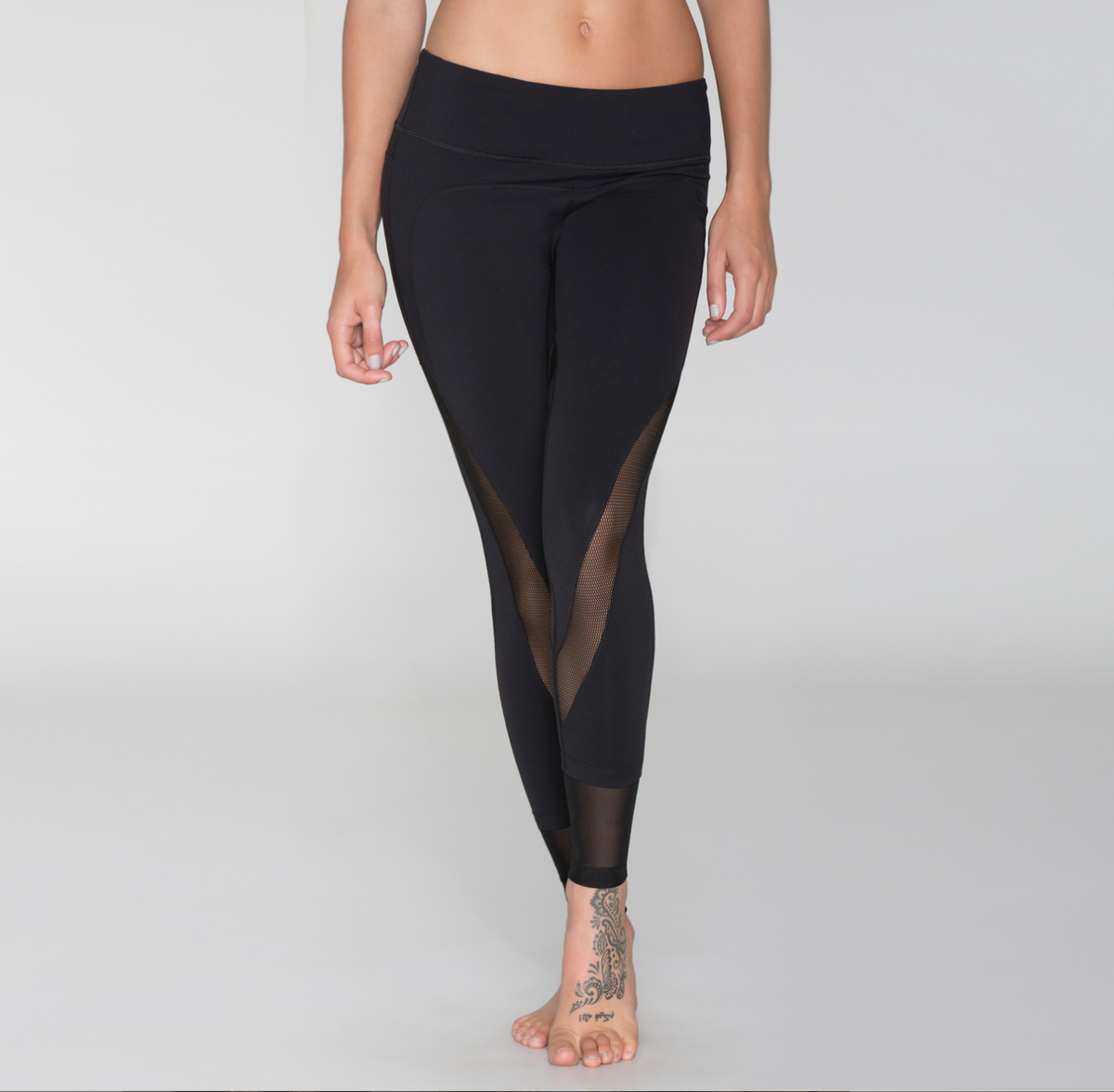 Splits59's Kym legging