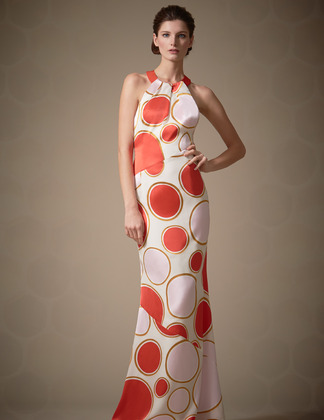 Carolina Herrera Bee Lines For Pre-Fall
|
Carolina Herrera invited editors this week to her showroom (aka hive) for cocktails to kick off the holidays and preview her Pre-Fall collection, and it's a real sting. One editor was overheard saying, "Can we just leave with this right now?" Yes, it's that divine. We asked Mrs. Herrera to tell us what inspired her buzziest looks.
What did you have up your sleeve for Pre-Fall?
The inspiration for this collection was a bee and everything connected with them.
Why a bee?
Because I love them! I have always adored them. I have honey every day of my life for breakfast.
What is it about bees that you're attracted to?
They're always busy! I always see my office like a beehive. I see my team running around like bees. I usually tell them, "You all look like bees! What are you doing?" Be happy! This is the "Bee Happy" collection. It has to be fun.
It is! Do you remember the last time you were stung by a bee?
I can't remember. I don't think I've ever been stung by a bee.
That's probably why you like them!
That's why I love them! I love the way they look, and how they're black and yellow.
Do you have a favorite piece in every collection?
No. If you see them all here, it's because I like them. That's like telling you that I have four daughters and I only like one.
This is a very laid-back presentation!
This is an experiment, and I love it. It's very informal; for me, fashion should be effortless. It doesn't have to be serious.
We love what we're seeing! Have a Merry Christmas!
It's so nice to hear Merry Christmas! Everybody says, "Happy Holiday!" and I say, "No! It's Christmas!" Three people tonight said Christmas to me. I was in heaven. Really!
Be a busy bee and check out the collection in our Gallery!