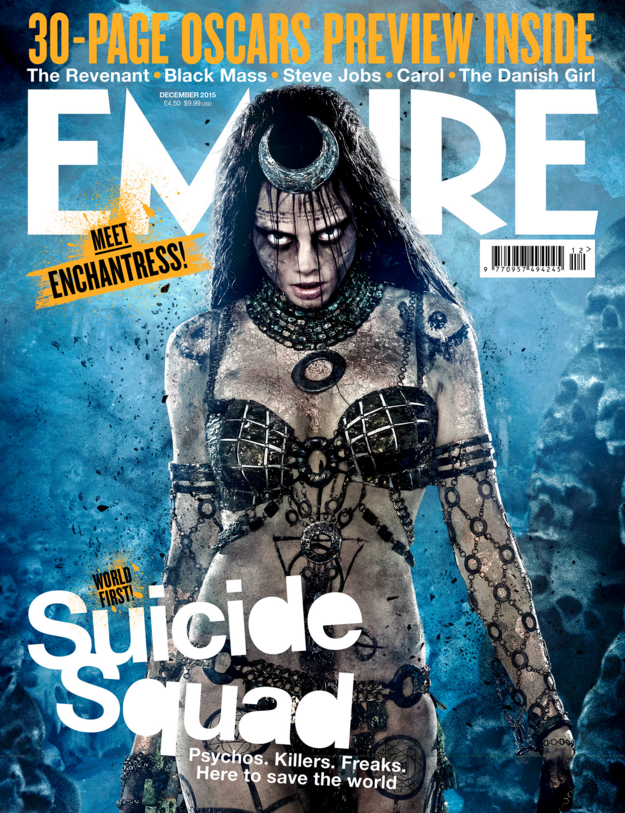 Adored mod Cara Delevingne fronts the December cover of Empire magazine, and she doesn't quite look like herself. To promote her role as Enchantress in the upcoming superhero film Suicide Squad (August 2016), she was photographed dressed in her character's look of grungy black leather and chains, zombie-esque makeup, and long jet-black mane.
For non comic-book buffs: Suicide Squad is a fictional group that pops up in several DC Comics titles. The team acts as a secret government agency task force comprised of imprisoned supervillains. Enchantress, a superhuman who takes over ordinary mortal June Moon, seems to have taken over Delevingne, too—it's hard to tell who's hiding under all of those special effects. "She's an ancient sorceress," Delevingne told Empire. "A feral being. She's been trapped for so long and now she's finally let out."
Starring alongside Delevingne in the action flick?  Will Smith, Margot Robbie, and Jared Leto (as Joker), and each character will debut on a cover of Empire. Find the issue with Delevingne's full interview on stands October 29.