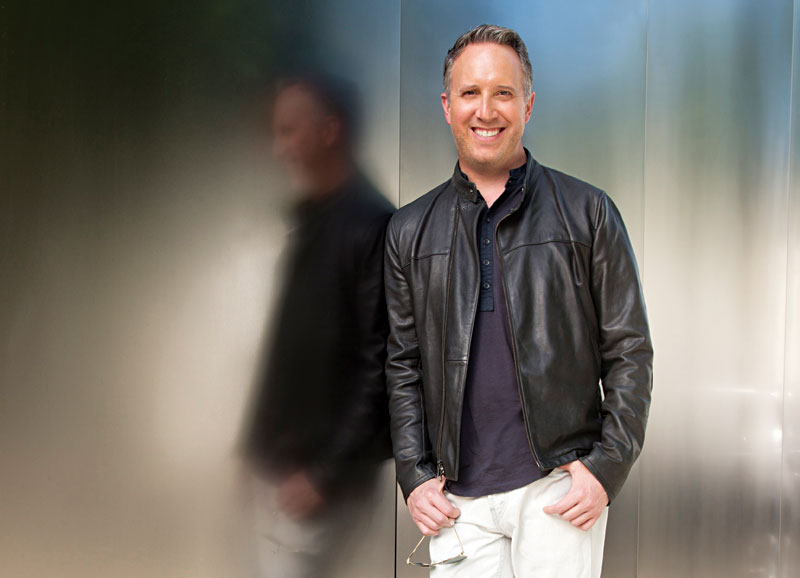 Look out, L.A.! The West Hollywood Design District is making major strides—seriously, it's been declared Cali's most walkable city—to become a hub for fashion, art, and culture. Ryan Farber, the district's executive director, explains how Weho is having
a serious moment.

How did the Weho Design District come about?
Originally, the West Hollywood Design District was the Avenues of Art and Design, which has been around for 19 years. Three years ago, we changed the name to create more of an umbrella term for all the types of industries we have here—like art, fashion, beauty, and food. It's an official business improvement district; within our borders, we have more than 300 businesses. Our mission is to build awareness that this is a great place to visit. They can even design an entire home here. We have the largest concentration of design businesses on the West Coast. We also have really great fashion brands and some amazing restaurants.
What are your major fashion retailers?
We had the first Moschino store in the country, and we also have 3.1 Phillip Lim, Balenciaga, Christian Louboutin, Helmut Lang, James Perse, John Varvatos, the Elder Statesman, and others.
Are there plans to add more?
Definitely. We have new buildings coming in with the goal to get fashion into them. South Robertson has a lot of fashion businesses, and the presence is creeping north and onto Melrose. Fashion is overtaking design and has the second-largest presence here.
Have you seen the city's style change with the influx of fashion retail?
People have definitely gotten more serious about style in L.A. They're looking to button themselves up a little bit more, in terms of the ways they're dressing and where they're shopping. I've done it myself—when I was younger, it was very casual…shorts and a T-shirt kind of thing. But now there's more of a serious nature. People are definitely looking better, more put together, and that's new. Or newish. I'm not a fashion expert!
Why would you recommend staying in Weho versus L.A. proper or other areas?
West Hollywood is 1.9 square miles…tiny. I like to describe it this way: It is the center of everything that's cool in L.A. There's Santa Monica and Beverly Hills to the west, and Hollywood and Downtown to the east, and we are smack-dab in the middle of it all, within walking distance, which is really rare in L.A. We're considered one of the most walkable cities in California, and it shows. People are on foot constantly.
What are some of the more chic places to stay?
Definitely the Mondrian, the London, and the Andaz. Then you've got more boutique-y hotels, like the Charlie, and Sunset Marquis is still one of the coolest hidden hotels. There are so many new projects coming in.
What time of year do you recommend visiting?
In November, we have an amazing event called DIEM: Design Intersects Everything Made. It's a design show in which two curators, Frances Anderton and Mallery Roberts Morgan, create content for these talks and put them into six showrooms in our district that are on a path. It's a very progressive, smart event about what's happening in design, art, and fashion, and how they all intersect.
Who are some frequent celebrity sightings?
George Clooney is here a lot, getting his hair done. Salons are attracting a lot of celebrity clientele, and the fashion stores, too. Craig's is a really popular restaurant right now. I don't think I've ever been there and not seen a celebrity.
What's your favorite thing to order there?
Their honey truffle chicken is unbelievable. Gracias Madre, right across the street, is also packed on a regular basis with people you'd recognize.
Do you have any tips for getting around the area?
Every concierge desk has walking maps of the area that are produced by the district and by Weho's official guide, Visit West Hollywood. It's broken down into categories, like a mall directory. We've done maps before, and shared them with the hotels. They were going through them so quickly. Apparently a lot of people designing their homes in the area stay in the hotels and want to know where they can buy lighting or carpeting, and they used our maps. Ever since, we've been producing user-friendly maps.
Anything coming down the pipeline?
The business community and the neighbors in the area got together with the city to develop a new streetscape plan. In the next six to 10 years the entire area is going to be beautified and made even more walking friendly. Sidewalks and lighting will be improved with the idea that we want more people on foot. We're trying to get people to understand that you can walk this entire district so easily. I live in the district as well. I haven't driven my car in three months.
You're kidding!
I don't think I'm going to renew my lease. So it's that friendly of a walking area.
Why do you think more New Yorkers seem to be flocking to L.A.?
Los Angeles is just experiencing this creative boom right now, with downtown really coming into its own. I think New Yorkers feel like they're in a transition place, where it's still like New York, but it's a little more accessible. In our area specifically, designers Hedi Slimane and Jeremy Scott live here. I think that people want to be where the creativity is fresh and new. L.A. has been here for a long time, but people are kind of rediscovering it, as things go in cycles all over the world. It's just kind of our time right now.