Instagram collectively bowed down this weekend to Queen Bey whose Coachella performance gave a definitive answer to the oft-posed question — who run the world?
Beyoncé, the first black woman to ever headline the music festival, pulled out all the stops for her set, which rivaled the Super Bowl in terms of scale and spectacle.  It was so epic, it bore it's own hashtag: #Beychella.
Let's first start with the costumes — Bey's stylist Marin Senofonte commissioned five custom Balmain looks for the performance. "Marni told me that the shows were all about survivors and that B was looking for something in a military style," Olivier Rousteing told Vogue. "Our silhouettes and our sort of Mad Max, futuristic take on military looks for Fall were a perfect fit." Her first look channeled Queen Nefertiti with a Egyptian headpiece, beaded cape, bodysuit, and an extremely necessary staff.
Her subsequent Rousteing-designed looks included a bedazzled collegiate sweatshirt, a camouflage and mesh minidress and a jet black patent jacket, bodysuit and thigh-high boots. Of working with Beyoncé, Rousteing said it was a meeting of the perfectionist minds. "I met my match with Beyoncé," he said. "My obsession with perfecting every tiny element of every runway is matched by hers for perfecting every tiny element of every performance—and, when one perfectionist teams up with another, the results can be pretty incredible."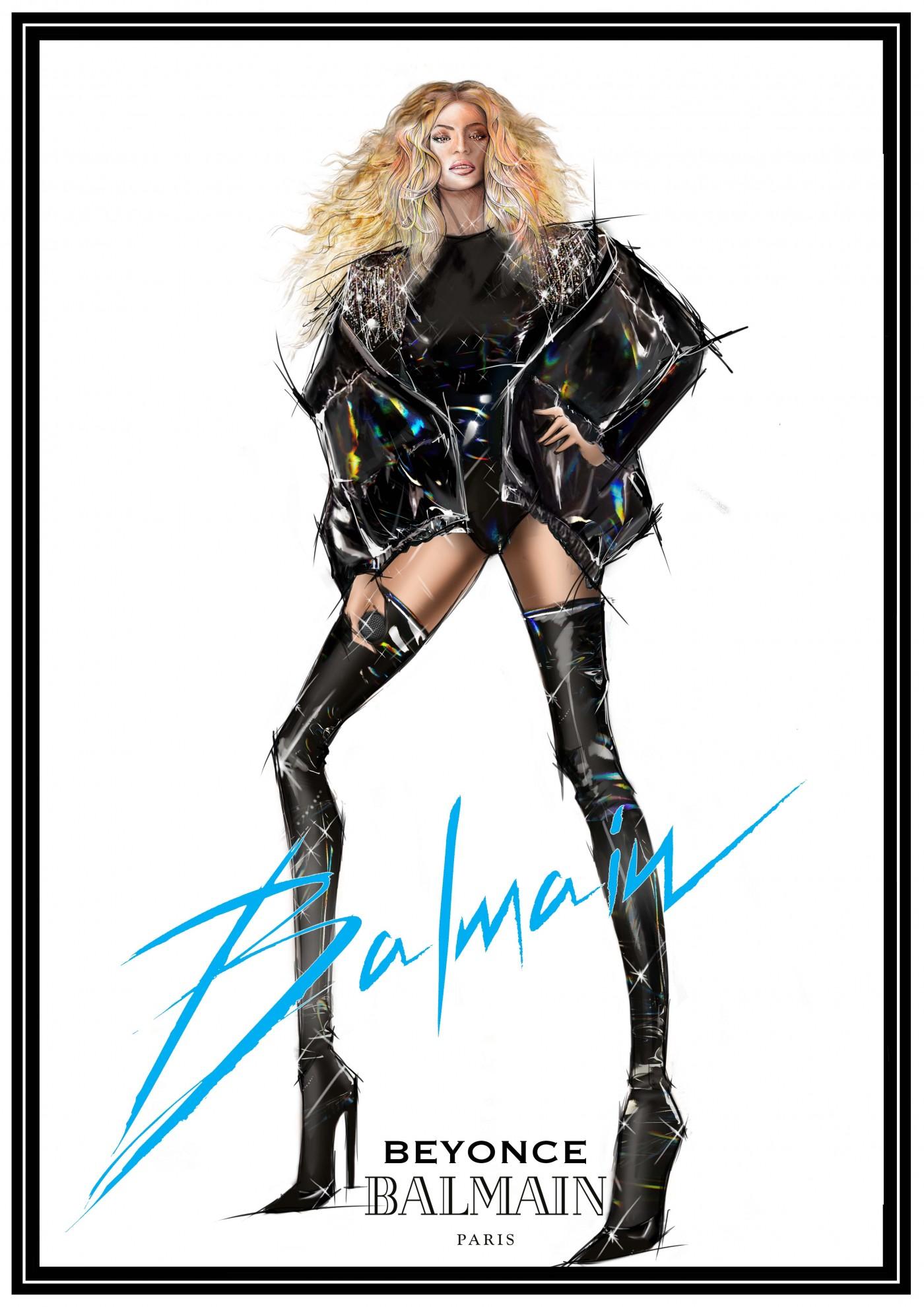 Oh, right. Rousteing also created custom costumes for Kelly Rowland and Michelle Williams for their epic Destiny's Child reunion set. The trio did a three-song medley of "Say My Name," "Lose My Breath," and "Soldier".
Williams and Rowland weren't the only surprise appearances — Bey's hubby Jay-Z and Solange also made on-stage cameos.
https://www.youtube.com/watch?v=aihX1CQATCc
https://www.youtube.com/watch?v=eEp1MoxVQvE
Beyoncé's slaying set the Internet on fire with Questlove, Iggy Azalea, and Chance the Rapper all sharing their awe-inducing reactions in on Twitter.
I just saw the greatest show to ever happen. @beyonce

— Chance The Rapper (@chancetherapper) April 15, 2018
I don't think I'll ever see a better show then the one I just watched Beyonce perform tonight. Iam shaken to my bones.

— IGGY AZALEA (@IGGYAZALEA) April 15, 2018
How. in. The. Fuh. Did. She. Pull. That. Shiii. OFF!!!!??? It's like 170 musicians onstage. I mean the stage plotting. The patch chords. How many monitor boards were used??! Bandleading that shit woulda gave me anxiety. Hats off man. Jesus H Christ.

— T'Questlove (@questlove) April 15, 2018
But it was Adele that really encapsulated the bliss we all collectively felt while taking in Beychella. It's giving us heart-eyed emoji realness.
Subscribe to our newsletter and follow us on Facebook to stay up to date on all the latest fashion news and juicy industry gossip.