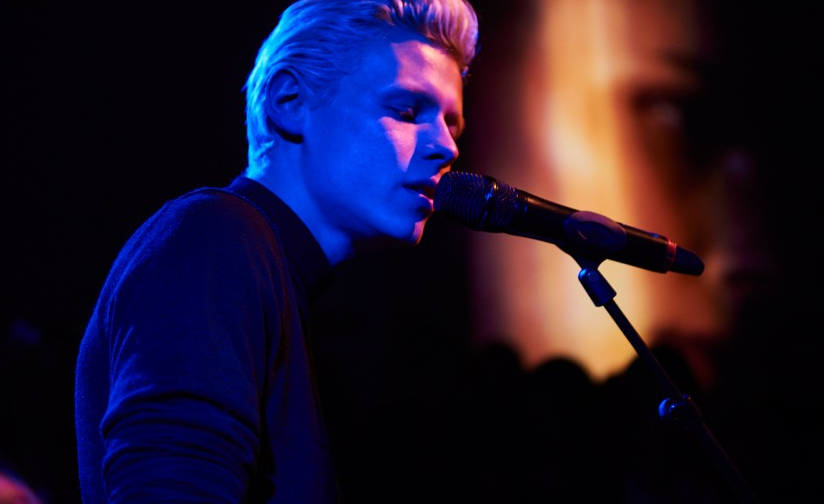 Peter Davis spent a few days in Germany for Berlin Fashion Week and writes in with what he saw, who he met, and who we need to know about.
Berlin is the Brooklyn of Europe: gritty and glamorous, fast and fashion-forward, and open 24/7…and Berlin Fashion Week is a nonstop circus of catwalk shows plus loads of parties, replete with booze and major chain smoking (indoors!). The best of BFW? Designer Leyla Piedayesh's decade-old Lala Berlin label kick-started the week with a dreamy short film by director Jonas Lindstroem and a live performance by bleach-blonde Jesper Munk (above) who looks like Lucky Blue and croons like a bluegrass star. Lala Berlin's presentation quickly became a packed party—another Gauloises, anyone?— and afterward the hipoisie flooded the trendy bar/restaurant of Pauly Saal (the sister establishment to popular Grill Royal on the Spree River) for crafty cocktails and more cigs. Cough, cough.
The next night belonged to the Mercedes Benz (BFW's official sponsor) and Vogue soirée at classic eatery Borchardt. There was plenty of champagne in the tented room, and German Vogue editrix Christiane Arp double kissed every German designer that matters from William Fan to the two handsome guys behind Zukker. Mini sausages (how German) were passed around and by 2 a.m., when people trekked the few blocks to Bricks nightclub, every ashtray was overflowing.
Stacey Caldwell (who ran Thakoon for years) and WWD vet Ajiri A. Aki, the two authors behind the fun Where's Karl book, flew to town and took over the Karl Lagerfeld boutique for their Berlin book launch. Afterward, NYC style scene staple Eugenia Gonzalez, who recently relocated from NYC to Berlin upon marrying a handsome German, threw a dinner for the girls at Katz Orange where another NYC face, Christian Leone—who heads designer relations for IMG—nibbled short ribs, salmon, and downed bottles of vino.
The hottest show of the week was the 30-year-old Viennese designer Marina Hoermanseder, who needed two floors to accommodate all her fans and guests. Marina's Thierry Mugler-influenced glossy, liquid-stiff leather dresses and jewel-encrusted tops were showstoppers, and her trademark skin-tight leather belted skirts were on both the runway and in the front row, which was stocked with every major Berlin socialite. Watch out for this label. When Hoermanseder was in Paris recently, Karl Lagerfeld exclaimed that her skirt was "totally amazing." A fashion compliment from the Kaiser himself? How majorly schick! That's "chic" in German.