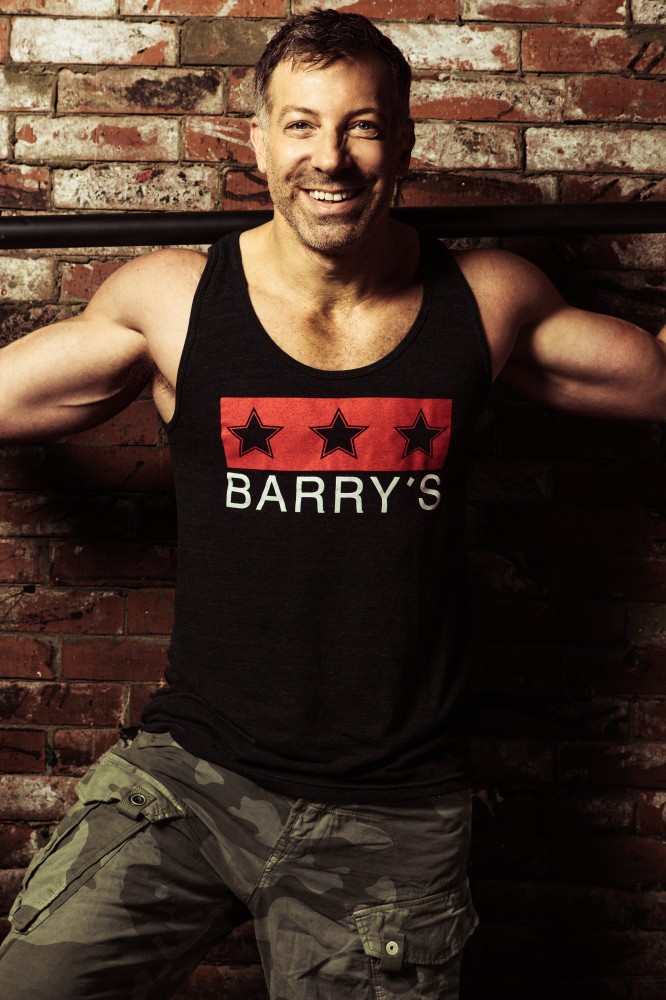 Barry's Bootcamp, which we know you know by now, just opened their 16th spot with the latest offering in Manhattan's NoHo (419 Lafayette St.). We got on the phone with co-founder and partner Barry Jay (who certainly isn't lacking in the enthusiasm department) to get the deets on the new location and to unearth his fascinating past. 
You're on your 16th location. How does that feel?
Amazing! Incredible, humbling, joyous! I'm filled with gratitude; it's incredible. Sixteen years, sixteen stores. It feels like yesterday. It's mind-boggling.
Has this surpassed your expectations from the business' early days?
Oh, yes! I don't even think I thought that far ahead. I knew it was a good idea, but sometimes the best of ideas just don't fly. I was just really focused on the first store because it's such a great workout.
How did you come up with the concept?
I loved working out, and I loved taking classes, except there was something absolutely missing. At the gym, I was missing the excitement of class. In the class, I was missing the actual workout of the gym. The weights were 10 pounds, 12 pounds maybe. Everything was high rep, low weight, kind of aerobic. Body sculpting was the thing. There were no heavy weights. There was no organization of arm-day, leg-day, chest-day; everything was once a week. There was no thought to that. There was also no sexy lighting.
And then…
I saw it in my head! Red lights, a gym workout that had heavy weights, the organized days. I saw everybody doing it. The treadmill: Some love it, and some do it because, hey, they know they should and it's kind of a chore. The class environment makes it fun. When you're sprinting together, you're doing it on and off. You're doing some weights, back to treadmill, back to weights, back to treadmill. The whole thing just came together.
This is going to be your third location in New York. Why did you pick NoHo?
There were a few neighborhoods appealing to us: Upper West Side, Upper East Side, and NoHo. NoHo was really building up so beautifully and has really become a fitness community with so much around it. At our party, I went for a little walk around NoHo. I love seeing a Crunch or a SoulCycle nearby; that builds a fitness community.
I'm sure you're competitive, but we like that you look at it as a community.
I actually never have been competitive. I'm kind of missing that gene. I guess from somebody who always took classes and always went to different places, I totally get it that people want options. People want variety. I think each place helps the other. I've always been a big believer in that.
Tell us more  about the NoHo location. Is there anything different or special about it? Anything you want to brag about?
It's huge! It's like 6,000 square feet. It's the biggest one to date! When I first walked into the workout room I was like, "Wow! This is massive!" I did fall in love with the architecture in the building and the cast iron and all that. It's got such a cool, artsy feel to it.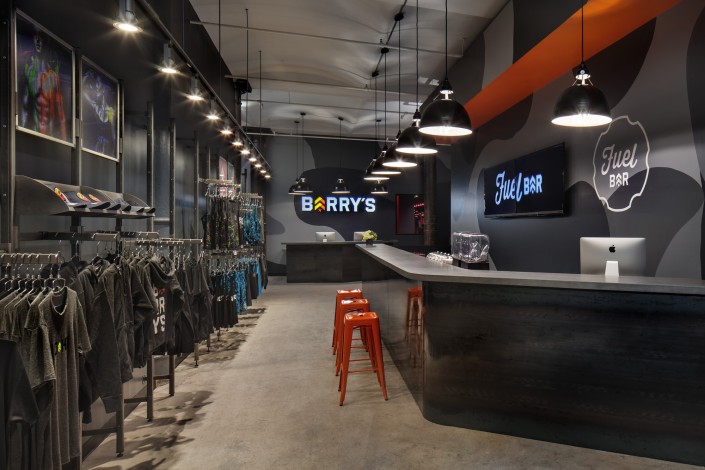 When people meet the Barry, do they get excited?
They do! I love it and I'm grateful, but it's just me. People are so thankful. Some people meet me and go "Oh I was wondering if there really was a Barry." That's always funny, too. The instructors are amazing as they could be and when I'm in class sometimes they'll say, "If you ever want to meet the actual Barry, he's there in the front."
What are some of your success stories?
Oh, so many! A couple of gals stick out in my mind to me, like Kristie Ritchie. She came to me extremely overweight at the 5 a.m. Academy in West Hollywood. She literally would walk on the treadmill, go outside and not feel well, come back in, go on the treadmill, go outside not feel well…and she was not giving up. Long story short, she lost over a hundred pounds, she became a marathon runner, she looks amazing. All her clothes have changed. We all just watched it at 5 a.m. It just happened. It was great!
Anything else in the works?|
I've thought about a book here and there. I love to write. We're just opening more stores. We have a Hollywood location coming, which is really great; it's like the little engine that could. It's a very small store where we started. It's the seed from which much grew, I always say. Now, we have a big Hollywood location coming. It's actually going to be next door to Greenleaf and across from SoulCycle.
Do you ever teach anymore?
Everyday! I just got done teaching three classes this morning.
Since we're celebrating your 16th anniversary…what were you like at sixteen years old?
I was trying to learn to drive a Pinto. My father yelled at me for doing such a lousy job; he pretty much threw me the keys and said "Drive around the block and don't come back until you've got it." I was probably eighty-five pounds. I was probably under five feet. I was filled with fear and I guess my only ambition was to be on Broadway or in Horror movies.
How'd that go?
I actually jus co-wrote a horror film called Bloodline and we just finished casting and it's being shot November third through the twenty-first by Terror Films and Sunrise Pictures. I'm excited about that. I've not been in one. I was in one Broadway musical in the chorus and then I gave it up and moved to LA.
What were you in?
It was a ridiculous show! It was a children's show it was on Broadway. I did open up The New York Times and see the listing. I was like "Cool! There I am!" They were going to Alaska with the show and I went to L.A. to be a songwriter and said, "Screw it!"
And the rest is history…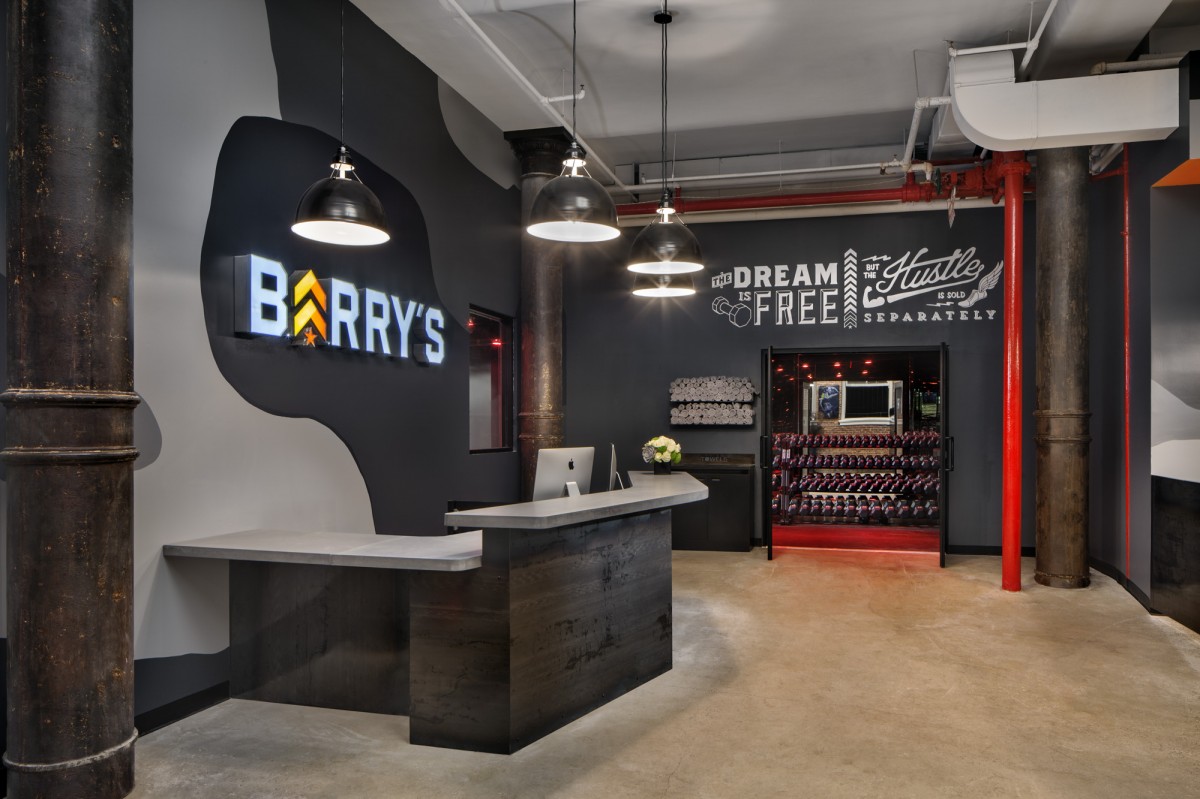 Barry's Bootcamp Photos by David Joseph Photography