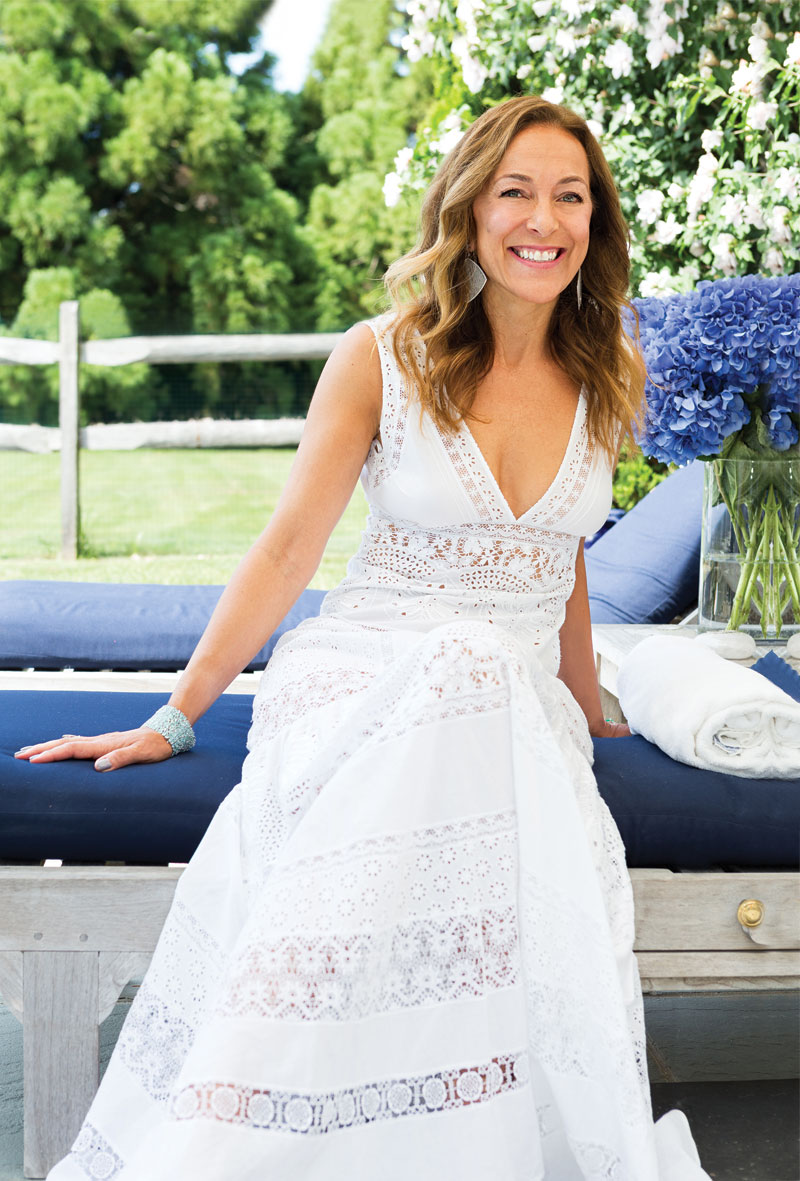 Nina Runsdorf first started coming to the East End in her teens as a competitive horseback rider. Now, the fine jewelry designer, known for her exquisite one-of-a-kind pieces, spends her summers in Sagaponack unwinding with her family—and rolling through town in her brand-new baby blue Fiat. We caught up with Runsdorf for a glimpse into her charmed life.

Did you always want to go into the jewelry business?
I actually started when I was 11. I have always had a passion for fashion, especially jewelry. I was 8 when we moved from New York City to the country. I was raised on a farm in upstate New York. My mother had a workbench in the kitchen, and I'd make jewelry while I was watching the only two channels we had on our television.
What was your first foray into jewelry-making as an adult?
My sister and I started a company called Nianna, Nina and Ann, and we started doing watch pins and semiprecious costume pieces. Bergdorf's was my first account. It lasted for a few years until one day my mom was like, "Okay, girls, you need to work harder." I ended up getting a job with Ralph Lauren. I started in sales when the store opened and when I met Ralph, I started to collect the turquoise jewelry that he put in the RRL Ranch.
How did you transition from sales to jewelry curation?
Ralph knew I grew up on a farm and that I knew about American furniture, so he asked me to buy all the furniture for the country store at the Rhinelander Mansion on Madison. He wanted me to continue doing that, but that wasn't my vision—to go to antique shows. I really wanted to go into design. I used to make these suede bracelets with old harness parts. Dena Cohen, who was the head buyer for jewelry at Ralph Lauren, asked me to make three of them. She gave one to Tasha Polizzi, who in those years was fashion director for Mickey Drexler at Banana Republic. She opened the box and said, "Oh, my God, who made this? I want her to do accessories with Banana."
Where did you land after Banana Republic?
A brand called Wathne was making bags for Banana at the time—they were three Icelandic sisters and I became their fashion director. I ended up being with them for 10 years and we built this incredible company, but it closed. I had my two children at the time so I couldn't do the hours, so I left fashion and worked part-time for my father-in-law on W. 47th Street at Runsdorf Associates, which is when I got my GIA certification [to be able to certify diamonds] and learned the business there for six years. It was like the trading floor. In 2005, I launched NSR. I think my next step is to do more lifestyle with my own brand.
What would be the next category?
I started doing tabletop accessories—candles with diamonds. We're in the process of deciding what's next, but what would be very natural is a bag, a shoe, an accessory.
Which designs of yours do you consider iconic?
The sliced diamonds. They were definitely what put me on the map. And my rose-cut diamond flip ring, which was my first design. It started the company.
Do you have a favorite piece that you own?
I have a few pieces. I have a very big pair of sliced diamond earrings, and I always have my flip ring on. I also have a pair of sliced African rubies that are amazing. In 2009, I took a trip to India—I had never been before—and when I saw the colors I was so inspired that I went into the factories and basically started slicing color. Really, that was the second trend. Sliced diamonds first, color second.
What inspired your most recent collection?
I'm starting to use not the most perfect emeralds—they have personality. I've also gone into bigger pieces because I think it's the trend. I'm working
with Pariba. I made this big bracelet last year that sold immediately, so I decided to make a second one. Everything I do is one-of-a-kind and all about the stones.
How should jewelry be worn?
Jewelry should become a part of who you are. It shouldn't wear you; you should wear the jewelry.
Who is the Nina Runsdorf client?
I think it's the woman who already has her big diamond and wants to walk into a room wearing something that's very different from everybody else. She wants to be unique and be more bespoke and original.
What designers do you like to wear?
Today I'm wearing Roberto Cavalli. I like Brunello Cucinelli—I love the quality. I like the bespoke Hermès pieces. I think Gucci looks great and fun right now because it's '70s and I love the '70s. I have fashion in my blood. When I was little my mom used to say, "Go out and play," but I was very busy tearing pages out of magazines. I was obsessed, so I think you're born with it.
Was your mother in fashion?
Yes! She had a company when I was a child called Ulla. She was the first person to bring fake fur to ski-wear in the U.S. She did these amazing silk turtlenecks that zipped up the neck, very 1960s style. Now she owns a company called Wild Thymes. I grew up with a very entrepreneurial, talented mother and definitely inherited it.
You have an impressive modern art collection. Tell us about it.
I only want to hang up a painting when I know the artist. Every piece of art that I have is personal. I love emerging artists, like Jack Greer—he's very up-and-coming. I collect Richard Prince, and I have Adam McEwen, Robin Rhode, and Cyprien Gaillard. Also Nir Hod, Ahmet Ögüt, Anne Collier, and Jessica Lichtenstein. Rashid Johnson, as well. I went to look at a fabulous bubblegum painting of his with my daughter and she looked around and there were these huge mirrors by Rashid. Kate, my daughter, was very little and said, "I want you to buy one of those. I love it!" I asked Rashid to make one for her birthday, so he made her a small one, which we have in our home.
How long have you been coming out to the Hamptons?
I've been coming for years and years, when it was all potato fields. I started riding horses when I was 4 years old, and I was a big competitor, so in the summer as a teenager I'd come out and ride at Topping Riding Club. I would also show in the Hamptons Classic when it was very small—it's not what it is today.
Do you go to the beach?
One of my favorite things to do is pack a picnic late in the afternoon and just go to either Gibson or Townline, the little private beaches where there's really nobody. I take a blanket, a good bottle of wine, some cheese, and just relax.
Do you travel a lot?
I go to Greece and Turkey very often in the summer. We travel all the time, so it's nice to come here and just be with the family. To me, the Hamptons is about being together with your family.