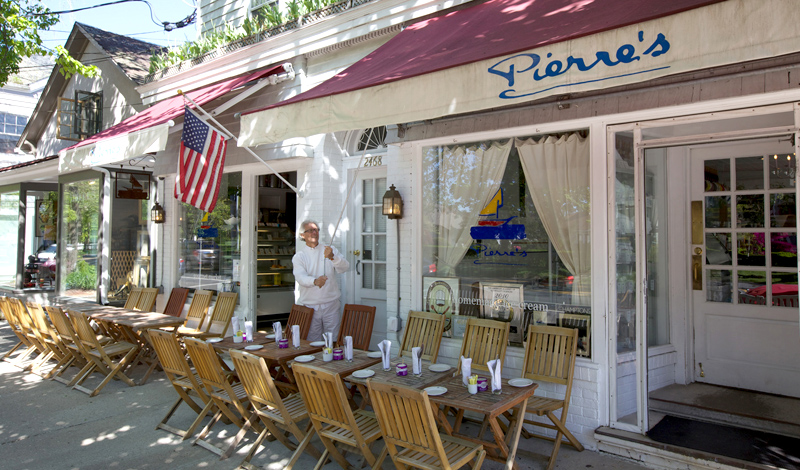 A Hamptons Weekend from A-Z
|
Daily Secret (no relation to The Daily) is referred to as the "definitive guide for the best things life has to offer," with 1.8 million daily subscribers picking up their content and suggestions every day. Not bad! We asked Daily Secret's CEO Jac White to come up with her perfect Hamptons weekend from A-Z for our readers. You'll probably know a lot of these joints if you weekend regularly on the East End, but it's worth checking out what tops this expert's list. 
Where to Stay
1770 House
This historic and traditional inn, just steps away from East Hampton Village, has been welcoming guests with luxurious comfort for more than 250 years. While it may appear a simple picket-fenced home, it never fails to impress us with its beautiful antique decor, array of guest services, and delicious restaurant.
143 Main St., East Hampton, NY (631) 324-1770
Gurney's
Ideal when traveling with a big group, this large, modern hotel just underwent renovation. Spacious rooms, free Wi-Fi, a gym, spa, plenty of activities for kids, and great on-site restaurants (particularly Tillie's) mean you won't miss any of the comforts of the city.
290 Old Montauk Hwy., Montauk, NY  (631) 668-2345
The Crow's Nest Inn
This quiet, quaint and homey inn is within walking distance from Ditch Plains Beach and offers plenty of guest services, including intimate rooms with private decks. Don't miss the house restaurant's fresh, local food—and don't skip the fire-pit s'mores!
4 Old W. Lake Dr., Montauk, NY (631) 668-2077
Friday Dinner:
Dave's Grill
Chomp, chomp, chomp. That's you, munching away the stress of the week, one bite at a time. We don't blame you: This cozy place at the Montauk Harbor serves one of the best lobster rolls we've ever tasted. In between bites, sip on some rosé and ease yourself into weekend mode.
468 W. Lake Dr., Montauk Harbor, NY (631) 668-9190
Drinks and Dancing:
The Harbor Raw Bar & Lounge
A stone's throw away from Dave's Grill (read: you can still walk there, even if you're stuffed) you'll find Montauk's favorite Harbor Raw Bar. Have a Molly Meldrum Mojito with mango chunks and peach schnapps, and dance the night away amid the happy crowd.
440 W. Lake Dr., Montauk, NY (631) 668–8260
Morning Pick-Me-Up: Saturday:
Jack's
You won't regret waiting in the line for the perfect cup of coffee to energize you for the day ahead. This place has the best java in all the Hamptons.
146 Montauk Hwy., Amagansett, NY  (631) 267-5555
Breaking Bread and Waves:
Indian Wells Beach & Hampton Chutney Co.
Since you'll want to maximize your beach time this weekend, we're giving you a quick and easy lunch option: Head to Amagansett's beautiful Indian Wells Beach, then get lunch at the nearby Hampton Chutney Co., home to many delicious dosas (a crêpe-like Indian dish). Grab some take-out to bring back to your beach blanket.
6 Amagansett Sq., Amagansett, NY  (631) 267-3131
Foodie Pit-Stop:
Round Swamp Farmer's Market
With all the delicious food you're eating, you're going to want to bring a little taste of the Hamptons back home with you. For fresh produce, fish, deli items and baked goods (including scrumptious pies), don't miss this long-standing family-run market.
184 Three Mile Harbor Rd., East Hampton, NY  (631) 324-4438
Tutto il Giorno Dinner Date:
For a casual yet delicious Saturday night dinner, Tutto il Giorno offers both indoor and outdoor seating. Wherever you sit, leave your diet behind: Go straight for the pasta.
6 Bay St., Sag Harbor, NY (631) 725-7009
Sunday: Lazy Brunch:
Pierre's
What was that? You had a lot to drink last night and refuse to get out of bed? Well, it's a good thing we can tempt you with Pierre's. In a cozy, fun environment, Pierre's offers classic French bistro dishes, delicious egg and pastry dishes, and fresh juices and smoothies. Because you'll probably need to hydrate a bit.
2468 Main St., Bridgehampton, NY (631) 537-5110
Sweet Treat:
Buddhaberry
A frozen yogurt right after brunch (and right before hitting the beach) may sound a bit over the top, but wait until you taste Buddhaberry's vegan option, made with organic coconut milk. Top it with some raw cacao, açaí berries and maybe, just maybe, some peanut butter-stuffed pretzels, for a delicious treat that's both naughty and nice.
125 Main St., Sag Harbor, NY (631) 808-3888
Mini Shopping Spree:
Cabana Southampton
Your tan is great and all, but come Monday morning you'll need something more tangible to reminisce of your time in the Hamptons. How about some shopping? With its beachy culture, luxury items (for men and women), and home accessories, Cabana will appeal to your sentimental, but thoroughly stylish, heart. Just make sure to get there before 5 p.m.
53 Jobs Ln., Southampton, NY  (631) 353-3234