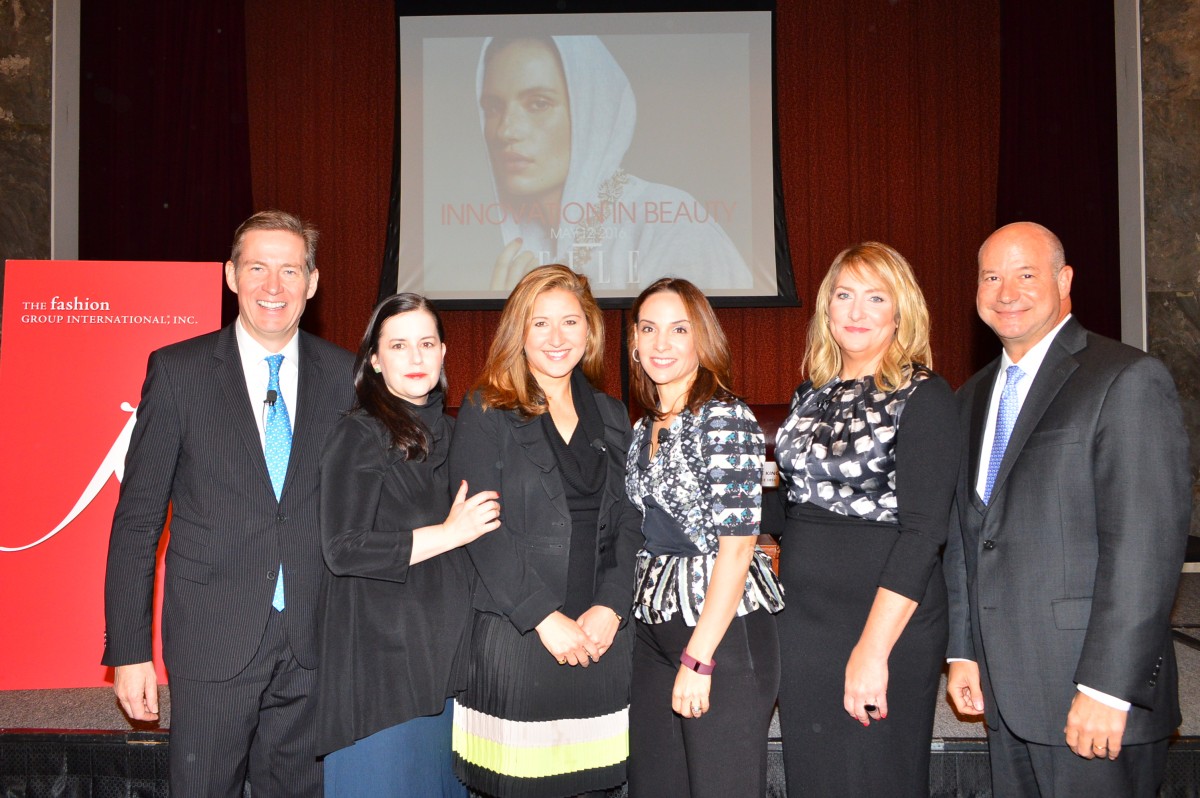 Yesterday, decision-makers in the beauty biz got together at the Hilton in midtown NYC (conveniently just blocks from Estée Lauder) for Fashion Group International's Art of the Beauty Deal. While panelists—from Kiehl's, Estée Lauder, HSN, and Laura Geller Beauty—were there to discuss mergers and acquisitions (a.k.a. which brands should the big guys scoop up?), we j'adored ELLE fitness and beauty director Emily Dougherty's opening address. Below, some gems from the beauty guru.
Beauty "editorial" has exploded in the past two decades…
"[In 1995] when I started, there were only about 100 people who would have listed their names on LinkedIn as beauty editors. And now, and this is according to Google, there are over 10,000 people who call themselves beauty editors….About 200 beauty blogs are created every day. So what does that mean for readers? There's so much more information out there."
Three things ELLE looks for in a beauty product…
"Is it better? 'Does La Mer work?' is probably the question I get most often. People want things to work, and that is still true today."
"Is it breakthrough? True breakthrough products, when they hit the market, there could be some kinks to work out, like electronic toothbrushes in the '70s that kind of ripped your gums off. They were breakthrough, but they weren't necessarily ready for public consumption at that time. So we do want to celebrate breakthrough products and kind of coach them along the way until they're safe."
"Is it inspirational? Something like all of the Korean beauty launches. Maybe they're not better and they're not as efficacious, but they're fun."
Products fall into three major categories…
"Pivot products are something like Allergen taking their glaucoma product, which has the side effect of growing really long lashes…Or the Sonicare toothbrush turning into the Clarisonice face brush."
"Refinement products—this is the most common in the industry. When you look at [brands] like Le Labo, and what they do with fragrance, they're using the same ingredients in fragrance that my mom used. They're still spraying it the same way…granted fragrance is doing some weird stuff, but for the most part it's still applied the same way…This is more about innovation refinements. Making the product special again. Bobbi Brown did this, M.A.C did this. A cushion compact isn't a terribly great innovation, but it allows us to use makeup in a new way, so it's exciting."
"Lightning bolt products—the products that come out of nowhere that we didn't know we needed. Before lip venom came along, there weren't lip plumping  products. Now there's a whole shelf in Sephora devoted to lip plumping products. Before the Biore strips, there was nothing like that. These products are the kind of products we need you guys to create."
What actually matters to the Millennial customer, and the Etsy effect…
"Does it work? It doesn't matter to the Millennials. They are less concerned with efficacy and more concerned with is it speaking to them or vibing with them? I call this the Etsy effect…If I scrambled these eggs for you and they were cold…you'd be like, 'Oh Emily is so sweet!'…But if it was Mario Batali back there and they were cold…or oversalted, you'd be like 'Damn, Mario! Get it together! Eataly is taking up too much of your time! Focus on the eggs!' This is the same thing that's happening to every beauty company. The small little niche guys can come along and get away with a lot more. Their fans will actually apologize for them. The fans of the prism lady were saying, 'It's ok that it breaks because she makes it herself!' Whereas once you become perceived as a bigger brand, it's not ok. You have to be perfect. This is where connection trumps efficacy. It's the new paradigm…It's not about what our eye is attracted to anymore, it's more about what our hearts are attracted to. And so for this Millennial segment, you have to speak to their heart."
Why beauty conglomerates should be watching people like Emily Weiss…
"When I first interviewed Emily Weiss about Glossier, she said, I wanted to create a product that, like, vibed with me. And, I want to create a line that I want to wear the sweatshirt of. I was like, That's a good point, because I haven't seen people wearing beauty sweatshirts since Calvin Klein Obsession…Do her products work? It doesn't matter. Because people want to buy into that lifestyle and they want to be a Glossier girl."
Who is speaking to Millenials?
"I'd say a year ago, the people really speaking to the Millennials' hearts were the macro influencers, the Instagrammers or bloggers who have more than 100k followers…But as these makeup artists became more and more famous, they've been taken on a lot of fancy trips, there's been a bit of a backlash from their fans…That's the first time we've seen this backlash against this mid-tier influencers."
Her advice…
"My recommendation, whether you're a big brand and you're going to acquire a mid-tier brand or a lower-tier brand, or you're a lower-tier brand and you want to get some cash infusion, go back to your heritage. Go back to your story and tell your story again. And make sure your story is told in a way that resonates with this market that's so hungry for connection."