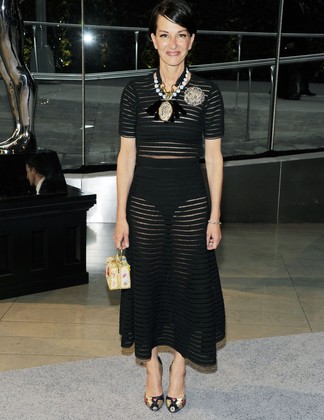 Cynthia Rowley's Montauk Crib Sheet!
|
Montauk chicster Cynthia Rowley fills us in on her musts (way, way) out East, from candy consumption to the best lobster spot around to her spec-tacular new project…
What's your reservation strat for eating out East?
Go out to eat on Sunday instead of Saturday night. I love an early dinner at The Crow's Nest. The kids can play in the grass while the grownups eat! Also, venture out: there are lots of fun dive bars. Head to the Montauket early to watch the sunset, or Liars very late at night.
What do you advise skipping?
Don't go for a dinner where there's a loud bar scene. Go for dinner first, and then out after!
What do you like to cook?
Kabobs! They're great to make ahead of time. I also make s'mores with the kids. We get creative: we'll use different crackers instead of just graham for a salty/sweet taste!
Favorite hidden gem in Montauk?
The lobster truck at Dirt Lot behind the East Deck Motel.
Love the CuRious Candy at your Montauk store! How often do you let your sweet tooth run rampant?
I eat candy every day! But everything in moderation…
You've got a glut of projects, it seems! Why'd you decide to go into specs with Rowley Eyewear?
We wanted to be the first designer standalone e-commerce site dedicated solely to eyewear. It's disrupting and reinventing the eyewear business!
How's your eyesight?
My grandmother always said that glasses are for those who don't want to try. Let's just say I'll never be as tough as her.