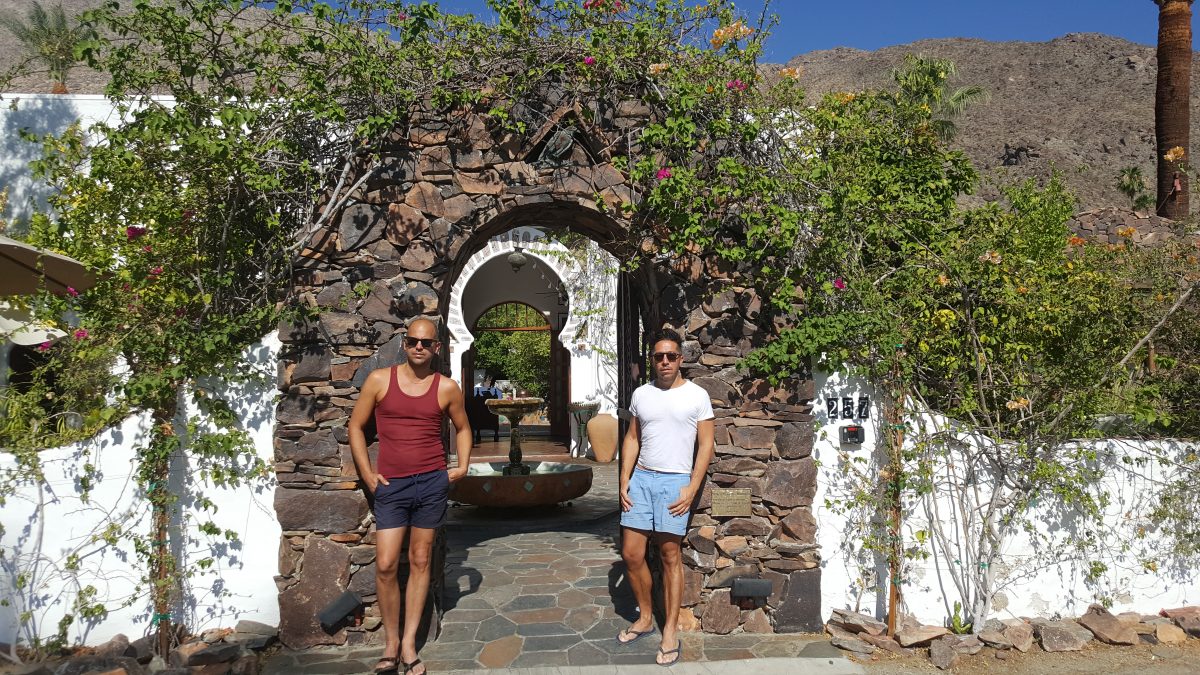 Brian Wolk and Claude Morais of Wolk Morais write in with their latest adventure on the West Coast, plus a history lesson. 
Aberdeen-born painter Gordon Coutts (1868-1937) was a lean and lanky Scottish gentleman with a decided English drawl and humor. Coutts' passion for his artwork took him to the deserts of Morocco, Taos and, finally, Palm Springs where he settled in 1924 and built Dar Maroc. There he mingled with celebrities including Rudolf Valentino and Winston Churchill, another fan of the desert art who is said to have done some paintings in Coutts' Studio.
Dar Maroc, Coutts' Moroccan-inspired villa, is now known as Korakia Pensione, and to this day remains an exclusive enclave for the bohemian jet set. Framed by the San Jacinto Mountains, this mystical and storied locale not only provided a painterly backdrop for our weekend getaway to Palm Springs, but endless inspiration for our design process. The legendary hideaway has provided creative sabbaticals for fashion's finest, including Annie Lebovitz, Bruce Weber, and Mario Testino, all of whom have not just stayed at the hotel, but have shot campaigns and editorials there for Vogue, Elle, and Versace.
Upon entering the villa's wrought iron gates, our senses were captivated on all levels. The quiet meditative spirit of the villa was only broken by the trickle of a fountain filled with fresh rose blossoms. It's no surprise that Korakia remains a refuge of choice for Hollywood celebrities (Jared Leto, Kristen Stewart, Emma Roberts). Under the Moorish arches, we were greeted by the pensione staff who guided us through a maze of lushly manicured paths across the Mediterranean portion of the property to the secluded Orchard House, an original 1918 adobe home. Through a large wooden door we entered into our private orchard, where figs abounded and orange blossoms perfumed the air. Passing through a second wooden gate, we arrived in Orchard House's courtyard. An incredible waterfall, plunge pool, outdoor fireplace, and field stone walls draped in flowering bougainvillea made for a spectacular entry. Ceiling-to-floor hinged casement walls seamlessly merged the interior of the home with the desert landscape and sky. The home featured a private dining room, living room with fireplace, a full kitchen, and an extraordinary bathroom with a copper bathtub and fireplace. The soundtrack for our weekend was strictly low-tech, courtesy of the record player and the hotel's vinyl collection—Joni Mitchell for day, Miles Davis for night. There are no televisions or phones to be found at Korakia, but in the evenings guests commune under the desert stars and watch black and white classic films projected on the walls of the garden. In the mornings, we looked forward to beautiful breakfasts in the courtyard of the Coutts' villa. Delicious sweet and savory confections, fresh juice, and Arabica coffee made waking up a delight. In the afternoons we frolicked between the two pools on either side of the property, played bocce or retired to the orchard house, where we sketched and took a lunch of fresh-pressed sandwiches and salads. At twilight we sauntered back to the Villa, where we watched the sunset and sipped Moroccan Mint Tea with our newly discovered friends.
Paul Makarechian and his team have managed to offer his creative clientele an authentic, rustic experience that is truly transformative. There are very few places we have visited where just a couple of days left us feeling as though we had been transported to a truly quiet, peaceful, Elysian state. We look forward to many returns.
Although one truly does not have to leave Korakia, if you are tempted to depart from paradise, here are a few of our favorite things to do in Palm Springs…
Tropicale – You might bump into Lucy & Ricky at this retro tropical-themed 1950s restaurant institution—happy hour is a must!
McCormicks – Need a Vintage Rolls Royce or Pink Cadillac? Look no further…our favorite vintage car dealership provides hours of automotive entertainment!
Brandini Toffee – Two Teen Entrepreneurs turned their favorite toffee recipe into a world-celebrated treat. Don't miss it!
Indian Canyons – A magical hike through an extraordinary Native American Reservation
Sunnylands – The mythic estate of the Annebergs (the West Coast Rockefellers). The grounds and home are truly the most spectacular in all of Palm Springs. Presidents and foreign leaders are the only guests who are allowed to spend the night, but day visits are highly recommended. Make reservations in advance!