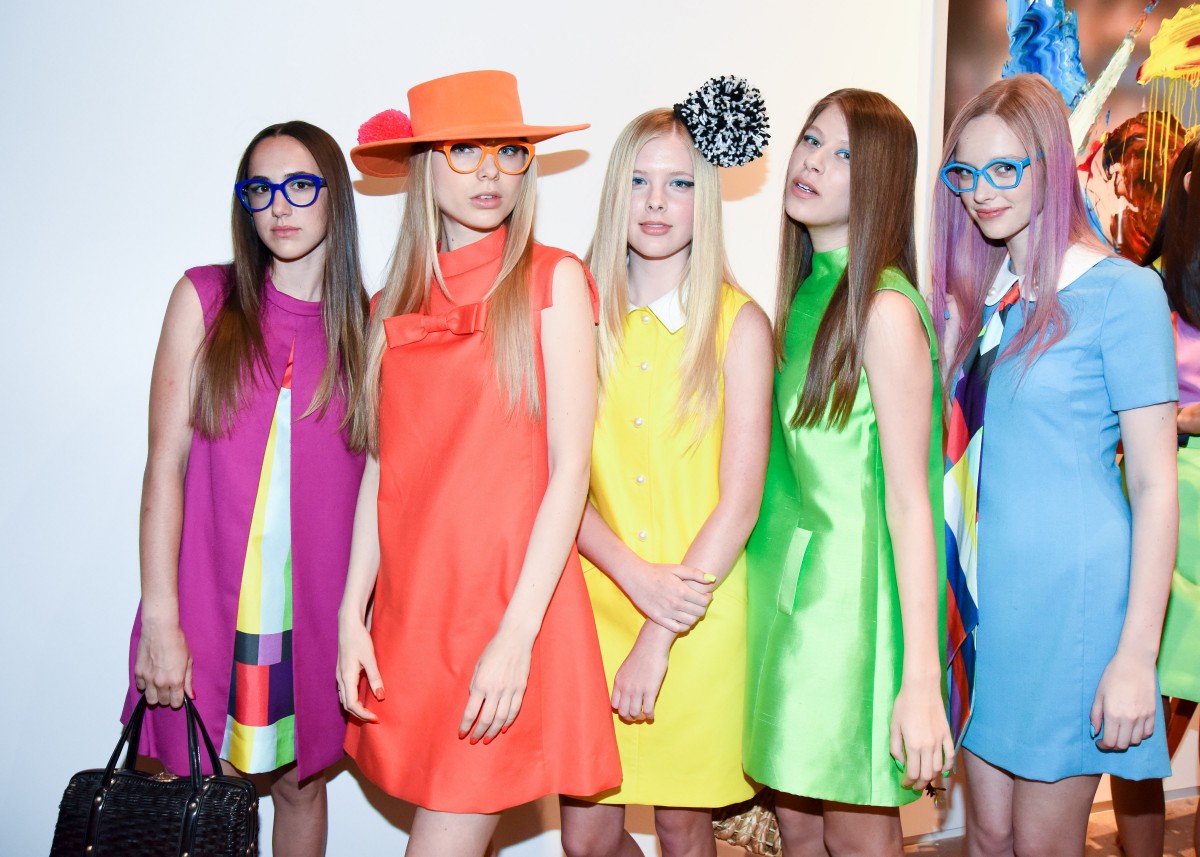 "From the moment we arrived in Los Angeles, we thought, 'There is something going on here,'" Brian Wolk told The Daily, as he and his Ruffian design partner Claude Morais rang in their one-year anniversary in Los Angeles. Clearly, the city is treating them well: They celebrated the occasion with the runway debut of their new label, Wolk Morais, which is designed, sourced, and manufactured exclusively in Los Angeles. "There's a cultural consciousness going on [in L.A.]. There's freshness. There's space. There's affordability for artists to live." Added Morais, "We took a chance. We've been making friends and meeting new people."
As for the clothes? Wolk Morais differs from Ruffian in its minimalistic approach. "It's about color, youth, modernity. Those are all things that come to mind when we think of Los Angeles. We called [our Resort 2016 collection] the 'LA New Look.' It's a double entendre," explained Wolk. "The artists that inspired it were the 'Cool School,' a group of artists during the sixties. They all showed at Ferus Gallery [in Los Angeles]—it was a hub. Andy Warhol had his first show there."
In the same spirit, Wolk Morais took over Los Angeles's Kohn Gallery for its Resort 2016 show. Upon arrival, guests like Patricia Field were greeted by a Technicolor carpet designed by FLOR. Was it an art piece? No, but the decor provided a hint at what was to come. Once inside, benches, and the bright art above them, lined the walls providing (almost) everyone a front row seat.
While attendees piled in, stylist Elizabeth Stewart ran about putting the finishing touches on each model. "It's an unedited, honest rapport," said Wolk, of working with Stewart, who counts Jessica Chastain, Julia Roberts, and Cate Blanchett among her clients. "We have similar aesthetics. She obviously has a lot more industry experience than we do. She's been our mentor. If Elizabeth were an artist, she would have all the colors out. She styles 25 girls at the same time. In New York, we do one girl at a time. She has this holistic approach where she really looks at the big picture. We do that too because we're very concept driven. That's been a wonderful thing we've shared."
The collection—mod, in its Technicolor splendor—featured cocktail dresses, gowns, skirts, and tops in bright oranges, yellows, and magentas—some colorblocked, all glorious. Personal favorites included the orange calvary twill bow tie dress, a green silk coat (with black and white polka dot lining), an orange bias cut calvary twill gown, and the yellow button front calvary twill dress with a neoprene collar.
Each piece would be perfect for a chic poolside cocktail party or decadent tropical vacay. Guests were able to custom-order pieces from the show directly after it ended, with 20 percent of the evening's sales benefiting children's charity Art of Elysium. "We're testing things that have not been done. It's fresh and new to us," explained Morais.
Items range in price from $395 for a black and white polka dot bra to $4995 for the piece-de-resistance, a yellow calvary twill bow evening gown with a silk georgette skirt. All fabrics were locally sourced from L.A.'s The Fabric Store. The show also included playful accessories—from cheeky, hand sculpted brontosaurus fascinators, created by Monetz of The Millinery Guild, to Dr. Scholl's flip flops and bright, custom-made opticals from L.A. Eyeworks. Models wore pin-thin straight hair, styled by Noogie Thai for Paul Mitchell, with retro make-up by Cynthia Rivas and the MAC team.
The room was packed with notables including Rose McGowan, Constance Zimmer and her director hubby Russ Lamourex, Topher Grace with fiancé Ashley Hinshaw, Natasha Bassett, Cameron Silver, George Kotsiopoulos, Magda Berliner, plus stylists Nikki Pennie, Caley Lawson-Rinker, and Jeff K. Kim.
After the show, McGowan beelined backstage. "I think Technicolor is a wonderful basis for their move to Los Angeles—and to honor the city's funny history," she told The Daily. "Their clothes are smashing and imaginative and original. I completely see myself in the blue caped jumpsuit. I'd wear it to the grocery store." Actress Caitlin Fitzgerald echoed the sentiment. "I really loved the blue jumpsuit with the cape in the back. That was pretty stunning. The girl wearing it was magnificent. I also was really into the brontosaurus headpiece. It was so cool," said the Masters of Sex star. "I wish I had been at Coachella last weekend—I wasn't, but this collection was filled with all the stuff I would've worn there."
"The timing is right. It's Coachella! People are in town," Morais said of showing the collection early. "Officially resort starts in a couple weeks, but it's better to [show early] than to try to hit L.A. Fashion Week at the end of the cycle when everybody's traveled for a month."
So, is Ruffian, the label they first founded together in New York City, still alive and well? "Yeah! Much like artists work on multiple canvases simultaneously, we embrace various different parts of our personalities with both lines," Wolk explained. They're sticking in Los Angeles for the time being. "Coming here was an experiment. Being here is an experiment. Everything has been an adventure. We're thrilled to be embraced."
BY LINDZI SCHARF