Former cast members from MTV's hit reality show, The Hills, have established a track record for launching their own fashion lines: Lauren Conrad with her Kohl's collection and Kristin Cavallari's designs for Chinese Laundry and a jewelry line, to name a few. Now, Audrina Patridge—who was dubbed the "bikini girl" on the show, which wrapped in 2010—is bringing her swimwear expertise to the forefront with a beach-approved swim line called Prey Swim, launching for Resort '17. The Cali girl breaks down her new label, her design inspo, and—yes—her biggest bathing suit faux pas.
Congrats on the line, Audrina! Why was now the time to launch your own label?
I've been so busy since The Hills ended: I did Dancing with the Stars, The Audrina Show, and then I was on a show with NBC for two years. I never had a moment to ask myself, 'What do I really want to do? What's my passion?' When I was traveling, I was seeing so many different things everywhere we'd go—South Korea, Costa Rica, and Mexico—and I would take pictures of these amazing colors and textures and patterns. Within my lens was inspiration, and going forward every collection will be inspired by some place that I've been to or something I've experienced.
Why did tapping into swimwear feel natural to you?
Everyone knows my love for the ocean and fashion—my husband surfs all the time and our lifestyle has always involved the water—and my captivation of sharks. Every time someone goes into the ocean, the first thing that clocks into your mind is, 'Oh my god, are there sharks in here?' so I just really wanted to incorporate an awareness for sharks in the ocean and show how they're not our enemies, but we actually need them. A lot of our hardware is actual shark teeth on the end of the strings.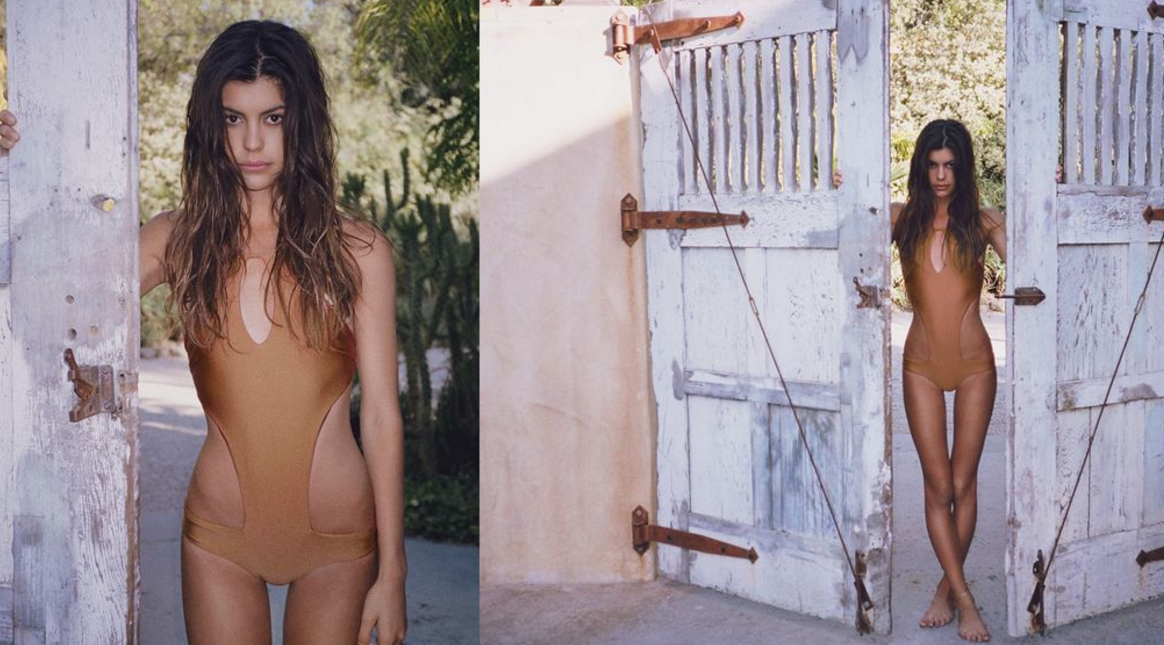 What inspired your debut Resort collection?
I've never been to Morocco, but I really want to go one day. This collection stems from my love of that bohemian lifestyle and the earth tones and amazing patterns. I love that style, so it was a no brainer to start the collection off that way.
Has designing always been an interest of yours?
With swimwear. I have so many swimsuits because I can never find the right style, fit, or material. I couldn't find the perfect bathing suit for me. I was talking to my friends and getting their advice on what they'd want in a bathing suit, and that's when I told myself I'm just going to go for it and launch my own swim line because it's something I'm passionate about and want to do.
Why did you decide to not be the face of the brand?
I wanted the line to be respected for what it was. That's also why it took me so long—I wanted it to be the best quality and have the best fit. I also wanted people to look at the line for what it was, not just because of me. So at the end of the day, I don't want to use myself to sell it. I'll use it to bring awareness to it, but I want it to stand on its own two feet.
What are some of your favorite beaches in the world?
Australia has some of the most beautiful beaches on the Gold Coast and Byron Bay. Bora Bora is also heaven on earth. And I love Costa Rica, Mexico, and Hawaii. They're so different in their own way.
You recently had a daughter—are there plans to deign for tots?
Absolutely, I cannot wait to design for her. Eventually I'd love to get into men's as well.
What was your biggest bathing suit faux pas over the years?
Sometimes when you're in the ocean and you have these cute little bikinis on, they don't always stay on. I've had my top fly off when I've gone surfing and I couldn't find it—I tried to get out but the waves kept crashing and I was like, 'What am I going to do! I don't want anyone to see me!'
Are you still in touch with the girls from The Hills?
I still talk to Kristin every now and then, and I talk to Heidi, but we don't ever talk about designing. When we talk it's more about what we're going on or just being like, 'Hey, how are you? What have you been up to?' We all support each other!