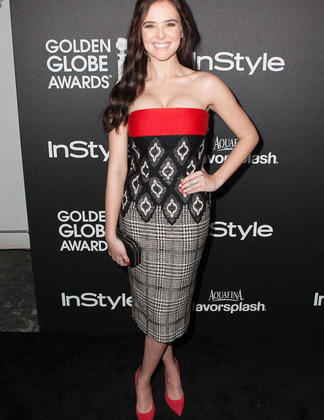 Talking All Things Vampy With Zoey Deutch of Vampire Academy
|
Perhaps you've heard the buzz that there's a new vampire movie on the block? Vampire Academy, starring Zoey Deutch, hits theatres this Friday. We talked blood sucking with the teen actress, who plays a good girl…

What's your character like?
I play Rose Hathaway, who is the heroine and narrator of the film. She's half vampire, so she doesn't have any fangs or blood and her main function, in terms of the vampire world, is that she's extremely strong.
Is she a bad vampire?
She acts as a guardian and protects her best friend, who is fully vampire.

So how does she survive?
She uses humor as the means of survival; she is very sarcastic, confident, and knows exactly what she wants and how to get it.

What's the best part about starring in the flick?
Getting the opportunity to carry a film for the first time ever has been an amazing experience and one that I'll never forget. I'm only 18, so I consider myself very lucky.
Did you have to hit the gym to prepare for this part?
I had to train for three months and learn how to fight, for real. I had multiple trainers in L.A. and London! I did a lot of boxing, gym training, and Muay Thai.