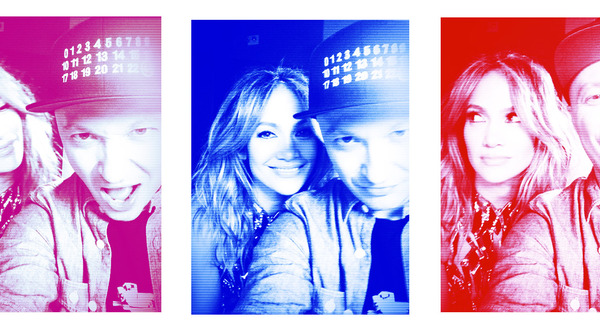 Sergio Says! Musings From Cosmo (and Beyond…)
|
The perfect treat for post-NYFW fatigue: a hit of Cosmo's Sergio Kletnoy, in all his starry-encountered and music-recommending glory, including doing the fab cover story Q&A with none other than Jennifer Lopez. Mazel tov! And TGIF to all, darlings.
Is it really already mid-September? Summer went by so fast that I didn't even get to lay out on a tropical island or get a Snooki tan or wear my shorter-than-Dukes Of Hazard daisy dukes. After a week of staycation I came back to Fashion Week, which felt like Wizard Of Oz, Devil Wears Prada and AbFab aka mayhem, chaos and disorder all rolled into one. I had to organize JoCo's entire fashion week schedule in one day, coordinated a trip to D.C., organized 4,009 meetings and lunches for THE BOSS all while going over 674 emails that were clogging up my inbox.
There was also plenty of fun lately! I had dinner at Willow Road in Chelsea with the hottest new pop star on the planet, Ariana Grande, who's celebrating the release of her must-own debut album Yours Truly. Followed by quality time with my fave Braxton sister, Tamar Braxton, at the release party for her stellar new album Love And War at the Jazz Room at The General. Both Ariana and Tamar are fighting for the #1 album spot on next week's chart. But I'm not picking sides; I love them both.
Other recent highlights: I had a cocktail (or two) with Katy Perry at the Solo Gallery in the Financial District, where I got to hear her incredible new album PRISM. Upon our first meeting, Katy told me she loved my strawberry flavored breath. Was that a green light for a kiss? P.S. Katy infectious new single "Roar" hit #1 on the Billboard chart, her 8th #1 song…and her third album hasn't even been released yet!
There was also that tiny matter of unveiling Cosmo's October cover with the original fly girl Jennifer Lopez, who I got to interview on the set a few months back. JLo was so in love with my playlist at the shoot that before our interview she said: "I need that playlist right now, it's coming home with me!" 15 minutes later she took my iPod and thanked me with a hug. I forgot to tell her that in my spare time I DJ Bat Mitzvahs, birthdays and weddinga… So Jen, if you're reading this, remember me for any of those special occasions for you or Casper.
Have a great weekend and be sure to check out my fave new tunes. They're the perfect fall accessory. I'll be back next week, until then follow me on Twitter at @SergioKletnoy
OBSESSED:
"Flatline" by Mutya Keisha Siobhan
"Fresh" by Summer Camp
"Royals (The Weeknd Remix)" by Lorde
"PrimeTime" by Janelle Monáe & Miguel
"Fool" by White Prism
"Hurt You" by Toni Braxton & Kenny "Babyface" Edmonds
"Loved Me Back To Life" by Celine Dion
"Come Walk With Me" by M.I.A.
"I Wish" Cher Lloyd & T.I.
"Outta Time" by Natalia Kills
"In The Stars" by Icona Pop
"Roar" by Katy Perry