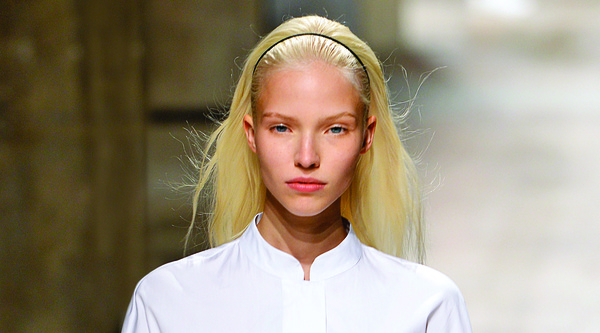 Sasha Luss-cious
|
(NEW YORK) It was love at first sight when we spotted Russian goddess Sasha Luss (Karl Lagerfeld and Steven Meisel are quite smitten with her, too.) Our Daily cover gal talks literary loves and the power of a good burger.
BY EDDIE ROCHE
How were you discovered?
I used to be a dancer, and at one of my competitions some random guy came up to my mom and asked if I was a model. I guess my mom got inspired. She pushed me to do my first test and sent my photos to all the New York agencies.
Was modeling something you had ever thought about?
It wasn't something I considered. My grandmother would always tell me, 'Look within. That is where the true beauty lies.' So I never really thought about my appearance being a platform for a career. Of course, when the opportunity presented itself, I was excited about all the great opportunities it would bring.
What would you be doing if you weren't modeling?
One thing I knew [when I was younger] was that I didn't want an ordinary life. I always wanted to do something exciting and different. I remember when I was a little girl my mom and I were on the train and there was a very old lady sitting next to us. She looked over to my mom and told her, 'Your girl is going to have very good fortune in life, she just needs to believe in it.' That moment has always stuck with me.
What do your parents do for a living?
My father is a doctor and he always pushed me to read a lot. It's my favorite thing to do. My mom is a journalist and always taught me communication is the key to success.
What's the last thing you read?
Right now my favorite book is Tender Is The Night by F. Scott Fitzgerald.
Tell us about your recent trip to Couture.
J'adore! All those beautiful dresses make you feel like a Disney princess. What could be better? Plus it's Paris, the city of dreams and love. I got to see my friends again and be part of the magic backstage.
Let's talk about your beauty routine. How long does it take you to get ready in the morning?
On good days I can be a girly girl, have a long bath, and take my time. This happens quite rarely. I normally wake up, take a quick shower, and I'm ready to go. I love my Marula oil from African Botanics, and I always have my Jurlique Rosewater Balancing Mist on, and Elizabeth Arden eight-hour cream.
What designers are you into?
My new obsession is a new Russian brand called Bohemique. I adore what they're doing and I'm so proud that finally we have some cool fashion in Russia.
How many hours do you sleep a night?
I try to sleep as much as I can, but with modeling it's almost impossible to have a good sleep. I always take naps everywhere: in the car, backstage, at fittings.
What's your go-to nail polish color?
I love crazy colors like neon green and bright pink. You need some brightness in your life.
How do you keep in shape?
Lots of fruits and veggies. I always drink a lot of water, but to be honest, I'll never say no to a good burger.
Who taught you about beauty?
My grandmother and Oscar Wilde. You cannot be beautiful outside if you are ugly inside.