Sakara Life has quickly earned a cult-like following for its ultra-healthy vegetarian meals that are delivered directly to your doorstep. Co-founders Whitney Tingle and Danielle DuBoise dish on why everyone is eating it up!
How did you team up?
Whitney Tingle: Danielle and I grew up in Sedona, Arizona, and we've known each other since junior high. It's a spiritual mecca where people come to seek physical and spiritual healing. We had an atypical upbringing—my mom would make me sandwiches on brown bread with twigs and berries sticking out of it. [Laughs] We both moved to New York City—Danielle to study medicine, and I worked on Wall Street. I had an 80-hour workweek, and I gained 15 to 20 pounds and my cystic acne was at an all-time worst. Something was telling me to find the root cause. I turned back to my Sedona upbringing and the idea of food as medicine.
Danielle DuBoise: For me, I had been dealing with body issues since I was young, and I tried every diet I could get my hands on. Most diets don't ask you to think about food as nourishment, so you just eat less. After an extreme retreat in Arizona, I ended up in the hospital. That was my aha moment—I changed my path and studied nutrition.
How did Sakara begin to take shape?
Whitney: In 2012, we were cooking the food ourselves and delivering it on bicycles. In 2013, we quit our jobs and hired our first employee.
What's the story behind the brand's name?
Whitney: Sakara is a Sanskrit word that means "giving form to something that doesn't have form."
What were your diets like pre-Sakara?
Danielle: I did everything! [Laughs] We thought we were eating healthy, all organic and high-fiber foods, but they were overprocessed and lifeless. One of the keys to living the Sakara life is getting enough plants.
Who were some early adopters?
Danielle: Gwyneth Paltrow was one of the first—she found us in 2013.
Whitney: Lily Aldridge has been a client for years.
Which chefs are you working with?
Whitney: Chefs from around the world, like Matthew Kenney, one of the best plant-based chefs.
What are your favorite meals on the menu?
Danielle: Our riceless risotto with coconut milk, herbs, trumpet mushrooms, and broccolini.
Whitney: I am doing Level 2: Detox, so I did not eat that. [Laughs] I love our Sakara Earth Bowl, with avocado, hemp seeds, Tahini dressing, and almond butter. I also love our Coconut Chia Protein Waffles. Who doesn't love waffles? And if it's a good waffle and not a naughty waffle, it's even better.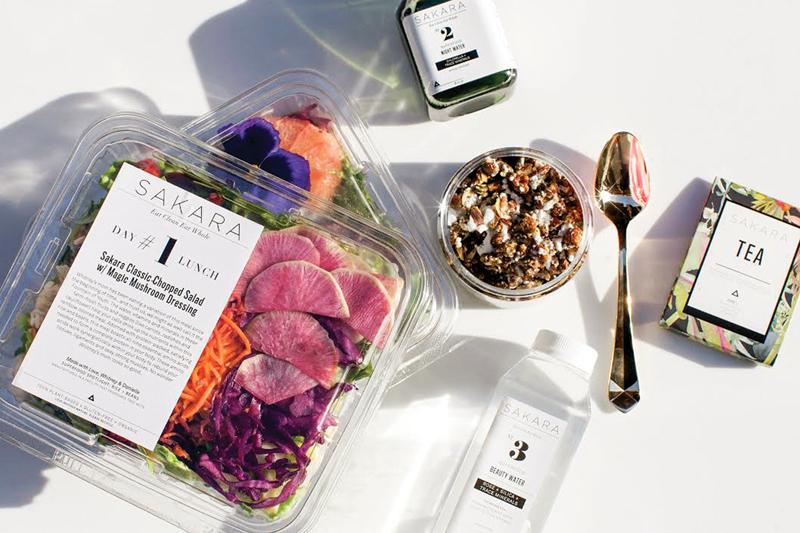 Tell us more about Level 2: Detox.
Danielle: We had a lot of clients who were looking for the next level, so we created Level 2 with Dr. Aviva Romm, a functional medicine doctor. Level 2 is based on a diet that helps your body go into ketosis, which means removing things like grains and sweeteners.
What is the S-Life Pyramid?
Danielle: The pyramid is to help people understand that food is the foundation on which you create the life that you want.
Whitney: Food affects everything in your life: brain clarity, work performance, sex drive and relationships, creativity, and sense of self. You have to nourish each level to get to that spiritual beyond.
What are you favorite eateries in the Hamptons?
Whitney: Duryea's for its giant house salad, Wölffer Kitchen, and EMP Summer House.
When you aren't eating Sakara, what are you indulging in?
Danielle: I eat what I want, and most of the time that's plant-rich foods. But we always say we are the first to grab French fries and a martini!
What are your fitness obsessions?
Danielle: I am newly addicted to SoulCycle!
Whitney: I just started using Caravan Wellness. They send teachers to your house to do yoga and offer remote sessions.
What's next for Sakara Life?
Danielle: Our Eat Clean, Play Dirty campaign. The idea is that you fill your body with the good stuff so you can do the fun stuff and not feel guilty. It doesn't have to be something bad, like alcohol—it can be anything that fuels your joy.
Whitney: Like skinny-dipping! [Laughs]
PLUS!!! Seasonal Pick Recipe
Radiant Rainbow Slaw
This colorful, hydrating slaw outshines your typical salad, and is perfect for a BBQ, beach day, pool party, or rooftop soirée.
Ingredients
1 small head purple cabbage (sliced into ribbons)
1 small head green cabbage (sliced into ribbons)
2 cups shredded kale
1/4 cup chopped cilantro
3/4 cup mixed seeds (Sakara uses a combination of pumpkin, sesame, and sunflower seeds)
Sakara Sesame Ginger Plum dressing (to taste)
Combine sliced cabbages, kale, and cilantro in a large bowl. Mix and set aside. Place mixed seeds into a small skillet and toast on stovetop over medium heat until slightly toasted. Remove from heat and let cool. Sprinkle cooled seeds onto slaw and add dressing (about 1/4 cup) and mix until everything is coated. Eat right away or keep in fridge until ready to serve.