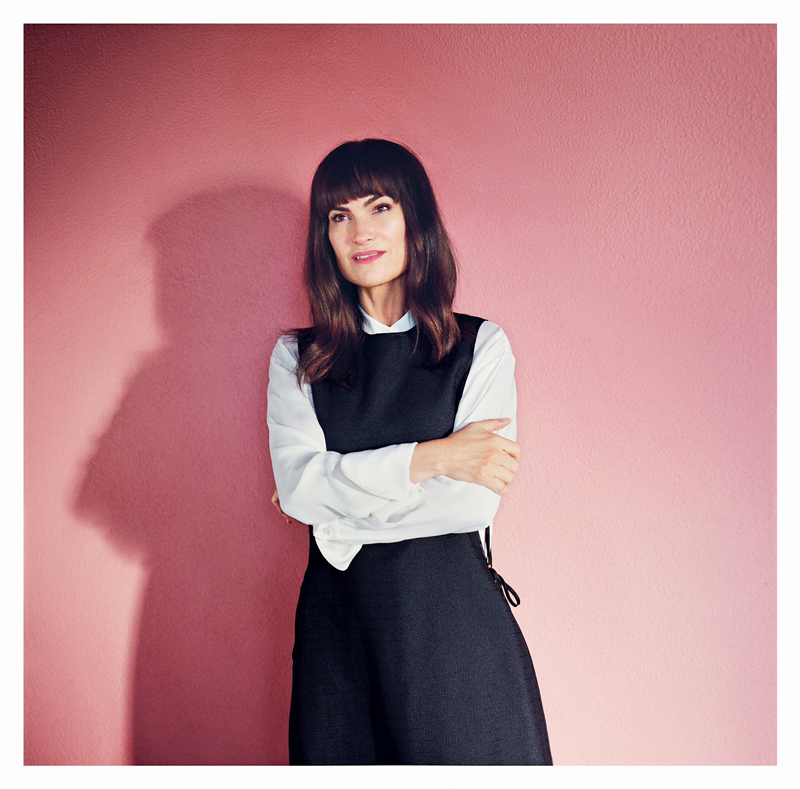 She may be a former model (and wife of actor Balthazar), but Rosetta Getty is happiest these days behind the scenes at the helm of her eponymous label—known for its sculptural modern lines and chic fan base. And the lady has earned her success: She launched three years ago after two decades of designing, two former labels, and (count 'em) four little Getty children.
When did you first realize that you wanted to be a designer?
As a very young girl, I always expressed myself through the way I dressed. I talked my neighbor into teaching me how to sew in exchange for taking care of her little kids. I was always drawn to clothes, and I would lose myself in that world of creativity.
Do you remember the first piece you ever made?
I'm pretty sure it was a pair of fuchsia spandex tights with a matching leotard and wrap skirt. I have a childhood photo in the getup with a side ponytail.
You started modeling at 15. What was it like being thrown into the business at that age?
It was such a shock to my world in so many different ways. Looking back on it, I think, "Oh, my God, what were these grown-ups thinking?" I remember arriving in Paris and my agent handing me some addresses and telling me to go meet people. It was sink or swim.
Tell us about your very first show.
It was this huge Trocadero show in Paris, and it was the biggest production, thousands of people.
You were shot by Bruce Weber in Azzedine Alaïa's first book. What was that like?
Well, I first worked with Bruce on some other projects. I worked with that group a lot, and they're just the greatest, down-to-earth and loving and creative. I haven't spent so much time with Azzedine, but he's such an incredible designer and visionary. It's just a pleasure to even be in the same room.
When did you start to dip into design?
It was sort of an accident. I'm an introvert, and it became clear at a certain point that I didn't want to be the center of attention. Also, my focus on design had developed while living in these fashion capitals. I ended up helping a friend with a wedding, and we were looking for flower girl dresses, which at the time were these huge poufy polyester things. We just wanted something simple in nice fabrics. So I ended up making a dress called the 107 that sort of led this moment in children's wear. There happened to be someone at the wedding who was in the industry and she said, "I have to have this." Two years later, we were shipping to 350 stores across the country.
That's so fast.
Well, we learned everything the very, very hard way. Nevertheless, we ended up becoming a rather large company very quickly. But I decided I wanted to get married and have kids, and so about nine years into it, I licensed it out. For me, having children wasn't very simple. I had some issues so I wasn't able to also work, which was why I licensed it out.
Eventually, you started a label called Riser Goodwyn. Why did you decide to get back into the business?
I was always making clothes anyway. My friends were always asking me to make things, and I already had a small team in place, so I was in the position to take it a step further. What I learned from that experience is that without an infrastructure, fulfilling the demand is not possible. Here in Los Angeles at the time, the level of sewing just wasn't enough to fill the demand for the product. Once 2008 hit and I got pregnant for a fourth time, I decided I really wanted to do it right and set it up as a global brand. So I started planning, raising money, setting up global production, and putting an incredible team together and doing all those things that I knew would be necessary in order to take a luxury brand into a global distribution position. It took a few years to set it all up, but thank God I did because there's always a thousand problems anyway, so if you don't have the basic foundation, it's not possible.
From the beginning, did you know the aesthetic you wanted?
I knew. It was very clear to me what the DNA of the brand was going to be: minimal, elegant, luxury, eccentric, and a bit tomboy.
As an entrepreneur and busy mom, what are the wardrobe essentials that make your life work?
Everything needs to look and feel easy in the construction and the fabrication. But even though it's easy, you should be able to see it walking down the street and know that it's not Zara. It should come across as thoughtfully designed. Things need to travel and move from day into night; they shouldn't be specific to occasion. In this day and age, we need versatility.
You are often inspired by art. Who was inspiring you this season?
I've been following this artist for a long time, and we've gotten to know each other over the past two years: Her name is Alicja Kwade. She's moving into mid-career and showing in the best galleries. I have been speaking with her about ways to collaborate and can't wait to reveal the final installation. It's really exciting, and I think it feels very modern. I want the concepts to be as creative as the clothes.
How has social media affected your brand?
I think it's affected everything. It's affected the whole world, the way everyone sees everything. It's even affecting the way kids are growing up and interacting with their peers. But as far as actually reaching my customers, I think it's so great because you have
an intimate way to really talk to them directly.
Who was the first retailer to pick up your label?
Our first season we were picked up by Ikram, Susan, A'maree's, Forty Five Ten, DNA, and Montaigne Market. We had a really nice reception. Net-a-Porter came in the second season, but really strong and really fast. We have a great relationship with them. Now we are pretty set with our stockists. We've got everyone that we were looking to have.
Where do you make your clothes?
Between New York and Italy for the most part. All our fabrics, except for a few coming out of Japan, are from Europe. We're looking for the best.
What's up next?
In the next five years, we'll continue to grow our wholesale business. In a few years, we'll probably roll out some kind of retail concept. But it won't be an old-fashioned traditional retail concept. It will be online, but with some kind of component that lives.
You've walked the runways, you live in L.A., and your last name is Getty. Has all that made it easier for you, or harder?
I anticipated backlash, so the way I presented the brand reflected that. It's not only having a last name that has a lot of connotations attached; it's just a tough crowd. So I was careful to let everyone know that I actually have been in this business for more than 20 years and I have definitely paid my dues, and that this is really who I am and what I do. I'm not just having a weird passion and throwing a bunch of money toward it. Some backlash may have existed for a second, but I think people really understood once they saw the care and contemplation that went into the collections. And once they saw the clothes.
Read the issue HERE.