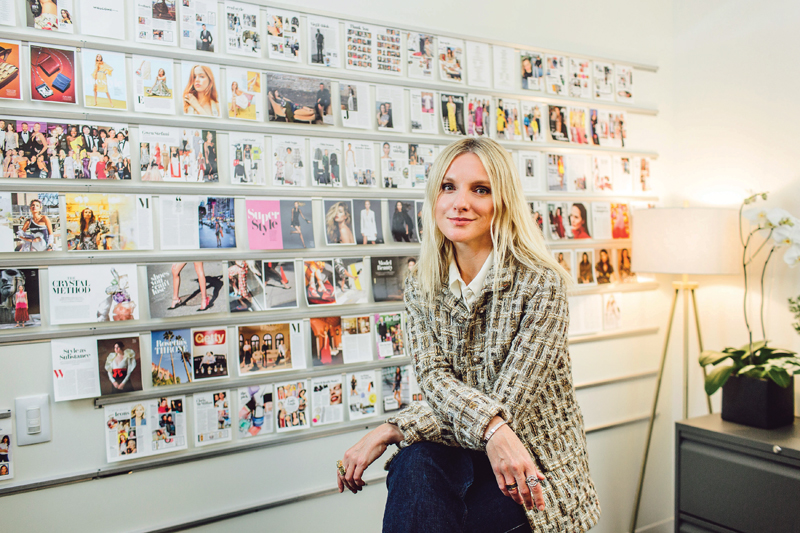 As the newly minted editrix of InStyle, lovely Aussie Laura Brown claims to spend her day "skipping on rainbows." As she readies the release of her March issue, Brown joins us here on Earth long enough to talk digital, advertisers, and her colony of cool-girl new hires.
Congratulations on the job, darling. How did it all come about?
Thank you! Well, Ariel [Foxman] resigned, as you know, and gloriously swanned off, which I thought was fabulous for him. There was a little phone call—a little flirtation, I guess? You know, standard-issue meetings. I met with a lot of people here. And I did my ideas memo.
What's that process like?
Basically me sitting in my pajamas for a whole day at home and trying to work out how to put pictures into Apple Pages. [They knew] I could put a magazine together, obviously, but it's the social media and digital stuff that they're also super keen on, so that was very key. I could do the whole pie. Eat the whole pie! [Laughs]
What was it like leaving Bazaar?
Hard. I mean, Glenda [Bailey] and I are really close. We were all off away—I was in Boston on the way to Maine, she was on vacation, so I had to ring her, and I was sick about it. But she was just brilliant. Right away she said, "Congratulations, you deserve this! You've really earned it." She gets really proud of her staffers who have gone on to be editors in chief. I think I'm No. 14.
One more Glenda question: What did you learn from her?
Tenacity. Tenacity! I call Glenda "Tenacious G." I had to explain to her who Tenacious D was, and she went, "Oh, I like that." Which was freakin' brilliant.
Ha! You do a good Glenda impression.
Yeah, I do! You know? A very fond Glenda impression. I learned from her to push, push, dream bigger, make something greater. Don't settle for magazine fodder. You know, go out, speak up, be straightforward.
So, InStyle. March is looking great.
Yes! I'm going to make myself a cardboard tiara. Just worn about town.
Why did you go with Emily Ratajkowski on the cover?
I love Emily. What I'm doing at InStyle is making fashion and celebrity more allied, and she's this hybrid vehicle. A celebrity, a model, and an actress. Also, we collaborated with Virgil Abloh for this T-shirt, which says "In" on the front and "Style" on the back. Those are the two most powerful words in fashion, and they're our name. It's been really touching, all the people who have shown up for InStyle, for the March issue, and for me.
Such as?
Michelle Dockery, who I've known for a long time. She hasn't done any magazine press for a while, because sadly, she lost her fiancé. I went over and did her shoot and wrote the story with her. I turned up at the opening of a damn door. If they'd turn up for me, I'd turn up for them. And Christy Turlington and Pierpaolo Piccioli —I am proud to say that I introduced them. Lena [Dunham] was the first person to commit to writing a piece for me. Hari Nef has also written a great piece. During the election, there was a lot of stuff online like, "You can't put up fashion right now!" And Hari's argument is that fashion helps us in whatever way it does-—you can still have a voice in the political cycle and like Gucci. The Contributors pages are a spread. Fifty-three people! I like to treat models like actual people, and it's amazing how responsive they've been. We're getting really big girls because they're, "Oh, yeah—you appreciate that I have something to say." I'm like, "Yeah…'cause you do!" And it's been really cool to see the excitement of the staff. Anybody that does something really great gets a clip-on koala.
A clip-on koala? [Goes into koala stash in drawer]
You can have one! Which color do you want?
The red one.
For whatever it's worth, it means a lot to me. They may be like, "Oh, God, I've got another f**king koala!" But anyway, I have more koalas than a Sydney airport, and I think I'll get more. I'm going to litter this office with koalas. Make that the bloody pull quote!
You're hilarious. Are you going to be bringing more humor into InStyle?
Yes! With funny essays or funny concepts for shoots. I'll do more art stuff, and I'll do some more really high-concept stuff, too. But you know, it's also making this friendly and accessible and fun. But also, the other part of my humor stuff is obviously video. That sort of shtick I really enjoy.
Is it hard to be a funny, accessible boss?
That's a good question. Yes and no. I will be funny and accessible, and if we all do our work and do our work well, we can skip on rainbows all day, have a glass of wine, go home to our loved ones, and start all over again. I hope people like me and think I'm fun but respect me and want to work hard because I empower them.
Tell us about your new hires. Sarah Cristobal, for starters.
My lovely Sarah! She's got equally a features brain and a fashion brain. She's taking a bit of the load off me. She's executive features director. It's so funny—you run out of titles. It's like one of those fridge magnet things, you know? I tried to hire [site director] Ruthie Friedlander after three days of being here. I was like, "I'm fixing the Internet." She's brilliant; she was my intern like 10 years ago. We call her the baby genius. That felt like doing eight hires in one. Jessie Heyman was, again, an intern of mine; she was formerly at vogue.com. She's going to get a lot more writers on the site. And Faye Penn, by this time, is an executive editor. And she's like an amazing producer, line editor, grown-up. She was my boss for a hot second at the New York Post. I love her. Leigh Belz Ray, my features director…I just have this great core of people. I joke to the girls that I'm building a colony of cool ladies.
What is your digital plan?
We are redesigning the site. There will be a big hero image at the start, and you'll be able to navigate it. It's going to go top to bottom, as opposed to before, where there were all these boxes [arranged] like a buffet. My favorite new thing that we're doing is called "Who Won Fashion Today," because fashion is clearly about winning. We'll really push that out.
And like, if it's Alexa Chung, we'll tell Alexa. She'll be like, "Wow!" or not, who cares? I think it's funny—you may be at home with a headache, but you won fashion today! There's a ton of original video. Ruthie's doing that, along with advertising collaborations and native. And if they're having an ideas meeting for digital, I'm like, "Go get the features department from the magazine." I don't care where the idea comes from as long as it's good.
Cool. What's your relationship like with your publisher, Kevin Martinez?
Great! I call him my work husband. I call him Kevy. I call him Kramer, too, because he comes racing through my door, and I'm like, "Right on, Kramer." We talk 15 times a day. We worked together at Bazaar, years ago. I'm thrilled Céline and Valentino turned up in the March issue. People who have never been in the magazine before, like Bottega…a ton of people!
Are you cool with going on advertising meetings?
Yeah, of course. I like to meet people that I work with. I can't work in a vacuum. I like to show people what we're doing. I always say I'm the dog and the pony and the performing seal.
What else are you really proud of?
StyleIn. It was literally InStyle backward. It's not done yet; it's like the younger little mini-mag we're working on. That's my baby. She's lovely! I want to do that as often as I can. This will potentially be sponsorable; I just wanted to do one to show that we could. DVF is now interviewing people.
Diane herself?
Yep. On occasion. And there's Joan Juliet Buck.
Why do you think Australians are so successful in fashion?
It sounds pat, but I think we're happy to be here. There's an optimism, I guess—friendliness, a lack of cynicism, originality. We packed our bags and moved here to a big strange place that we all thought was very glamorous and exciting, our Oz. And somebody employed us, and we proved ourselves. I never contrived anything. I never sat down and wrote a list. I just would turn up to places that I was interested in, or work in places that I wanted to go to.
Totally. Well, thank you for the koala. We will treasure it.
Please put it on your computer or something. It will really make you happy.