Eyewear designer Robert Marc, whose specs have been worn by everyone from Channing Tatum to Nicole Kidman, is celebrating the 35th anniversary of his namesake brand. He revolutionized the industry from the moment his doors opened in 1981 and continues to take eyewear to new—and more stylish—levels. We caught up with him for a look back at his success.
How are you celebrating 35 years?
We're have a series of events planned for the next few months in key markets in North America, Europe, and Asia! I'm looking forward to the event in New York, which will be great, because I'll get to see a lot of friends and people who were there in the beginning. New York is where it all began.
How did you get started in the eyewear biz?
As far back as I can remember I've been fascinated with the unlikely combination of science and design. I went to school to become an optician, which was the perfect choice because it satisfied my scientific curiosity while enabling me to express my creative side. For me, design is instinctual, and my passion thrives on the resolution of the conflict between the pure aesthetic and the necessity of function. When I opened my first store on Columbus Avenue, which at the time was sort of a new, trendy shopping area, eyeglass stores offered very little variety or style. I created unique products by reconditioning antique frames, dying and sandblasting frames with custom colors and finishes, and adding unique fashion tinted lenses to classic styles. The store was an instant success, and it still is 35 years later.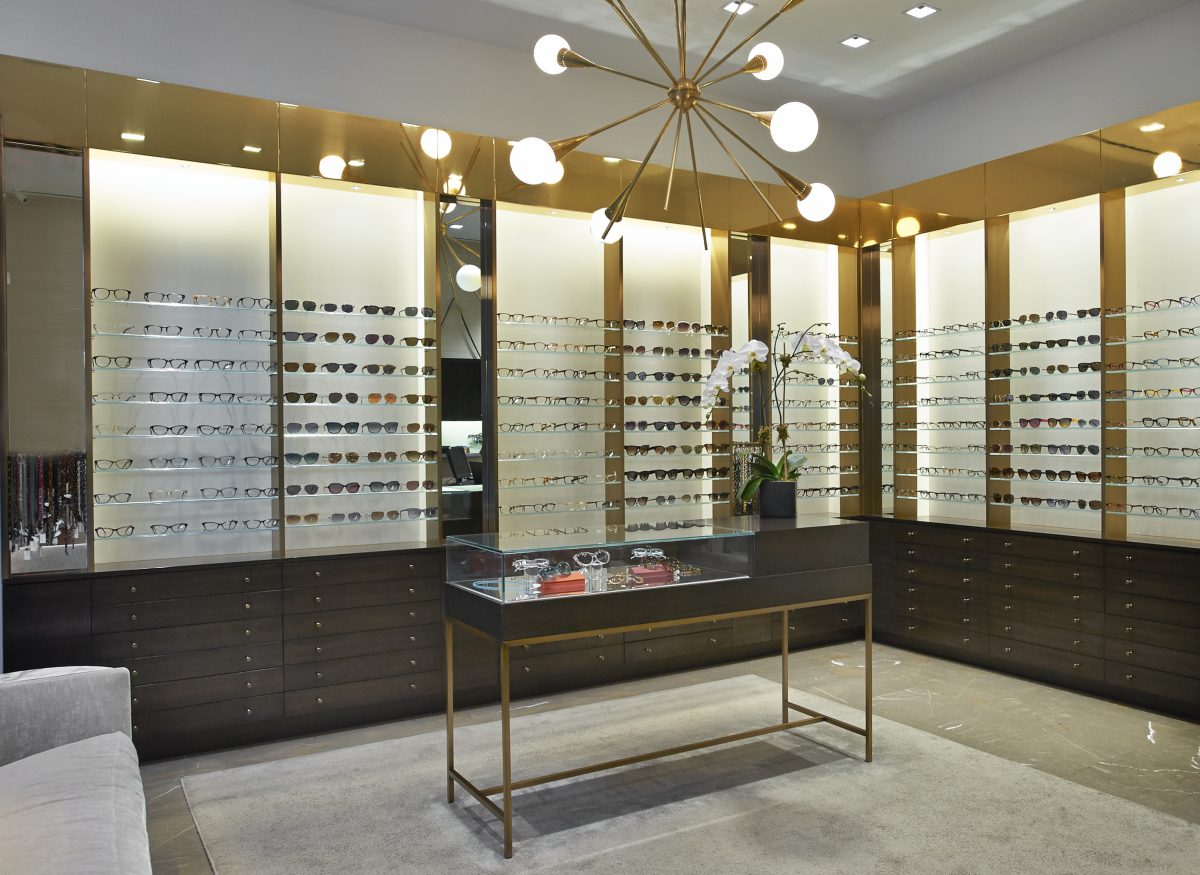 What changes have you seen in the eyewear industry over time?
Glasses have moved from being about function to being about fashion, and that has been so exciting. We're using vintage materials and also new materials—titaniums and new acetates, different lens materials, coating effects, mirroring effects. With prescription lenses, there's been so much advancement in optics, making lenses thinner.
What keeps customers returning?
My mission statement is simple: Eyewear should enhance the vision of one's self. Our priorities have always been aligned with our clients and providing exceptional eyewear service.
What was the inspiration behind the most recent collection?
It reflects the quiet beauty of nature. No matter how modern or tech-advanced our lives become, we desire nature around us for balance and tranquility. The designs in this collection are sophisticated and embody the beauty and complexity of the natural world.
What are some of the brand's biggest milestones?
Becoming a member of the CFDA [Council of Fashion Designers of America] in 2001 was a thrill, because it recognized eyewear design as fashion. I also received the Accessory Council Ace Visionary Award in 2011, which honored the contributions and the longterm impact I've had on the eyewear industry.
What's in store for the next 35 years?
The brand has endless potential—it feels like we've really just begun!
BY DANIELLE DULCHINOS