Earlier today, Queen Elizabeth II attended the fashion show of designer Richard Quinn as part of London Fashion Week. Maybe the Queen has attended fashion shows in the past, but not in recent memory. Unless that scene in The Crown where she's selecting a dress for dinner with the Kennedys counts. Does that count? Either way, the point is fashion shows are not exactly the Queen's thing, but there she was, front and center, in a plastic chair, right next to Anna Wintour.
Of course, it wasn't just any plastic chair; it was a Philippe Starck ghost chair. Anna's chair was also a Philippe Stark, but hers didn't have arms or a blue velvet cushion like the Queen's. From the looks of things, though, Anna didn't mind. In fact, she seemed positively giddy! Seriously, I don't think she's ever been this animated at a fashion show in her life. It's kind of unnerving, to be honest.
The Queen was in a great mood too and really seemed to get a kick out of the collection, which included a number of models wearing floral scarves tied under their chins — a very Queen Elizabeth II-kind of look. You know, minus the face coverings underneath.
Here's the Queen making an "ooh" face during the finale.
Or maybe she's just mid-sentence. Either way!
After the show, a podium was brought onto the runway and the Queen presented designer Richard Quinn with the inaugural Queen Elizabeth II Award for British Design, which, it would appear, is the whole reason she attended the show in the first place.
Most people would dress up to receive an award from the Queen, but Quinn kept it über casual in a green plaid shirt, jeans, black Nike sneakers and a matching black baseball cap. The Queen also wore matching black accessories, though — in her case, black shoes, gloves, and a bag — so they had that in common, at least. That's nice.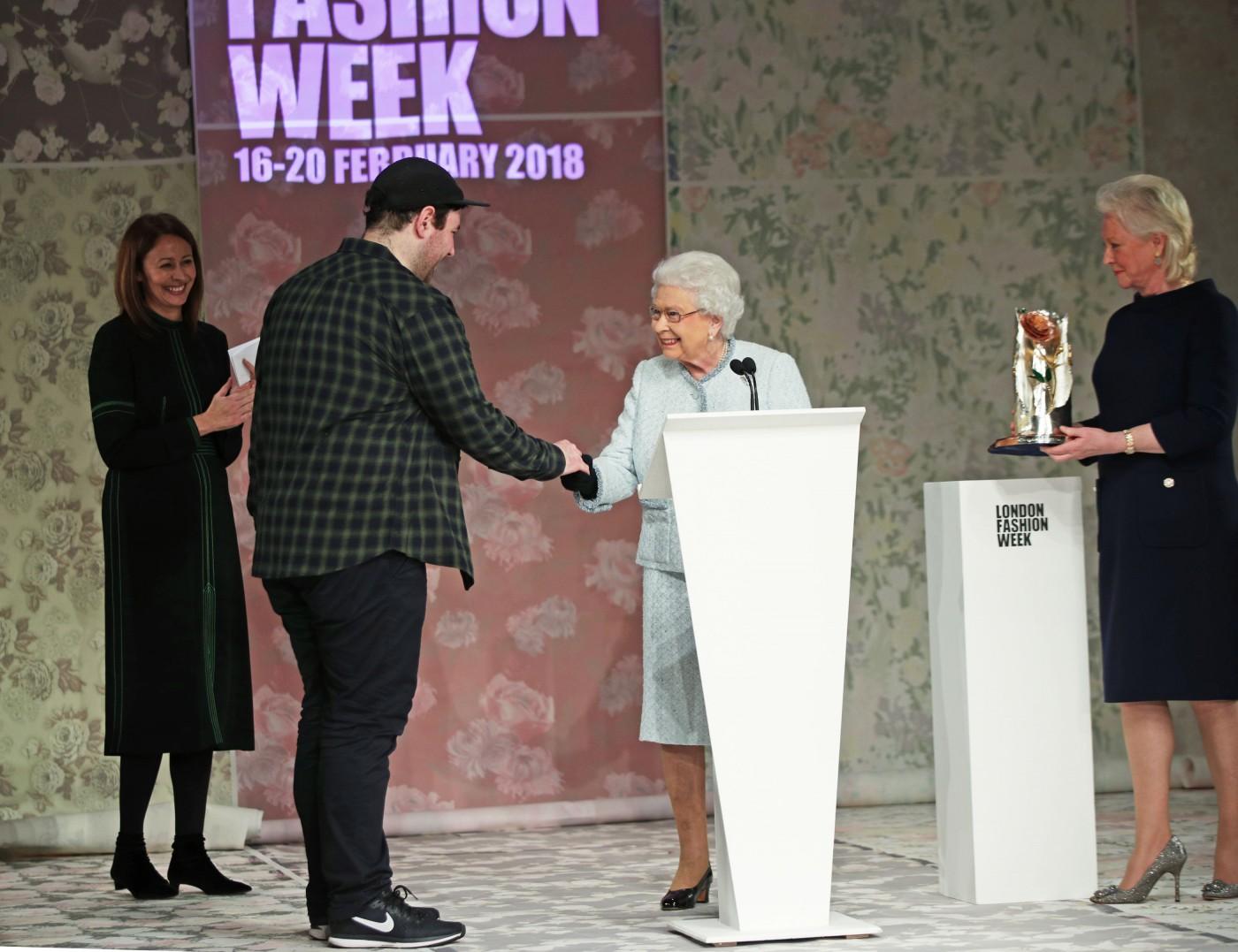 And just for fun, here's a picture of the Queen reaching for her bag at one point. Ooh! Aah! Royals, they're just like us. #sorelatable