Well, it was bound to happen sooner or later! According to the US Census Bureau's latest retail estimates, non-store sales (aka online sales) made up 11.813% of total sales in February of this year. Meanwhile, brick-and mortar sales accounted for only 11.807%. According to Bespoke Investment Group, this marks the first time that online sales have beaten brick-and-mortar sales in the Census Bureau's general merchandise category.
"The days of the internet and online shopping being 'just a fad' have come a long way over the years, but February's Retail Sales report (released Monday) highlighted another of many major milestones that the growth of online shopping has reached over the years," wrote Bespoke in their analysis. "In this case, it was the total share of Retail Sales that Non-Store retailers account for.  Over the years this sector has been sucking up share at the expense of just about every other sector seeing its total share of sales rise from under 5% in the late-1990s to nearly 12% today.  In February, Non-Store retail accounted for 11.813% of total sales overtaking General Merchanside (11.807%) for the fourth largest sector overall.  Sure, we had to go out to three decimal places, so the margin of different is extremely small, but looking at the chart the trend remains clear; the share of total sales for each sector are clearly going in opposite directions."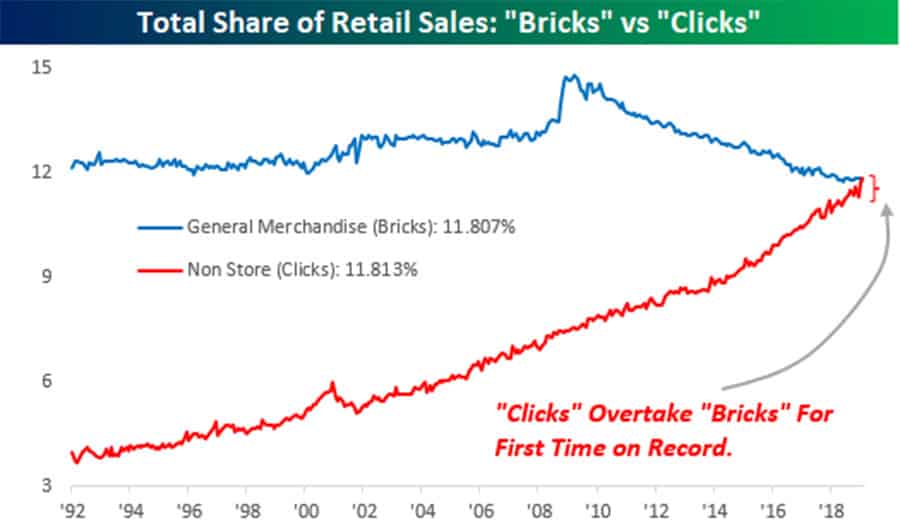 Subscribe to our newsletter and follow us on Facebook and Instagram to stay up to date on all the latest fashion news and juicy industry gossip.