Skincare has become non-negotiable in our daily lives, and there's no denying why. With skyrocketing pollution levels and less-than-perfect lifestyles, our skin is under constant attack from so many harmful elements out there, leading to blemishes and a host of skin issues. A solid skincare routine is our secret weapon to keep our skin glowing, moisturized, and protected from the havoc of acne, eczema, hives, and sunburn. This skincare revolution has given rise to a slew of beauty brands, each bringing something unique to the table. One brand that's making major waves this year is Bisou Bisou Bisou.
This ultra-luxe skincare brand has become the darling of Amazon, and its loyal fans can't stop raving about how Bisou Bisou Bisou has transformed their skin. With a reputation for safe, user-friendly, and effective products, Bisou Bisou Bisou raises the bar by using clean top-notch ingredients in their creations. And the cherry on top? Their products cater to every skin type, be it normal, dry, oily, or sensitive.
From lush moisturizers to bath bombs, serums, and face and eye masks, Bisou Bisou Bisou has got you covered.
Here are their top three Amazon must-haves: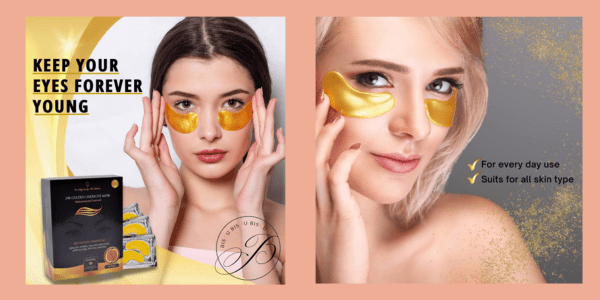 These glitzy 24K gold under eye masks are packed with hydrogel and collagen to hydrate and moisturize your skin while giving your under-eye area some much-needed TLC. Say goodbye to puffy eyes, dark circles, and wrinkles, and hello to a youthful glow. Alcohol-free and unscented, these patches are perfect for everyone. Each box comes with 16 under-eye masks, so you can keep those peepers looking refreshed.
This fabulous face mask trio is one of Bisou Bisou Bisou's top-sellers, boasting a 4.6-star rating on Amazon. Happy customers rave about its effectiveness in tackling skin issues. The trio includes a clay mask, dead sea mask, and charcoal gel, working together to banish acne, blackheads, and blemishes, control oiliness, and smooth your skin. Plus, it's vegan-friendly and free of alcohol, parabens, and silicon – talk about a clean beauty win!
3. Bisou Collagen Face and Neck Cream
Bisou Bisou Bisou also offers a collagen face and neck cream that works wonders in moisturizing your skin while delivering a potent firming and tightening effect. This magical cream is packed with collagen, glyceryl stearate, cetearyl alcohol, squalane, niacinamide, oligopeptide-1, aloe barbadensis leaf juice, and more, all working in harmony to boost collagen production in your face and neck and promote cell renewal. The anti-aging formula minimizes the appearance of fine lines and firms sagging skin. But what sets the Bisou Bisou Bisou collagen face and neck cream apart? Its amazing absorbency that leaves your face and neck feeling nourished and rejuvenated.
Final Thoughts
If you're ready to up your skincare game and glow like never before, Bisou Bisou Bisou is your one-stop-shop for all things fabulous. With rave reviews and die-hard fans, this hot new skincare brand on Amazon is a must-try for anyone looking to pamper their skin and reveal its true radiance.
From revitalizing under-eye patches to transformative face mask trios and collagen-infused creams, Bisou Bisou Bisou is the go-to brand for skincare aficionados and newbies alike. Give your skin the love and attention it deserves by incorporating these top-rated, fan-favorite products into your daily routine. After all, healthy, glowing skin is always in style.
So go ahead, indulge in the Bisou Bisou Bisou experience and join the ranks of the skincare-savvy who have discovered the secret to flawless skin. Your journey to beautiful, radiant skin starts with a simple click. With Bisou Bisou Bisou, you'll soon be puckering up to the best version of your skin yet.
Presented by: Ascend Agency